As another way to give back to my fans I wanted to kick off another giveaway where the winner isn't forced to win something they may or may not want, but gets to pick whatever game they have been wanting and they get it.  This giveaway called the Video Game of Your Choice is where you get to pick which game you win and it can be for any platform.  PC, Xbox One, PS4, Nintendo Switch, no problem.  Heck if you wanted to just put it all toward iOS games or Android games I am cool with that, this is your prize and you do with it as you would like.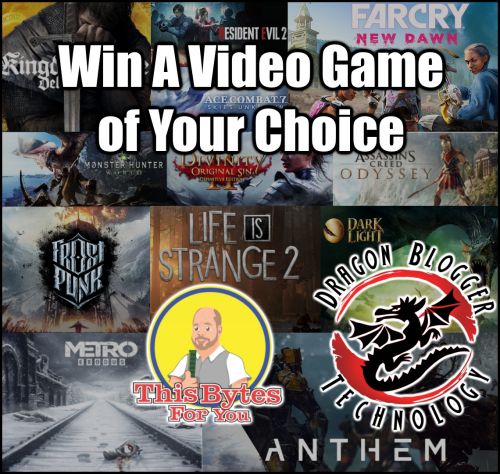 Now, ironically I had some people look at the banner ad I created for this giveaway and they thought they had to choose a game listed on the advertisement.  No, you aren't limited to the small number of games you see in the ad, you can pick any game that you want.  The only caveat my friends is that retail value is $60 or less, you cannot choose a special edition, limited edition or collectible version of a game.  It has to be standard game copy, but if you live in the continental US then you can choose to have a physical copy of the game purchased and shipped (from Amazon) or you can choose a digital copy.  International winner will have to choose a digital copy and I will make every effort to get you the game for whatever platform whether it is a Steam code, PS4 code…etc.  If I am unable to get you the game, then you will get $60 via PayPal or I will find any other way to get you the equiv so you can get what you want.
Special thanks to Iggy from ThisBytesForYou who helped co-sponsor the giveaway and always contributes high quality and amazing content to our channel and his own.  Make sure you follow ThisBytesForYou on Twitter, YouTube and Facebook also because he also runs giveaway frequently.
Enter for your chance to win a game of your choice
Win a Video Game of Your Choice

Let us know what game you would want if you win?