We are influencers and brand affiliates.  This post contains affiliate links, most which go to Amazon and are Geo-Affiliate links to nearest Amazon store.
Buying a projector is quite a serious investment in a lot of cases. If you're attempting to construct a den, home movie theatre, or even just wanna add a unique form of entertainment to your bedroom, you could even say it's the crown jewel of the entire affair, so selecting a quality one is an important but extremely difficult task without the right knowledge. Projectors have been used for quite some time as educational, entertainment, and even business tools to extreme effect, but the key to this is investing in a good one that balances value with quality. Spending six hundred dollars isn't exactly worth it if the projector breaks the first week you have it after all.
So what are the qualities of a good projector? The first things that come to mind are resolution, bright projection, and ease of setup, and ETOEs projector covers all three of those and more. Nowadays app integration is a huge deal as well, with just about everything we do, so we'll discuss how the ETOE projector holds up in that department as well and see if it's worth your money (spoiler: it is!). Without further ado, let's get started.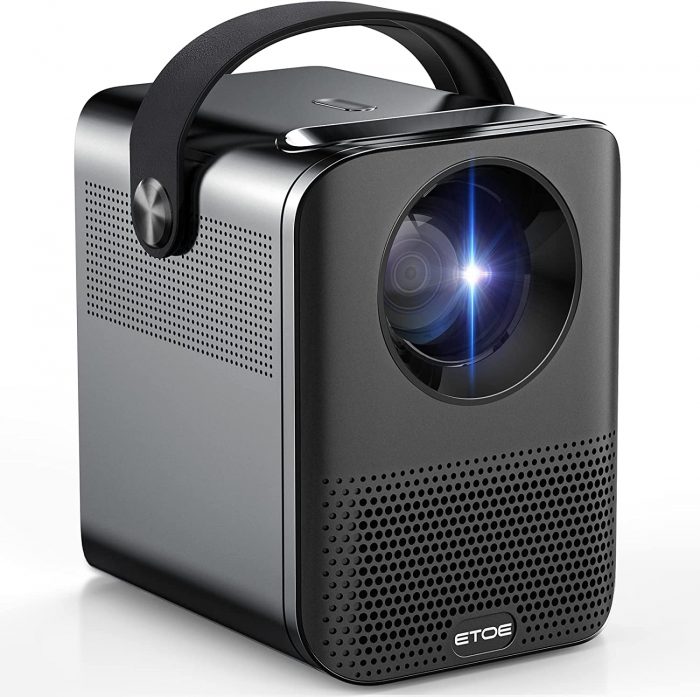 Features
Sporting a solid native 1080P full HD resolution, the ETOEs projector comes out of the gate strong. It runs at 150 ANSI Lumen brightness which is reasonably bright without being insanely so and has a max screen size of two hundred inches for the real "in front of the big silver screen" feel of being right in the middle of a movie theater. It offers a sharp, clear picture, with no fuzzy pixels or lost detail, even with the slightly lower Lumens behind it. It comes in a silver and black case, with a black handle for easy transport, and ETOEs own logo embossed across the front.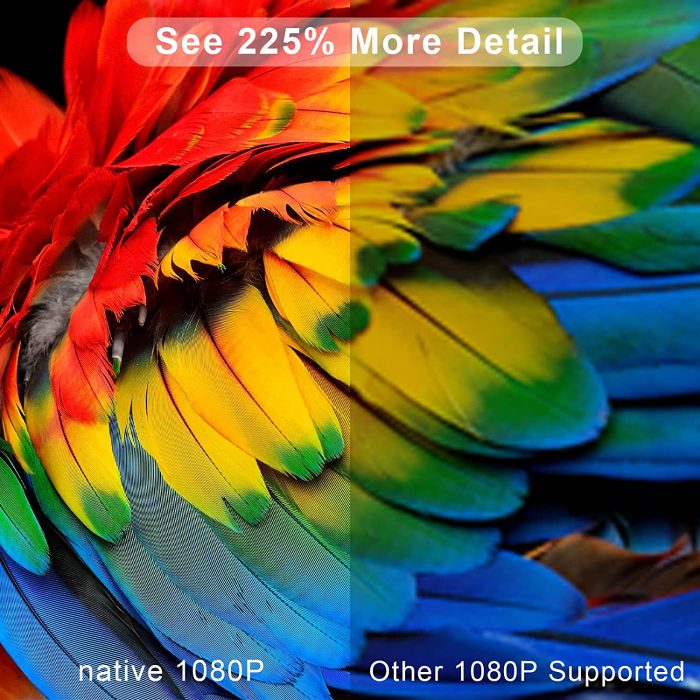 ETOE offers the perfect solution for your daily show and movie consumption, with multiple input sources supported by their projector ranging from most modern TV sticks and or boxes to your PC. No extra adapter is needed, just plug your HDMI in and play your favorite films or even fast-paced activities like games. ETOEs projector can handle all of it and more. It also supports wireless screen mirroring on iOS and Android. You can cast all your favorite movies, videos, share photos with your family, or even play all your favorite android games on the big screen. It comes with a USB, HDMI, and an audio port, so it'll support just about anything you want to project.
The 4-point Keystone Correction system ensures you get a perfect view no matter where you're sitting, horizontally or vertically. Just use the remote for a custom setting, and project a squared, stable image no matter where you are in your living room. This is a super nice feature as frankly, I have quite a few stranger sitting spots, and fuzzing with adjusting a big bulky television when I feel like sitting anywhere else is an absolute hassle. 
The unit also features two built-in stereo speakers for an immersive sound that fills your room with warm, crisp tones. On that topic, it also has a low noise output and a large battery life. The integrated full seal structural design protects your projector lens from outside dust, supporting a much longer shelf life for your projector. It's whisper-quiet when it's running meaning you won't have your favorite movie or show interrupted by some loud, whirring fan motor. It also supports Bluetooth audio devices, so if you don't want to use the built-in speakers, ETOE has you covered on all fronts. 
One odd feature it offers is a "companion mode" which projects various real-life scenes. It's essentially a relaxation button for when you just want calm visuals, and an accompanying soundtrack if you happen to be into that sort of thing. You have to pick the soundtrack that is, there's not an integrated one that I'm aware of.
Check out Merl's Showcase of the ETOE Portable Projector
Final Thoughts
With a five-star rating and all these value-packed features at one of the lowest price points I've covered for projectors so far, the ETOE knocks the need for a projector out of the park. It's perfect for when you're on the go, both due to its extremely portable size, and the general price given that quite a few accidents involving tech tend to happen on the road. It's a solid piece of projection technology and frankly, a definite recommended buy from this writer. It'd make an excellent starting projector for a younger child and or teen, and it's certainly built for the road. Thanks for reading and I hope you have a wonderful rest of your day.
We are influencers and brand affiliates.  This post contains affiliate links, most which go to Amazon and are Geo-Affiliate links to nearest Amazon store.
I am just a 25 year old doofus who enjoys rpgs, sugar rushes, and passing out at odd hours.