Small Businesses often lack the IT talent that large scale organizations have the resources to employ but if you are a business with between ten and a hundred employees you may still want the enterprise level service and stability of a Microsoft Exchange email system.  This can be equally important if you want to leverage Microsoft Office Cloud, SharePoint and other Microsoft products where it is easier to have an Exchange integration for keeping everything in sync.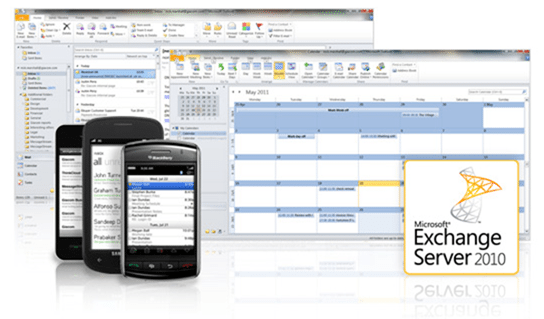 When looking for exchange hosting, knowing what you actually need and having those requirements up front can save you time in finding a Microsoft Exchange Hosting provider.
Some of the most important features to look at when comparing Microsoft Exchange Hosting providers are the following:
# of GB email space per user
This is the amount of GB storage each users email account can store on the Exchange Server itself before you need to either have them archive it locally on their system (PST files or export) or cleanup their exchange email account.  The larger the better of course, and remember that attachments and images consume the most storage space so minimize the number of large files and zip documents to shrink file sizes.
Shared calendar/contact sync
Everyone on the Exchange Hosting platform should be synced to the same calendar so they can see appointments, schedules, vacations and when meetings are scheduled.  A single contact system where everyone in your organization can lookup everyone else is also important so having access to a Global Address Book (GAL) is also very important.
Mobile Push for Android/iOS/Blackberry devices
Everyone is using mobile devices to help manage work while in transit and it is a 24×7 workforce now, so making sure your Exchange Hosting provider supports and offers mobile push so that any device can connect to the Exchange server and your employees can get emails anytime that push down without their devices having to do pulls at set intervals is important.  They get the email immediately not on an every 15 minute check or something like that.
Anti-SPAM / Anti-Virus Scanning
If you are using an Exchange Hosting solution you should be sure that they are scanning every email that comes in for viruses using the latest Anti-Virus software to help prevent accidental email infection.  It isn't a 100% guarantee but can greatly help reduce the chances of viruses and trojans getting around via email.  The same holds true for spam, an Exchange Hosting should have software installed to minimize the amount of spam bots infecting your corporate emails.
Outlook Web Access
Not all clients may have Outlook Installed on their machines, OWA is a way for users to access their Outlook/Exchange email via the web without needing the outlook client installed.
Hosting Redundancy / Failover
Exchange Hosting providers should not have a single set of servers in one datacenter if they are hosting Microsoft Exchange servers.  For redundancy they should have full datacenter failover in case one datacenter goes down and have data replicated so that should there be a failure your email data is stored and replicated to alternate environments for easy retrieval or minimal downtime if any.  Email is important and needing those email records could be required for legal purposes so it is imperative you always have access to them and the data is always reliable and resilient.
Disclaimer:
All of these features and more are offered by Giacom Exchange Hosting who sponsored this article in showcasing what readers should look for if they need Exchange Hosting and reliability from a cloud solution that is far cheaper than doing your own in-house exchange hosting for small businesses.  Giacom offers 25GB of storage per email account and has a low per mailbox monthly rate.