We are influencers and brand affiliates.  This post contains affiliate links, most which go to Amazon and are Geo-Affiliate links to nearest Amazon store.
I can't emphasize enough how important it is for our bodies to get a massage on a regular basis, especially for gym-goers and athletes who forget to include massages as a part of their fitness routine. Getting a massage after a tiring day of work or after a gym session helps relieve stress and relaxes the body. There are several reasons why people avoid getting a massage, including the recent emergence of the pandemic, which has caused individuals to worry about visiting places, a lack of time to make a massage appointment, or the cost of masseur services. This is where a massage gun or percussive therapy comes in. A massage gun is a portable handheld instrument that resembles a drill machine in appearance. A massage gun gives similar benefits to a massage but without the need to contact a masseuse. In this article, we'll take a look at the ExoGun DreamPro massage gun and see what it has to offer.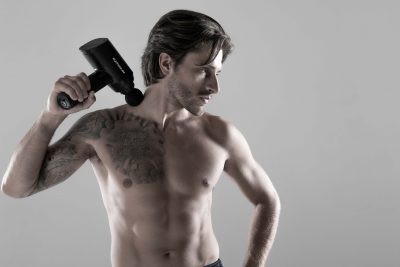 ExoGun DreamPro Benefits
ExoGun is a professional-grade percussive therapy treatment device trusted by experts and athletes to provide relief to the body. Percussive therapy works by penetrating soft muscle tissues, increasing blood flow to muscles, relieving tension, and reducing muscle pain. Delayed Onset Muscle Soreness (DOMS for short) is a condition that usually occurs after a workout and causes your body to ache for hours or even days. Using a massage gun such as ExoGun prevents DOMS and helps in faster recovery. Percussion massage also improves flexibility which results in much lesser injuries or soreness after a workout. Some of the other benefits are improved blood circulation and enhanced range of motion.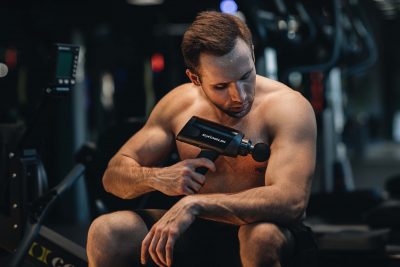 ExoGun Features
Portable
ExoGun is a light and portable device that can be carried with you wherever you go. Due to its portability and lightweight, one person can handle the gadget without the need for an extra hand.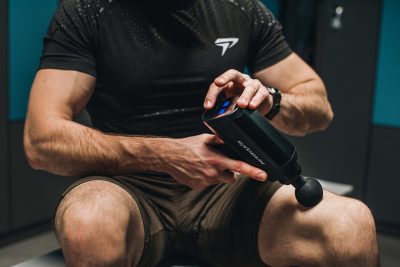 Powerful Motor
ExoGun is equipped with a high-performance massage motor. As a result, you'll get the most thorough treatment and the best massage experience possible from a massage gun.
Four Massage Heads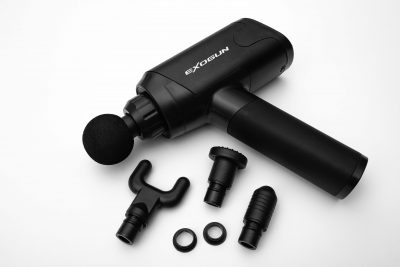 ExoGun comes with four different types of massage heads. Each massage head is meant to target a specific part of the body. The attachment that most people tend to use is the large ball head. It is used to target medium to large muscle groups such as glutes, hamstrings, or quads. The bullet head is used to target smaller muscle groups with proper accuracy. The forkhead attachment is best used on the spine area since you don't want to hit the spine and just the area around it. The last attachment is the flathead. It's ideal for relaxation and full-body massage. It is suited for usage on more dense muscle groups because it is precisely built for a smaller surface area.
Multiple Speed Settings
ExoGun allows the user to choose the intensity of the massage by providing six different speed settings ranging from 1200 to 3200 percussions per minute. Depending on the muscle group, the speed settings can be changed accordingly.
ShockSmart Sensitivity
ShockSmart sensitivity is incorporated into the ExoGun. This provides the exact percussive force you require to provide relief to the body.
Good Battery Life
ExoGun is powered by lithium-ion batteries, which can last up to 4 hours on a single charge. However, depending on the speed settings, the battery life may vary.
Closing Thoughts
ExoGun is an excellent pick for fitness enthusiasts or athletes, in my opinion. Having a massage gun is essentially the same as having your own personal masseuse. It aids in the relief of pain, stress, and stiffness and the faster recovery of muscles. ExoGun DreamPro is currently on sale at a discounted price of $159 which is quite affordable if you compare the price with some of its competitors. Do let us know what you think in the comments, and if you'd want us to do a full hands-on review of this product.
To find out more about ExoGun DreamPro, visit www.exogun.com.
We are influencers and brand affiliates.  This post contains affiliate links, most which go to Amazon and are Geo-Affiliate links to nearest Amazon store.
Hi my name is Rohan Jadhav. I am a guy who loves to play games and a tech lover. I like to be updated on all the tech stuff. I enjoy watching movies and I am currently doing a specialization course in VFX.