We have done reviews of antivirus and anti-malware software before here on DragonBlogger.com but the idea behind the FixMeStick virus removal device was one of it's biggest selling points.
In some cases your computer may be so infected with viruses or malware that your existing antivirus software may also become altered so that it will not recognize it or become infected in itself.
This is where the FixMeStick comes in, the FixMeStick is an all in one AntiVirus / AntiMalware USB Device.  This easy to use usb antivirus stick leverages 3 powerful antivirus / antimalware tools including: Vipre Antivirus, Kaspersky and Sophos.
To use the FixMeStick all you need to do is have your computer on and booted to Windows, then plug in the FixMeStick virus removal device.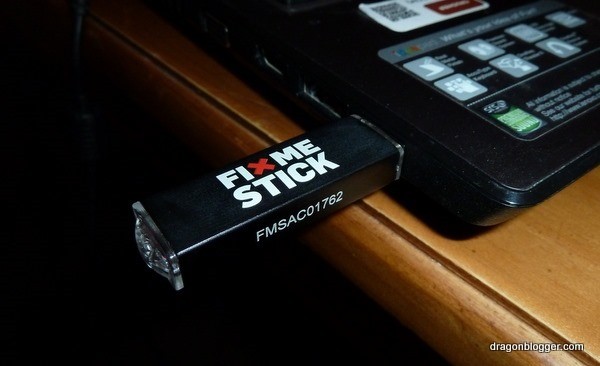 Once it is plugged in it should auto boot showing you next steps, if not then open your My Computer and open the FixMeStick USB Drive and run the executable file.  You will then see the following message: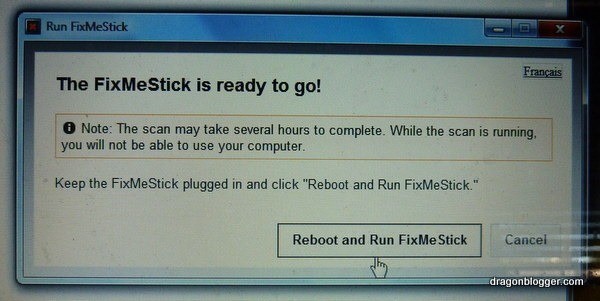 Now, when you reboot the FixMeStick will boot off of the Ubuntu Operating System installed on the FixMeStick and immediately start scanning your computer for malware and viruses.
The FixMeStick has two partitions and the Linux partition is completely hidden from Windows, this prevents the FixMeStick from being accidentally corrupted or possibly infected by Windows and ensures it will work time and time again.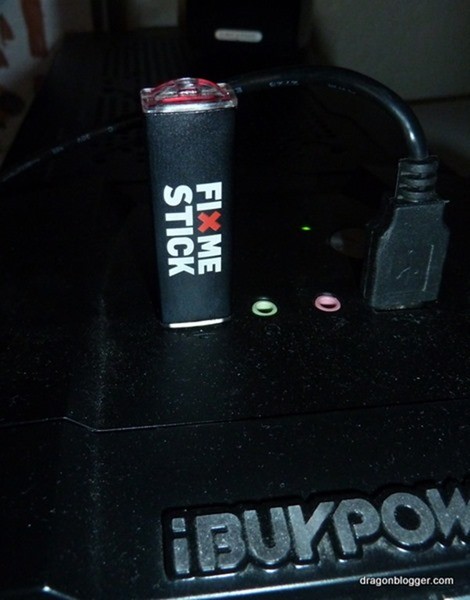 The FixMeStick will automatically connect to the Wireless network that you were connected to when you were in Windows, or if Ethernet will connect to the internet.  It will then update it's virus and malware definitions files so that it always has an updated copy of the definitions to make sure it scans for the absolute latest viruses and malware.

Now the FixMeStick scans every single file and uses 3 different antivirus software programs so it can take a while, estimate at least 1.5 – 2 hours for a full scan of a typical computer.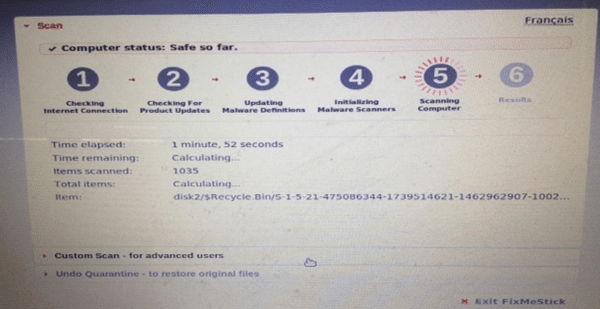 On the laptop that I ran the FixMeStick on it found 9 problems that needed correction: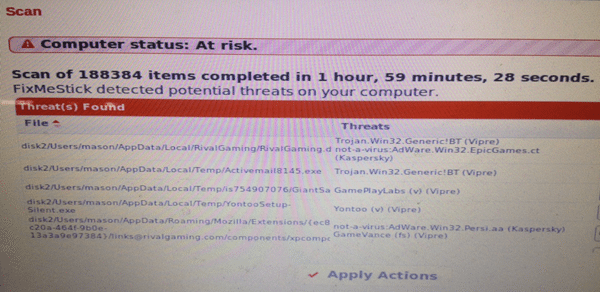 These included the following malware:
Quarantine- Yontoo (v) (Vipre)/ –> Inserts ads into Facebook.com (possibly other sites too)
Quarantine- not-a-virus:AdWare.Win32.Persi.aa (Kaspersky)GameVance (fs) (Vipre)/ –> GameVance AdWare
Quarantine- Click run software (v) (Vipre)/
Quarantine- Trojan.Win32.Generic!BT (Vipre)not-a-virus:AdWare.Win32.EpicGames.c (Kaspersky)/ –> GameVance AdWare
Quarantine- GamePlayLabs (v) (Vipre)/ –>AdWare
Quarantine- Trojan.Win32.Generic!BT (Vipre)/
Quarantine- Mal/Behav-001 (Sophos)/
You can see that some adware was found with Kaspersky, others were found with Vipre and Sophos found a Malware.
In Summary:
I have multiple computers in my household, my kids have their own laptops the FixMeStick is an easy to use tool to help scan and cleanup infected computers and works perfectly for family households or small businesses where your IT staff is local to work on your machines.
For $59.99 it includes 1 year of definition updates and includes licensing to use it to keep up to 3 computers/laptops clean from malware/adware and viruses which is a great deal.
Enter to win a FixMeStick for your Household
Now that I told you how awesome the FixMeStick is you can enter to win one for yourself, just get as many entries as possible in the Punchtab contest below to increase your odds of winning. This contest is open to anyone anywhere and the winner's information will be sent to FixMeStick who will send you your copy of the FixMeStick Virus Removal tool.
Special Note:
I had to initially call into the FixMeStick technical support and can say from first hand experience that their support staff is very knowledgeable friendly and customer oriented.  They had a tool that helps them gain access to your computer so they can guide you at looking at any problems and are there to help you.  They have a good understanding of both Windows and the Ubuntu OS that the FixMeStick runs on.  We did learn that my FixMeStick had some initial problems when plugging it into 2 USB ports on my test computer, this was because I test and plug/unplug Flash Drives 20x per week on average for these machines and had worn down the USB connectors a little bit.  The FixMeStick worked fine when I plugged it into a USB port that wasn't in such high use and the company told me that only some previous batches had sensitive connectors and none of the models going forward should be so sensitive to worn USB connectors.
Disclosure:  FixMeStick provided me with a copy of the FixMeStick so I could perform a thorough test and review of the product, they also are providing (1) FixMeStick that they will provide to the winner of the contest once the winner is chosen.  All options are 100% mine and mine alone.
I have been obsessed with computers, tech, gadgets and games since the early 1980's having grown up on the Commodore 64 and Amiga computers.
By day I work in the IT Security Industry and have been in IT for over 20 years. On my spare time I am a Vlogger, Blogger, Streamer, Gadget Reviewer, affiliate marketer, influencer and entertainer. I am also an avid movie fan, TV Show fan, Anime fan, video game fan and fan of trying anything and everything new.