We are influencers and brand affiliates.  This post contains affiliate links, most which go to Amazon and are Geo-Affiliate links to nearest Amazon store.
There are always new things on the market that you don't know you need until you try one out. Well for me, this was the FlexiSpot Standing Desk Riser  which turned out to be one of those things. A few weeks back FlexiSpot sent me their 35-inch standing desk riser. This desk riser showed up in a rather large and heavy box. This box weighed in at over 50 pounds at least by the shipping label. The model number is M2B. Let me show you the box itself.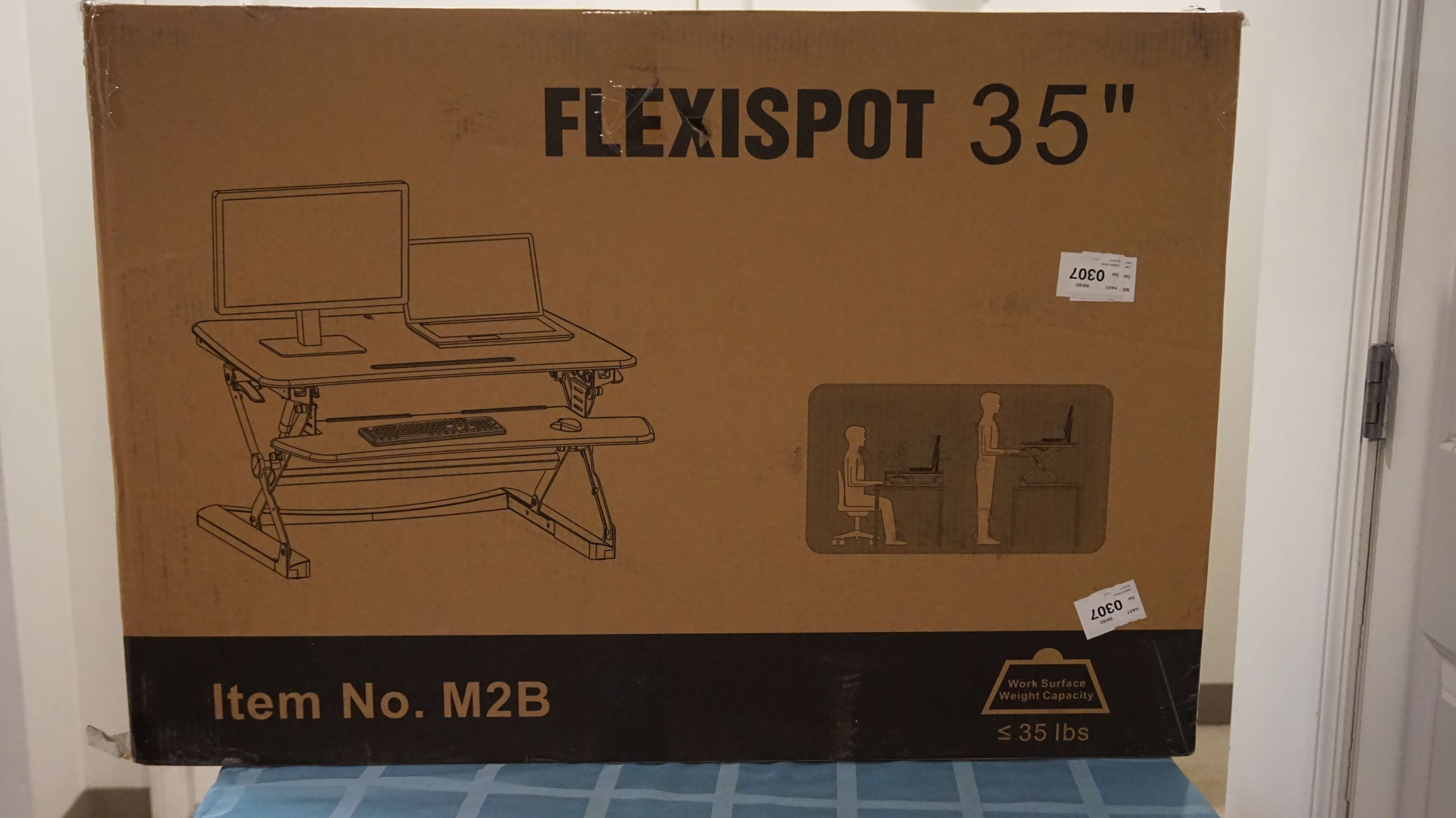 As you can see it is a plain brown box with some writing and the picture of the device. The package shows a weight limit for loading capacities. FlexiSpot claims this desk can hold up to 35 pounds of items.
It comes in two colors white and black. The company sent me the black riser to review. I did tell them to surprise me with color and size. I'm glad they went with the 35 inch one however. I'll get more into that later but first let me show you the color of the FlexiSpot desk riser outside the box.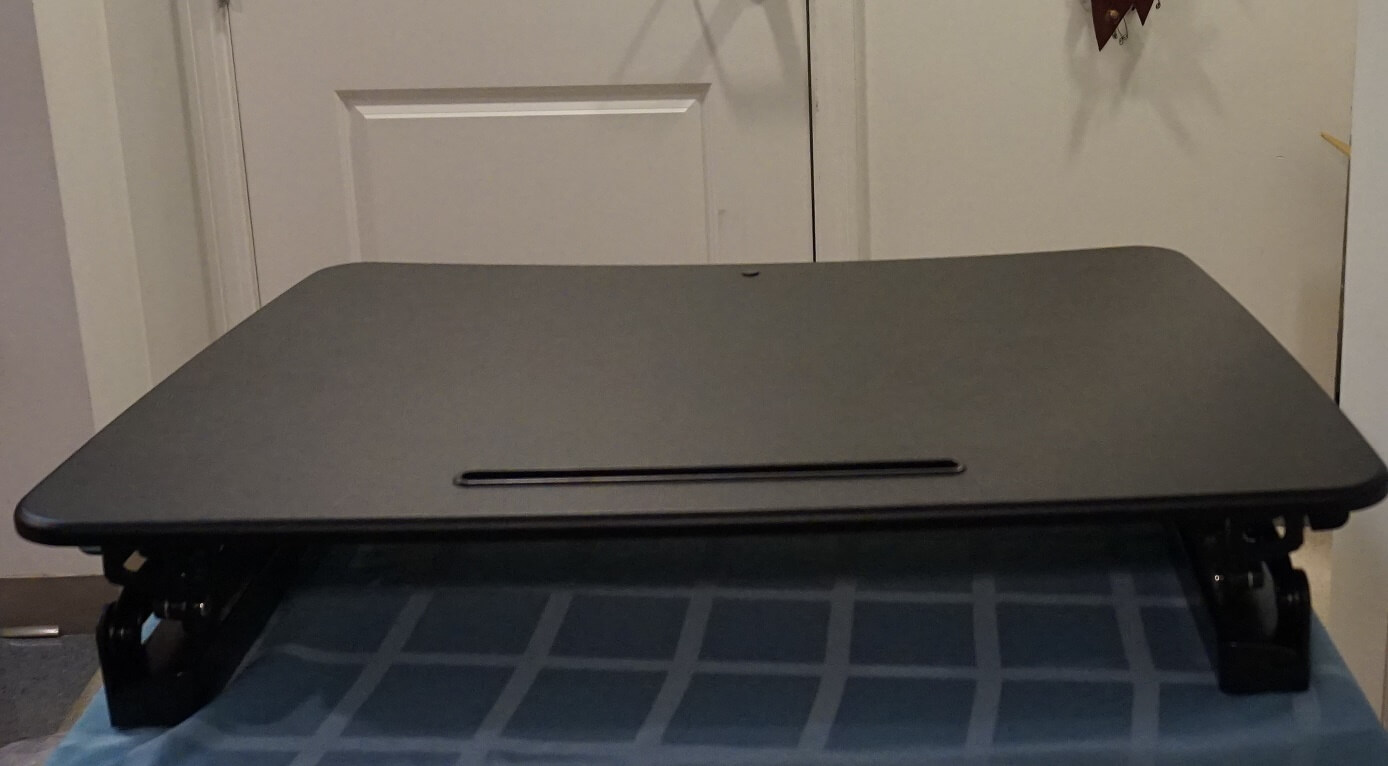 As you can see it is a nice black coloring. I will get more into that in a few. I want to first tell you everything that comes in the package. Inside the package, you get the desk riser. A bolt and some plastic covers. You also get a removable keyboard tray.
Check Out My Unboxing Here!
The FlexiSpot desk riser itself is made from a metal frame and pressboard pieces. The metal frame is very solid and sturdy. The pressboard is nice and thick and black not a washed out black, but a deep black too. Now if you prefer white as mentioned the whole desk riser from FlexiSpot does also come in white. The pressboard is approximately 3 quarters of and inch thick. There are only two places that I have seen that are not covered by paint. Those are both on the bottom side of the keyboard tray. Let me show you that.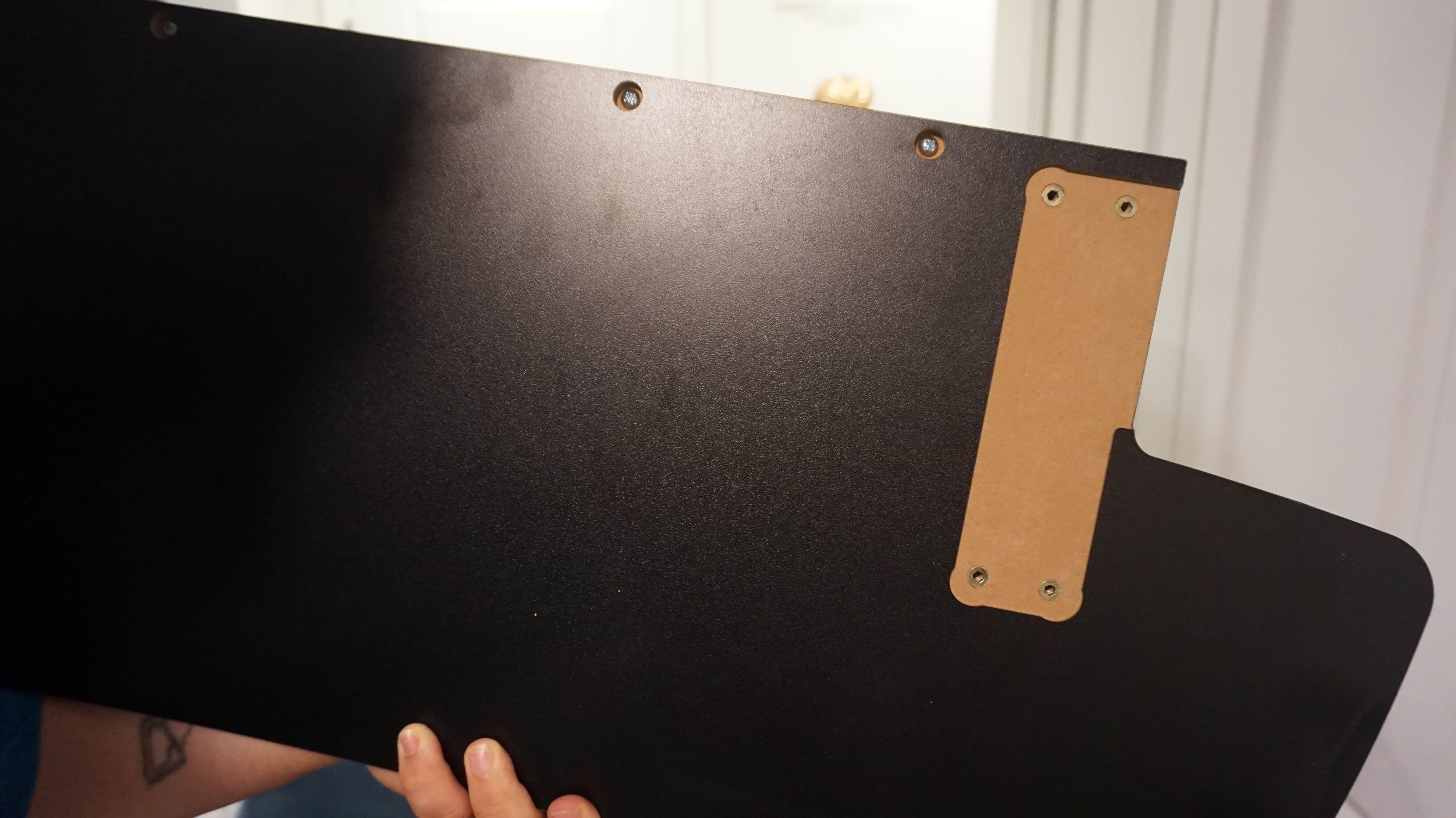 FlexiSpot Desk Riser Dimensions
Dimensions(w/o keyboard tray): 5.9″ ~ 19.7″(height) x 35″(width) x 23.2″(depth)
Dimensions(w/ keyboard tray): 5.9″ ~ 19.7″(height) x 35″(width) x 31.1″(depth)
Let me show you the FlexiSpot desk riser on my desk.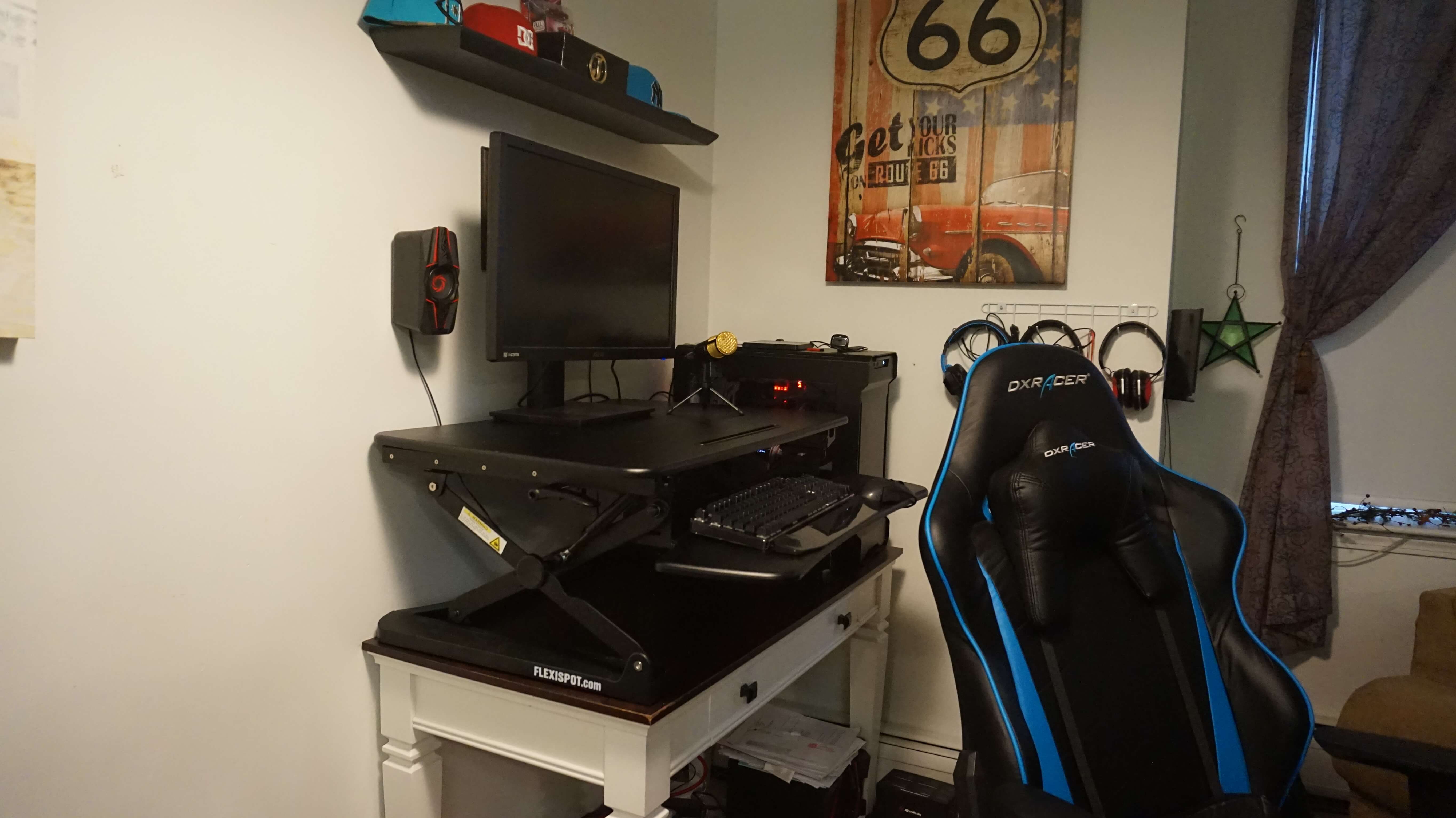 Check Out My Video Of Placement Of The Desk Riser Here!
As you can see the FlexiSpot Desk Riser lifts and lowers very easy in the video. This is due to the to shocks they have connected to the riser. There are two handles on each side that work to lift the device.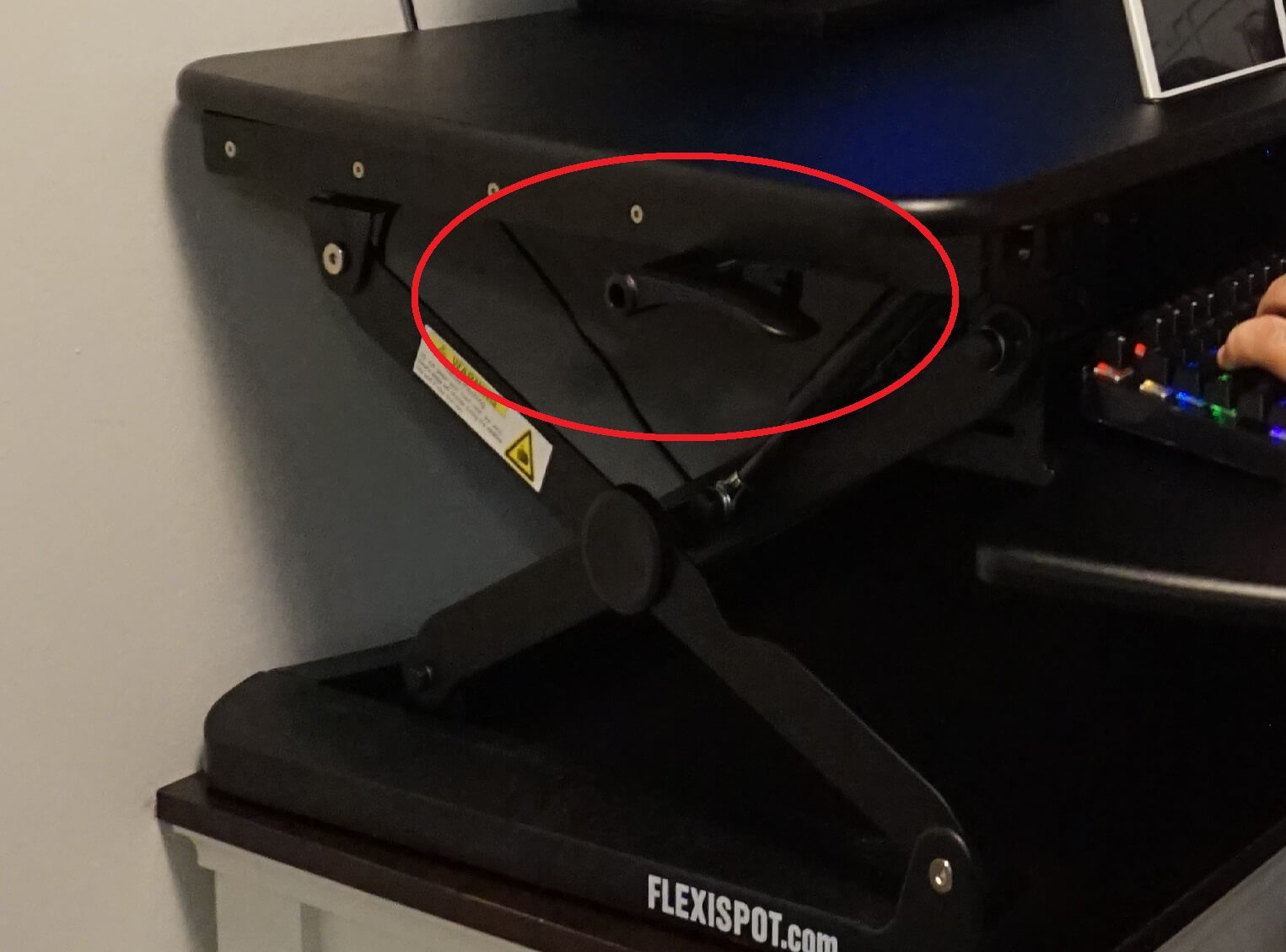 In the above photo, you can see the plastic handles. Now you will need to be careful using these and make sure you don't get your hand pinched in the frame when lowering and lifting the riser. When pressing the handle it moves a wire line something like the brake line on a bicycle. This will release the locking mechanism so you can adjust it. There are twelve adjustment heights. Now I can't get mine to go to the very top however due to the shelf above my desk stopping me from extending it all the way. I'm sure you could see that in the video also keep that in mind when looking to place your desk riser.
Tablet/Phone Holder!
One thing I have yet to mention. This is the Phone slash tablet holder. Yes, that is correct. They added a tablet or phone holder to this desk riser. First, let me show it to you.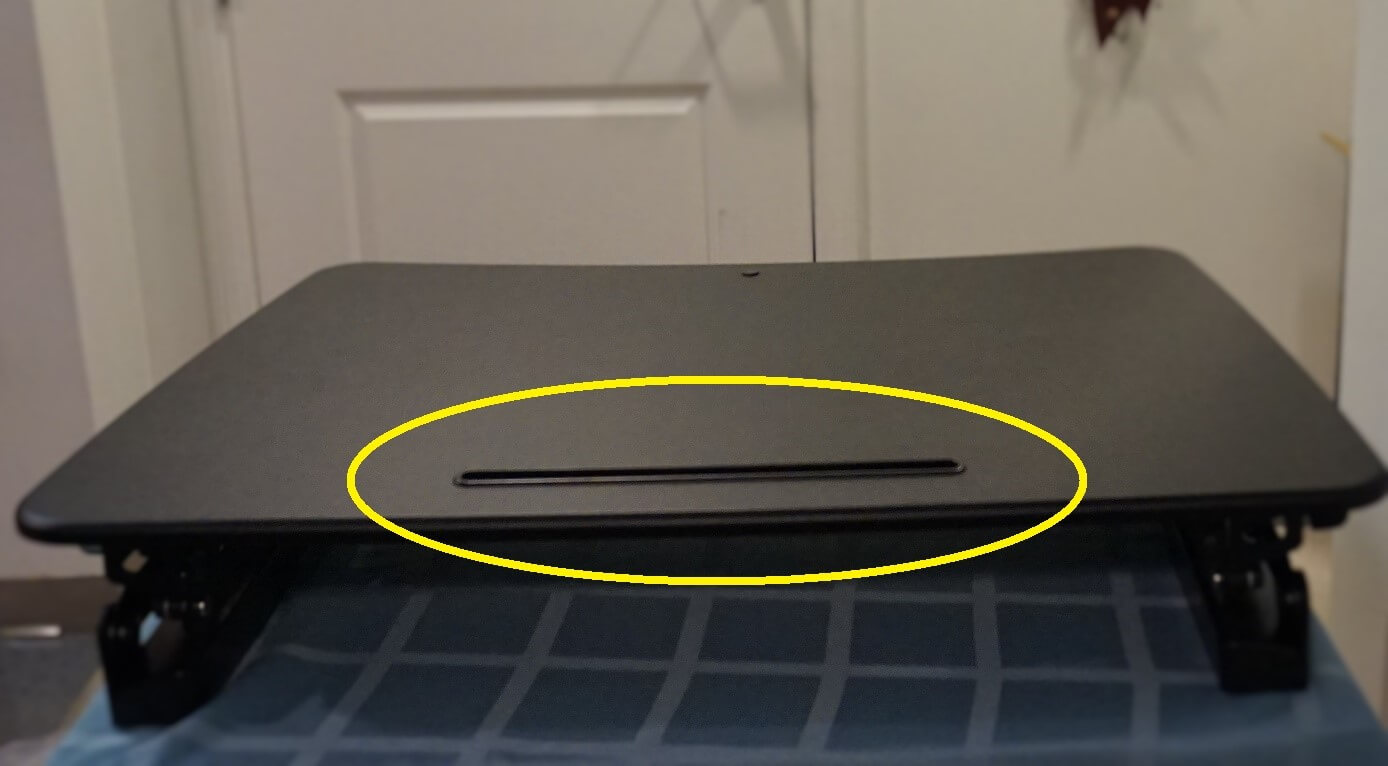 This is a nice touch for those who have the need for it. Now I did test it even though I probably would never use it. It functions well holds tablets just like you would think. Or your smartphone. Heck, you can probably use it for other things also.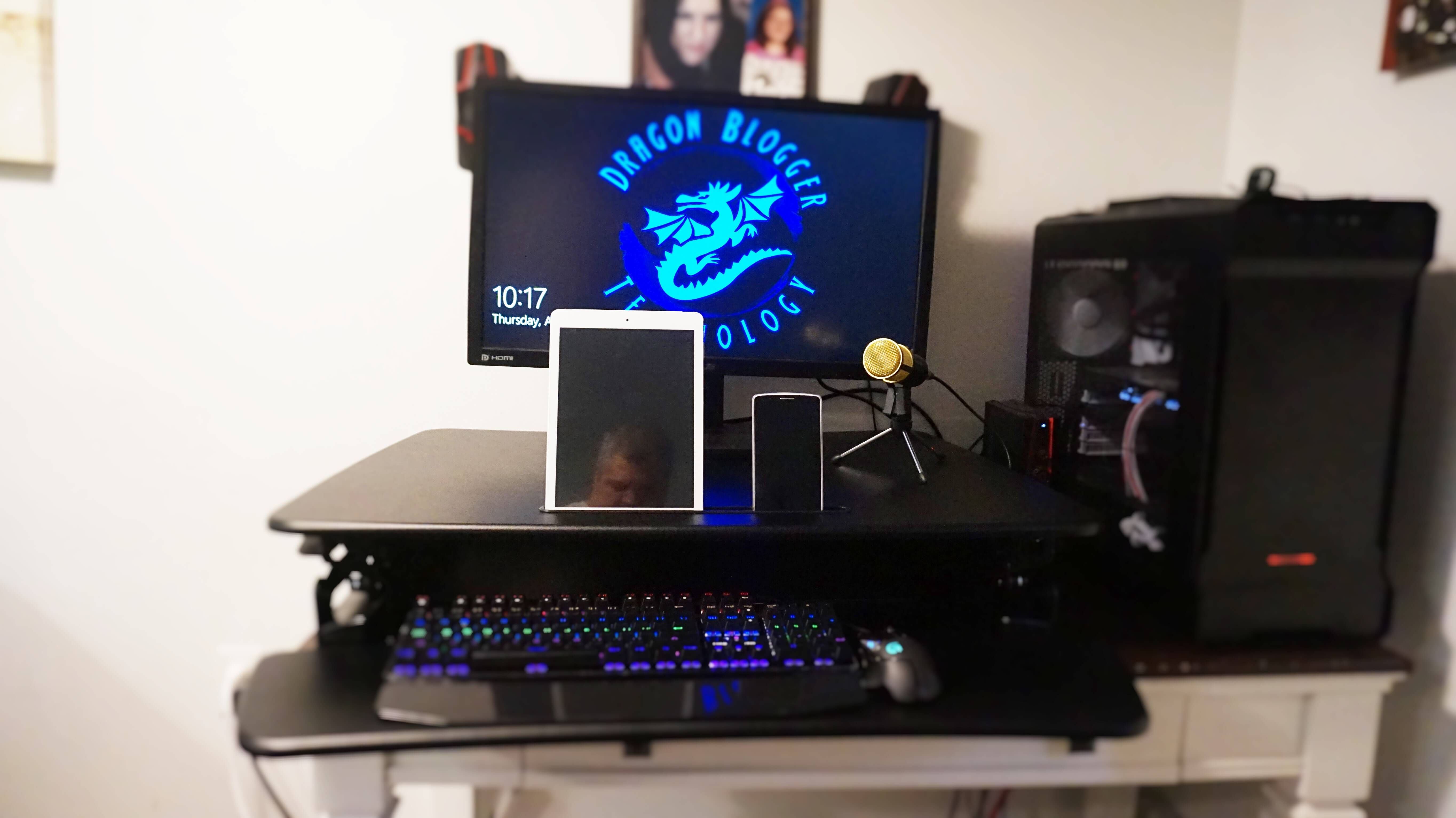 The Flexispot Desk riser also comes with one more item that you may be very excited about. This is the place for monitor stand mounts. This will give you the option to place a stand there so you can connect one or two or even three monitors. They even supply the bolt but not the stand itself. Now they do sell their own monitor stands separately. The hole is marked in yellow on the next photo.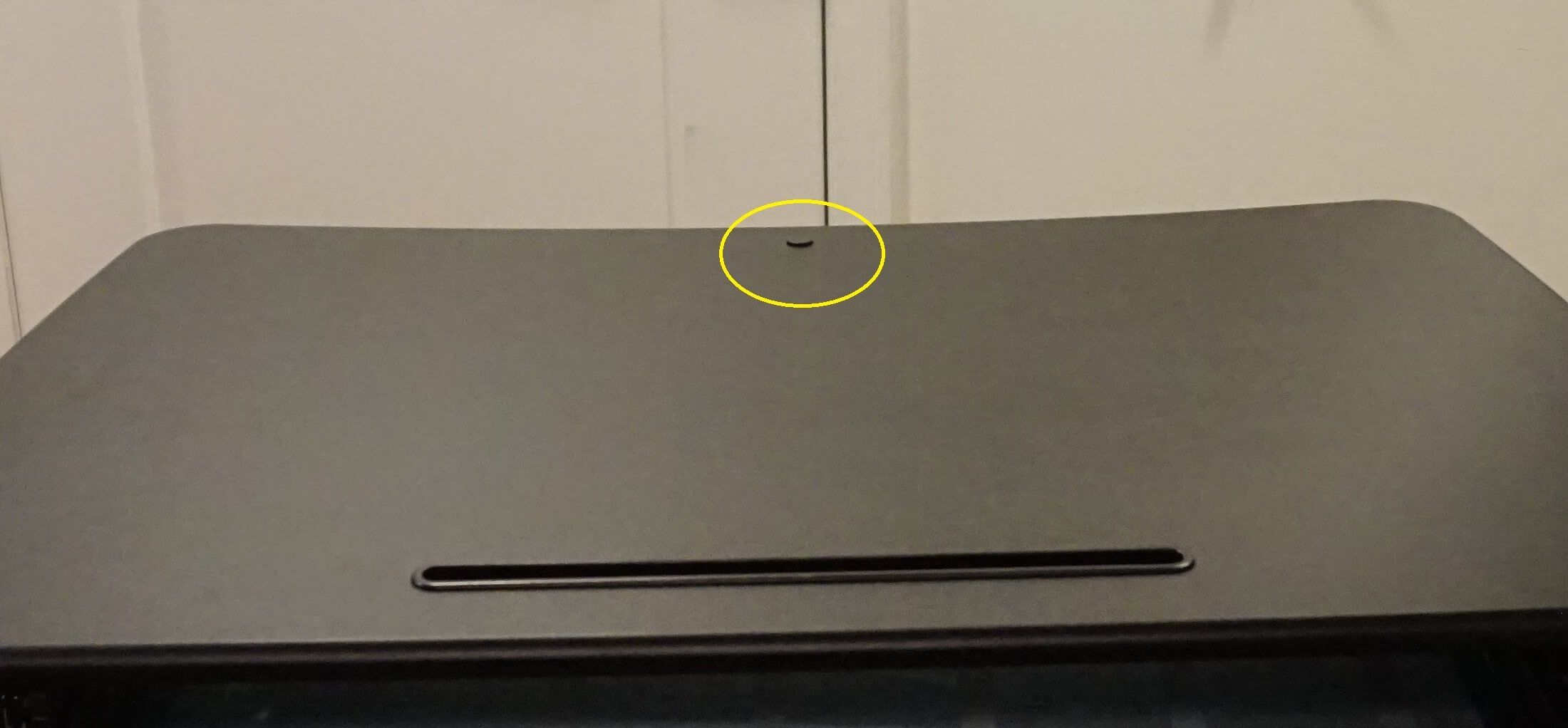 FlexiSpot Desk Riser Final Thoughts
When all said and done you just never know what you truly need in your home tell you to try something. The FlexiSpot Desk Riser was one of those things. The device is well made and very strong. and it comes with many adjustment heights. You have your choice of two colors but I wouldn't see any issue if you wanted to sand these down and paint them to another color or maybe something Flexispot could add to their options at some point in the future. Whether your medium sized or tall this will work for you and gives you a sitting/standing desk like convenience without spending nearly a thousand dollars to get a true full standing desk.
I love the option of being able to stand and work at my desk throughout the day. Sometimes I'm at my desk for rather long periods of time testing and working on a review and I just need to stand so my legs can stretch.  This definitely hits all the marks needed and with the option to remove the keyboard tray this make it more compact. The additional option with being able to add a monitor stand to this makes it even more user-friendly. I would suggest this Flexispot desk riser to anyone who wants the benefit of a sit/stand desk and doesn't want to replace their entire desk but just place a riser on their desk that allows them to stand and work or game from time to time.
Get 5% off using code "fst5"
We are influencers and brand affiliates.  This post contains affiliate links, most which go to Amazon and are Geo-Affiliate links to nearest Amazon store.
Hi everyone I'm James Braga. I was born in Oregon and moved to New Hampshire a few years back. I love most things that have to do with video games and electronics, It doesn't matter if it for a car or a house, if it has electricity in it i will love it . I'm also in school for Information Systems Technology.