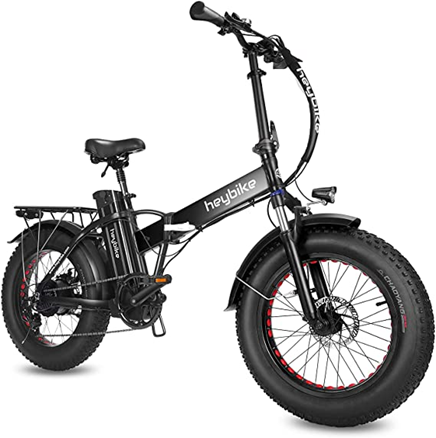 Looking for a high-performance electric bike?
Electric bikes have taken popularity in recent years and have become a fad. Electric bicycles seem to be the most efficient means of transport. Cars are very polluting and harm the environment. Bicycles are the means of transport that seeks to reduce carbon emissions. Every day more people prefer to use a bicycle instead of a car. Electric bikes are ideal for commuting, cycling, walking, and much more. The most notable difference between a traditional bike and an electric bike is that it will need less effort to reach a higher speed. An electric bike will not depend entirely on the battery, when the battery runs out you can continue pedaling. The battery of a high-end electric bike can reach more than 40 miles of range with a full battery charge. Surely choosing an electric bike can be a bit difficult. That's why I'll talk about Heybike Mars a high-end bike that uses 500W of power and offers a range of up to 48 miles. This bike has a compact and innovative design. It is made of high-quality materials for long service life. If you are looking for a high-end electric bike you would surely like to know more about this product.
Feature of the Heybike Mars electric bike
The Heybike Mars is a folding electric bike that provides 500W of power. The main feature of this electric bike is autonomy, it is capable of offering a distance of up to 48 miles. The bike is equipped with a modular battery of 48V and 12.5 Ah enough to offer up to 48 miles of autonomy. Another feature is its motor, the motor uses brushless gears to offer better battery performance. The battery of this electric bike is removable, you can recharge the battery with a USB. It features Shimano 7-speed gear. It is capable of offering a top speed of 20 mph. A feature of tires is that they are wide, each tire has a width of 4 inches. The tires are wide enough to withstand punctures caused by bad roads or rough terrain. This electric bike has double suspension to reduce the impact of potholes. Another feature of the Heybike Mars is its compact design. The compact design makes the bike easy to store, unlike most e-bikes. The best thing about this bike is that it will come fully assembled, avoiding tedious installations and failures that can harm the performance of the bike. The battery also allows you to recharge your cell phone if you need it. Note the maximum weight recommended by the manufacturer is 330 pounds.
Summary
If you are looking for a folding and compact electric bike surely the Heybike Mars is what you need. This bike offers a range of up to 48 miles which is enough for long trips.
You can buy this item here: Amazon.com : Heybike Mars Electric Bike Foldable 20″ x 4.0 Fat Tire Electric Bicycle with 500W Motor, 48V 12.5AH Removable Battery, Shimano 7-Speed and Dual Shock Absorber for Adults : Sports & Outdoors