We are influencers and brand affiliates.  This post contains affiliate links, most which go to Amazon and are Geo-Affiliate links to nearest Amazon store.
Project Athia recently renamed Forspoken is a Luminous Productions and Square Enix action-packed and violent-induced RPG game (still in development) that is stated to be released exclusively on PC and PS5 in October this year.
An announcement made at the PS5 showcase by Sony in 2020 revealed how players will take up the personality of Frey in the upcoming game in an outwardly quest labeled as intriguing and thrilling by Luminous Production and Square Enix where Frey is seen battling for survival while in pursuit of answers daily to what has become of her recent existence.
About the Game Developers
Square Enix is a Japanese video game publisher and developer company with headquarters in Tokyo. It was formed from the merger of video game developer company Square and publisher Enix Corporation on the 1st of April 2003 with over 3500 employees worldwide. Square Enix currently focuses on developing high-end games for consoles. The company also owns Taito, which spun off its arcade division to Square Enix in March 2005. Square Enix has its headquarters in Midtown Shinjuku, Shinjuku Ward, Tokyo, sharing the location with sister company Eidos Interactive.
As of 2007, the majority of Square Enix's revenues come from sales of console games such as Chrono Trigger, Final Fantasy d VIII, Parasite Eve II, and Kingdom Hearts II which were developed by its subsidiary companies, and now with an upcoming cracker of a game alongside Luminous productions.
Luminous Productions on the other end is a game development studio founded by Hironobu Sakaguchi, who founded and formerly served as president of Mistwalker Corporation until 2011 when he resigned from the position and moved back to Square Enix as an executive producer for their Final Fantasy series (Episode Ardyn, Aranea, Noctis, Lunafreya, Iris, Ignis, and Prompto), Kingdom Hearts HD 1.5 Remix, Kingdom Hearts HD 2.5 Remix, Chocobo's Mystery Dungeon: Every Buddy, and others.
Release Date
Fast forward from its original release date which was stated to be around May this year, the new Forspoken game will now be available on the 11th of October 2022 for players around the world.
Platforms
Forspoken will be playable worldwide on only PS5 consoles, though the tendency of the game being available for Xbox One, PS4, and others might be
possible in the future.
Bonuses on Pre-orders
Pre-orders for Forspoken are now very much available for grabs. The premium edition costs around AU$114.95, £64.99, or $69.99 on PC and PS5 and includes several pecks and bonuses such as Happy Nails PC Elite Cloak Crafting, and Starter Kit Necklace with Spectra, No Limits Cloak, Symbol Necklace Combo, and other additional pecks.
Trailers Released So far
Game Informer
Video gaming platform Game Informer uploaded a 10 minutes video of the upcoming gameplay. It gives a critical look at the combat and other action events that were unfolding in a picture of a world cited as a sideways city.
Worlds Collide trailer in March 2022
In a trailer uploaded in March 2022, they presented footage showing Frey's magic and how she will use it to battle the listed bosses as displayed as well in the trailer. It was also further shown in the trailer where Frey was seen using her magical powers on the water.
2021 trailer from Game Awards
A new Forspoken trailer was unveiled during the 2021 Game Awards. More of the backstory along with tenacious events that followed which are expected to unfold in the gameplay was further displayed. The original date (May 24, 2022) for the game release, was displayed as well along with the trailer to quell fans' expectations. However, it has since been pushed forward to the 11th of October this year.
2021 trailer from PlayStation Showcase
The September 9th, 2021 PlayStation Showcase, gave players more details of the game storyline and actions to expect. A bit more about Frey Holland who was said to be the main character of the new gameplay by Square Enix was also discussed in the trailer.
June 2021 Showcase by AMD
Though the trailer's primary goal was to express how AMD's graphics technology would be in effect in the new RPG game, it also gave some gameplay actions and events from other previous trailers where Frey was seen displaying her magical powers to navigate a forest while also battling a huge monster.
Trailer from Sony's Future of Gaming 2020 Showcase
A 1-minute long trailer of Forspoken or Project Athia as it was first named back then was also on display during the Sony's Future of Gaming 2020 showcase which gave us a very brief glimpse at some of Frey's magical powers, how she wields them, terrains and events surrounding the world of Athia itself, and some of the heinous beasts and creatures players will encounter as they proceed.
Official Trailer
In the official trailer released, we got a peek at the fast-paced, frenetic traversal, as well as the beautiful world in which it takes place. We also witness some of Frey's magical displays and other unique abilities.
Gameplay and Storyline
A girl from New York City is drawn into a cruel, and mystical world known as Athia. To survive and get back to her world, she must use her magical powers to fight off monstrous beasts and territorial bosses as she travels across numerous wonder lands and strange terrains to find answers to her new reality and how to escape the scourge and circumstances that emerge from it.
In this new upcoming RPG game, players as explained by Raio Mitsuno will assume the role of Frey (the main playable character), a highly intelligent but little bit childish lady from New York in her twenties.
Frey's personality was depicted to be a woman living a secluded life from childhood, full of hate and distrust for the people of this world along with everything in it. Frey chooses a life of solitude every day, hiding and masking her vulnerability away from people through humor and sarcasm.
A tender soul at heart full of kind gestures, but desperate for escape. Frey finds herself teleported to a land of endless mischief and chaos. To live through each day, Frey must come to terms with her new identity and learn to cast her magical spells to survive.
Another beautiful yet annoying character that makes up Forspoken's backstory and will be feasible in the game is Cuff. Cuff as seen in some of the trailers released is a talking bracelet and more important to Frey's adventure than any other character that may be featured in the gameplay. Cuff and Frey as described by Mitsuno will often be seen always at each other throats as both characters are outspoken, always ready to spill whatever comes to their minds as two travelers pitched together on a journey, acquaintances but yet with opposing characters which make the gameplay more fanciful.
The world of Athia
Athia was a land once full of wonders and peace, inhabited and ruled by gorgeous and lovable creatures known as Tantas flowing from every nook and crannies of her terrain. Athia in the hands of these figures grew into a land once a shadow of itself, confined in mysteries, chaos, and destruction. The Tantas' lust for power pushed them to become oppressors, crushing and enslaving anything standing in their way.
Although most of Forspoken's posited storyline are still scattered pieces, Raio gave us a brief description of the two Tantas (Sila and Prav) that may likely be featured in the gameplay. Sila known as Athia's defender is a Tanta who is always puffed for the cuts and crust of battlefields. The blood spills, cries, and wails are her glory. Sila is described to be a Tanta with great and immeasurable strength, one of the game's bosses that may appear to give players one hell of a fight.
Prav on the other hand is a cruel executioner, heartless and cold. A self-appraised and self-righteous Tanta with listening ears only for his distorted sense of judgment. The two Tantas have been programmed with specific, unique, and bitter virtue, put forward to battle and stop Frey with any means possible from completing her adventure.
Major rumored Improvements and news
Due to the delay experienced in the game release, the game developers have stated that they are making changes to the game as a result of huge feedback from fans all over the globe. In a brief interview with creative producer, Raio Mitsuno, he vividly explained how the conversation between Frey Holland and her acquaintance Cuff has gotten positive feedback.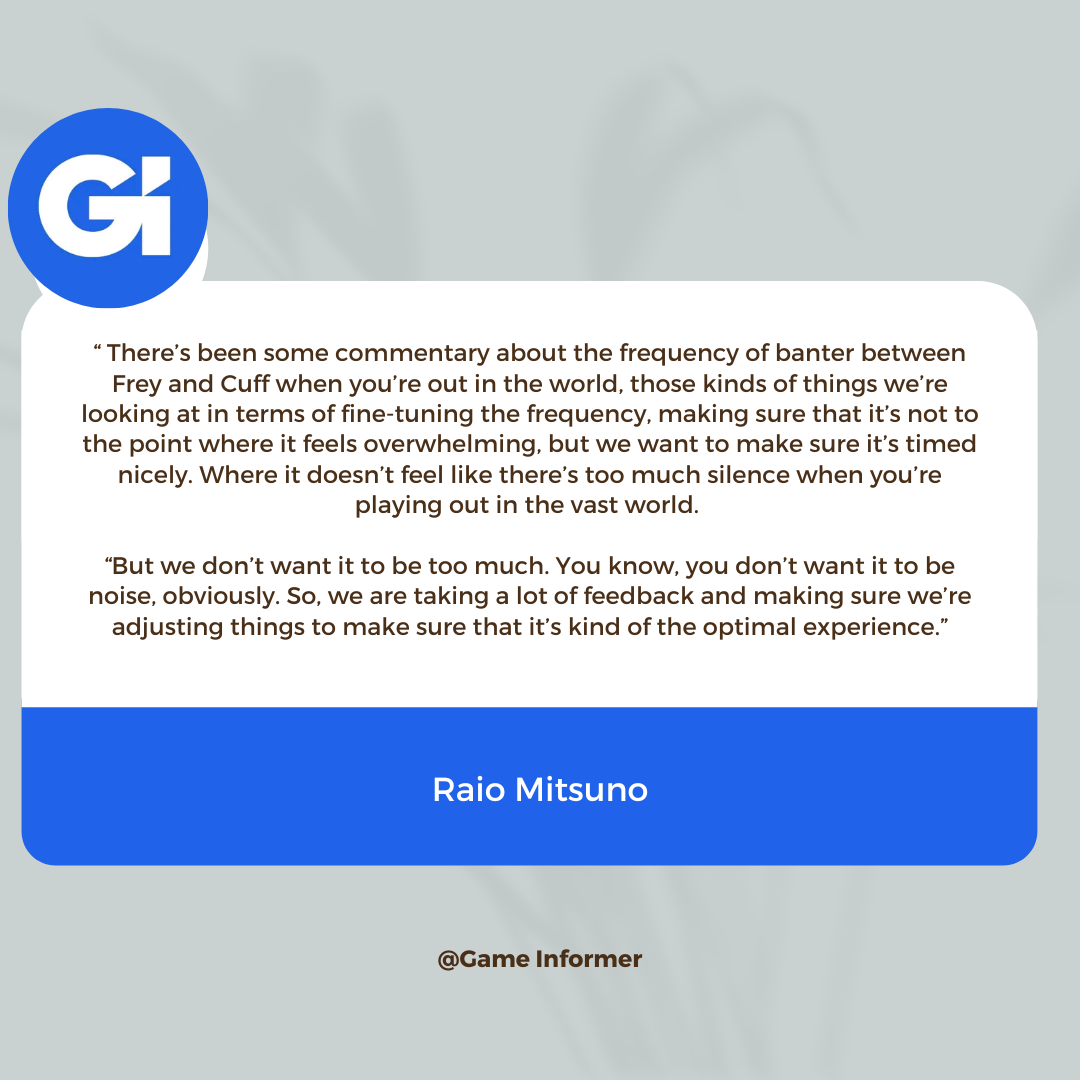 Ratings by Entertainment Software Rating Board
The ESRB rating for Forspoken has been released, providing us with some further crucial information about the upcoming RPG game ahead of its new original release date. The ESRB's official website gave the game an 'M' rating, mentioning the level of violence featured in the game and the usage of strong languages as an explicit criterion for the rating.
Intriguingly, the game will be available on the PlayStation Store for PS5 and Windows PC. But we don't have any more information yet on cutscenes and purchases.
FAQs about Forspoken
Who is the author behind the Forspoken game's story?
If the rumors were true, one of the bestselling fantasy series writers may have been approached to craft the explicit story and violent events in it.
Brandon Sanderson, the Mistborn series' fantasy author, may have been tipped for this one.
Sanderson told PCGamesN in an interview session that Square Enix had approached him about working on a new fantasy series. He further expressed how he just had to decline the offer because he had recently taken up a similar project that he still can't even put out in the air, even though it was tempting.
Square Enix reportedly approached Sanderson about writing a project that was comparable to Sanderson's Mistborn trilogy. The project had only recently been staged at the time, implying that it was most likely Forspoken.
What are the DualSense and Visual modes features?
Forspoken, like many PlayStation 5 games, will feature a variety of graphic outlays to pick from. Raio Mitsuno, the creative producer, informed Ungeek that there will be 3 in all. The gameplay will be featured in 4K graphics with 30 frames per second, while in Performance Mode, the resolution will be reduced to 1440p with 60fps. A third model that will enable ray-tracing.
"We integrated a lot of unique PS5 hardware characteristics when we were building this game," director Takeshi Aramaki remarked of using the DualSense. We included substantial and sensory feedback to the adaptable triggers, for example, when you're utilizing them. The strategists and designers came together and plan out ways to separate the reviews we got on magical spells in the game."
Who are the big names behind the game?
The names behind Forspoken's backstory gave us goosebumps and a lot of positivity to look forward to ahead of the game release. The writing team featured the likes of Gary Whitta, co-developer of Rogue One gameplay as the lead, Allison Ryme (co-developer of Shadowhunters), and Todd Stashwick who featured magnanimously in the 12 Monkeys trilogy, and Amy Hennig (author of Uncharted series).
Along with these badass writers, we also have excellent composers behind the gameplay as well such as Garry Schyman, the composer of BioShock alongside Bear McCreary, the composer of God of War and other Illustrious gameplay who will be taking us on an action-packed journey to the world of Athia and action-packed events expected to be unveiled in the game as we wait.
We are influencers and brand affiliates.  This post contains affiliate links, most which go to Amazon and are Geo-Affiliate links to nearest Amazon store.
My name is Alice and I have been into gaming since I first got the Nintendo 64 in late 1996 and enjoy writing about all things relating to entertainment, gaming and streaming. Lately you can find me playing mostly MMO's like WoW, FFXIV or Black Desert Online when I have time to game.