Some of us want an extreme case, a case that can support any and everything you can think of and some of us just want a case that can support the basics.  Then there are those of us in between that want the case that supports the basics and a bit more but still looking basic, super quiet and still pack a punch, if I am describing you here; you may want to check this review out.
My review today will be on the Fractal Design S, the S is for Silent.  I have been in this business for over 2 decades and there are many of us that don't care about how the PC looks and sounds, they just want performance.  What if I told you that you can have a superfast PC with just about all of the bells and whistles but still quiet and what if I told you Fractal Design sells that case?  Well, let's check out the features and specs and see what the Fractal Design S has in store.
Supported Motherboard Standards: ATX, Micro ATX, Mini ITX
Maximum GPU Length: 425mm in length (16.73 Inches) with front fan/fans installed,
Maximum GPU Length: 450mm in length (17.72 inches) without front fans installed
With a Front Radiator for liquid cooling the Maximum Length will be reduced by the radiators thickness
Maximum CPU cooler Height: 180mm (7.09 inches)
Maximum PSU Length: 180/170 mm (7.09 /6.69 inches) respectively with bottom 120/140mm fan installed
Maximum PSU Length: 300mm (11.81inches) without bottom fan
Liquid Cooling Compatibility
Front: 360/280/240/140 or 120mm radiator
Top: 420/360/280/240/140 or 120mm radiator (Up to 55mm for Radiator and fan for 420/280 and 140mm radiators)
Bottom: 120mm radiator (Bottom radiator limits PSU length to 165mm)
Rear: 120/140mm radiators
Adjustable mounting brackets allow for most rectangular mounting screw patterns
Maximum distance between mounting bracket screw positions: 350mm height / 80mm width
7 expansion slots
Drive Bays (Behind motherboard tray)
External Connections/Interface
2 x USB 3.0
1 x Headphone Jack
1 x Microphone Jack
1 x Reset Button
1 x Power button with Blue LED
Red HDD activity LED
Front: 2 x 120/140mm Fan (Includes 1 x Fractal Design Dynamic GP14 140mm fan)
Rear: 1 x 120/140mm Fan (Includes 1 x Fractal Design Dynamic GP14 140mm fan)
Top: 3 x 120/140mm Fan (Not Included)
Bottom: 2 x 120/140mm fan (Not Included)
Side: 1 x 120/140mm Fan (Only for S without Window, Not Included)
9 Fan Positions available (8 Fan Positions on Windowed model) positions on window model
20 – 40mm of space for cable routing behind the motherboard plate
Velcro straps included for cable management
Front and bottom removable and washable dust filters
Includes Sound Dampening
Dimensions: 233W x 451H x 520Dmm
Net weight: 20.06lbs
An amazingly long list of options and features wouldn't you say?  Well, let's check out an unboxing of the Fractal Design Define S.


Very nice so far, simple yet elegant with no optical bays.  I still use opticals (yeah I know) but the more I use this case, I am thinking to switch to a USB optical, but I might be getting ahead of myself here.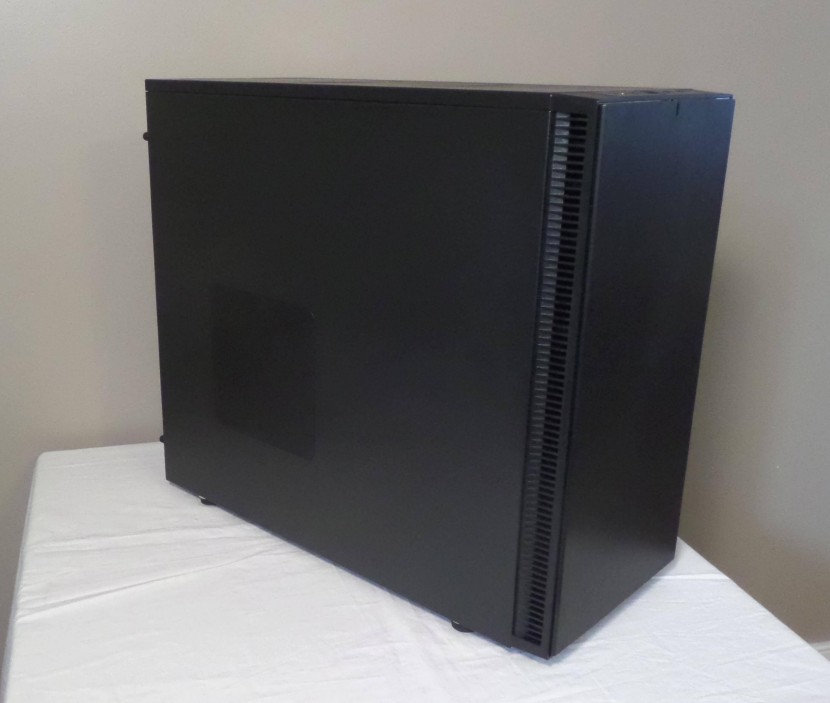 If you notice, there is a little indentation along the side of the case; I will get back to that a little later in the review.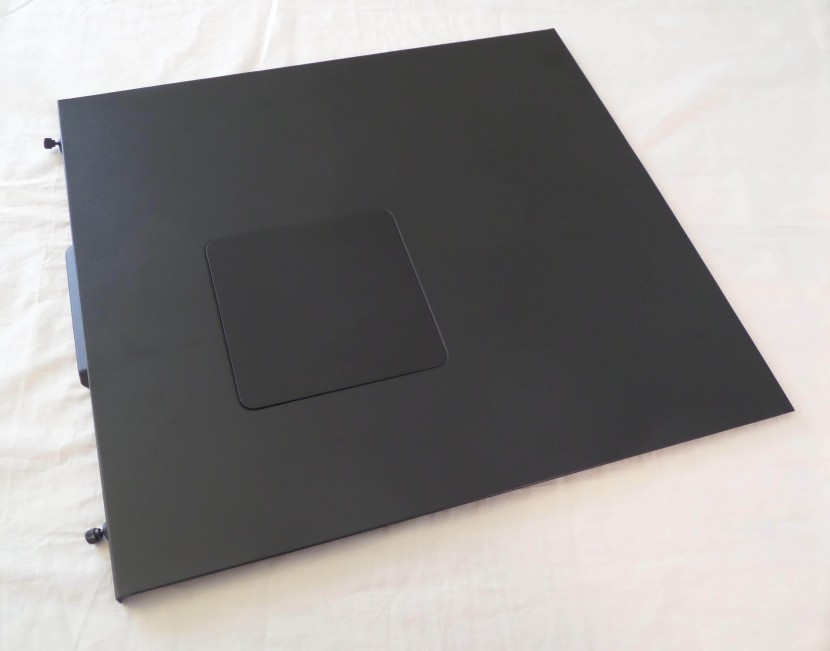 Included in this box, you will find the accessories and some manuals.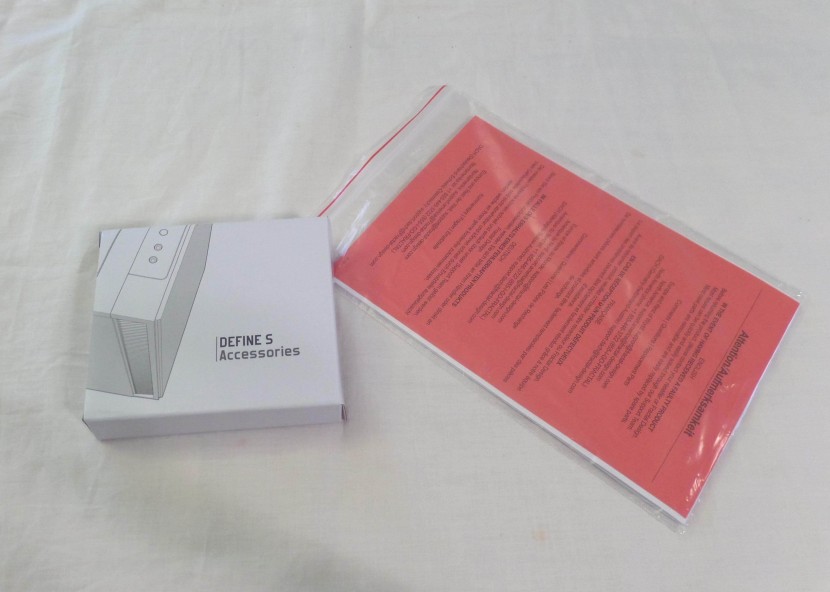 Inside of the Accessories box, you will find a wealth of screws, brackets and cable ties, so let's break it down a bit.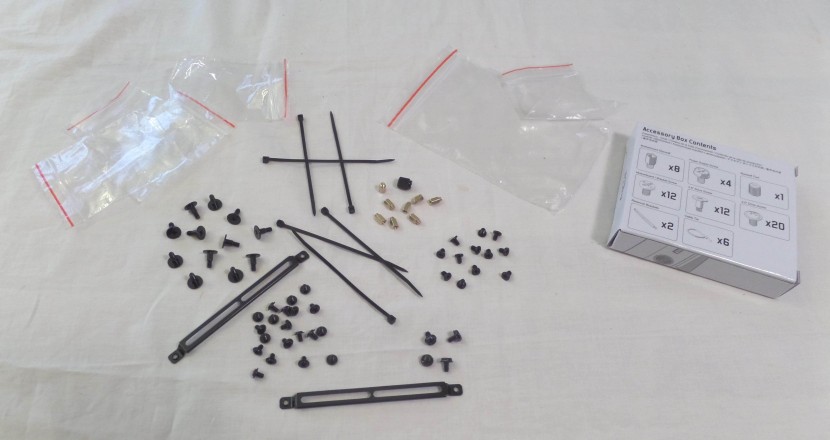 To start off with, they include 8 x standard motherboard standoffs to lift your board off of the bottom of the case and a very handy little tool, named the "Standoff Tool".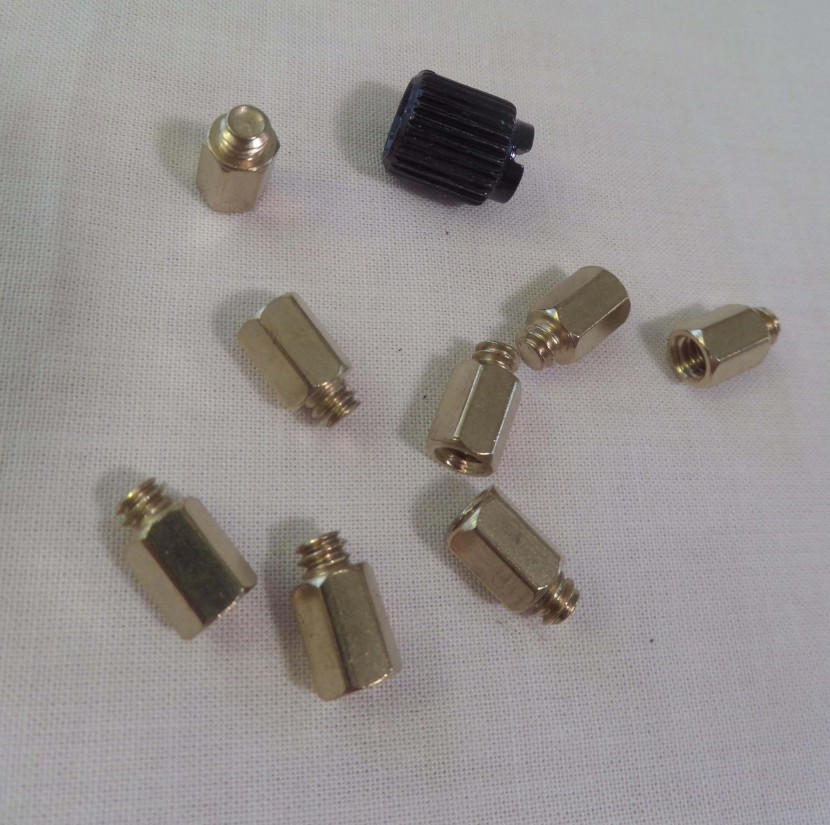 A very handy little tool because it allows you to use your favorite Philips head screw driver or flat head screw driver (notice I didn't write favorite because no one likes that screw driver head) to screw down the standoffs.  Many cases just include a little standoff screw driver that is so thin that it becomes a chore to screw these things in; Fractal Design helps you with this.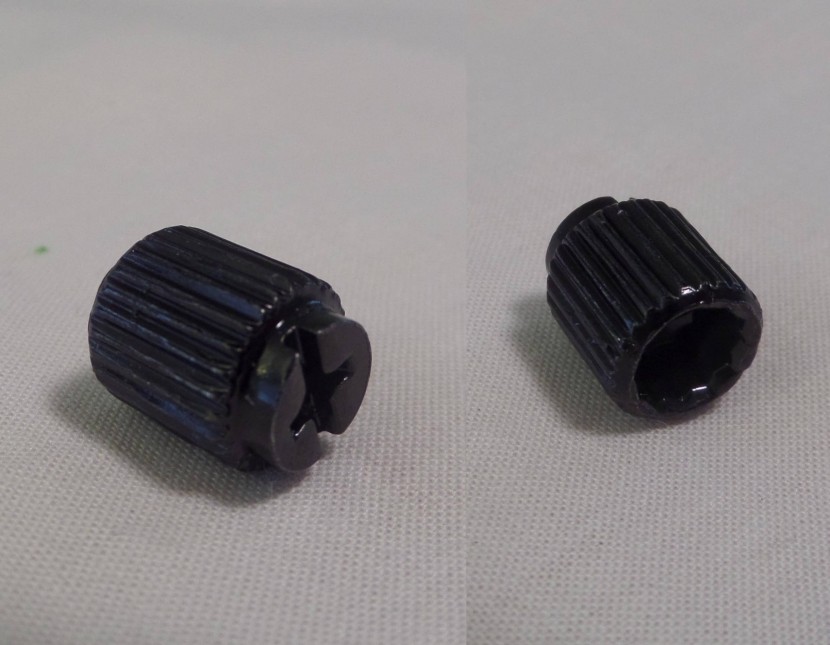 Included also are 12 x motherboard / Bracket screws.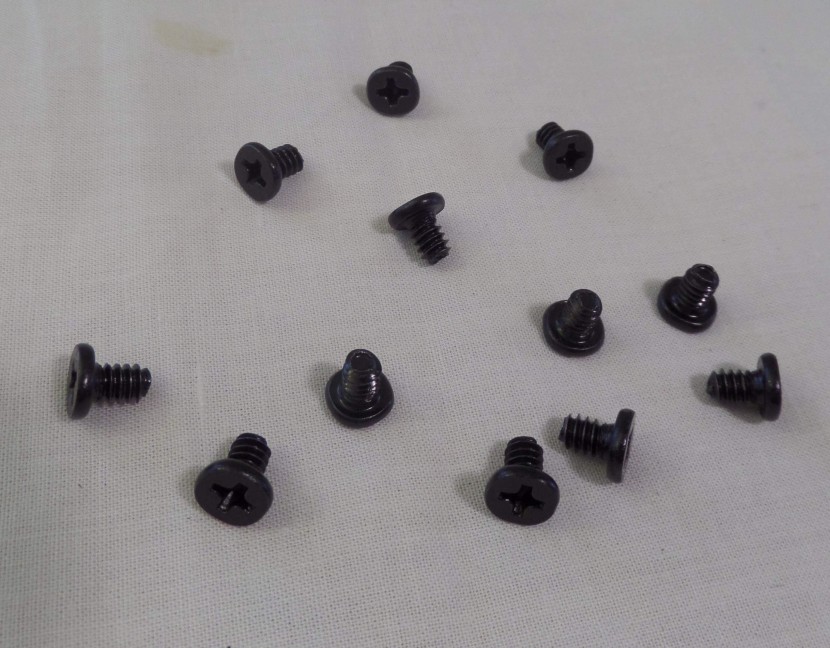 2 x Brackets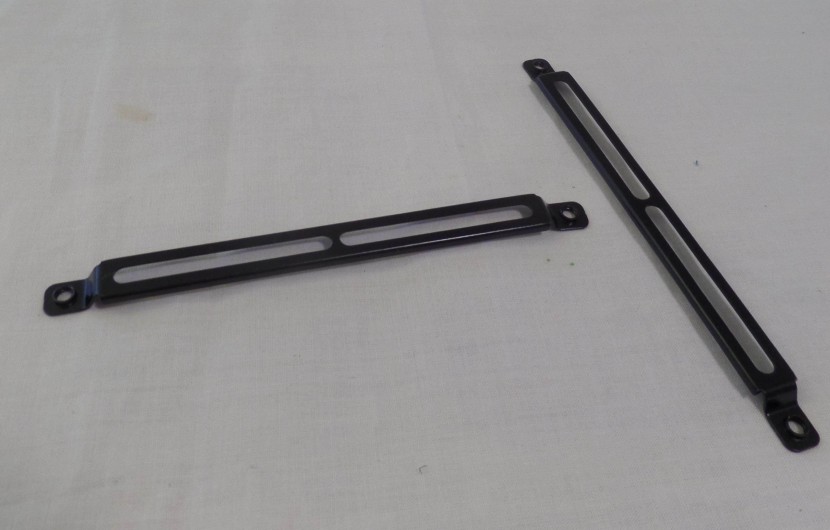 12 x 3.5" Drive screws for 3 x 3.5" hard drives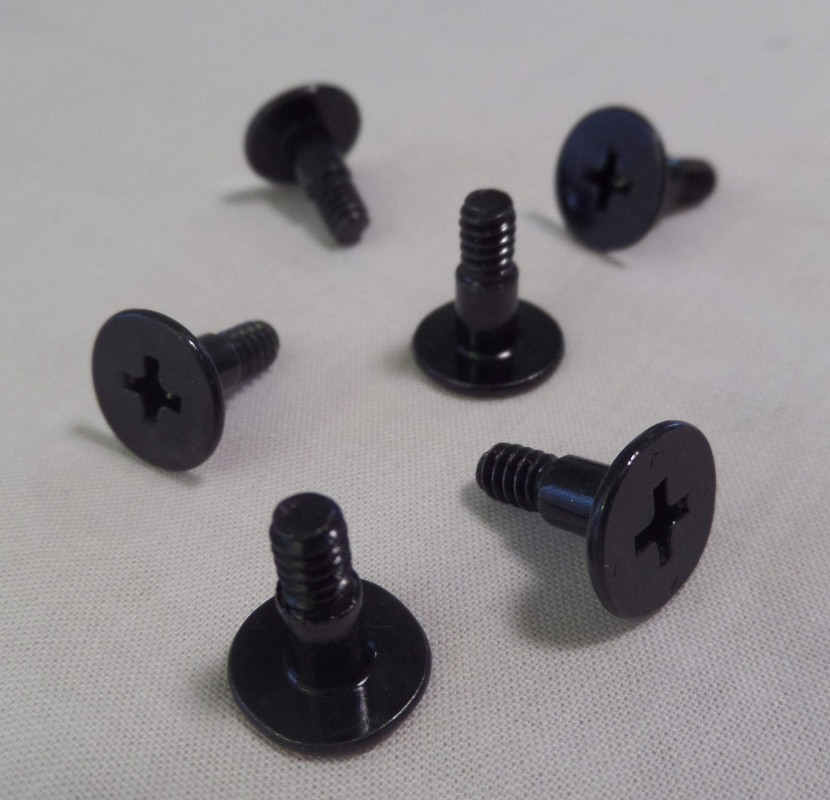 4 x Power supply screws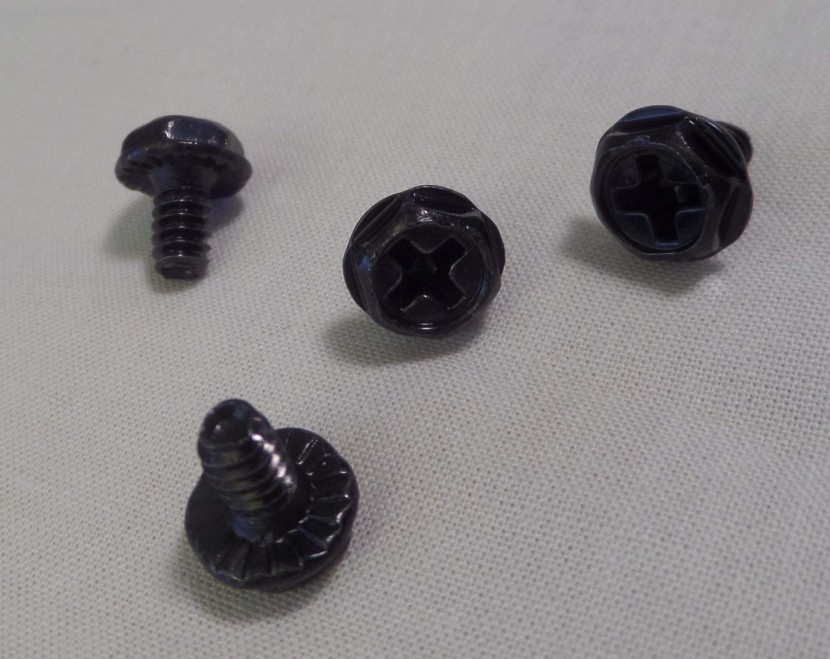 20 x 2.5" Drive screws for up to 5 x 2.5" drives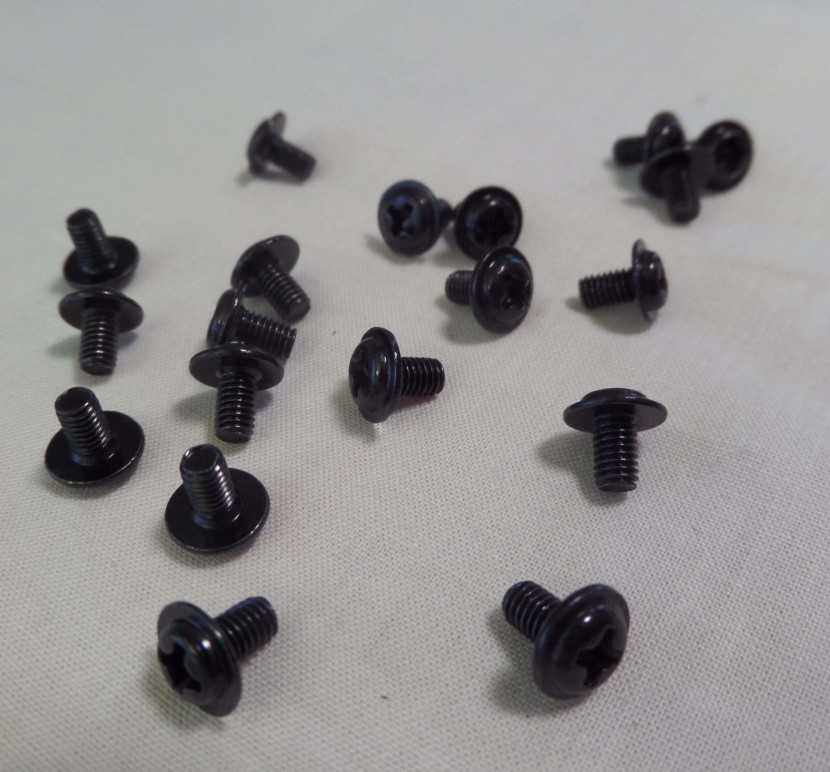 And 6 x cable ties/zip ties to keep everything nice and neat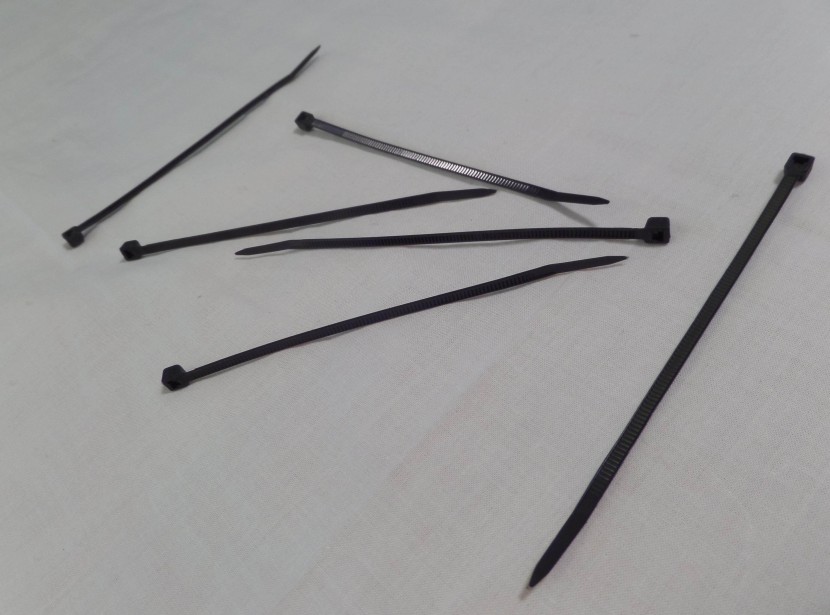 As I showed you before, aside from the Accessories box, they also include a user's guide and an "Attention" leaflet just going over what you should do in the unlikely event that the case or anything within it was damaged.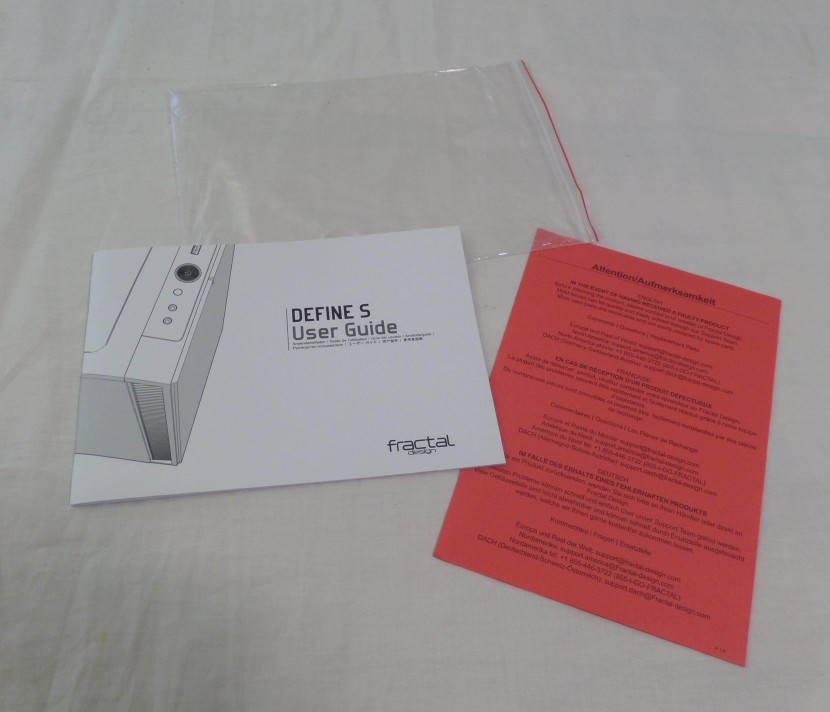 I've gone over the case a bit and everything it includes, but you can't really describe a case unless you build inside of it, let me show you how to build a computer inside of the Fractal Design S.  More than that though, I will show you how to build a computer for those of you that might not know how.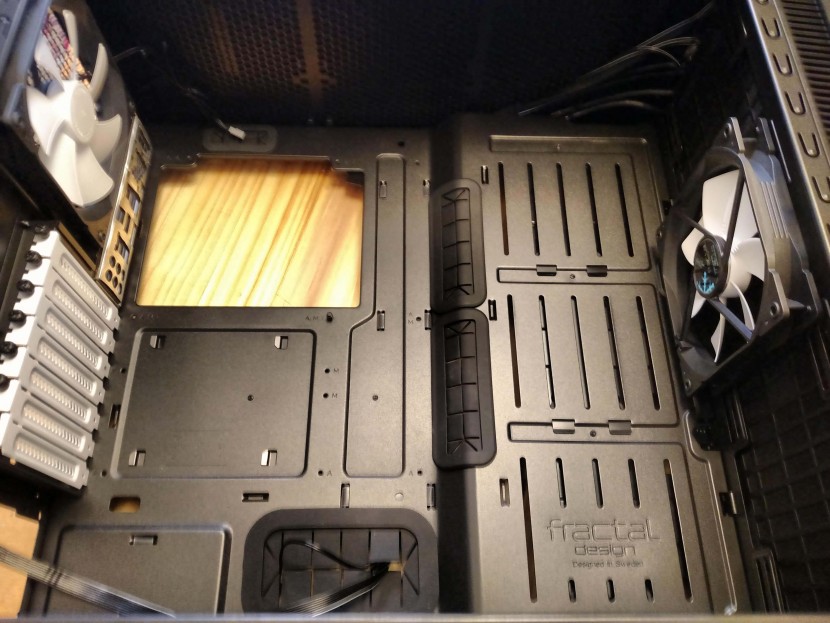 Here are the specs of the system we are going to build

In that video, I show you how to install your CPU, Memory and CPU Heatsink onto a motherboard, video card, hard drives and the ethernet card, but there's more to it.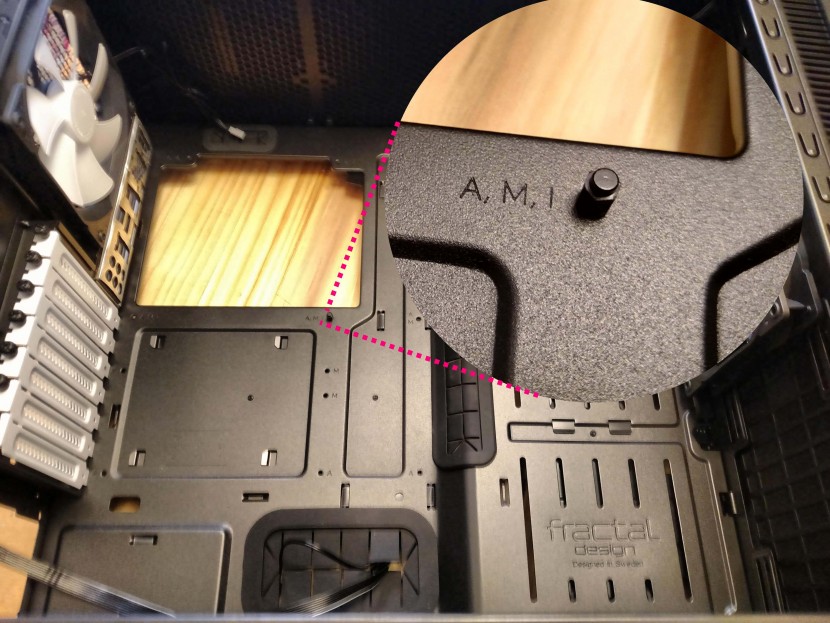 Another thing Fractal Design did with this case to help all builders is included a reverse stand off towards the center of the case.  They included this so that whether you have an ATX, m-ATX or ITX board you can take advantage of it.  The point of this reverse standoff is so that you can lock the motherboard into place while screwing in all of the motherboard screws down onto the standoff without having to hold the board in place, a great idea.
As a note, the letters engraved onto the motherboard tray signify where standoffs need to be placed for different types of motherboard.  A is for ATX, M is for m-ATX and I is for Mini ITX.
Also, that opening on the back of the case is so that you can install liquid cooling or a CPU heatsink that requires retention on the back of the motherboard.  Mind you, this is a feature that is appearing on many cases, but I thought I would mention it.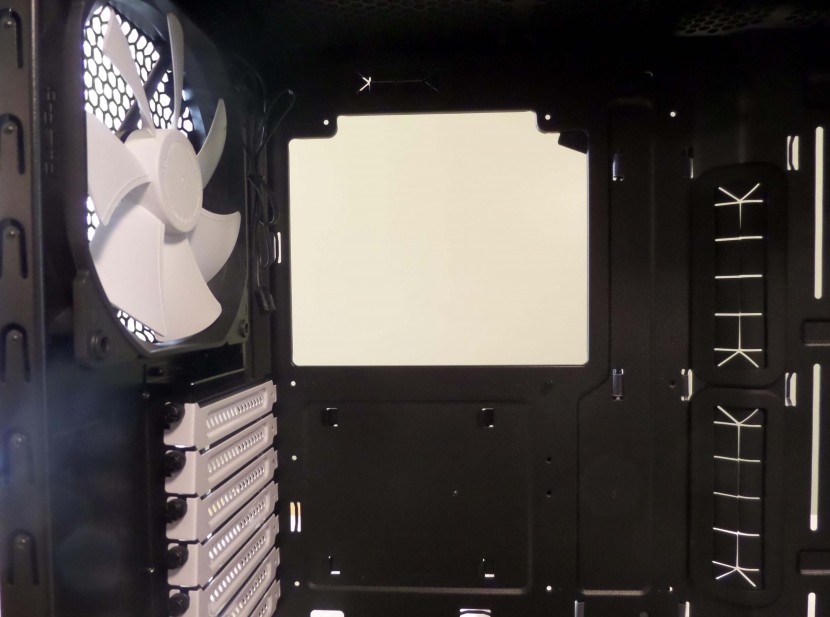 Notice there were no optical bays.  Most programs today are either downloadable or offered on a thumb drive so to keep the front panel clean, the 5.25' bays have been omitted, that will make many people happy.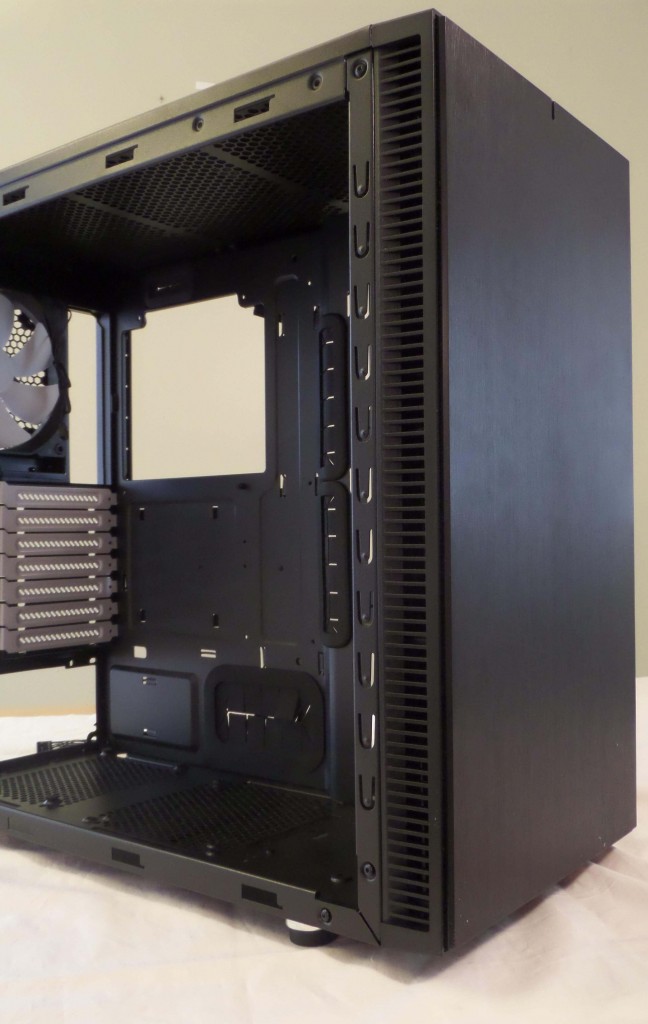 Removing the solid front panel reveals the front fan filter.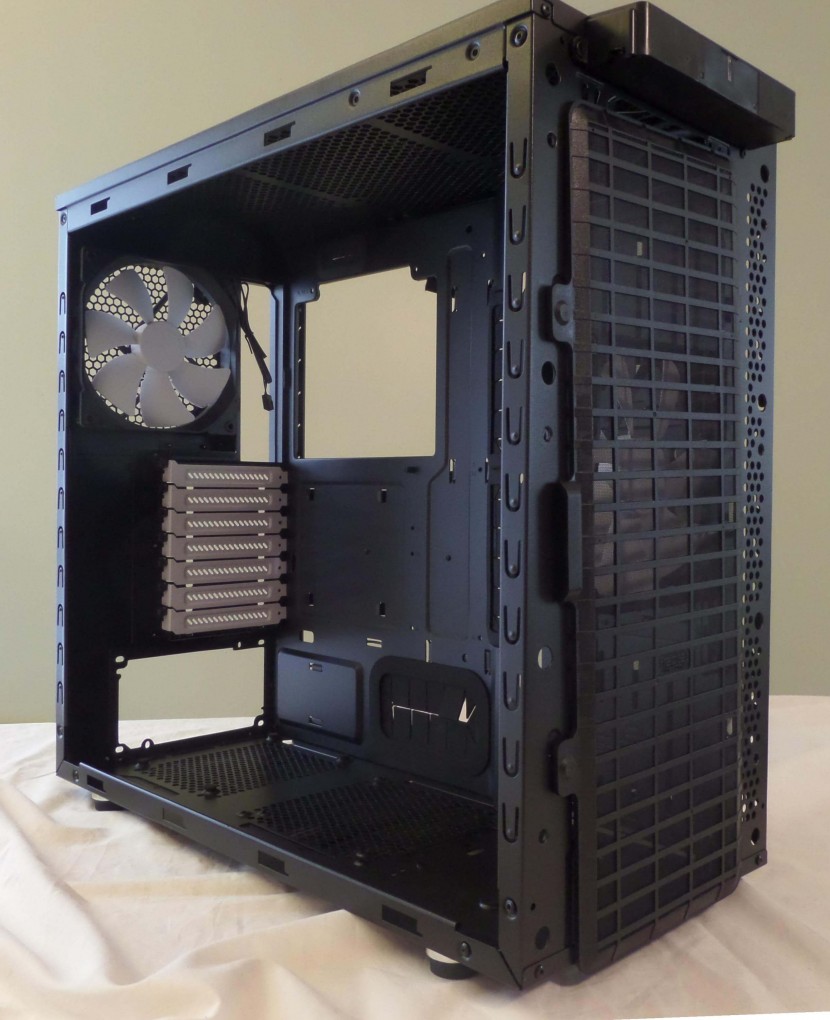 Under that, we find the front 140mm fan along with 2 additional spots for 140mm fans, though that fan can be removed and 3 x 120mm fans can be installed instead.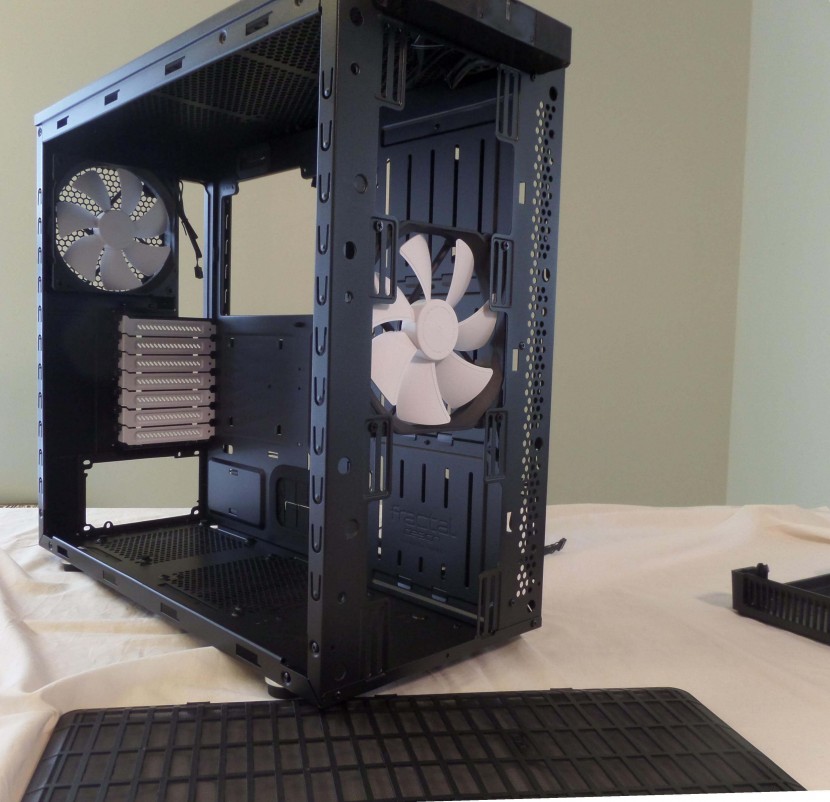 That's it, there is no door there, it's flat and clean.
Courtesy of Fractal Design, this diagram shows different liquid cooling configurations for the front, top and rear of the case.  Oddly enough though, they don't show you a spot on the bottom even though one is supported.

So let's move on to cabling.
In that video I show you how to install the power cables from the power supply, but there are a bunch more cables we need to install.
See how nice those Velcro straps they included help to keep things neat and how the cables fit through there cleverly placed rubber grommets.
Next to some of the Velcro straps we find the spots that house 2 x 2.5' plates for SSD's or small form factor hard drives.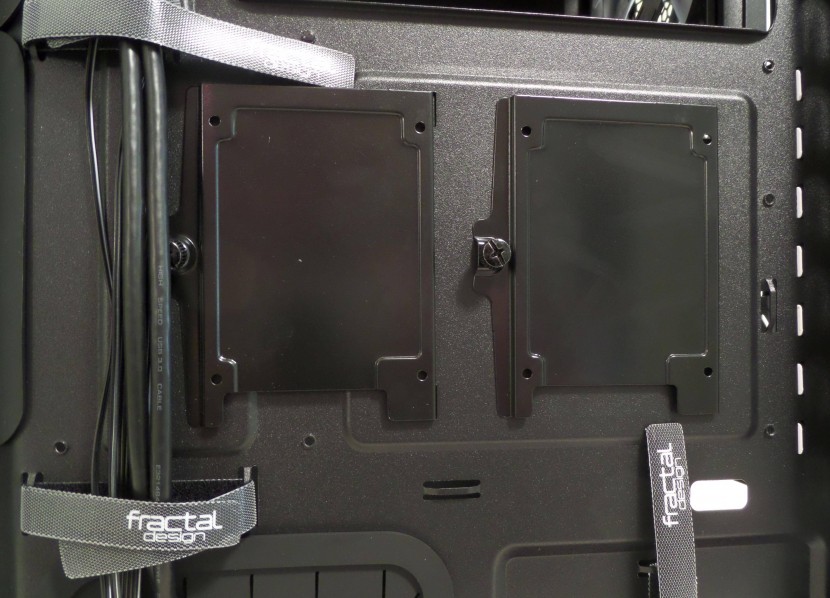 Zooming out a bit more, we can see where the 3.5' drives fit, as well as the 2.5' I showed you previously.  I outlined them in red for you.  Here you can also see all of the Velcro straps.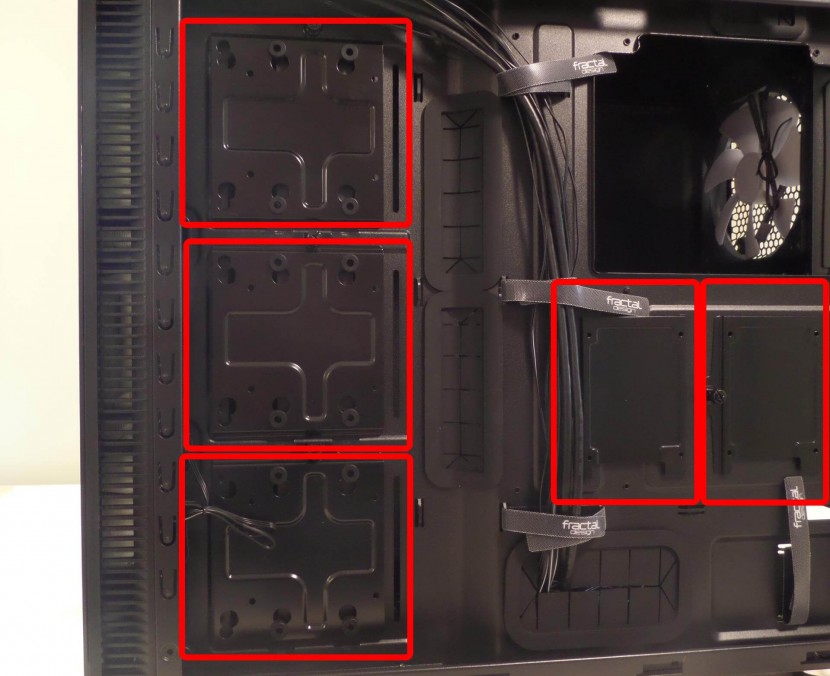 Down below where we installed the power supply, we find another filter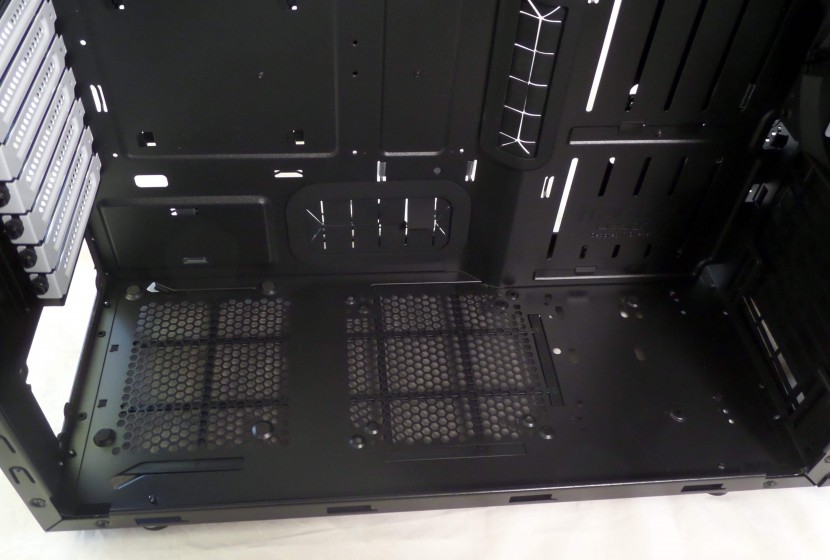 This is how the case looks like on its side with the filter being pulled out.  Remember, when they get dusty you can just pull them out, rinse them under the faucet, let them dry and slide them back in.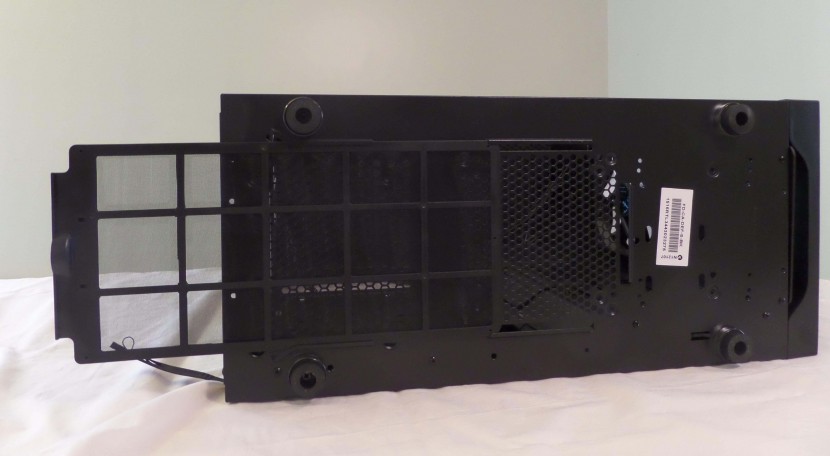 Here is a little showcase of a fully built system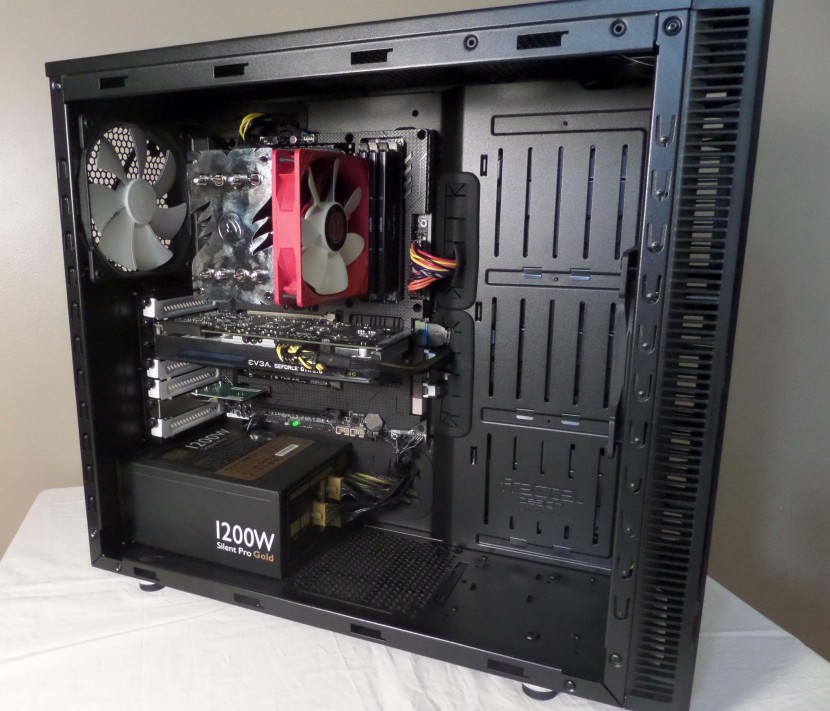 Since this case doesn't let hard drives or cables get in the way of the video card, CPU and other components there is room for great cooling.  I did some benching to show you how thermals are in this case.
At idle for over 15 minutes, the CPU at its highest was 63°C (measuring at the Package, not each individual Core) and hovered around 51°C, the GPU 39°C.  Many factors play a role on the temperatures inside of the case including the processor type, CPU cooling method and GPU Cooling method and the rats nest of cabling if not done well.
The CPU is a Core i7 4790K and the heatsink is a Rajintek Themis EVO while the GPU is an EVGA GTX970 SC ACX2.0 using its stock cooling solution.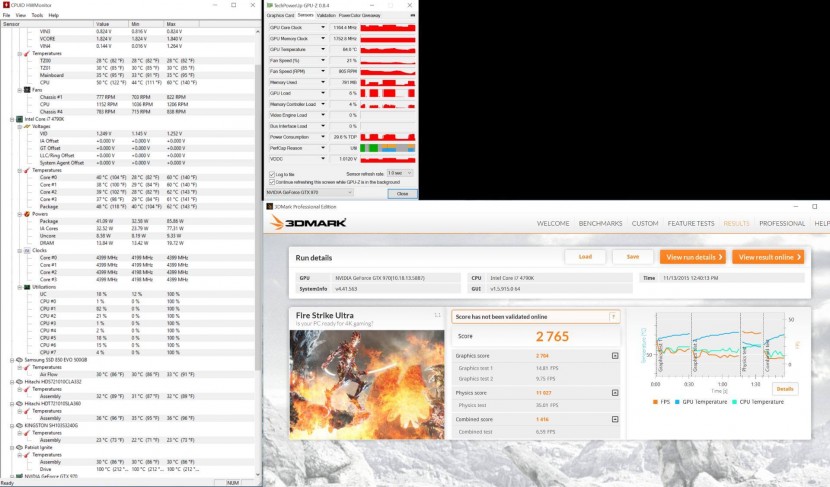 The hottest the GPU got in 3DMarks Fire Strike running at Ultra was 74°C and the CPU 62°C, these are the temps testing without a fan on the side panel.  Average temperature of the GPU was in the low 60's.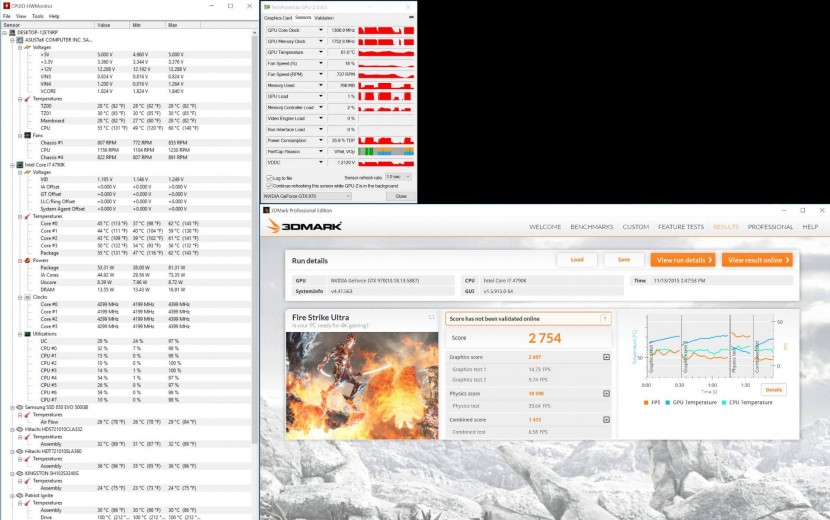 Just above we can see the hottest the GPU got in 3DMarks Fire Strike running at Ultra was 73°C and the CPU 62°C, these are the temps testing with the 140mm sidepanel fan on.  The average temperature of the GPU was in the upper 40's.
At idle for over 15 minutes the GPU hovered at GPU 32°C.  At idle it dropped 7°C below the previous test with no side panel fan, the side panel does help though when stressed it only dropped by 1°C from the previous temperature.  The CPU hovered in the lower 40's and the highest it got was 62°C.  The GPU got the best results here.
Here is how the case looks like with a side panel fan.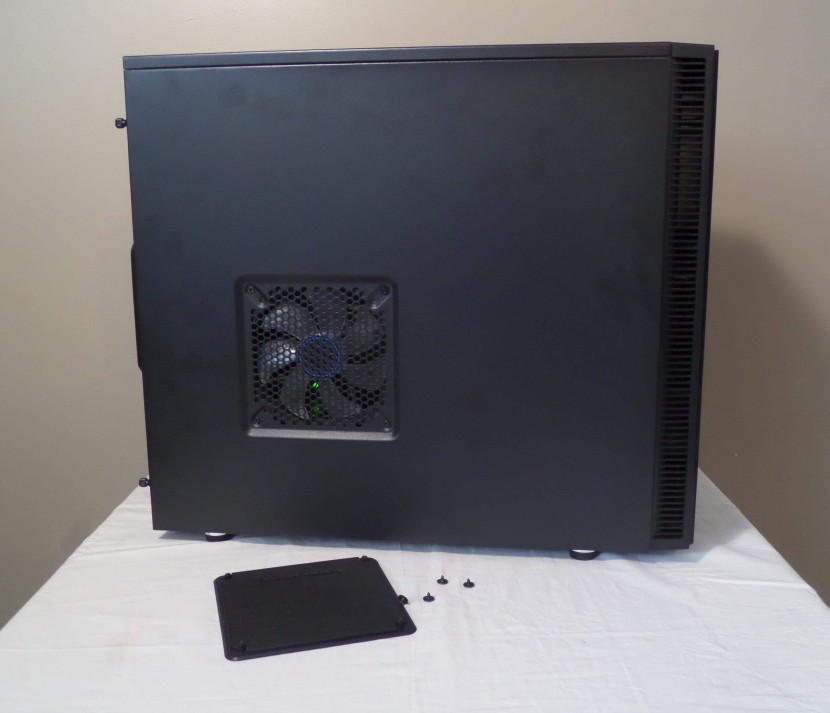 This is how the case looks like with the small side panel called the Moduvent is removed.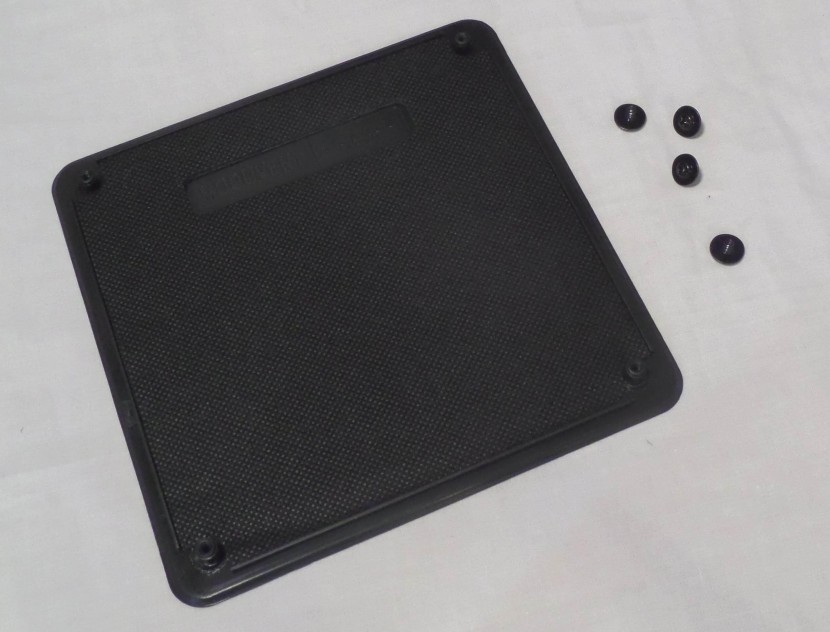 The side panels both have noise dampening material, as well as each of the Moduvent panels.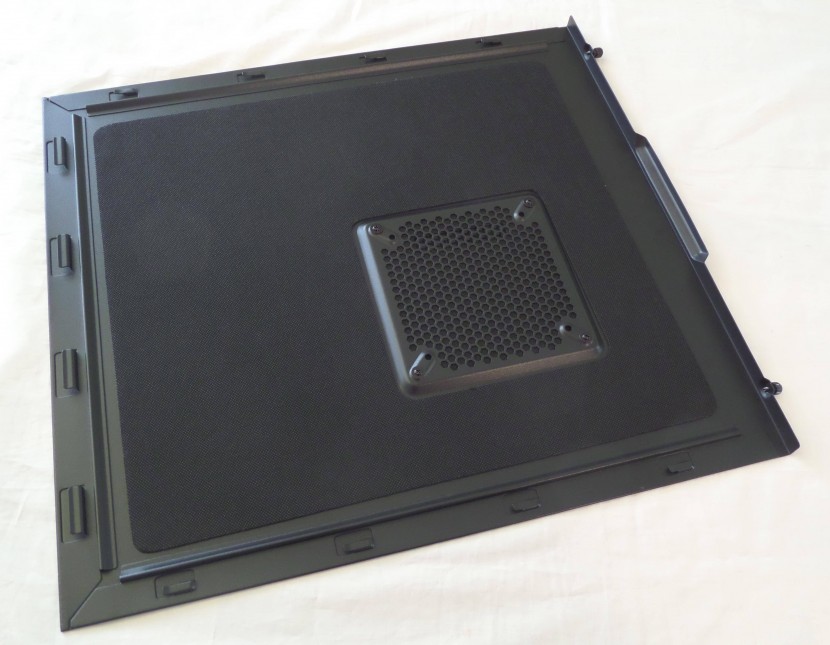 To give you an example of the care they took with the noise dampening material, here it is a bit zoomed in.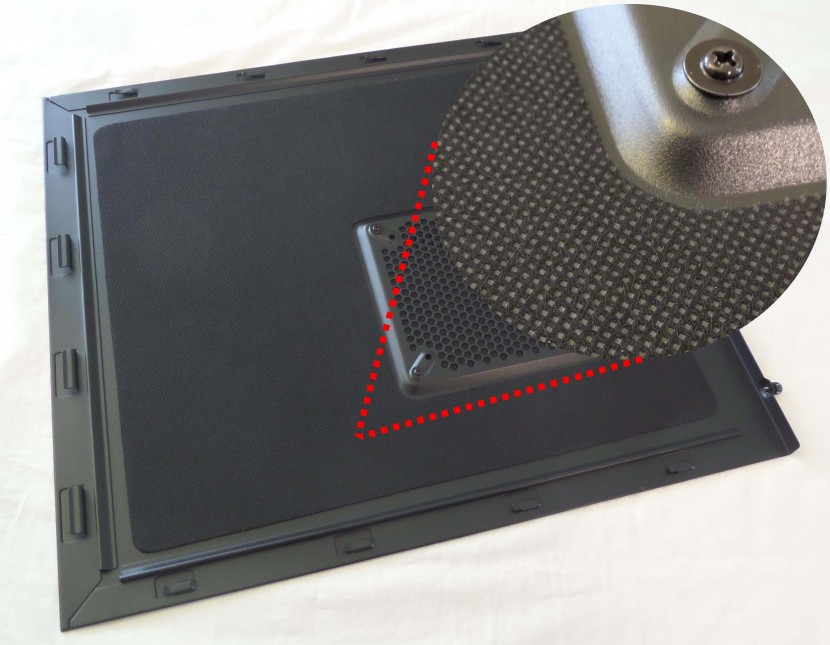 I like to look inside my case when I am on my computer, I am proud of my work so while a side panel is good for some, it's not ideal for me.  Thankfully, Fractal Design also released the S in a Windowed model as well.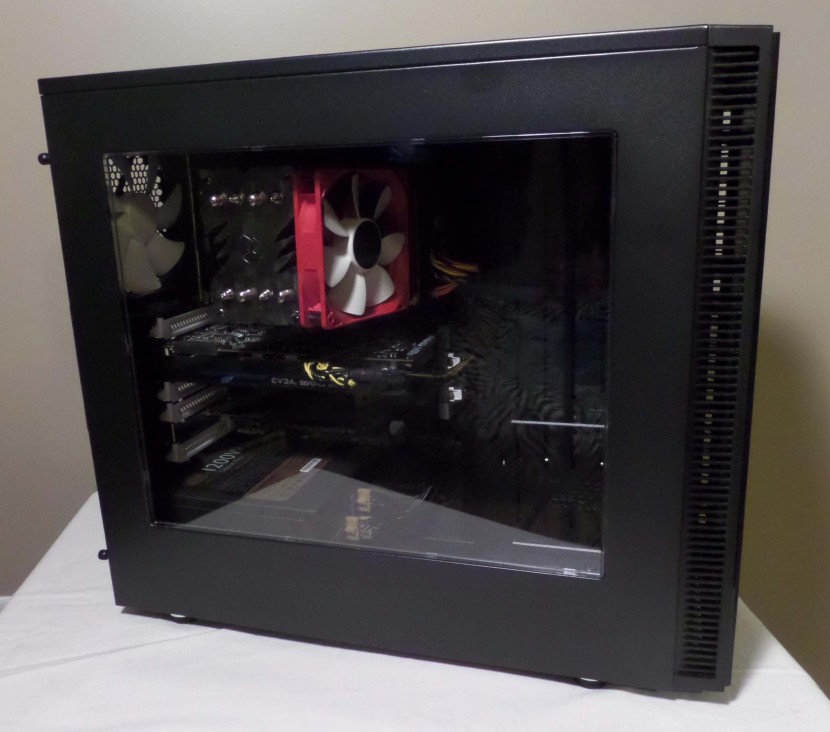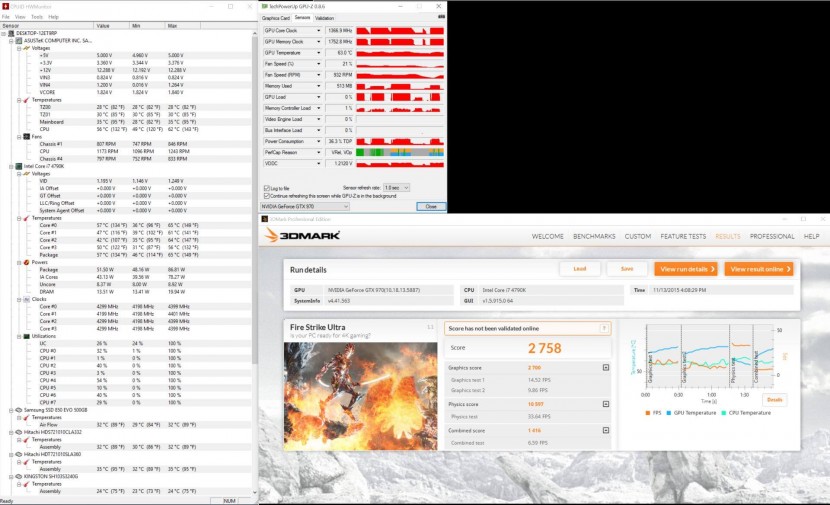 Just above was we can see the hottest the GPU got in 3DMarks Fire Strike running at Ultra was 74°C and the CPU 65°C, these are the temps testing with the windowed sidepanel.  The average temperature of the GPU was around 44°C.  Remember, the windowed side panel has no noise dampening so it does get just a bit louder.
At idle for over 15 minutes the GPU hovered at GPU 38°C.  The CPU hovered around 48°C and the hottest it got was 65°C.
Plenty of options here, solid side panel, solid side panel with a fan on one case, and on another case you can get a windowed side panel, but how do they sound.
When I first received the case, I noticed the side vents, towards the front of the case and I instantly thought that they would add a ton of noise, but I guess I was wrong.

I circled it in red above, the other side is the same.  I thought that these would suck in too much air causing it to sound like air being blown through a straw, but I was wrong.  It does a nice job of cooling the case.
On the top of the case, here you can see the Heaphone and Microphone jack, Reset button, Power button and 2 x USB 3.0 ports.  Notice that the blue LED light also surrounds the metal power button, a nice touch.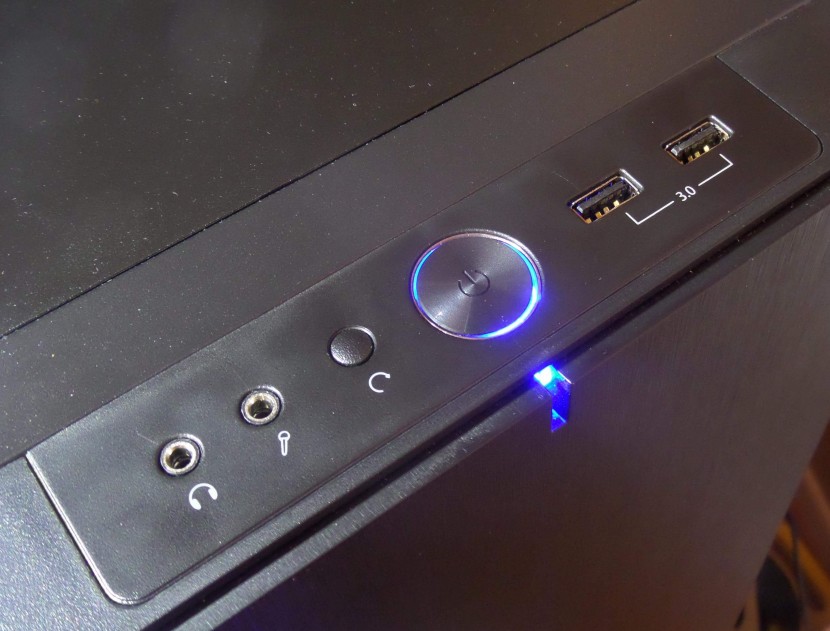 A little further down we see the top ModuVents that also double as noise dampening panels when they are still attached.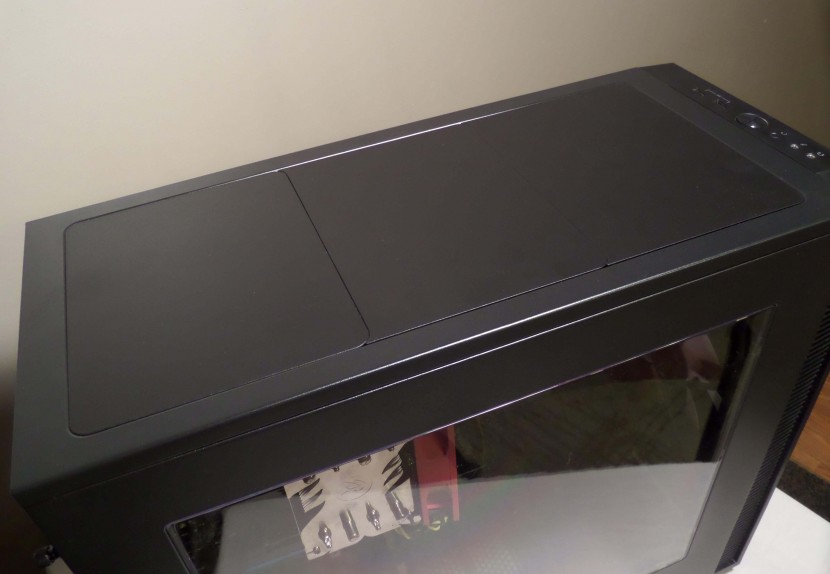 These ModuVent panels block fan vents for 3 fans or a liquid cooling unit of course for better cooling, here's a pic of 1 x panel removed.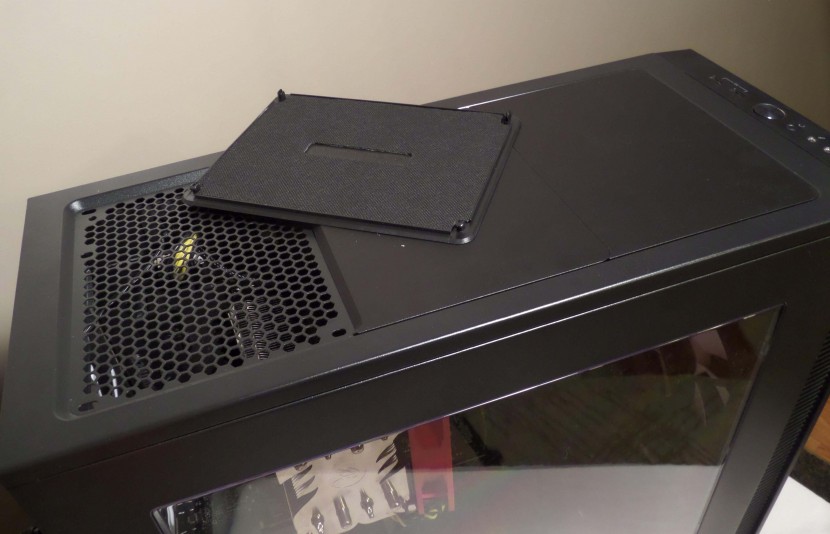 And another with all 3 removed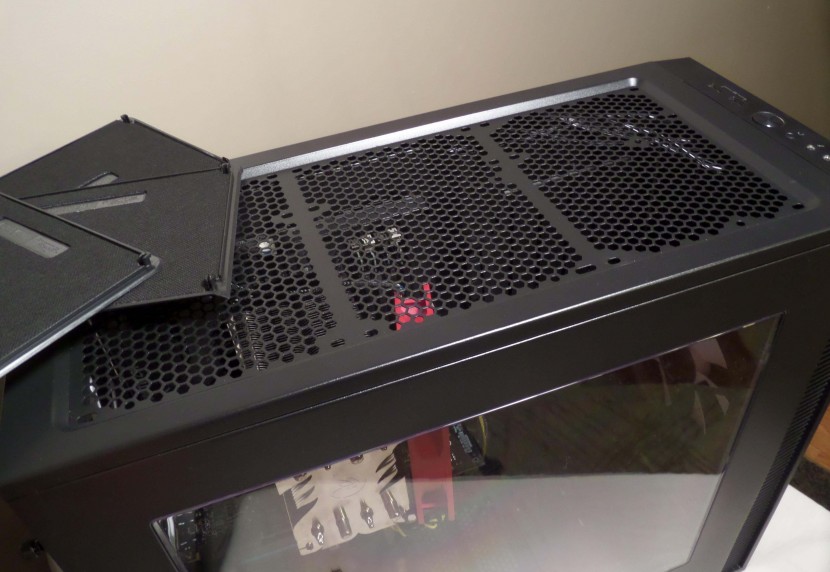 The panels pull up very easy, all that's needed is a finger nail or if anything a flat head screw driver, just make sure not to scratch the panels.
Closing Thoughts
The tiny size of the case is misleading, it looks like it can't support much, but it can support just about anything.  I am a bit surprised that there are only 2 x USB ports on this case, there should be 2 x USB 3.0 and 2 x USB 2.0 ports, and everything comes in USB.  This has to be one of the quietest cases I have ever worked with.
Pros:
Amazing airflow
Front panel and bottom panel air filters
Includes 2 case fans, front and rear
Minimalist Design
Moduvents are a great touch
Noise dampening
Very affordable
Incredibly quiet
Very low price
Cons:
No case lighting
Only 2 USB Ports at the top of the case, should have more.
Check out the Solid Side Panel Version Here: amzn.to/1NyhHjM
Check out the Windowed Side Panel Version Here: amzn.to/1IMEGlL
Even though I still have and use opticals, I think this is a great case, AMAZINGLY quiet and the perfect size for all, the smooth front panel is also appealing.  Ontop of this, it is incredibly customizable and able to fit just about anything you want to throw into it, liquid cooling options as well.  There only downside to this case is the fact that it only has 2 USB ports on the top of the case, if there are going to be no opticals, I think you should have at least 2 extra ports to be able to plug in Controllers, Camera's, Headphones and an occasional external optical drive.  This is a biggy for me, but the fact that it is amazingly affordable outweighs that slight inconvenience, It would have gotten a 4.5 alone, but the price brings it back up to a 5 star Editors Choice.
I have spent many years in the PC boutique name space as Product Development Engineer for Alienware and later Dell through Alienware's acquisition and finally Velocity Micro. During these years I spent my time developing new configurations, products and technologies with companies such as AMD, Asus, Intel, Microsoft, NVIDIA and more. The Arts, Gaming, New & Old technologies drive my interests and passion. Now as my day job, I am an IT Manager but doing reviews on my time and my dime.