We are influencers and brand affiliates.  This post contains affiliate links, most which go to Amazon and are Geo-Affiliate links to nearest Amazon store.
The Emmy Award nominees were announced this week and HBO's series Game of Thrones received several.  Perhaps not nearly as many as fans of the show, based off the George R.R. Martin A Song of Ice and Fire novels, would have liked but any recognition is better than being shut out completely.
The competition in several of the categories is fairly still, unfortunately, so Game of Thrones may not walk away with too many of these coveted awards.  Despite the cast, most of the nominations are for things having to do with the show rather than its actual actors.  In fact, only Peter Dinklage who plays Tyrion Lannister, is the only one to receive a nomination for Best Supporting Actor.  Dinklage won the category in 2011.  This year he is up against two actors from Breaking Bad, two from Downtown Abbey, and one from Mad Men.
The show itself is up for Best Drama.  However since Breaking Bad and Mad Men are both in the category, it probably won't win.  Also nominated are Downtown Abbey, Homeland, and Boardwalk Empire, which is another HBO series.
Outstanding Art Direction for a Single-Camera series, Outstanding Costume Design for the episode "The Prince of Winterfell", Outstanding Hairstyling, Outstanding Makeup, Outstanding Prosthetic Makeup and Outstanding Visual Effects for "Valar Morghulis", Outstanding Achievement in Art Direction, Outstanding Casting, Outstanding Sound Editing and Sound Mixing for "Blackwater", and Outstanding Creative Achievement in Interactive Media; which comes from the digital experience HBO Go offers; round out the rest.  The problem is that many of these categories have Mad Men, Breaking Bad, Once Upon a Time, or The Walking Dead in them as well so wining might prove difficult.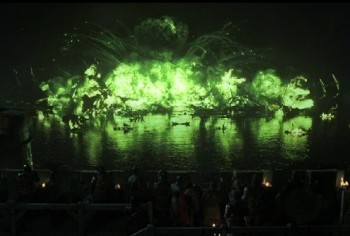 Some fans might complain that the other actors were snubbed by not receiving nominations for their supporting roles, it's hard to have someone be considered the main actor in a series with this many cast members, but they were last year as well so…There are also a few episodes which did not get nominations which they probably should have.  "Blackwater" for one could have easily been in the Outstanding Visual Effects category, although I can see why "Valar Morghulis" got it.  If you want to know why, watch the episode, it will be obvious.
With these nods to the show, and Season 3 currently filming, fans of Game of Thrones can look forward to more news about it before Season 3 airs March 2013.  Well that is if they don't go crazy waiting for the third season.  Tune in September 23 to find out if Game of Thrones can walk away with the majority of these awards.
We are influencers and brand affiliates.  This post contains affiliate links, most which go to Amazon and are Geo-Affiliate links to nearest Amazon store.
I have been a gamer for over 20 years. My preference is RPG, fighter, action, adventure, defense, and strategy although I will play just about anything. I also prefer console to PC gaming. Depending on what interests me, I watch TV and movies. Some things every week or when its new and others as they catch my fancy. Here I prefer dramas, fantasy, sci-fi, and action. I also am an avid reader and writer.