Disclaimer: Rocketcases has provided Dragonblogger.com with a Gameboy Retro Case for evaluation purposes. Opinions expressed in this review are 100% my own.
Novelty cases are such a great way to solve the "which iPhone is yours" problem. Rocketcases has come up with a solution that reaches out to your inner gamer with their Gameboy Retro Case. The Gameboy Retro Case is a truly ingenious way to camouflage your iPhone 4, iPhone 4S, or iPhone 5. Imagine the surprise you will cause when you answer a phone call and reveal to people that it is not in fact a Gameboy. Sure it does not exactly hold up under close scrutiny but at a distance you are sure to fool pretty much anyone in your surroundings.
Feel free to watch the video review or continue reading the written review below.
Quality Design and Materials
The case is made out of durable silicon and can crumple without sustaining any damage. Colors on the case are vivid and quite accurate to the original Gameboy. I was pleased with the little details, such as the series of vents that are meant to replicate where the Gameboy's speakers were. As mentioned in the introduction, the buttons are raised but of course have no function whatsoever. So far the case has stood up to some rough treatment and has not developed any tears, scrapes, or cuts.
Great Fit and Clever Cutouts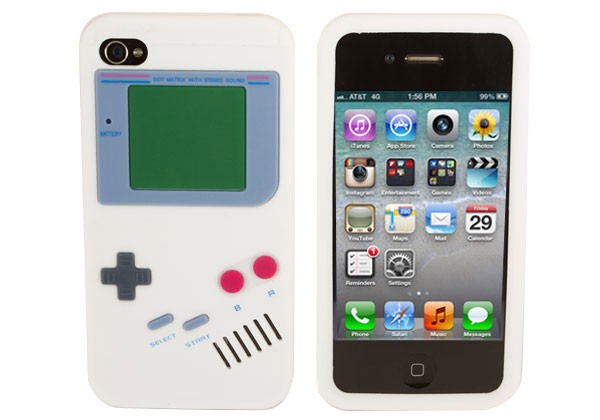 What makes the Gameboy Retro Case an even more pleasing accessory for your iPhone is the fact that it provides not only a snug fit but also all the cutouts you need to access your vital iPhone controls. On the side is a volume toggle cutout which means no need to have to repeatedly tap the screen just to adjust your audio. It is on the top, bottom, and back of the case that the most valuable cutouts are included. The cutout on the top of the phone for the headphone jack is not just for show. You can actually manage to slide a plug through it with no difficulty. The bottom iPhone power adapter cutout is so accommodating that you can dock your phone with the case still on. Lastly, the cutout for the rear view camera does not obstruct the lens at all – however I do notice that it just ever so slightly touches the lens ring.
A Few Quirks
Unfortunately, there are two drawbacks that come with the case. While the fit is truly superb, if you prod at the edges with your fingertips the case easily comes off. This did not occur when I jostled it around in my bag mind you – only when I actually physically picked at the edge. The second issue was apparent right when I received the case. For some reason, my Gameboy Retro Case had a series of scuff marks here and there. They were tiny ones but still, it detracted from the bright white finish and overall visual appeal. The problem was easily remedied when I used a couple wet wipes and the eraser off my number 2 pencil. Not everyone will have the idea to apply these solutions though so hopefully Rocketcases will keep a better eye on how scuff-free each of their cases are in the future.
Any gamer worth their salt will really fall in love with this charming little case. The Gameboy Retro case is an awesome throwback to a golden age of gaming and will not only look great on your iPhone but keep it safe from superficial scratches. If you want to pick one up for your iPhone 4, iPhone 4S, or iPhone 5 simply visit Rocketcases.com to place an order for one. Off to play Mario now!
Mitra Faridian first joined the site in 2011 under the handle "Persian Poetess." Her gaming and entertainment taste is very eclectic and she's always open to a fun new virtual adverture. Email her at the following address: mitra [at] dragonblogger.com