There is a big doubt among all players, and I will try to answer that popular question. Many gamers have ever wondered if it is worth buying a high-end gaming laptop or if is it simply a waste of money. You might think a gaming desktop is much better than a laptop, but technology has advanced rapidly and component improvements in recent years have matched the competition more than you're probably thinking. Although both options are powerful, the truth is that they also have some advantages and disadvantages that help you choose the best option for you. Next, I will talk about the advantages of having a laptop or a PC.
Advantages of gaming laptops
You can take them almost anywhere, so you can play your favorite games in case you need to travel.
Significantly improved graphics card performance (lower fps loss compared to previous years).
The best option for architecture students or people who need to work with demanding programs.
Low noise level and usually the temperature is well controlled.
Advantages of Gaming Desktop
You can build your own PC; you choose which components you want to have.
Enjoy the graphics card without limitations, so you can get the best performance in games.
You can choose your preferred monitor, so you can play with a monitor that plays high refresh rates.
Easy to upgrade, you can add a new graphics card, a new processor, more RAM, and of course, more storage, all this in a fairly easy way.
As I mentioned earlier, both options have advantages and of course, in a nutshell, a gaming PC is better in terms of performance compared to a laptop, but the difference is almost minimal. If you consider that a gaming laptop is usually cheaper than an RTX 4000 series graphics card, then it might be worth choosing a laptop. I would say that the only disadvantage of a laptop in terms of performance is that you will need to use the charger every time you want to play if you do not want a drop in FPS after playing for some time (this is done to optimize the battery).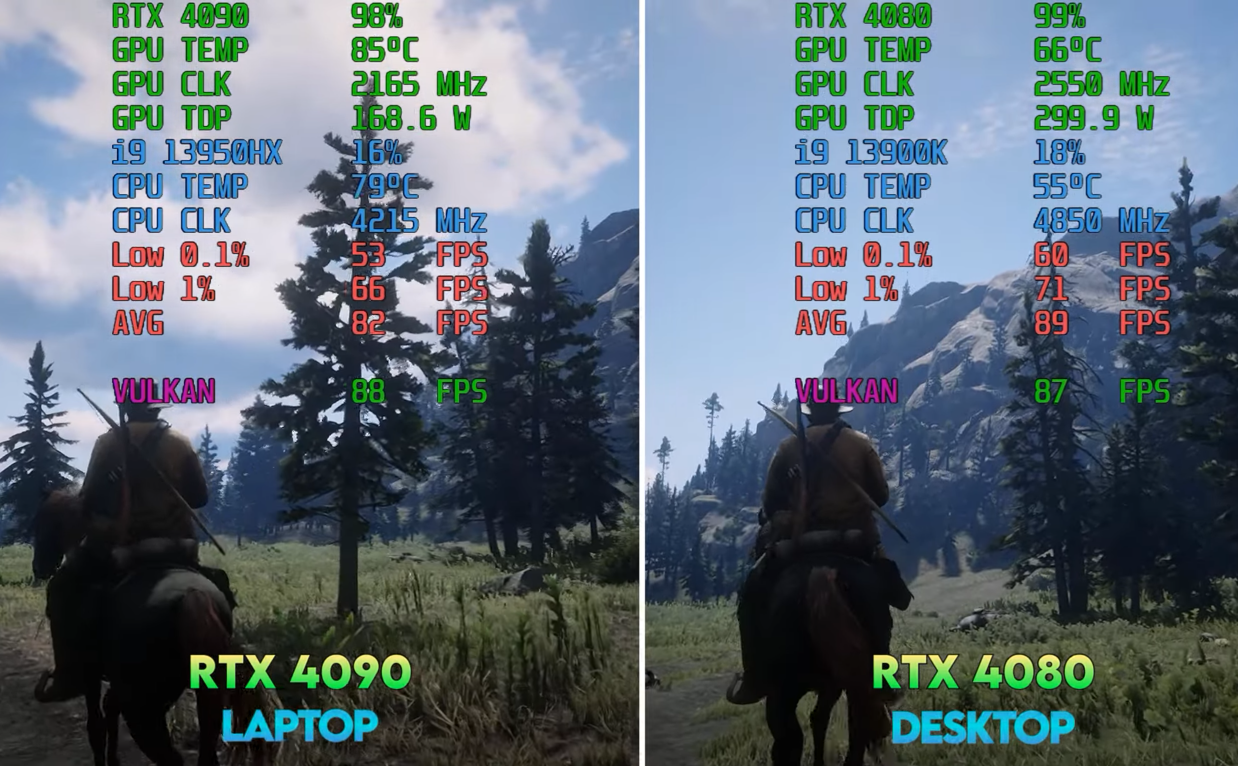 I know that the graphics card of the laptop is an RTX 4090 and one an RTX 4080 as seen in the PC, I can confirm that it is a fair comparison, a laptop with an RTX 4090 is much cheaper compared to a gaming PC, in addition, an RTX 4090 will never have the same performance in a laptop. In Red Dead Redemption 2 the FPS difference is minimal (the game has a 4K resolution and maximum graphic quality). Although on a PC it tends to be more stable, the difference in this game is minimal, so, if you were wondering if the loss of performance is noticeable, I can confirm that it is not. The most noticeable difference is in the temperature of the processor and GPU, the laptop has less space to cool the components better, so it is possible for a laptop to have a higher temperature (still in a normal range). Please note that these comparisons may vary depending on the game, in some games, there could be a difference of more than 10FPS.
What is the best gaming laptop?
Choosing a gaming laptop can be difficult if you don't really know what you want. You probably want a laptop with an RTX 4000 series graphics card. The price may vary depending on the components and graphics card, but it is possible to find a laptop for around $1500, this will surely be more than enough for you to play all your favorite games. Next, find out what that laptop is.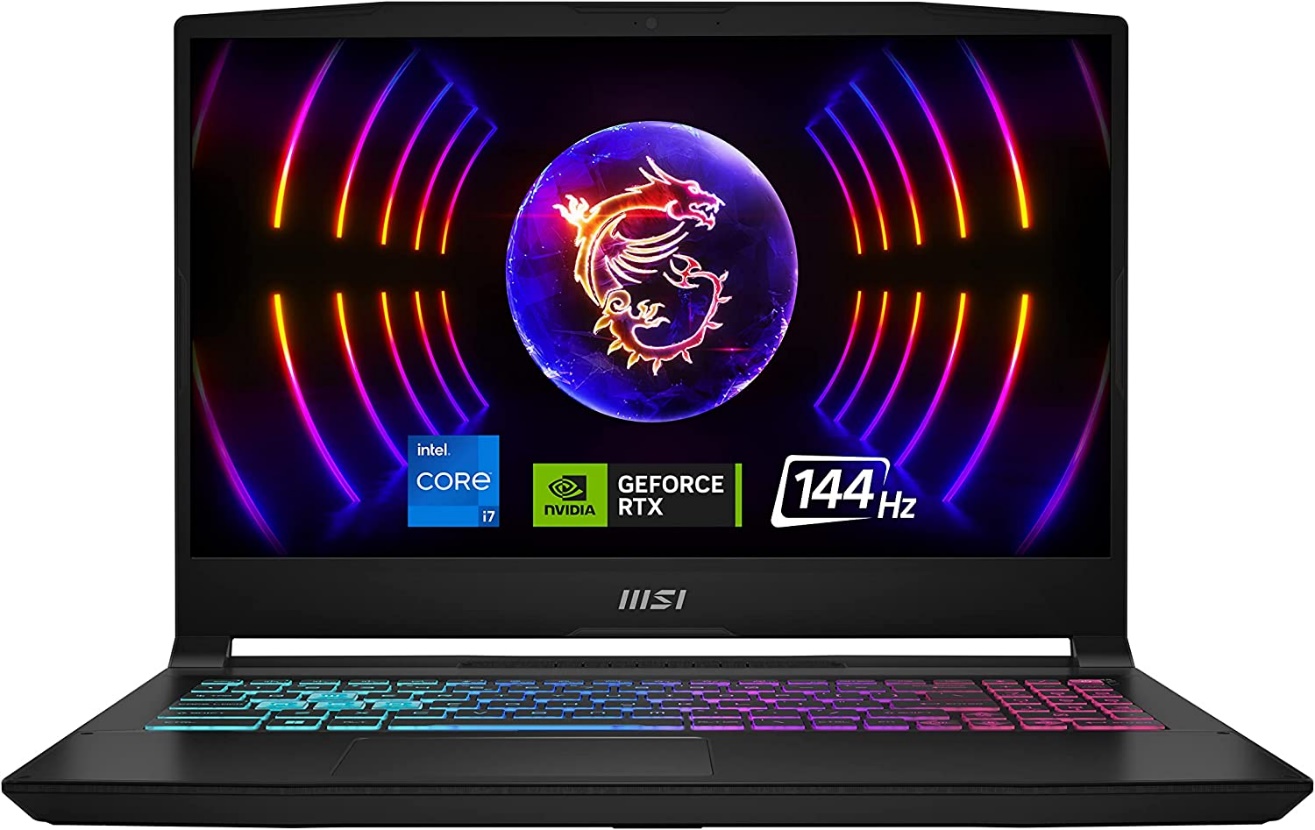 If you are looking for a powerful laptop for $1500 then the MSI Katana is what you need. As you know, MSI is one of the best brands, so it really does a good job when it comes to assembling laptops. The main feature of this laptop is that it has a powerful Nvidia RTX 4070 graphics card that will allow you to play all your favorite games without any problem. The graphics card is powerful, so it will work perfectly in case you need to use a demanding program. Another feature of this laptop is that it has an Intel Core i7-13620H processor, which offers 10 cores and a maximum turbo frequency of up to 4.90 GHz. The i7-13620H was released in 2023, making it a new processor that will help you run your favorite games in the best way. The 15.6″ display can reach a refresh rate of 144Hz, so you can take advantage of the power of the graphics card when gaming at more than 120FPS. The other components are of high quality, and the keyboard with RGB lights give a great look to the laptop, in addition, the MSI Katana has powerful and silent fans that will be responsible for keeping all the components running at the correct temperature.
What is the best gaming PC?
It's possible to build your own PC, but as you know, when you invest money in expensive components like an RTX 4090, then it's better to have professionals do the work for you. Buying an assembled PC is a better option, the price difference is slightly higher and sometimes you can even save some money if you consider that some assembly companies can get the components for a better price. Before buying an assembled PC make sure you get a warranty.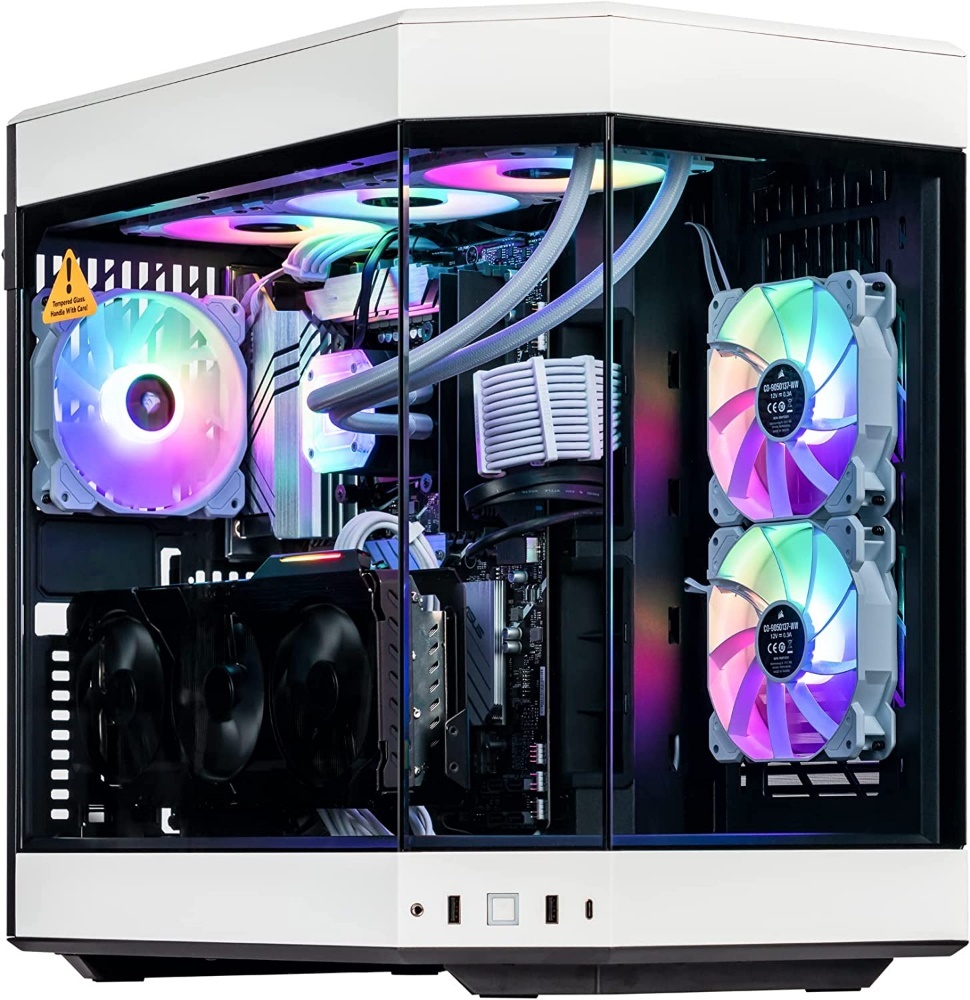 If you are looking for a PC with the best components of today then the Velztorm Praetix CTO is what you need. This is a PC with better specs that you can find, so, I would say the main feature is that it is priced higher compared to the laptop I mentioned above, but each component gives you the best performance. The Velztorm Praetix CTO is equipped with the most powerful graphics card of the moment, the Nvidia RTX 4090, Unlike a laptop, in this PC you can take advantage of all the power of the graphics card so you can play at 4K without any limitation. The graphics card has 24GB of VRAM so you can stream with unbeatable video quality. Not only the graphics card is the most incredible feature of this PC, but to play comfortably 64GB of DDR5 RAM is included, you can play any game and any quality, the Velztorm Praetix CTO will run all games with a 4K graphic quality. So, you can save your favorite games and run them in a ridiculously fast way is included 1TB SSD (also available in 2TB) and 2TB of HDD, so you don't have to worry about buying an external hard drive. The processor couldn't be better than the Intel i9-13900KF, which offers 32 cores and a maximum turbo frequency of up to 8.36GHz (up to twice as much compared to other processors). The Velztorm Praetix CTO is expensive, but it has the best components you could imagine. A 1-year warranty and personalized customer service are included.
Summary
If you are looking to play your favorite games, but study, work, or travel frequently then a laptop could be your best option. Although the laptop has some limitations in terms of the actual power of the graphics card, with an RTX 4000 series you should not have any problem playing most games in 4K resolution. I would say that the only disadvantage is that the temperature is higher compared to a PC (it is still in a normal range). On the other hand, a powerful PC will allow you to upgrade most components in case you want to put in a new and better graphics card (probably that won't be necessary if your PC has an RTX 4090). The disadvantage of a PC is that they usually have a high price in case you want to get the best components of the moment, but it is worth it if you want to enjoy your favorite games with the best performance.
Thank you for reading :)
My name is Joel! I love to read, I go to university like most people my age.
In my free time I usually train boxing, I love music, I also know how to play the guitar and the harmonica.