We are influencers and brand affiliates.  This post contains affiliate links, most which go to Amazon and are Geo-Affiliate links to nearest Amazon store.
You love video games and if there's one thing you'd love to do, it's spend a lot more time gaming and a lot less time working but when that just isn't possible we bring you some alternatives to drive away work boredom and turn into gaming heaven.
All you need to do is get your game face on and make sure that the boss doesn't catch you. In this blog we take a look at gaming on the sly in your office.
Gwigle
If it looks like you're Googling something that's because you almost are. Head onto the Gwigle game page and you'll find yourself trying to guess the search terms based on the search results listed below. We guarantee you'll find this game completely additive, not to mention fascinating.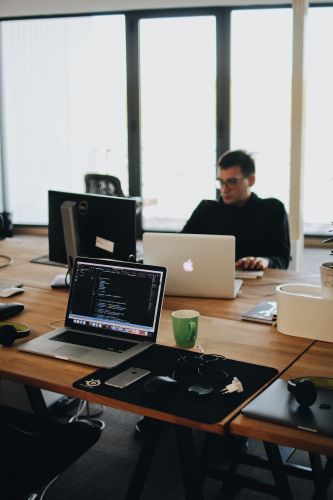 Image from Pexels: CC0 licence
Breakdown
Did you ever have an Atari as a kid? Do you remember Breakout? This clever PC based game calls on all the best elements of your Atari game and transports them to your office cubicle. You'll be making words disappear from a Word doc but don't worry about getting caught. Should the boss appear over your shoulder, you can kill the game play with a hit of the spacebar.
Type Racer
If you're someone who spends a lot of time pounding away at the keyboard, who's going to notice when you take your typing even more seriously. In this game, you are a little car racing against others and the faster you go depends on how quickly you can type.
Play to win and reward all those hours you put in practising your typing speed.
Excel Sheep
There's not much less exciting than an Excel spreadsheet. Not until you combine it with shepherding skills and sheep. From a distance it will look like you're simply inputting and changing around numbers, but get close and it's a different story.
Those aren't numbers you're manipulating but sheep and your job is to guide them home into the pens on your Excel spreadsheet. An extremely satisfying game and one that you'll go back to again and again when you need some time to relax in your busy day.
Google Pac Man
You loved this as a kid and it's every bit as fun and frustrating as an adult. Just type it into Google and you'll have it up and running in a matter of seconds. The great thing is that it looks the display picture above the search bar on the Google homepage so you can easily pretend you were searching for something should the boss come by.
You put in a lot of hours at work and you get the job done but every now and again, particularly on a Friday afternoon, you need some time to unwind as you head towards the weekend.
These games will help you pass a long day, make you feel relaxed and give your brain some space before it embarks on the next project figuring out game based learning solutions. Just remember to stay vigilant and not caught. Get used to hitting that minimizer button.
We are influencers and brand affiliates.  This post contains affiliate links, most which go to Amazon and are Geo-Affiliate links to nearest Amazon store.
I am interested in all things technology, especially automation, robotics and tech that helps change how society will live in the future.