Gangster Squad is set in 1949 Los Angeles during a time when the mob was known and no underground as it was in later years.  During the height of mobs, many policemen were in the pockets of the bosses so they would look the other way when hits went down and other illegal activities were reported.  However, there is always someone will to take a stand and that is the basic plot of this film.
Brooklyn-born Mickey Cohen, played by Sean Penn, is a ruthless mob king.  He runs Los Angeles reaping all the benefits of his money from drugs, guns, prostitutes, and even attempting to cash in on all wire bets placed west of Chicago.  He not only has his own hired thugs to protect him but many policemen and politicians are under his control.  Most of the towns cops are terrified of Cohen but a few LAPD officers, who are outside the ring, aren't.  Six officers and detectives will break the law to uphold it and get their city back in this based on actual events tale.  The gangster squad is led by Sgt. John O'Mara (Josh Brolin from The Goonies and True Grit) and Jerry Wooters (Ryan Gosling).
The all-star cast includes the likes of Nick Nolte, Emma Stone, Anthony Mackie, Giovanni Ribisi, Robert Patrick, Michael Peña, Navidad Ramirez, and Mireille Enos.  The creative team behind this real-life story is just as well-known with Ruben Fleischer (Zombieland) directing the film.  Will Beall's Castle wrote the screenplay, which was based on a book by Paul Lieberman.  Dan Lin and James Herbert from the Sherlock Holmes films helped out as well as fellow Zombieland editor Alan Baumgarten.  The costumes and director of photography both come from high caliber people with Dion Beebe, who is an Academy Award winner for Memoirs of a Geisha, and True Grit's Oscar-nominated costume designer Mary Zophres.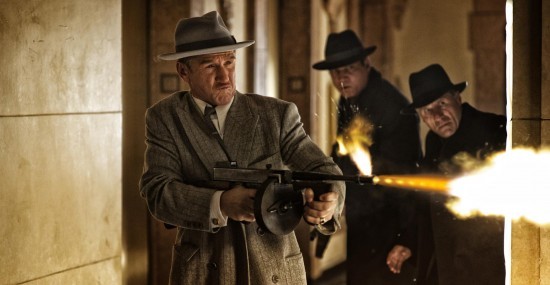 The movie was originally set to release September 7, 2012 but bumped to January 11, 2013 after the terrible incident in Aurora, Colorado.  Due to this, the trailer was pulled for a while from anywhere it previously was accessible.  There is a theater shooting scene in the movie but it is crucial to the plot so they are not removing it completely.  Instead they are moving where it happens in the film and reshooting some other scenes.
Gangster Squad looks to be a great film and is probably part of the Los Angeles history many are not familiar with.  With the cast, it's a must see movie for 2013.