We are influencers and brand affiliates.  This post contains affiliate links, most which go to Amazon and are Geo-Affiliate links to nearest Amazon store.
I was lucky enough to get my hands on the GoolRC T6 Waterproof drone. This drone is fully waterproof and you can fly it out in the rain which is a great feature for a drone at this price. In the box, you get the drone and two sets of spare blades. Also in the kit, you get the remote, one battery and a screwdriver. The GoolRC T6 drone comes in two colors, gray and red. The brand says for ages 14 and up. I say that would be a judgment call for you and your family. With this drone, I did some unusual testing for you. I will get more into that in a few.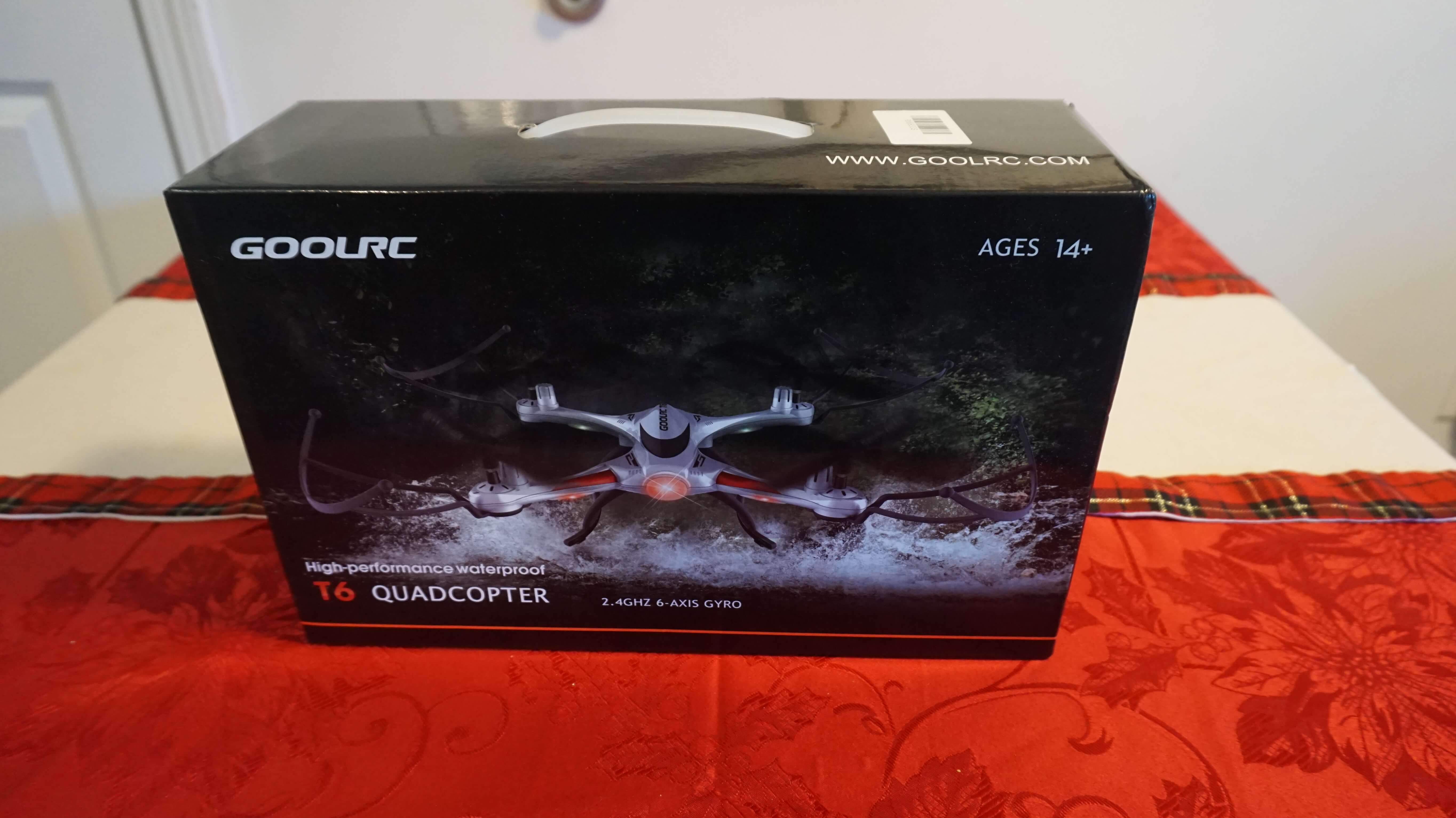 First, let me show you the specs from the GoolRC site
T6 Drone Specifications:
Brand name: GoolRC
Item model: T6
Color: Red/Silver optional
Transmitter: Mode 2
Flight time: About 8 minutes
Quadcopter control distance: About 70-80m
Quadcopter charging time: About 60mins
Battery for quadcopter: 3.7V 400mAh battery
Battery for transmitter: 4 * 1.5V AA battery(not included)
Function: Forward/backward, up/down, left/right, sideward flight, hovering, one key return, headless mode, 360°rolling action
Product size: 300 * 300 * 90mm / 11.8 * 11.8 * 3.54in
Weight: 85g
Check Out My Unboxing Here!
Now that you have seen the unboxing and the specs from the website, let me show you the T6 drone and everything that comes in the package.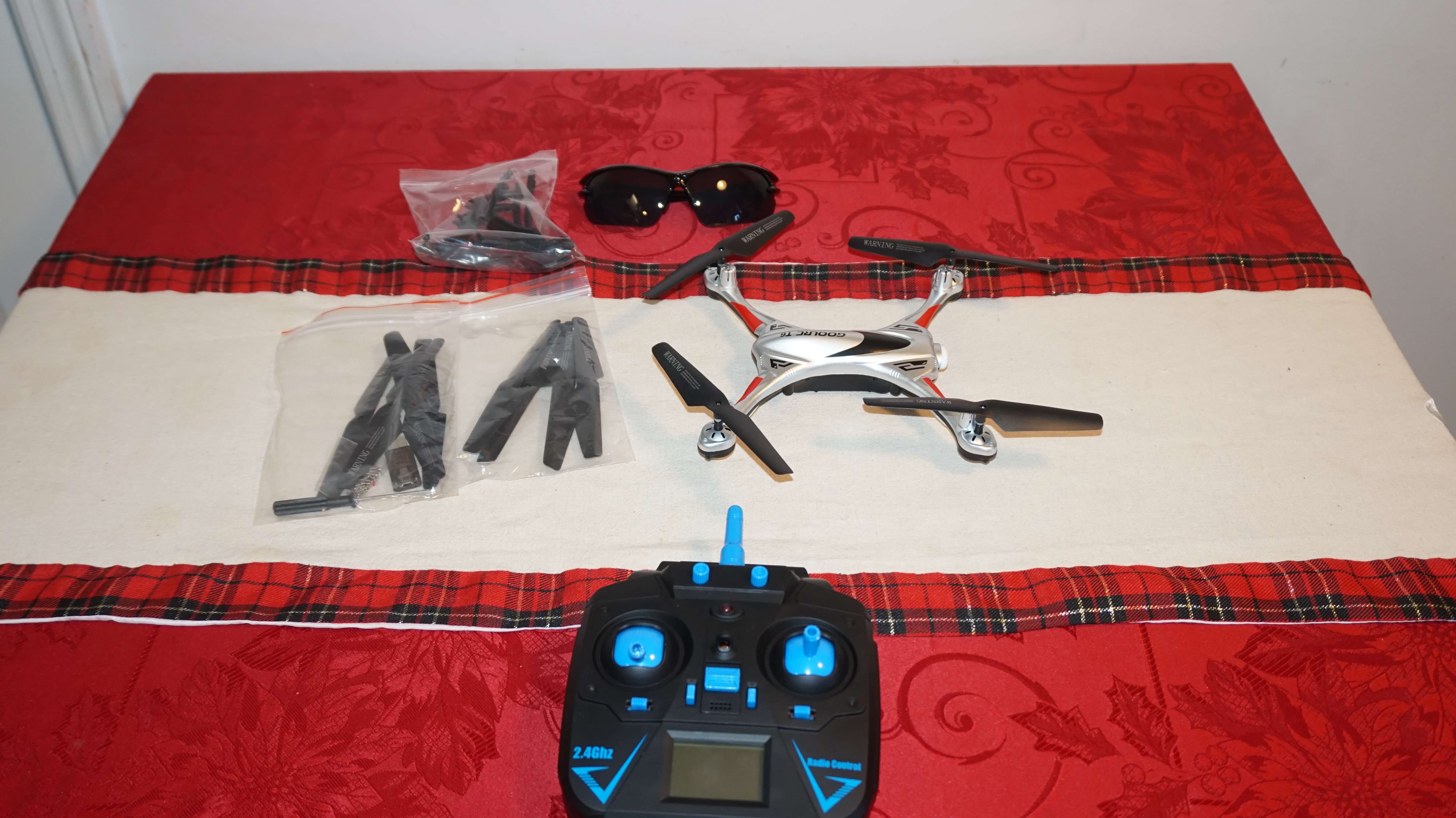 In the photo above you can see, there is a pair of sunglasses. This pair is something most drone companies don't throw in and is a nice touch. You can also see the two sets of spare blades and the drone itself. Let see get a closer look at the drone itself.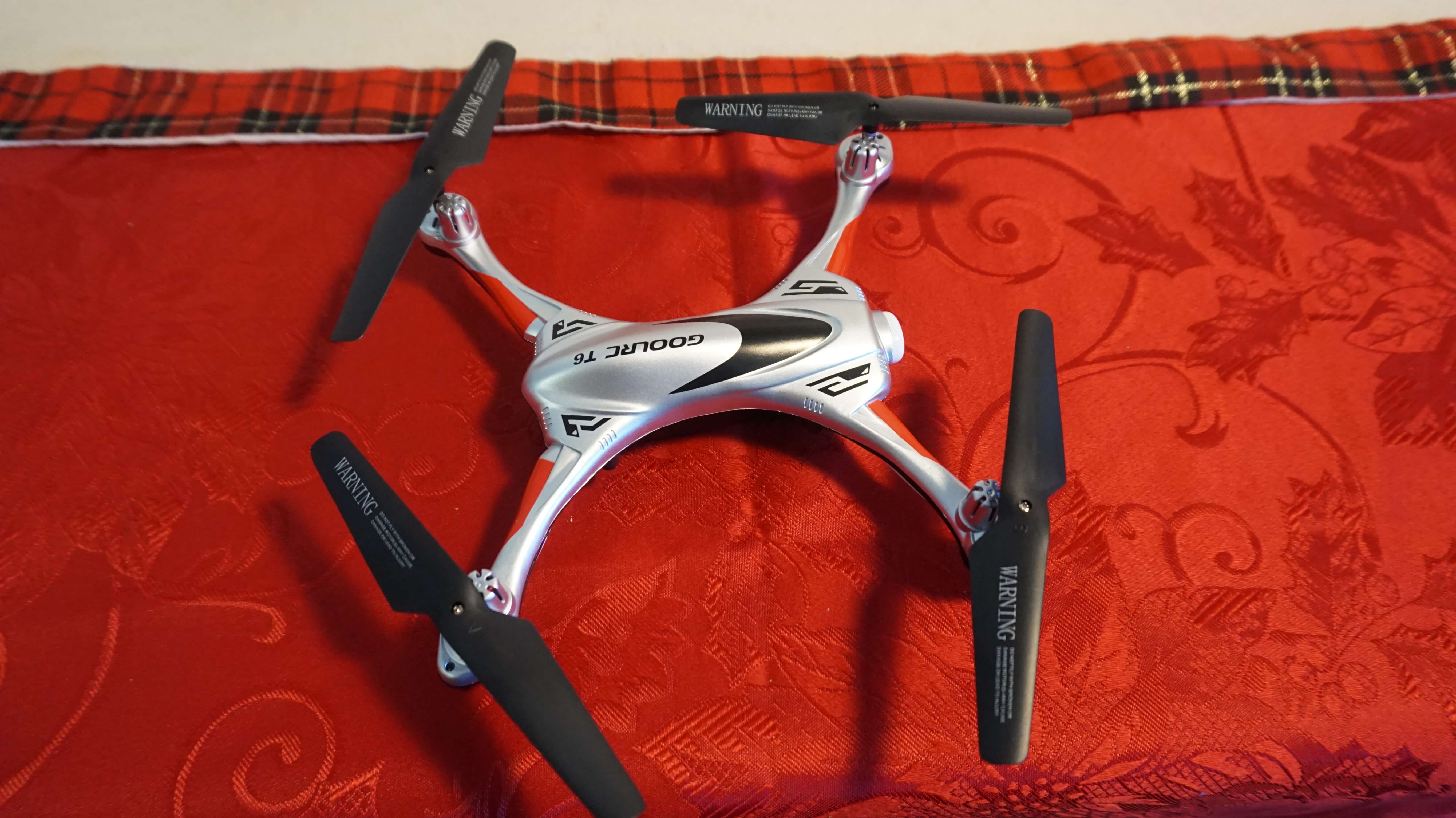 In the above photo, the drone is missing the landing gear and blade guards. Let me show you the GoolRC T6 waterproof drone with the blade guards and landing gear.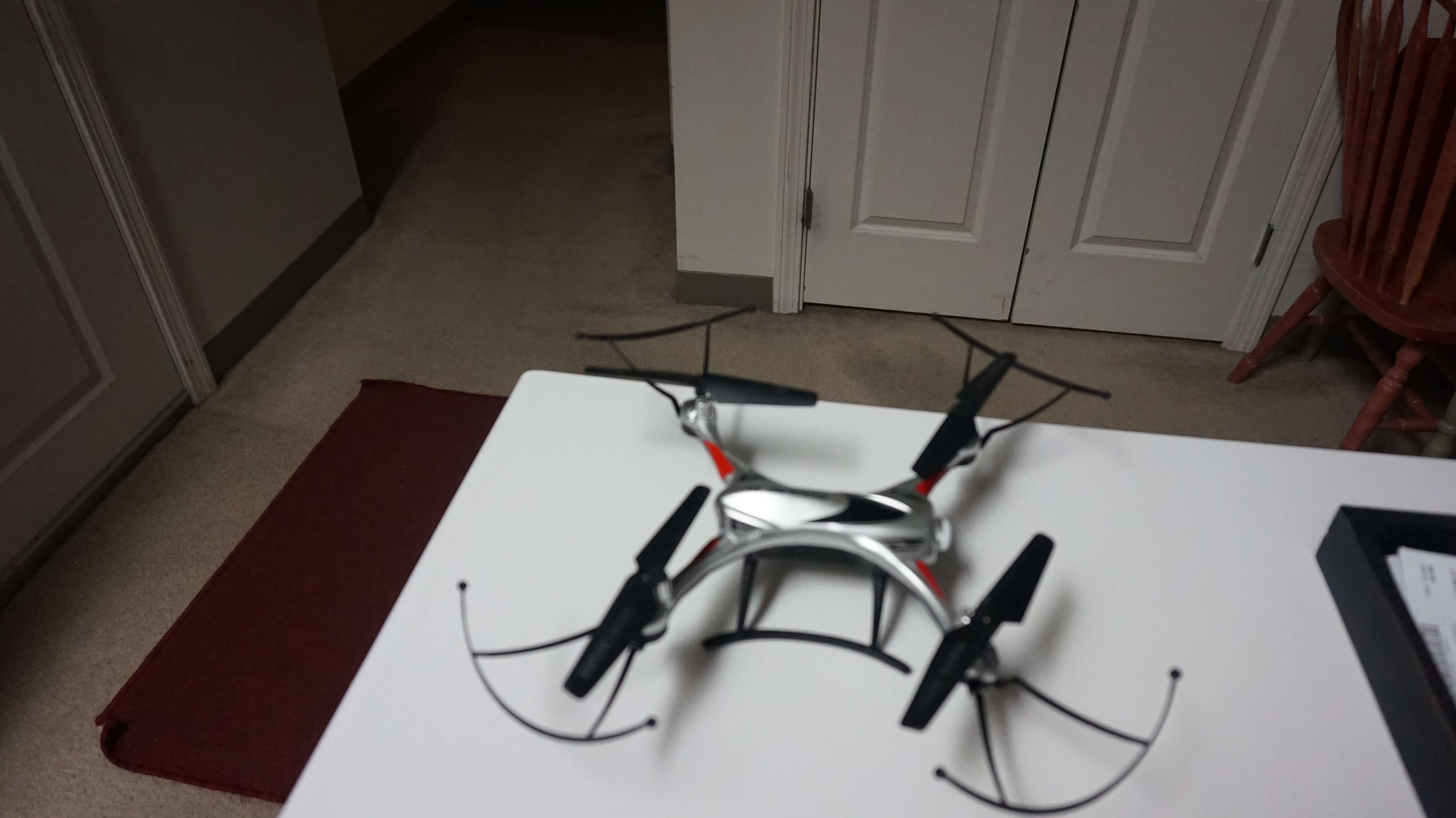 Since the T6 drone is under the FAA weight rules you do not need to register this drone with them which is good as it saves you money. Also, as mentioned above I did some testing that I normally don't do. One test is the water test, because GoolRC claims this drone is waterproof I took it and gave it a nice shower and bath. You're lucky enough that I recorded it for you!
Check Out My Water Test Here!
You can see that it holds up rather well in water. I was rather shocked to be honest.  I have flown this GoolRC T6 quadcopter many times since this test in both snow and rain and still no issues were encountered with the drone since this test. Another test I did was a prop test. This consisted of me cutting the blades up and seeing if we could still fly it with no issue.
Check Out My Torture Test On The Props Here!
And Watch The Outside Flight Here!
Let me show you an up close picture of the cut prop blade!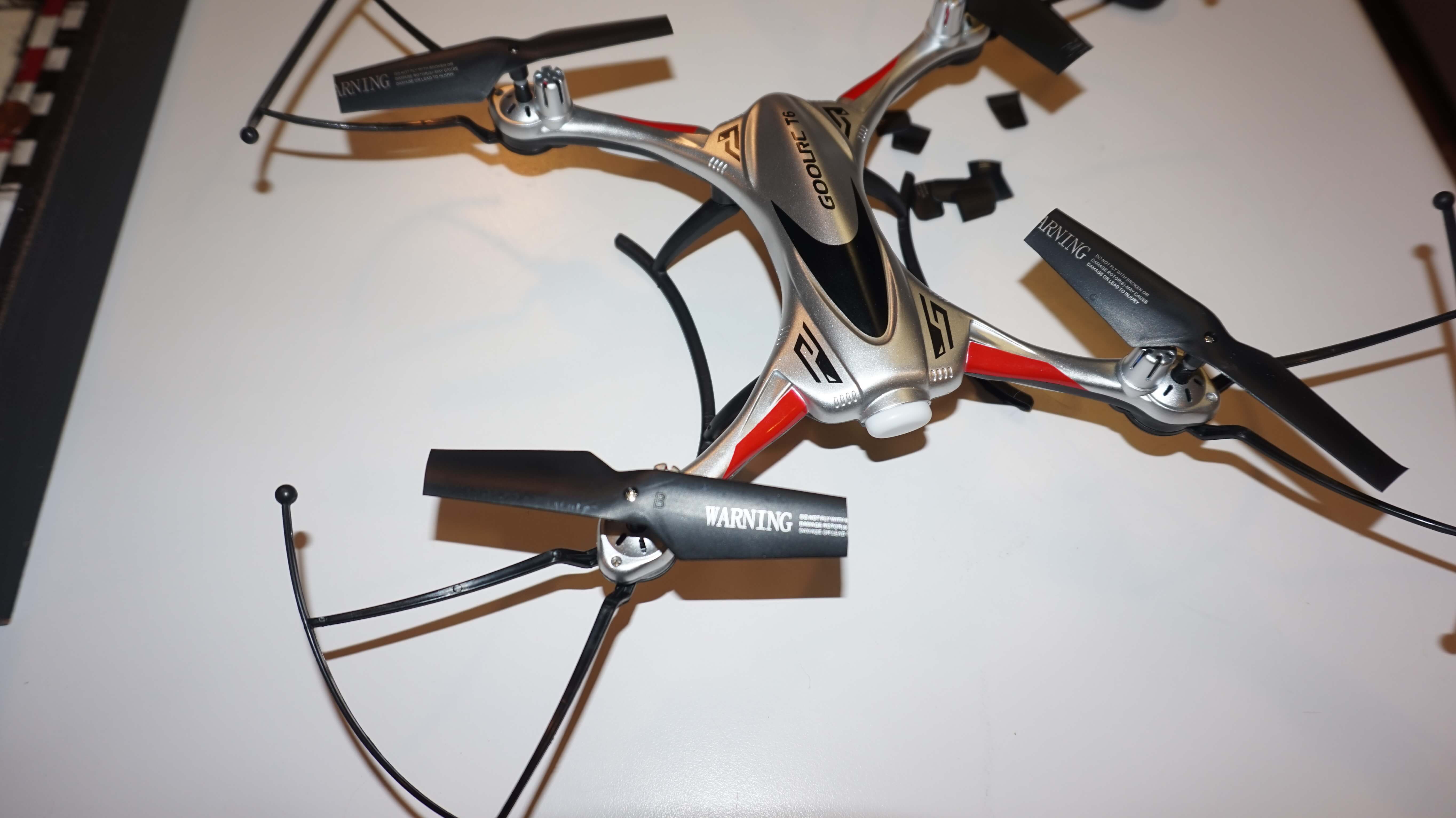 You can clearly see from the video and the photo that you can cut or bend the blades and still fly it. I did not get the same height in out of the flight as I did with undamaged full blades but it did rather well. If you do cut the blades just be careful. The ends are rather sharp when in a rotation. Let me show you a close up of the pieces I cut of the blades.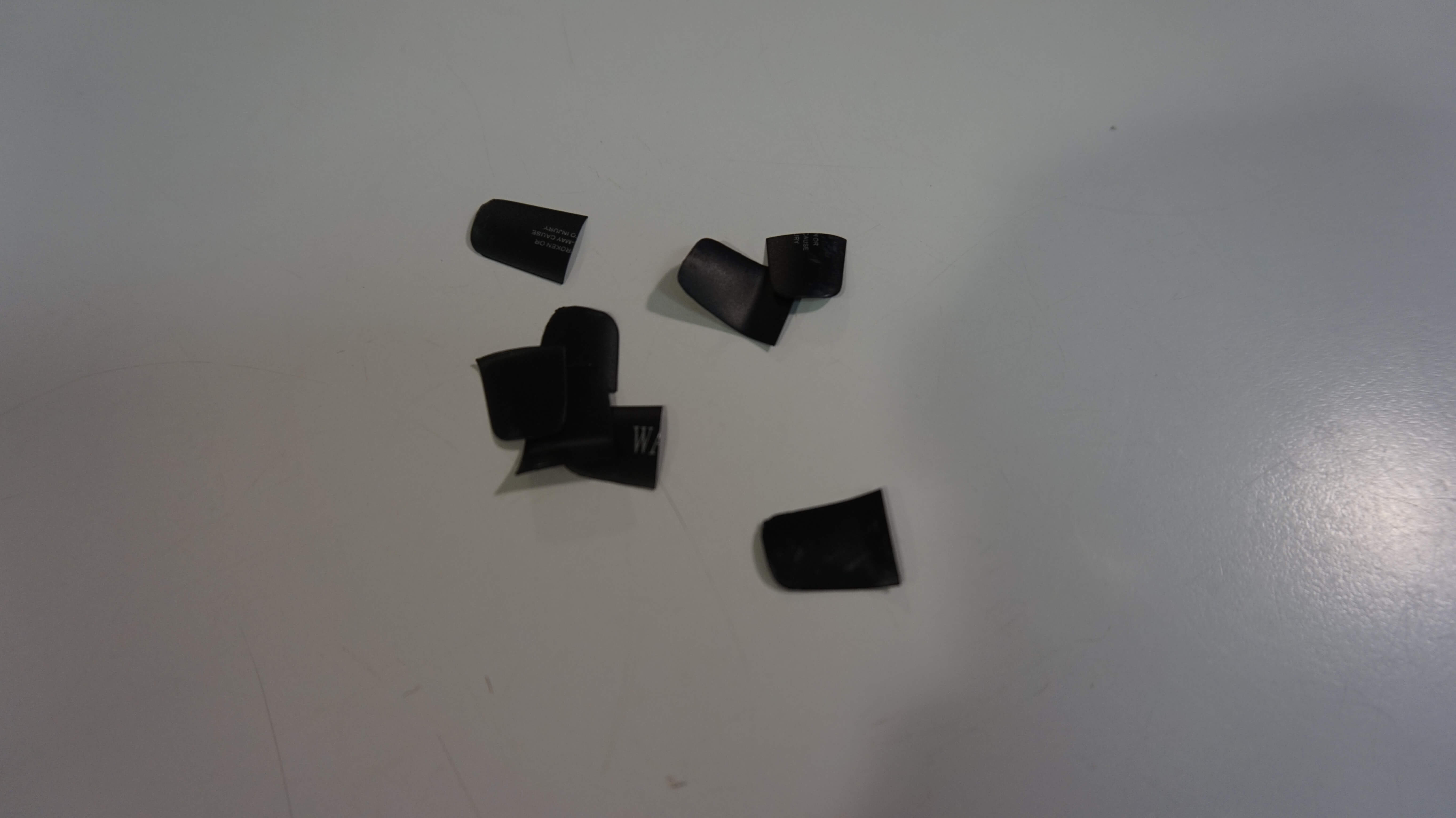 With the battery, they say you get around 7 to 8 minutes of flight time. I was getting 6 and a half but my issue may also have been the intense cold weather. I would love to see them throw another battery in when they sell their drones but that was wishful thinking. Charging time is about 40 minutes to full charge. They give you a USB plug so you can charge your battery with any USB port. Let me show you the battery and charger.
The battery goes under the belly of the drone and closes.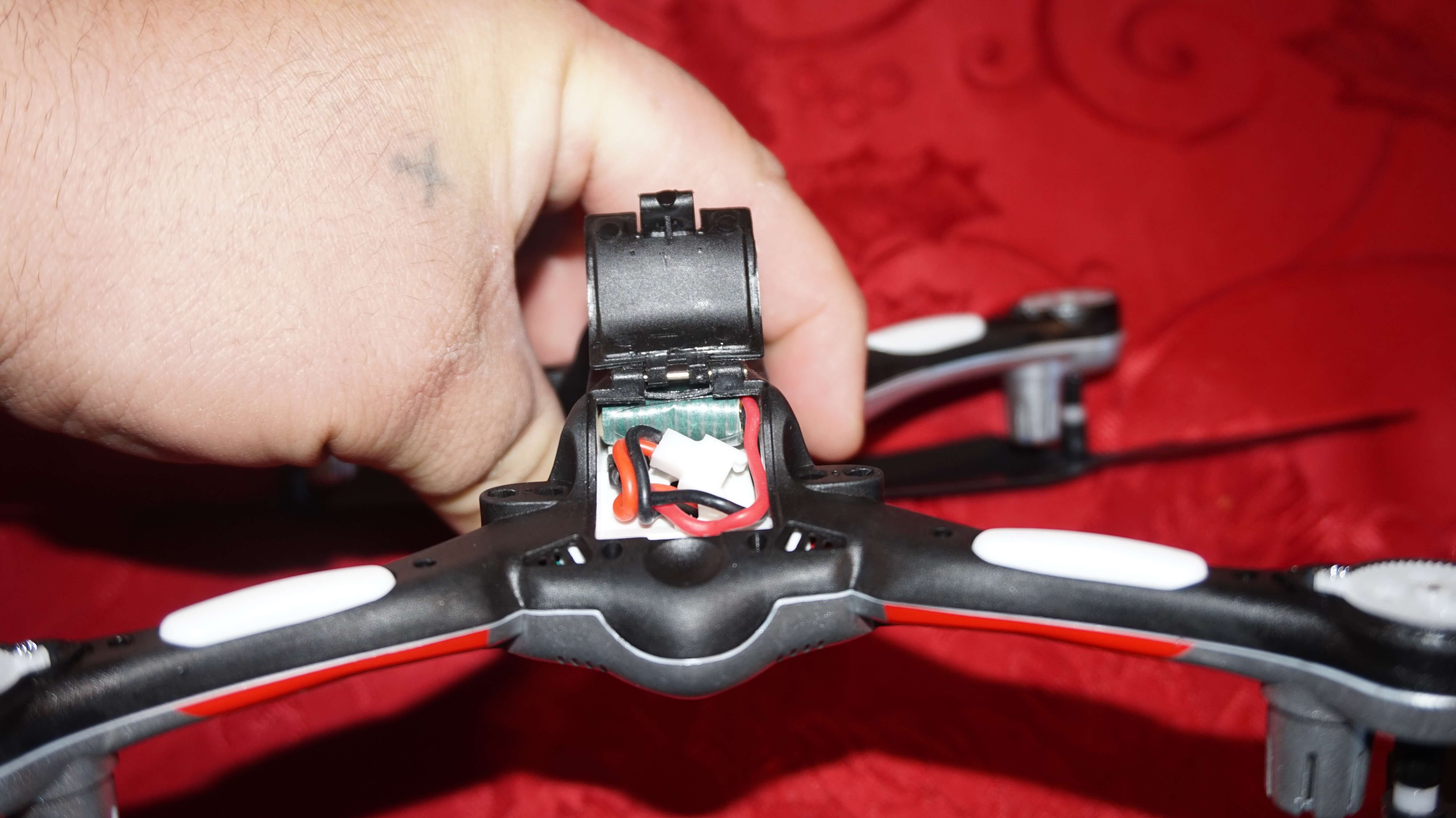 On the belly of the drone is also where you can plug in your camera or turn the power on and off. Now it has a plug for a camera but the GoolRC T6 does not come with one. You will need to buy one off their website. Let me show you a close up of the switch and plug.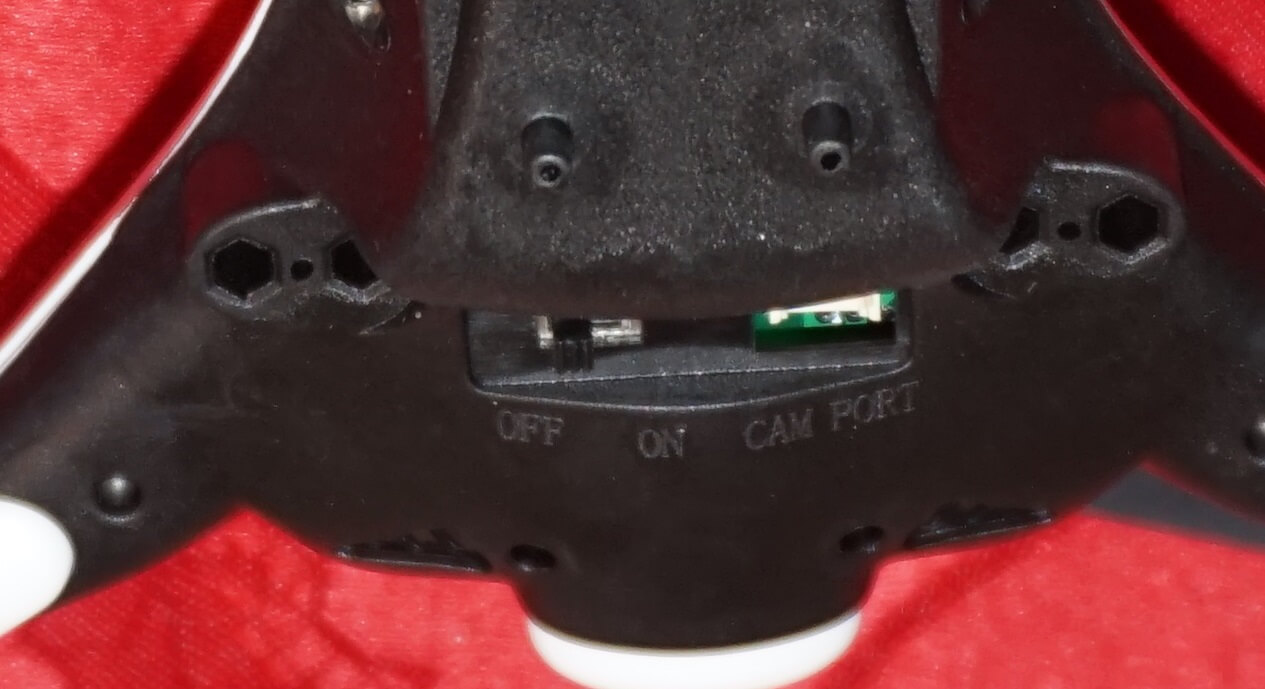 Now that you have seen most of the drone and what's on it lets talk about the controller. To me the controller is a basic no frills controller you would expect with a drone. With the normal buttons like camera, power settings, rutter, and speed. One button you have is headless mode and one key return. Most of these modes worked for me but key return. I think that issue was an environmental issue.  The controller itself feels like cheap plastic and very light weight. Even with this feeling, it held up from a nice little fall this past week and still worked. The controller itself takes 4 double A batteries.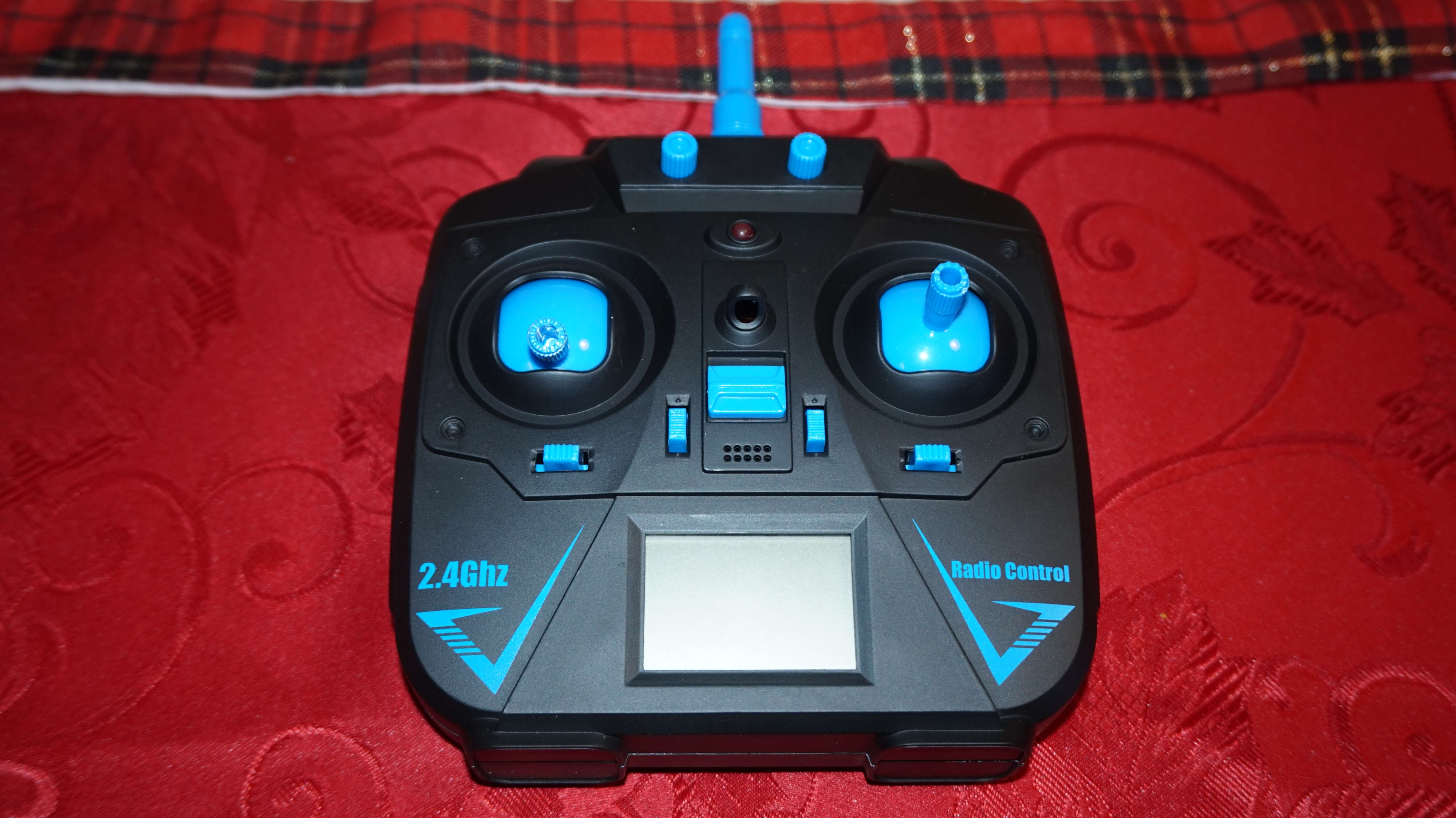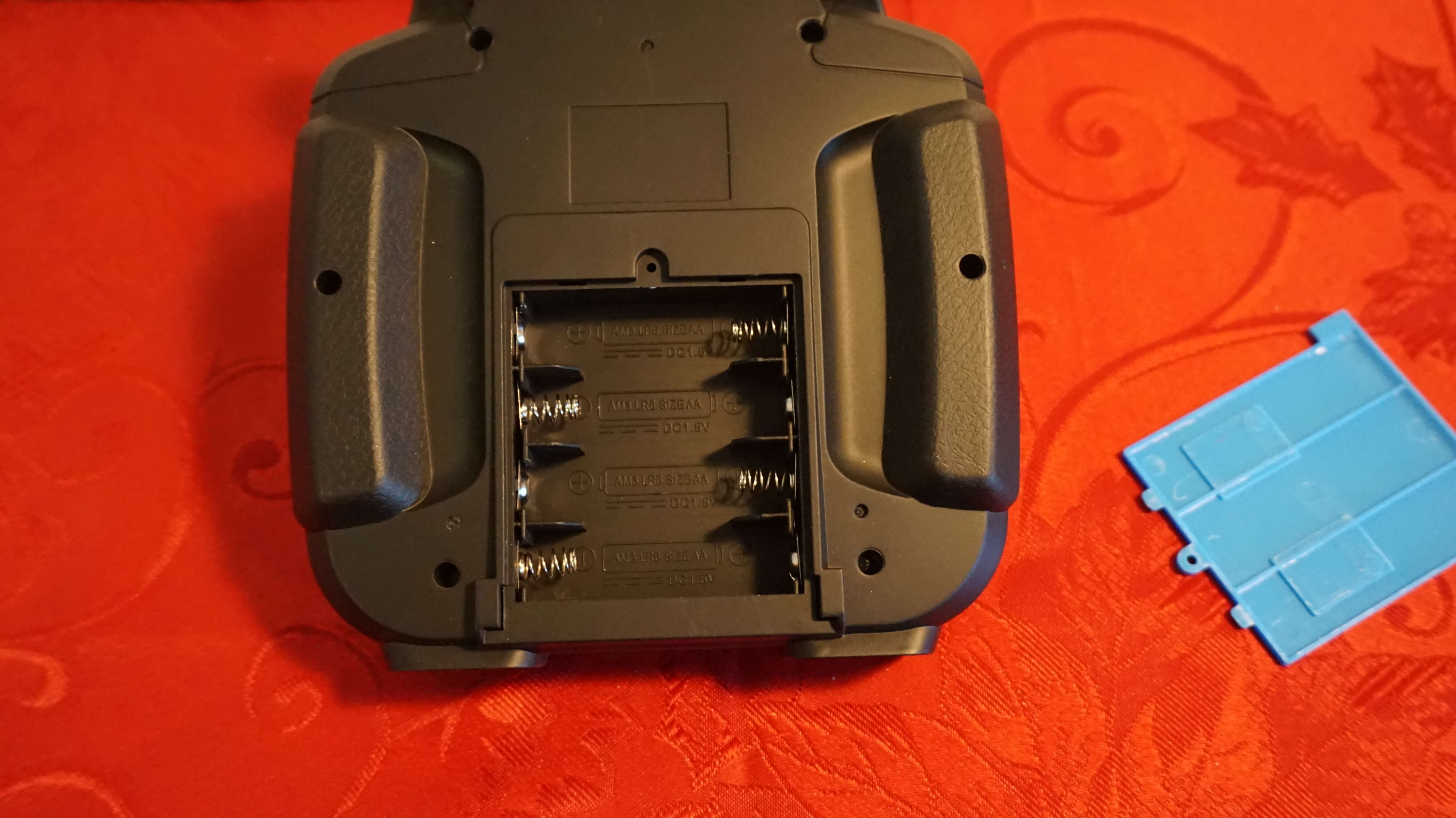 Flying the drone is easy and simple. It only takes a few minutes to get used to piloting the GoolRC T6 and it flies well. The T6 waterproof quadcopter takes off fast if you're not paying attention. I even let the 7-year-old neighbor fly this and he had no issues getting used to this drone. The 360 flips are simple to do just with one press of the button then move the rutter button in any direction.
Final Thoughts!
This GoolRC T6 drone is a nice piece to add to your collection. When you think of a drone for under $40 dollars, you can't go wrong. The waterproof drone holds up under water and still works well. You can cut or bend the blades and still fly it. The one drawback is the cheap feeling controller but that can be overlooked. I say after all the flight time I put in and testing I did it was well worth the price their asking. One note, I would suggest grabbing some more batteries because who would want to only fly for 7 minutes and then go home.
Disclaimer:  GoolRC sent me their T6 WaterProof Drone to test and review. All opinions are mine and mine alone!
We are influencers and brand affiliates.  This post contains affiliate links, most which go to Amazon and are Geo-Affiliate links to nearest Amazon store.
Hi everyone I'm James Braga. I was born in Oregon and moved to New Hampshire a few years back. I love most things that have to do with video games and electronics, It doesn't matter if it for a car or a house, if it has electricity in it i will love it . I'm also in school for Information Systems Technology.