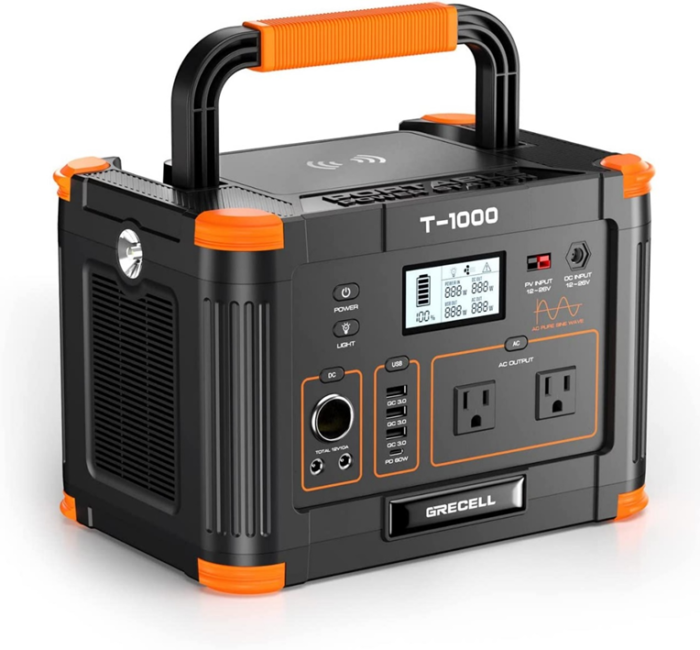 Looking for a powerful portable power station to keep your devices connected no matter where you are?
As you know, natural disasters are very dangerous, so if you live in an area prone to this type of problem, you have probably experienced an electrical problem in your home. Electrical problems are common during floods, hurricanes, heavy snowfall, and other natural phenomena, so it's important to have a reliable source of electrical power. Among one the best products we can find portable power stations, they are very useful when the power fails and best of all is that they can be recharged in multiple ways so you can continue using them anywhere.
Portable power stations usually have more benefits than a generator that runs on gasoline, one of the reasons is that a power station can be recharged not only with an outlet but also with a solar panel, which means that you do not have to rely on fuel for energy, which can be a big help when an emergency occurs. The price may vary depending on the amount of maximum power, I would recommend getting a high-performance portable power station so you can use your devices without limitations.
The GRECELL portable power station is a great option to consider if you're looking to get reliable electrical power during natural disasters. It offers an incredible performance so you can keep using your devices no matter where you are. Best of all, it's available at an incredible price. Below, discover the most interesting features of this product.
Features of the GRECELL portable power station
Incredible 1000W performance
The main feature of the GRECELL portable power station is the 1000W power so you can use most of your devices without worrying about exceeding the power limit (something common in cheap power stations). The 1000W is more than enough for you to charge your cell phones, laptops, cameras, and any device with similar consumption. You can also use a mini fridge, TV, projector, speakers, and many other devices. In this power station, you can find USB and USB type C ports so you can charge your phones using fast charging.
Another feature of the GRECELL portable power station is that you can charge it using an outlet or using solar panels, this means that not only will you have to rely on electricity to recharge the portable power station, but you can also use high-performance solar panels to charge the power station in an incredibly fast time. This power station uses high-performance lithium batteries to ensure long service life. Remember that you can connect up to 10 devices at the same time (as long as the accumulation does not exceed 1000W).
As you know, this is a power station that can accumulate a lot of energy, so it is important to have a good security system to avoid any problems. The GRECELL portable power station has an advanced level of safety to prevent overheating, overvoltage, or overload. When the GRECELL power station is fully charged, it will automatically stop receiving power. Best of all, all these features are designed so that you can take this portable power station anywhere thanks to the fact that it only weighs 17 pounds, so, you can take this in the car without any problems.
You can buy this item here on Amazon
My name is Joel! I love to read, I go to university like most people my age.
In my free time I usually train boxing, I love music, I also know how to play the guitar and the harmonica.