I was sent the HAVIT® Lammergeier HV-KB346L LED Definable RGB Keyboard to test and play with and I have to say, I really love this keyboard.
This keyboard is the best keyboard that has come out of Havit's showroom thus far. The ease of use and functionality is great. The choice of changing the key colors is simply beautiful.
You receive this great looking box. Inside is the keyboard, instruction book, and software disc. Now if you wanted you could just plug and play or you can install the software and it has many functions. Like the coloring changing, macros,and key assigning. Once you get down to doing the macros or key assigning  that part is simple and easy to use. With just a few click and your set to go with any game or key set you want.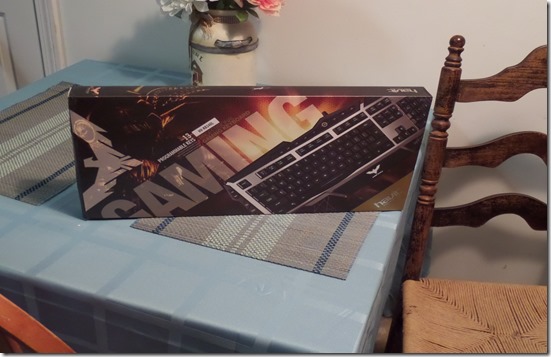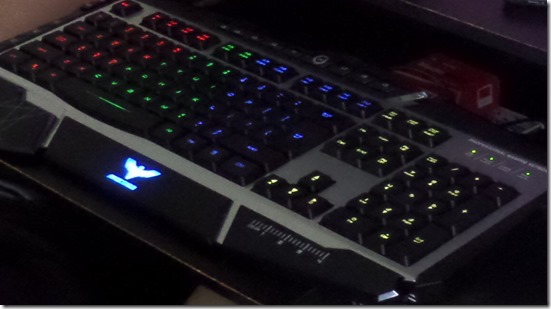 Check out my video review here
Now you can change the keys to any letter or function you want which was kind of cool for me since I have dyslexia and made moving a few key easy for me to type and spell a little better. This function on the keyboard to me is the best I have ever seen.With ease of use and ease of assigning there was no way I wasn't going to try it out. I hope you do to if you get this board. It is one fun and net function.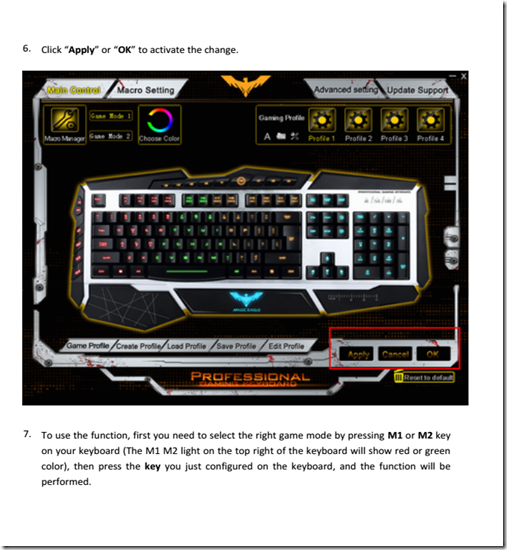 Now for the colors I love the options that you can change any region on the board and even the logo can swap colors. There are many colors and brightness's to chose from. You can even chose to have them flash which is another great idea if your into that.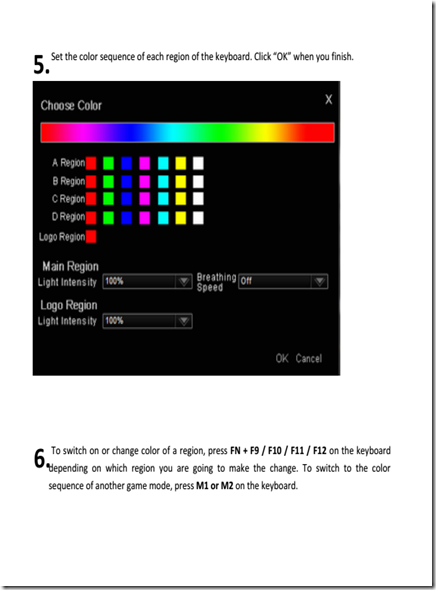 I will also throw in some screen shots of Macro Assigning, Macro Key Setting. Which are pictured below!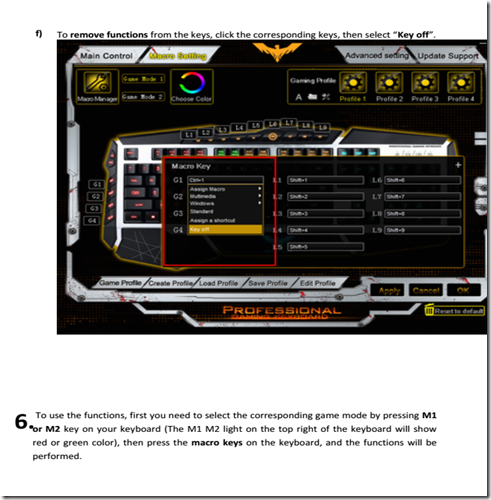 Now in these next pictures is how to record Macros!
Using these macros in game play is really nice and you can reach most keys with ease. I tested these out in a few games like WOW, Diablo, and NeverWinter they all seem to be useful. You have the use of l1 to l9 on the top and G1 to G4 on the side.
Now I have heard some people complain that there is no clicking noise to the key which some gamers want and some don't. I will say my wife loved that it didn't have that so she didn't have to listen to me mash the key when playing games or typing reviews. Now as far as  keyboard go this is one of the nicest I have played with to date. I would recommend this board to anyone that wanted a nice RGB Gaming  keyboard.
(This keyboard is a solid 5 star product from the design  to the software you cant go wrong with  it.)
UPDATE –  After using this keyboard for some time now i have notice the keys  are really smooth and silent more silent then first thought. This makes for such a nice feel when typing blogs, reviews or just doing school work. The use of macros are awesome for gaming and also it really has a nice touch to game with.
 

Disclaimer: Havit sent me this RGB Keyboard to review.  All opinions are 100% mine and mine alone.
Hi everyone I'm James Braga. I was born in Oregon and moved to New Hampshire a few years back. I love most things that have to do with video games and electronics, It doesn't matter if it for a car or a house, if it has electricity in it i will love it . I'm also in school for Information Systems Technology.