Solar power is nothing new.  It is a technology is that is used world wide for various purposes. Using solar to charge personal devices like cell phones and tablets isn't as common and RAVPower has their solution for solar charging your personal devices.  The RAVPower 15W Solar charger with Dual USB Ports.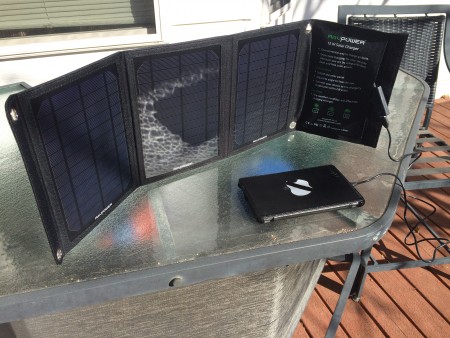 The whole thing folds up into an easy to carry form factor.  Held together by a velcro so it will easily slide into a back pack not taking up too much room. The panels are protect by nylon and the whole configuration is water and mold resistant.
Once open it you have three solar panels, two USB connectors and a pocket for the connectors or to slide a device into to keep it out of the sun.
You can lay the panels down or, as I did, you can stand them up obviously facing the sun.  I used my iPhone 5s and a Nexus 7 2013.  Both were below 20% when I plugged them in to charge.  I first plugged in the the Nexus 7.  As I monitored its charging I observed it was charging about 10-15% every 30 minutes. So 20-30% an hour. So charging a phone or tablet shouldn't take more that 2.5 to 3 hours.  I also charged a 15k mAh rechargeable battery in just about 3 hours.
I did not see a huge degradation in charging two devices at the same time.  The tablet and phone charged about the same when both were plugged in.  It was a cloudless day with the solar panels pointing towards the South always in the sun.  I can imagine doing the same while camping and setting the solar panel on a bench or a table and keeping my devices charging or charging a backup battery for night time use.
The form factor is compact enough to store in a backpack like i mentioned or in a safe place in a camper.  With some planning I can see this fulfill all my device charging needs without much concern.  In combination with their RAVPower 3rd gen deluxe 15kmAh External battery you have a camping trip complete with your fully charged devices.
Maybe not a daily need but for any of your outdoor travels an ideal option to keep those USB chargeable devices all charged up and ready as needed.
5 out of 5 stars for me.