So I get a lot of phone cases to review her at DragonBlogger.com and my wife is the only one in my house with an iPhone 6 Plus.  She asked me if I could find a company that has a phone case that has a stand so hers can double as a clock/stand at night with an app, so it was perfect timing that Haweel contacted me asking if I could review their iPhone 6 and iPhone 6 Plus cases.  Note, they sent me the same case for both phone models, even though I only have an iPhone 6 Plus, I do have an iPhone 6 replica for testing cases.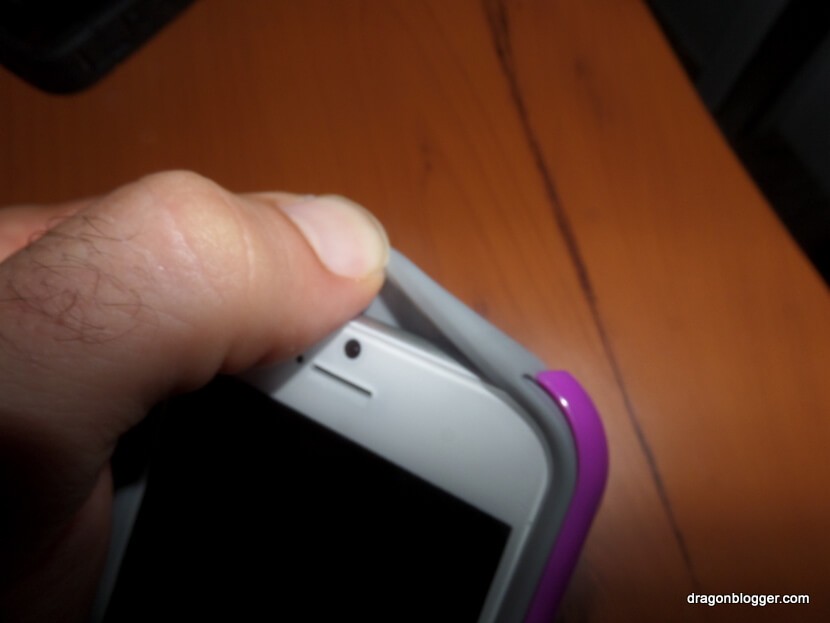 So the first thing I check is the integrity and quality of the silicone case in phone cases like this.  I have received phone cases where the silicon rubber is just very easy to tear and rips to shreds within minutes of applying it to a case before, so this is the first thing I look for when a new case comes in the mail.  This rubber is soft, flexible and does not tear I can bend, twist and stretch it around the case with ease and it shows no signs of tearing like some poor quality cases I have tested.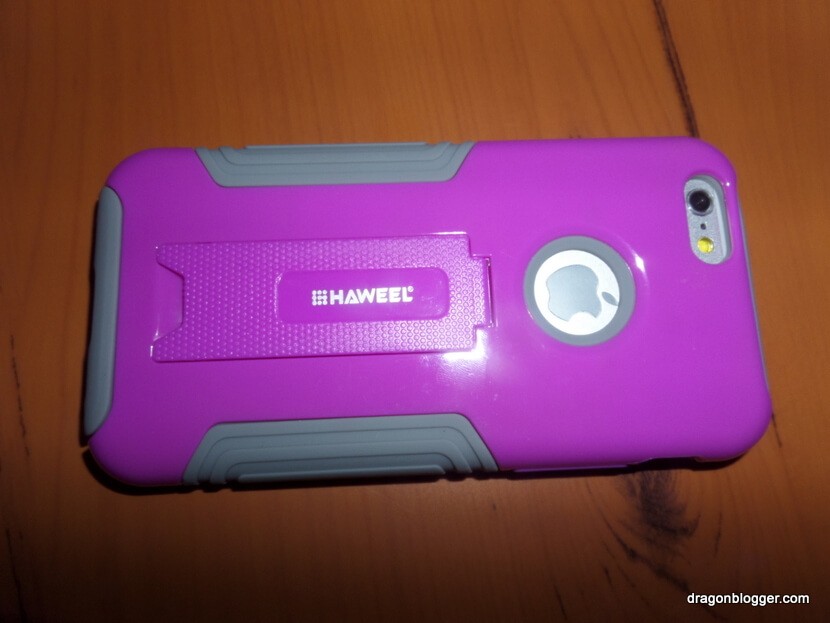 So you apply the soft silicon case on the phone, then snap over the harder plastic shell on top.  Overall this gives your phone some protection but it isn't nearly as thick or protective as an Otterbox case and doesn't include a screen protector or coating to fully protect the screen.  This is fine for these types of cases, and while it protects against casual damage from sliding against a surface, minor bumps or dings, it likely won't be very protective from a decent drop.
The back of the case has a stand which pops out and you slide the back to lock it in place.  This holds the phone in landscape mode and at a decent angle.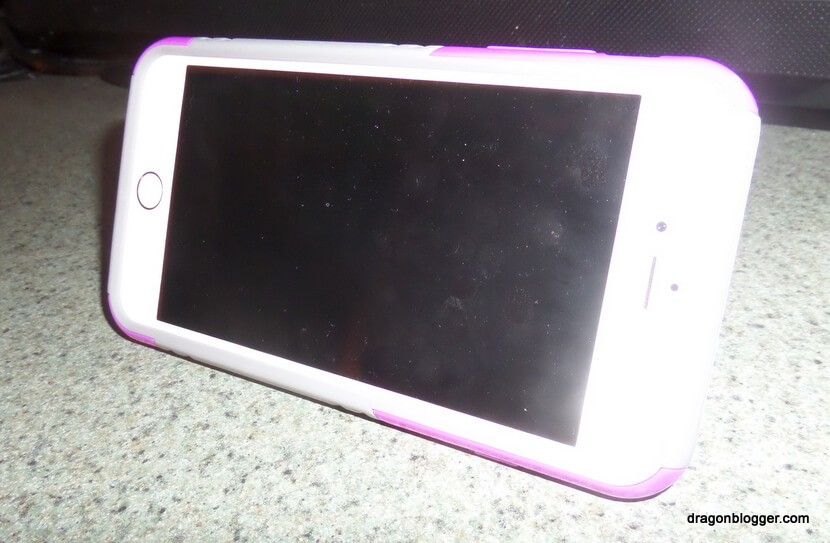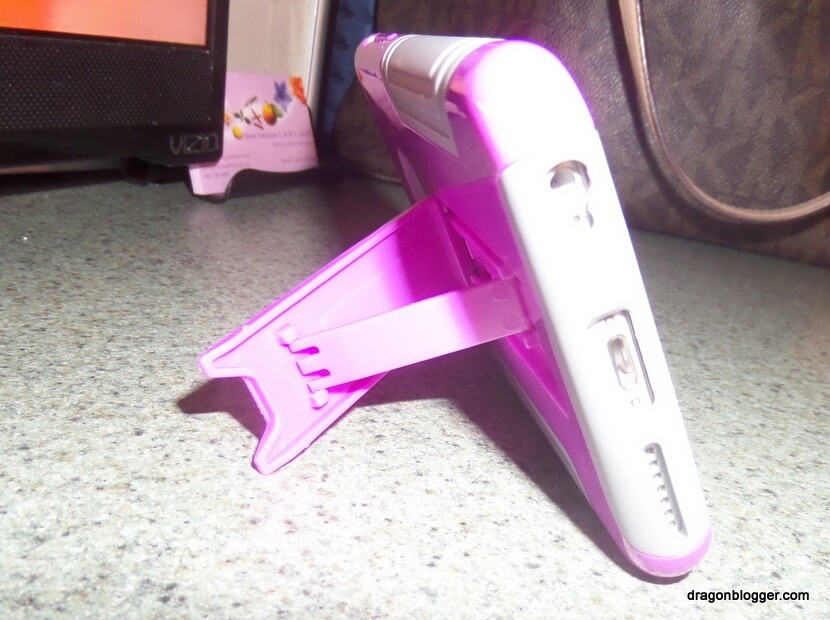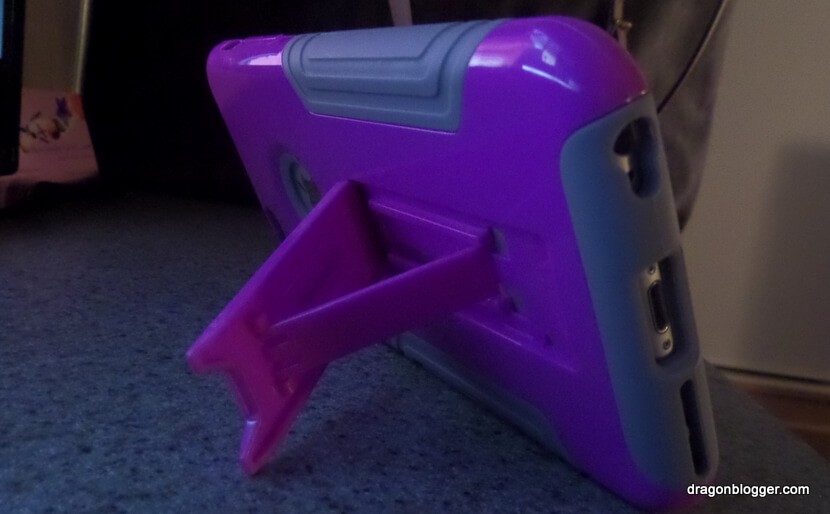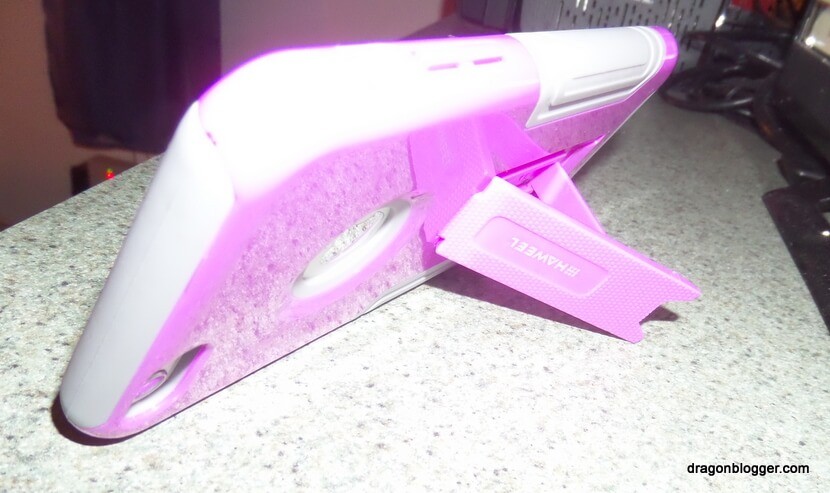 The color, comfort and feel of the case was just fine, and the stand served my wife's purpose in what she wanted, but wasn't the ideal stand for vertical mode, as she had an app that needed to be in vertical mode.  The case does stand up in vertical mode, but is a little delicate and easy to knock over, so it is best in Horizontal mode.  Overall though the case fit the bill and my wife uses it as her primary iPhone 6 Plus case now, I can tell which cases she loves by which ones she leaves on, some that I review she removes immediately after review and goes back to her favorite case, this one is still on her phone a few weeks later which is a good sign.