We are influencers and brand affiliates.  This post contains affiliate links, most which go to Amazon and are Geo-Affiliate links to nearest Amazon store.
I'll be honest. The CUK Crosshair 15 Gaming Notebook is probably the most outrageously powerful laptop that I've ever seen. When Computer Upgrade King says they're the king of computer upgrades, they mean it. It might use 11th generation processing instead of 12th, but this thing is still one heck of a beast. Coming at ya' with an astonishing amount of 64 whole gigabytes of 2666MHz DDR4 RAM, an NVIDIA GeForce RTX 3050 Ti, and an Intel Core i7-11800H processor running at 2.4 GHz base speed, this thing is literally designed for power. I'd even hesitate calling it a laptop at this point. Laptops are known to be slower and more of a hassle than tower-based PC's usually, but this thing? I think that's a joke. The only thing I'm concerned about at this point is how hot it runs, but I think if you have the right cooling setup and modify the internals just right (if it even needs it), you can likely safely pull off overclocking the bad boy to 5.0GHz processing speed. I mean heck – it has the RAM for it. You could also overclock the graphics card to its maximum potential too. I'm no computer or electronic expert, but if you want amazing performance and you know what you're doing, I'm sure you could pull it off with this absolute powerhouse. Just make sure you don't break this beautiful work of art. I wouldn't want that to happen to you.
It uses an MSI laptop case/housing, so it looks very similar to an MSI laptop, but guess what fam? It's freakin' custom-built! With a cyan backlight on the keyboard, you'll be rocking out in style. I assume if you wanted to, you could also change the color if you know what you're doing.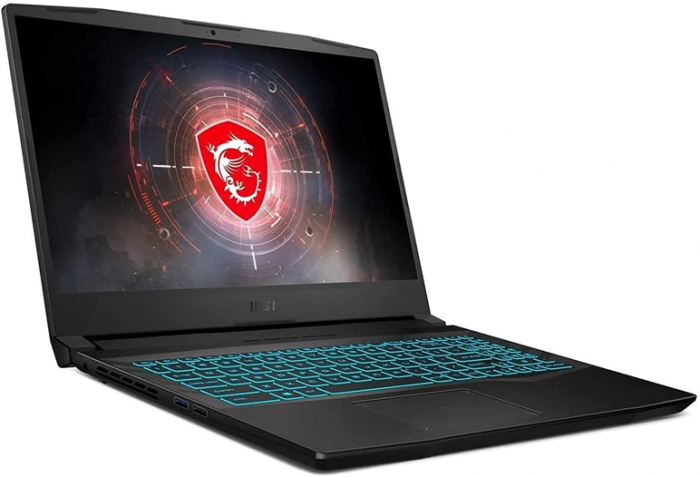 But let's say you run out of space in your disk drive with other laptops. On this machine? I don't think so. Try filling up a 2TB NVMe SSD (Solid State Drive). In addition to that, it's got Windows 10 Home. That's standard, sure, but what about its 144Hz 15.6" display that will likely get used to its full potential, even on the highest-end games of today? I mean heck, this thing can probably be used as a mobile workstation in itself with the amount of RAM and the setup it has. Audodesk and AutoCAD, Blender and MAYA, Sketchup – you name it. If you're worried about space while working, remember the 2TB hard drive you're gonna have a hard time filling up with all those files.
If you're worried about connectivity, try two USB 3.2 Gen-1 Type-A ports, one USB 2.0 Type-A port, and one USB 3.2 Gen-1 Type-C port. There's also a 4K@60Hz HDMI port. If you want to plug in an ethernet cable because you don't trust shady wifi networks, there's an RJ45 port just for you. In combination with all of this, there's also a combination audio jack so you can plug in a headset with a microphone. Don't like a trackpad and can't type on a laptop? Not really anything to worry about. You've got a USB port for your mouse, keyboard, and one for whatever else you want to plug in. If you run out of space on your internal drive (like that would ever happen), just plug in a flash drive (possibly for work) or either an external hard drive or external solid state drive.
            Interested in buying? See the Amazon product link.
Thanks for reading.
Roxie out.
We are influencers and brand affiliates.  This post contains affiliate links, most which go to Amazon and are Geo-Affiliate links to nearest Amazon store.
So… I'm Roxie. To be fair, I'm just some person… girl… thing… on the internet who likes to shout my opinion as loud as I can while also doing it respectfully and trying to come from a place of good intents. I'm an extremely spiritual individual (the legit logic-based para-psychological stuff, not the "woo-woo" nonsense) who has a lot of diverse interests, and spends her time working on herself and trying to get ahead in life. I want to provide my views on topics that would normally be a bit controversial to some in the gaming, sci-fi, tech – whatever you'd call this blog – industry. I play games because I see them as an experience, something to enjoy and get immersed in. My favorite games used to be MMORPG's but I'm learning to enjoy more single-player experiences as of recently. I've felt alone for most of my life, so the ability to interact with other players in games has been something of a comfort to me. Oh and I'm also a heathenous little thing that has to filter myself incessantly just to write these articles.