We are influencers and brand affiliates.  This post contains affiliate links, most which go to Amazon and are Geo-Affiliate links to nearest Amazon store.
Whereas some people keep complaining about smartwatches being expensive and actually unnecessary devices, the others keep discovering the world of opportunities brought by those. In most of the reviews, they mention that smartwatches changed life for the better. But wait, aren't those just mini-copies of your smartphone that you always hold in your hands anyway? If you had this idea before, we offer you to get familiar with the brief block of smartwatch information.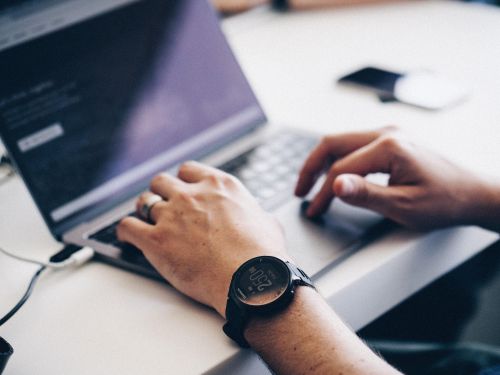 Measuring heart rate, calling your mom, sending you daily updates and reminders… The only thing it cannot do is, for example, to help you with writing essays like the professional online service https://researchpapers.io/we-can-easily-write-research-paper-for-money/ successfully does. But you can be sure, your smartwatch will assist you in any possible way to make your studies easier. Who knows, maybe after reading this article, you'll add another item to your wish list!
Study effectively
Again, there is no chance that your smartwatch will be able to write a paper for money (yet). However, it will be the best device to control your studies and breaks to enforce your daily performance. If you struggle with procrastination or laziness, using a smartwatch can organize your daily schedule and send regular reminders for every task.  This gadget recommend can benefit a tudor just as much as students too.
By installing any of the AI apps, you'll be able to look for the information online just pronouncing the keywords. What is the chance that the book you're looking for to complete your research paper is published online, and you don't have to spend endless hours in the library?
Your wrist assistant will make sure you remember all the tests, essays, group assignments, and projects. What should you do? Customize any of the applications below and set reminders when needed.
Google Calendar;
Glance App;
Glances;
Evernote;
Todoist;
Wunderlist;
Google Keep.
Other applications that can be used for educational purposes:
Duolingo;
Narrative Clip;
Instapaper.
Count your steps
Keeping track of your physical activities is a challenge nowadays. Sometimes, there is even nothing to track! However, as soon as you start using a smartwatch, it will emphasize even the smallest of your successes.
Begin with counting the steps you're making daily. Whether you work from home, study in the library, or go for a walk with your peers, you're walking. And watching the number of steps made will add an ambitious sparkle to your inner competitiveness. Made 10,000 today? Should make 10,500 tomorrow!
Install one of these to see your daily metrics:
Nike+ Run Club;
RunKeeper;
Google Fit;
Runtastic;
Zombies, Run!
Apple Watch Activity.
Do sports
Apart from the steps, you also get a daily score of the calories burned. And guess what? You can keep your smartwatch on during all the sports activities you're doing. If you're interested in watching your progress, measuring your calories and heart rate will not do. Download at least one fitness-dedicated application!
Specially designed sports applications for smartwatches cannot offer you the same complete guidance through your gym practice. However, they can control the order of your exercises and the time you dedicate to each of those. Some of the water-resistant models can even do the same for the swimmers.
Whether you enjoy doing yoga, running around your neighborhood, or even boxing, there is a wide range of smartwatch applications to follow your physical activities:
Strava;
Endomondo;
Seven Minute Workout Training Challenge;
Lifesum;
Apple Watch Workout;
FitStar Yoga;
Strong;
Carrot fit.
Answer your calls and messages
During your physical activities, you're more likely to put your phone away. What if you'd receive an important call or text? Don't postpone typing/calling back and use your smartwatch to help you with it. The more sophisticated device you got, the more functions you obviously get. That's why you may end up talking to your wrist (due to voice support).
The biggest perk of any smartwatch – notifications. You may go through your messages and other social media notifications without actually opening them.
A perfect option for staying online all the time is a standalone watch that doesn't require a stable BlueTooth connection. However, you might invest in your purchase more than you expected!
What social media are smartwatch-friendly?
Tinder;
Pinterest;
Tweetings 2;
Instagram;
MeetUp;
Twitter;
Twitterrific.
Not that many, huh? Actually, adapting the concept of social media to a standard smartwatch is a challenge due to the technical barriers. The more people are interested in developing the niche, the more funds addressed to expand the social media capacities smartwatches present.
With the help of a smartwatch, you can also:
Find your phone or tablet;
Control home devices like a washing machine or cooker;
Write a to-do list;
Get some unique recipes for your new diet;
Receive reminders about the daily meals and recommendations regarding healthy eating;
Write a list for a grocery store;
Discover when you should stop drinking caffeine;
Stay hydrated;
Get enough sleep and modify your sleeping habits;
Use GPS for navigating a car.
More functions to come in the future!
Many people consider smartwatches a waste of money. This means none of them have ever tried wearing one, at least for a weak. Having a smartwatch will turn into a habit for improving your health, organizing your studies or work, and maintaining your daily routines. If you're a tech fan, a smartwatch will serve you in the manner the personal assistant would. Perfectly designed for both control freaks and disorganized students, a smartwatch will improve your lifestyle and provide you with extra time to enjoy the real things and real people!
We are influencers and brand affiliates.  This post contains affiliate links, most which go to Amazon and are Geo-Affiliate links to nearest Amazon store.
I am interested in all things technology, especially automation, robotics and tech that helps change how society will live in the future.