We are influencers and brand affiliates.  This post contains affiliate links, most which go to Amazon and are Geo-Affiliate links to nearest Amazon store.
Sooner or later, many of us realize that the 9-to-5 working style isn't for us and that we should be building a freelance blogging career. Before you embark on your exciting journey, below are the tips that may help you build a reputation, boost traffic, and close deals faster.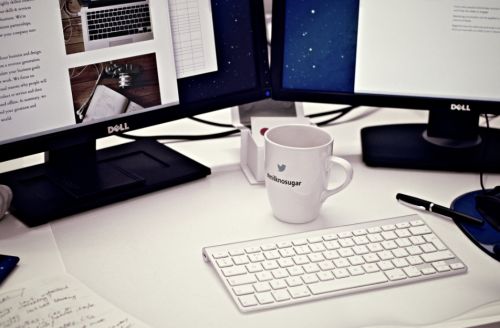 1. Take care of your online presence
As you are just starting out, you may not have many articles to show off. Don't worry about that – all writers have been here at least once. So, write 3-5 pieces and publish them on free platforms like LinkedIn Pulse or Medium. Before you bring them into the light, make sure you take care of visuals, fonts, and readability. All of these are the critical elements of miscellaneous copy. If you want to seriously improve your writing and optimize the working process in general, the tools below may help you out.
Crello. This is an easy-to-use tool with a very powerful functional. Crello allows you to augment your texts with beautiful imagery, animated or static. This is an opportunity to create engaging visuals for your texts, incentivizing more people to hire you.
Typetura. This is a great tool for turning your fonts into the ready-made pieces of js.code. Embed code into your website to stand out from the rest of writers who use standard formatting. Though Typetura still works in beta, there's no better alternative, especially if you look for a free one.
Hemingway App. Both readers and Google search spiders enjoy readable texts. Make sure you check your pieces for readability before you let them go public.
2. Grow your writing muscle
Yes, you are extremely smart and creative. Still, it does not mean that you can just turn your writing muscle on when the time comes. There isn't a single person in the world who did nothing to succeed in their craft. Coincidence? No, unlikely.
The biggest achievements are a matter of practice. And yes, the same can be said of writing. The habit of practice is what will push you forward to writing success.
So, start from crafting 1 article per month. Then keep multiplying this number by two, month by month, and you'll end up writing up to 8 articles per month in just 16 weeks since the beginning. The important thing is to polish your writing, not perfect it.
3. Track your growth
Performance measurement is the second most important skill after the habit of writing. This is exactly what separates good copywriters from really great ones.
If you go for a publishing platform like Medium, you can easily analyze the performance of your posts there. Medium provides you with comprehensive metric details which allow you to take your writing seriously.
Another efficient way to analyze your articles without building a website is to use UTM tags throughout the post. If a user has clicked one of your tracking links, you'll know about it. This provides you with in-depth insights into what resonates with your readers and sparks their curiosity.
4. Come up with your own KPIs
For some people, success comes with an ability to write texts that sell. For others, it means being able to create coherent texts readers can get inspired about. Success may be different, depending on the terms used to define it.
Be specific when you define your KPIs. Before you dive deep in the process, take a look at the criteria below.
Money. If being successful means earning $10,000 a year – go for this purpose. But if you want to make $100,000 – you should also give it a try. Reach as much as you can. The sky is the limit.
Popularity. People seek popularity throughout different periods of their lives. If your writing career is something you'd like to be recognized for, then research the market and come up with the ways to earn your place in writing history.
Community support. Some people measure recognition by the number of likes and shares. Others do it by the number of souls their copy touches. Whatever path is yours – remember: many shades of success are out there. Find your version and reach it within the soonest.
5. Connect with the community
If you want to make your writing even better, then following other talented writers might be more than a good idea. Here are the examples of inspiring websites to look into.
ReallyGoodEmails (some of the world's most creative and beautiful e-mails)
HeyNishi (a daily portion of website inspiration)
ILoveTypography (typography education & inspiration)
Freelance writing may be a lifesaver for all those who want to make a good start. Hopefully, this list of useful tips and sources will help you succeed as a writer.
Enjoy your journey!
We are influencers and brand affiliates.  This post contains affiliate links, most which go to Amazon and are Geo-Affiliate links to nearest Amazon store.
I am interested in all things technology, especially automation, robotics and tech that helps change how society will live in the future.