Do you want to transfer data from your iPhone or iPad effortlessly? Well, you are in the right place. IOTransfer 3 an excellent iPhone Manager enables you to do so with just one click. Wondering how? Let's take a look.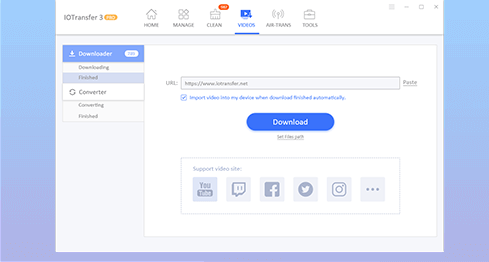 You just have to download this app in your iPhone, iPad or iPod and transfer all your favorite photos to the PC or your friend's mobile with just a click. Not only that, you can take all the back up of your phone by clicking one time, without using iTunes. Isn't it great? Now you can retain all the best moments of your life and share them anywhere, anytime.
Apart from that, if you want more space in your phone, you can simply delete all those unnecessary content with the help of this IOTransfer 3. Now let's check out its other features.
You can download videos online for free
If you love watching videos online on YouTube and if you want to watch the same video later on again and again without wasting your data, you have to download that particular video. How can you do that?? Well, with the help of IOTransfer 3 you can save all your favorite videos and movies directly in your iPhone and enjoy them whenever you want. The benefit doesn't end here. All these videos will be in HD quality. You can select the type of video while downloading. It starts from 240p and goes up to 720p.
Apart from that, this YouTube Video Downloader enables you to download them in different formats including WebM, MP4, MKV, FLV, AVI, 3gp, MOV, and so on.
Convert them into any format f you want better compatibility. The formats include MP4, MKV, FLV, MP3, and so on. You can even share these videos with your friends on multiple platforms including Facebook, Instagram, Vimeo, etc.
Know more about its latest version, iOS 12
If you want your iPhone to give you the best experience and if you want it to work faster, then this latest iOS platform of Apple is the best solution for you. It comes with several extraordinary features and excellent functionalities. Here are iOS 12 Tips for you. Let's take a look.
iOs 12 improves the performance of your iPhone, iPod or iPad. It gives you long-lasting battery life. Your phone starts working 70% faster than before after downloading it.
You can group chat with your friends. Maximum 32 people can join in this group chat. This one is known as face chat which comes with both video and audio versions.
You can now enjoy Animoji characters in your iPhone X. 4 Animoji characters are included here. Apart from that, you can build a Memoji according to your choice and personality.
If you want to make funnier conversations by adding different personalities you can do so with the help of iOS 12.
You can now manage and control all the notifications too. If you want, you can send notifications from different apps, or you can simply turn it off.
Apart from that iOS 12 many other functions. Download it and enjoy its incredible features.
I am interested in all things technology, especially automation, robotics and tech that helps change how society will live in the future.