Almost all modern laptops are shipped with a recovery partition (aka System Recovery disk partition) that helps you reset or refresh your PC. System Recovery Drive enables you to troubleshoot problems with your PC when your system fails to boot. The disk gives you access to advanced startup options that can be used to restore PC and helps you fix the issue with Windows OS that fails to start correctly.
Additionally, it helps you reinstall Windows when you are not able to fix the issue. However, when you reinstall, refresh, or reset Windows, you lose everything that existed on the drive partition where Windows is reinstalled including files residing on your Desktop, in your Music, Documents, Videos, and Pictures folders.
One can overcome such data loss scenario with the help of a Data Recovery Software such as Stellar Phoenix Windows Data Recovery – Professional that comes with System Startup Disc which helps you recover lost, deleted, and inaccessible data with just a few clicks before you reset or refresh your PC.
How to use System Recovery Disk
There are two ways you can create and use a System Recovery Disk — create USB recovery disk using Windows PC or use the hidden system recovery partition preconfigured by your laptop or PC manufacturer.
To create a System Recovery Disk on Windows PC, follow these steps:
Connect a USB flash drive (16GB or larger)
Press Windows key and then type Recovery Drive
Click Recovery Drive desktop app
Click 'Back up system files to the recovery drive' checkbox and then click 'OK.'
Select the USB drive you want to use as a system recovery disk and click Next
Choose Create and then wait until recovery image and necessary files are being copied to your flash drive. This may take a while depending on the size of recovery file and hardware of your system
After it is done, click 'Finish.'
You have created a System recovery Disk successfully. You can now use it to repair, refresh, and reset your PC when it fails to boot or if the system starts behaving abruptly.
To use the System Recovery Disk, follow these steps:
Turn Off the affected system and then turn it ON
Press boot options key, usually F12/F8/F11/F10, and select USB recovery drive from the list followed by the Enter key
The System Recovery disk boots and display a bunch of options. Click Troubleshoot and then follow the wizard
Once recovery is completed, restart your system normally
Note: To use preconfigured recovery partition, refer to your PC or laptop manual or call customer support.
As we said earlier, refreshing and resetting your PC with System recovery disk deletes everything on the drive (more of a quick format) and reinstalls the Windows OS. This leads to severe data loss if you do not have the right back up. In such a situation, you can utilize the Stellar Phoenix Windows Data Recovery – Professional software to recover lost and formatted data.
How to recover Lost or inaccessible Data
Use "Stellar Phoenix Windows Data Recovery – Professional System Startup Disc" before refreshing the PC
Use Stellar Phoenix Windows Data Recovery Software after refreshing or resetting your PC
Method 1: Before Refreshing or Resetting Windows PC (Recommended):
Insert the Stellar Phoenix Windows Data recovery – Professional System Startup disc into your PC and use boot option key to boot from CD/DVD ROM
The Stellar Phoenix Windows Data Recovery – Professional software boots into standalone mode. Follow the instructions no. 1 to 11 given below in Method 2. to retrieve inaccessible and lost data
Method 2: After Resetting and Refreshing Windows PC:
Now that you have refreshed or reset your PC, you must have lost everything from the drive. To get it back, you need to download, install, and launch the Stellar Phoenix Windows Data Recovery – Professional software on your PC. Then follow these instructions,
Click 'All Data' and then click Next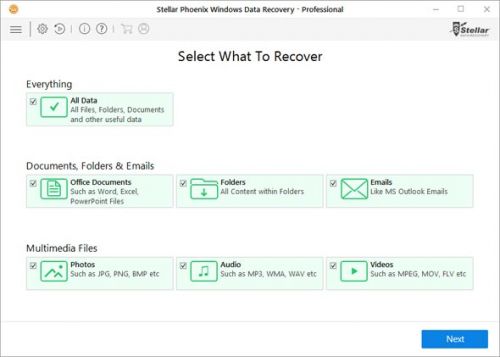 Select the drive volume from where you need to recover the data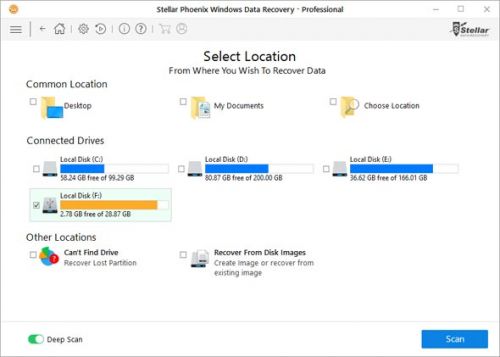 Turn on the Deep Scan toggle switch that appears at the bottom-left corner of the software window
Click 'Scan'
Wait until the scan is finished. It may take a while depending on the size of the size
After the scan, click on the File Type tab in the left pane
Click the folder to display the files in the right panel. You can click on any file to preview it before saving it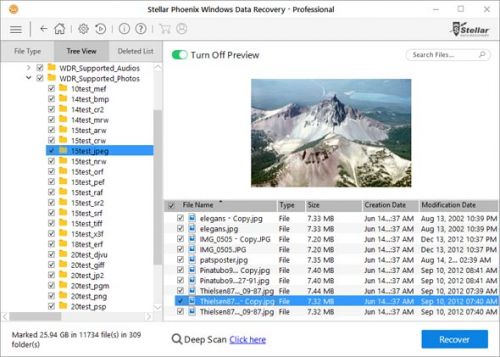 Select the files and folders you want to recover from the checklist and then click 'Recover.' A new pop up box appears
Connect an external drive where you need to save the recovered data. It's important to avoid overwriting your recovered data as it can lead to permanent data loss
Click 'Browse' and then choose external drive as save location
Click 'Start Saving' and wait till the software saves your lost and deleted files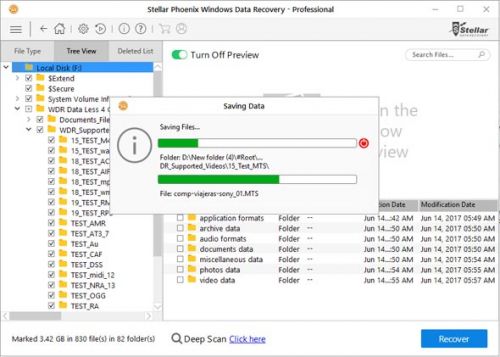 Conclusion
System Recovery Disk helps you retrieve and access your Windows when it fails to boot. However, in the process of regaining access to PC with the help of System recovery disk, users often lose their data. To overcome the issue, we have written this guide to help users understand how system recovery disk works, what the consequences are, and the correct way of doing it without losing data. Software such as Stellar Phoenix Windows Data Recovery Professional helps users retrieve data from a formatted, corrupt, and inaccessible drives and volume even when Windows system fails to boot with the help of System Startup disc. The software also lets you salvage data from encrypted drives. Additionally, you can use the software to recover data from severely corrupt and re-formatted drives with the help of Deep Scan.
I am Computer expert and geeks with over 3 years of experience. Share my knowledge and expertise over different media channels from time to time or as soon as find a new one.