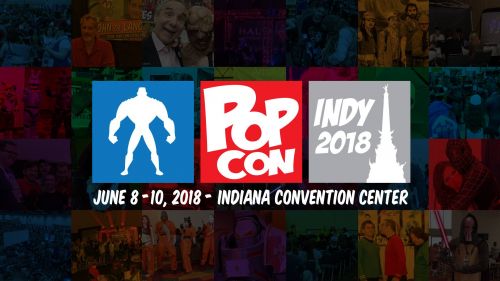 Indy Pop Con is set to celebrate it's 5th year this June by having yet another convention in which this year they have gone all out to provide a ton of celebrities as well as other guests that range from comic book artists, YouTube guests as well as a few voice actors from some of your favorite video games such as Overwatch and World of Warcraft.
A few of the celebrities that will be in attendance will be Pom Klementieff (Mantis/Guardians of the Galaxy 2/Avengers: Infinity War), LeVar Burton (Star Trek: The Next Generation/Reading Rainbow), Kristian Nairn (Hodor from Game of Thrones), Tara Reid (Sharknado/American Pie) and WWE Hall of Fame's own Kevin Nash just to name a few.
There will also be a very wide range of panels, events and even a podcast marathon as well as tons of vendors plus an after party throughout the weekend. Plus, I will be hosting a panel this year called "So You Want to be a Podcaster" which will be at 2PM on Saturday, June 9th for those that are interested in learning about how to start a podcast such as the one I did here for our site.
Indy Pop Con is June 8-10 in downtown Indianapolis at the Indiana Convention Center. Single Day Tickets are Friday $30, Saturday $40 and Sunday is $30. A regular Three-Day Badge is only $60 and a VIP Badge is $150 which provides a T-Shirt, $20 Photo-Op credit and a Stage Autograph Opportunity. You can go to this site to purchase a badge
I'll see you at Indy Pop Con!
I've been writing and covering many forms of entertainment such as comedy shows, and arcade bars as well as reviewing video games and more for the past decade. I love to write and I am blessed to be able to have the opportunities that I have had in the entertainment and technology fields.