We are influencers and brand affiliates.  This post contains affiliate links, most which go to Amazon and are Geo-Affiliate links to nearest Amazon store.
Good day folks, and welcome back to Dragonblogger.com! Today, I present you with a special little surprise. This device – again – comes from the fine folks over at Gearbest.com, but unlike my recent presentations, isn't a phablet. It's time to get your 007 on, because we're diving into the wonderful new world of Smart Watches! I give you… the Android OS-based inWatch Z!
Right off the bat, this tiny little monster just comes out with both arms swinging, throwing punches left and right! Not only does it come in 4 different color styles, but the amazing plethora of features it contains is mind-blowing, to say the least. This small gadget isn't just a watch with a few apps, it's a full-fledged smart phone that's packed into a watch! If you can do it on Android, you can do it on the inWatch Z smart watch. It's loaded with Bluetooth, GPS, WiFi 802.11b/g/n and GSM (850/900/1800/1900MHz frequencies), has 1GB of RAM, an 8GB ROM chip (where Android 4.2 is pre-loaded for you), a 1.63 inch transflective sapphire material touch screen (resolution of 240 x 240 pixels), an external metal shell with super wear-resistant sapphire mirror surface, and the back section is covered in a ceramic-metal material blend. The inWatch Z is also rated as IP57 for waterproofing, which is nice when you consider how easily accidents happen. What makes this beast tick is the 1.2Ghz dual core Cortex A7 MTK6572 CPU (the inWatch Z is the first of this type of device to use such a powerful chip), a sentral coprocessor (Sensor fusion coprocessor – helps to alleviate the workload off of the CPU for increased productivity and lower power consumption), and the Mali-400 MP graphics processor chip.

Additional features of the inWatch Z include a single 5.0MP front-facing digital camera (in the band; records both photos and videos), MicroUSB, Micro SIM slot for use on cell phone networks (ships unlocked and is incompatible with pre-paid services), multi-language support ( Spanish, Russian, Italian, Portuguese, English & French), and a 580mAh internal rechargeable battery – which will get you roughly up to 48 hours of active usage time and up to 120 hours of standby time. There is also a bone conduction technology speaker, and support for the following media formats: (photo) JPEG, GIF, BMP, PNG, (audio) MP3, WAV, AMR, (video) H.264, H.263, (MS Office) Excel, PPT, Word, (e-book) TXT and PDF.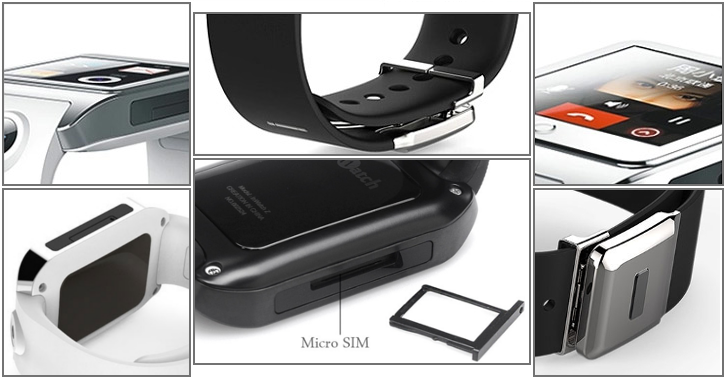 The metal body is designed to meet the best of both worlds – form and function. It's very durable, capable of withstanding a lot of general everyday wear, and looks fantastic to boot. The back cover is a blend of metal and ceramic, to provide smooth, durable comfort and high heat resistance. The capacitive touch screen is covered by sapphire, which provides extreme wear, radiation and high temperature resistance (this is aerospace-grade material that is being used here). Also incorporated within this section is translucent semi-trans technology, which makes the screen much easier to see and read – even in broad daylight – by changing the proportion of the original projection and reflection, which increases the inWatch Z's lighting intensity. Being that it's a watch, it only makes sense that the inWatch Z is very lightweight. Weighing in at a rather meager 0.120 kg (4.23 ounces), and with dimensions of 60 x 40 x 12 mm / 2.3 x 1.6 x 0.5 inches, this tiny wonder is anything but cumbersome. Also included in the package is a SIM card removal tool, a user manual, a USB adapter/charger and a USB cable.

The MSRP of the inWatch Z is $386.95 USD, however Gearbest currently sells it for $270.58 USD. Even better, is that they've also given us a promotional code to share with you, to provide you an even better opportunity! Should you choose to order one of these inWatch Z smart watches, use promo code inWatchcn to drop the price down to $244.99 USD. This promo code doesn't expire until December 31st, 2014, however being that we're actually in December now, the sooner you order, the better. Whether you get one for yourself or as a gift for someone else, this price is astounding, and one you can't really argue about! Heck, I think I'll actually add this as item #11 on my wish list, now that I think about it…
Anyway folks, it's been a pleasure, as always, but alas I must leave you for now. Until next time, this is Ronald DMNKLR Smith for Dragonblogger.com, signing off and reminding you that I want to know what you want to know about. Have a blessed day everyone!

We are influencers and brand affiliates.  This post contains affiliate links, most which go to Amazon and are Geo-Affiliate links to nearest Amazon store.
This is the Dragon Blogger Guest Bloggers account for author's who want to submit articles and only have credit in the post instead of having to manage their own WordPress profile.