A few weeks back I received the IN WIN 707 PC case so that I could do a review. You may remember the little brother known as the IN WIN 703 case I reviewed a while back. Well just like it's little brother this big brother has some on point specs for a budget friendly price. This model is a full tower case, and this means you can add anything your heart desires to it.  But I will get more into that in a few. Included in the package is an instruction manual, set of screws and standoffs, wire ties, and some washers. First, let me give you a little sneak peak of the case and the spec list from their website. I will also throw in a side by side shot of bother cases.
First, let me give you a little sneak peak of the case and the spec list from their website. I will also throw in a side by side shot of bother cases.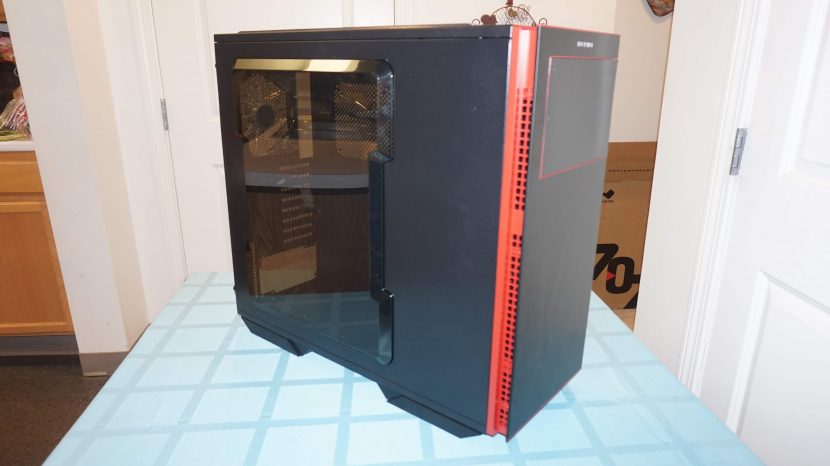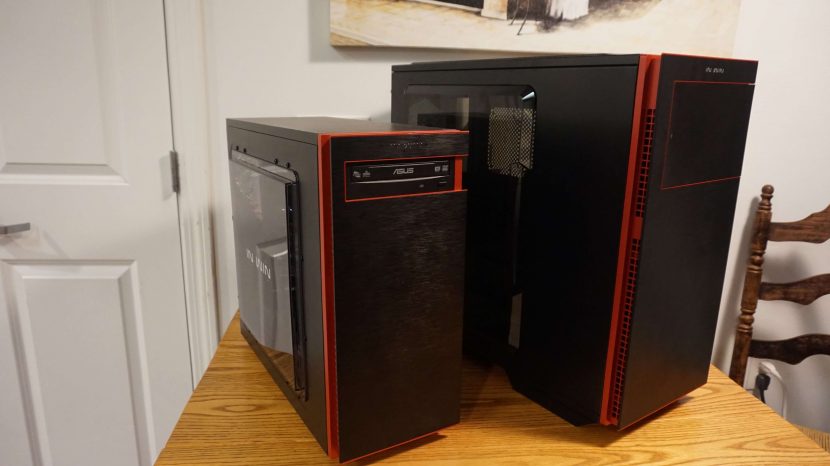 Check Out My Unboxing Here!
IN WIN 707 Specs from IN WIN website!
Model
707
Color
Black/Red, White/Silver
Case Type
Full Tower
Case Material
SECC, Acrylic Window Side Panel
M/B Compatibility
E-ATX, ATX, Micro-ATX
Expansion Slots
PCI-E X 8
High-end Graphics Card Compatible
– Length: 365mm Maximum
Front Ports
2 x USB 2.0
2 x USB 3.0
HD Audio
External Drive Bays
3 x 5.25″
Internal Drive Bays
8 x 2.5″/3.5″
Thermal Solution Compatibility
2 x 140mm Front Fan
1 x 140mm Rear Fan
3 x 120mm Top Fan
2 x 120/140mm Bottom Fan
1 x 120/140mm Side Fan
1 x 360mm Top Radiator
1 x 240mm Bottom Radiator
– Bottom HDD cage must be removed
CPU Heatsink Compatible
– CPU die surface to side panel height: 195mm Maximum
Power Supply Compatibility
PSII: ATX12V and EPS 12V
– Length: 220mm Maximum
Product Dimension
(H x W x D)
532mm x 243mm x 582mm
21.0″ x 9.5″ x 22.9″
Package Dimension
(H x W x D)
570mm x 287mm x 663mm
22.4″ x 11.3″ x 26.1″
Net Weight
11.40kg/25.13lb
Gross Weight
13.00kg/28.66lb
Now that you have seen the specs lets talk about the color they sent me. It is the black and red version which is the same color options as the IN WIN 703 case I reviewed. They do have a white and silver version but wasn't available at the time.  Some other points to note is that this is a full tower case with the option to install several motherboard styles. This included the micro-ATX, ATX, and E-ATX. It also has an acrylic side panel so you can see what's inside your case at all times. This side panel can be taken off easily as you unscrew just the acrylic piece. For the modders out there you could even put a mesh piece on it since it can be unscrewed. Let me show you a picture of the inside of the panel.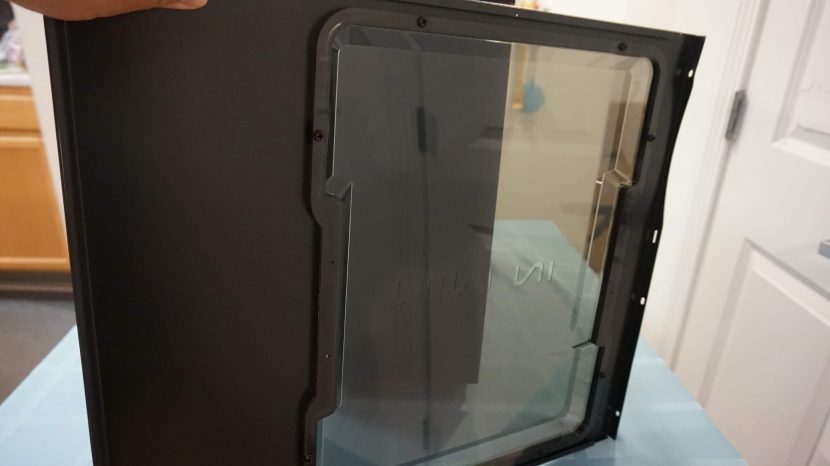 From the picture you can see it has eight screws holding it in. Very easy to remove and mod.  The acrylic is also etched with the IN WIN logo.
The front panel on the top of this case has two USB 2.0, two USB 3.0, and HD audio ports. It also has the power button. This button is a small black square on the edge.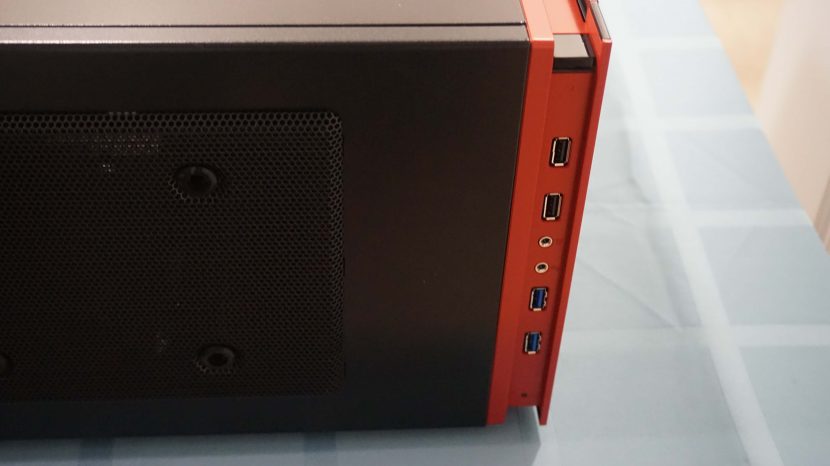 The very front of this panel is where your disc drive would go. There is a panel that flips open.
This panel can be used or not used. Most people don't use disc drives anymore. You could even install a screen for a fan controller. Since we're talking about disc drives, IN WIN has made it simple to install with they tool free installation.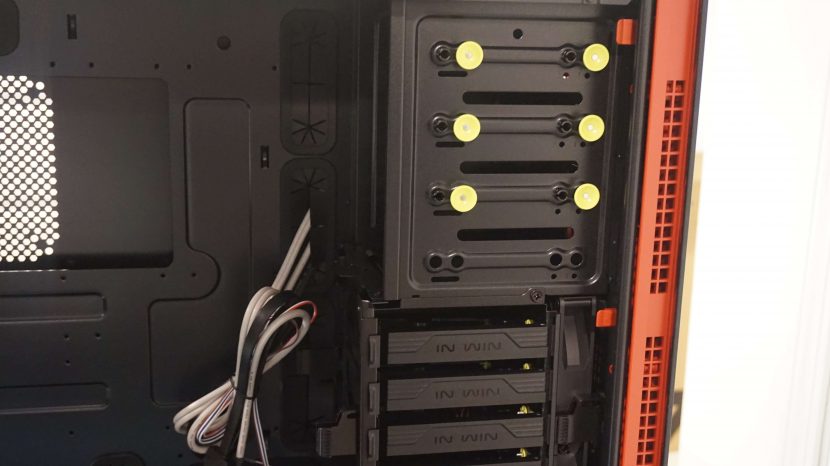 You can see in the above photo is yellow clips.  To use all you do is pull them out install the disc drive and then push them back in. Underneath the disc drive bay are eight hard drive bays. You can install eight 2.5 or 3.2 hard drives or SSDs.  This too is a tool free as long as you use3.5 hard drives. If you go with 2.5-inch SSD's you will need some screw. I only installed one hard drive since the wife is using this case. Let me show you a close up of the drive bays.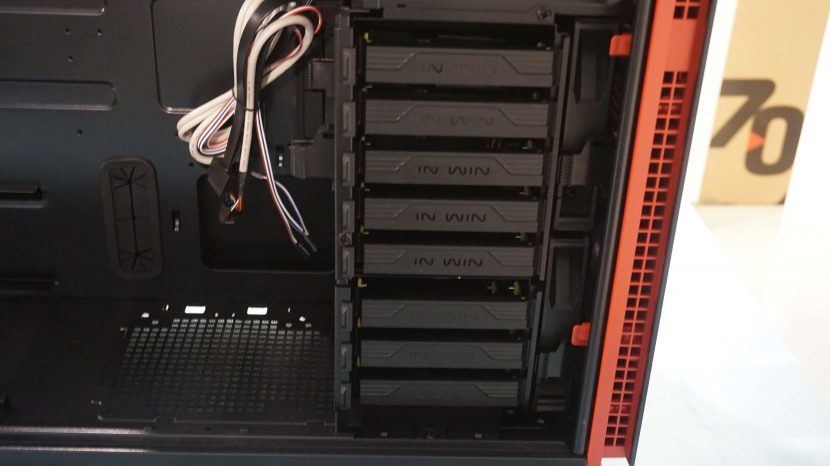 As I am still discussing the inside lets talk about the cooling options with this case. You have many options from using 120mm fans to 140mm fans. The 707 comes with three 140mm fans preinstalled. One of which is a red led fan. The red led fan is in the rear of the case. Now I did not use this fan because the wire was Molex style. Let me show you what I'm speaking of. I will also show you where you can place a 120mm fan or 140mm fan on the right side panel. I will circle both in yellow.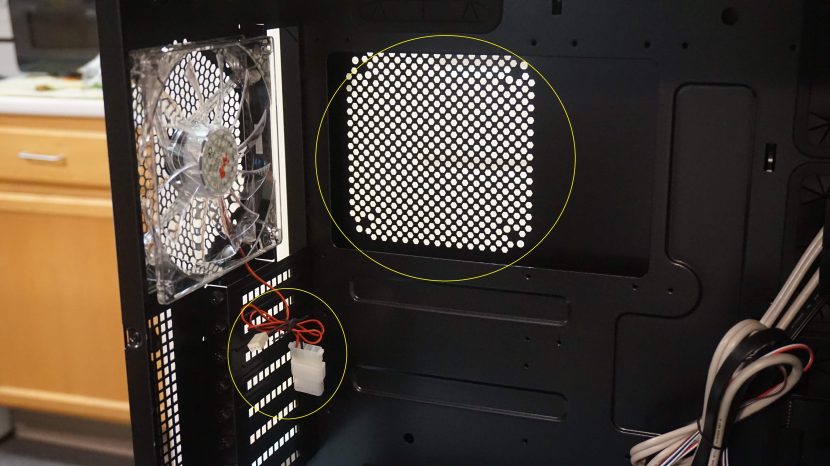 You will notice the Molex also has 3 pin connector. I would have used it but the wire was hard to hide the Molex since the 3 pin was after the Molex connector. I would have loved to see that different but I had a few other fans laying around the house. Now as you seen in the specs above there are many options to cool this case. You can run three 120mm fans on the very top. This option I did use. You also have two preinstalled 140mm fans on the front of the case. Let me show you these placements before I go on to explain the other options you could use.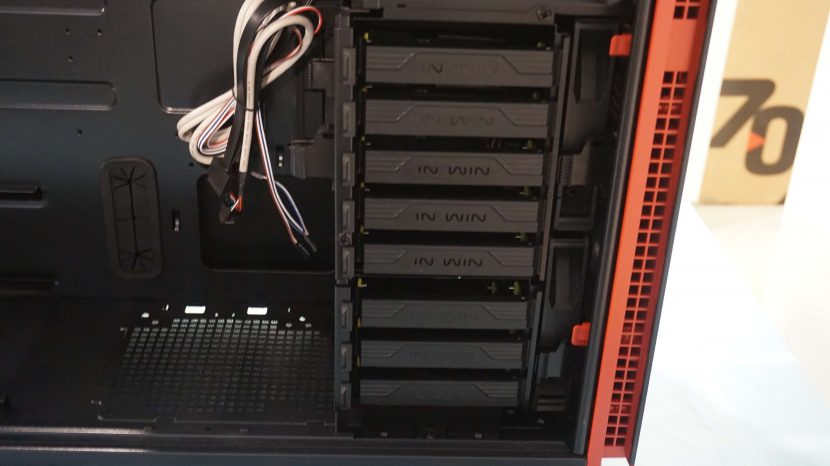 If you look in front of the drive bays you will see the two 140mm fans. on the bottom where the drive bay is you could run two 120mm fans or two 140mm fans. This case could also run a 1 x 240mm Bottom Radiator but you will need to remove the bottom HDD cage to configure it this way.
Now they allow for three 120mm fans on the top of the case. I would have loved to see the option for 140mm fans. As you see I used three 120mm 1STPlayer Fire Rose fans in this case. You could have gone with a 1 x 360mm Top Radiator in the top instead of the 120mm fans like I did.
Check Out My Installation Of The Fire Rose Fans Here!
Even with all these options IN WIN threw in another fan placement for you. This placement is on the back side of the upper HDD cage. I will circle  that in yellow so you can see where it could go.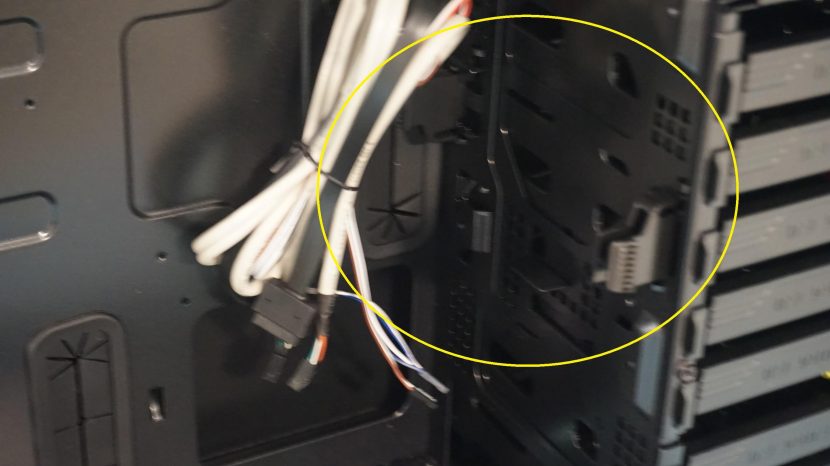 The last cooling option you can add is your CPU heatsink. The allow heatsinks up to 195mm Maximum. This should fit most CPU heatsinks out there. I have an Evo 212 installed  on this build.
With all the cooling options you will need to remember that you have a size limit for the power supply unit. They suggest you don't go past 220mm Maximum length. I have an 1100 Watt Topower in mine, and  you can see it here.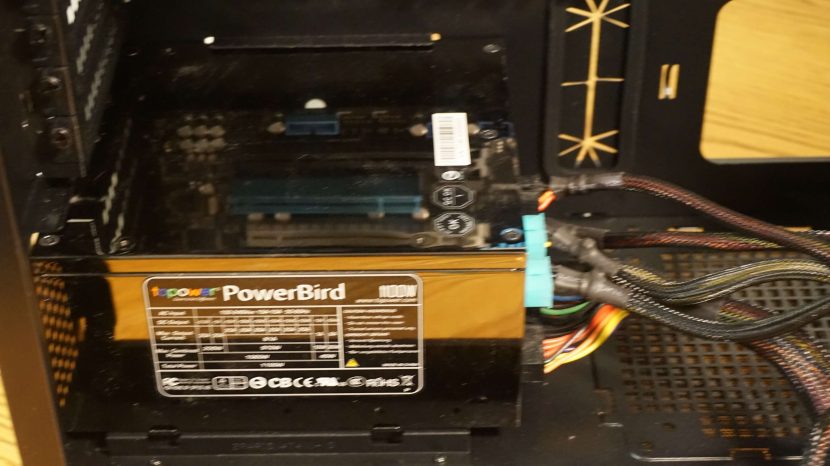 This is where I started placing everything in the IN WIN 707 from the motherboard to the Intel Core-i7 3770k. I also have an AMD R9 390 graphics card installed. There is a sound card as well. You can see all these fall in place in the next few photos.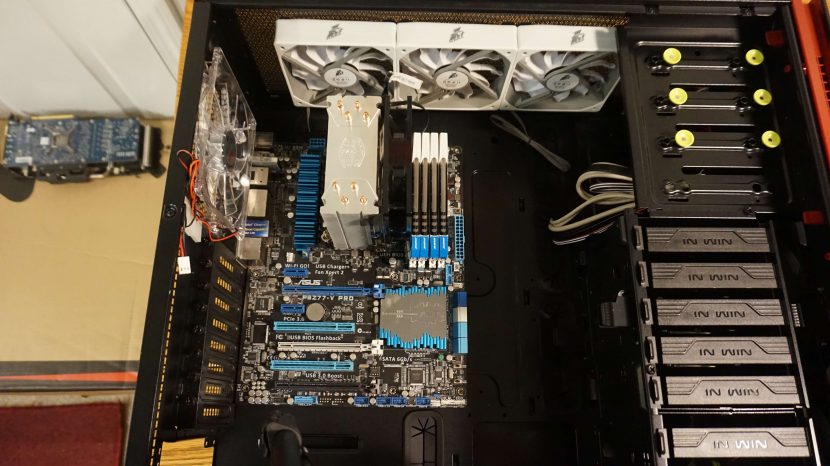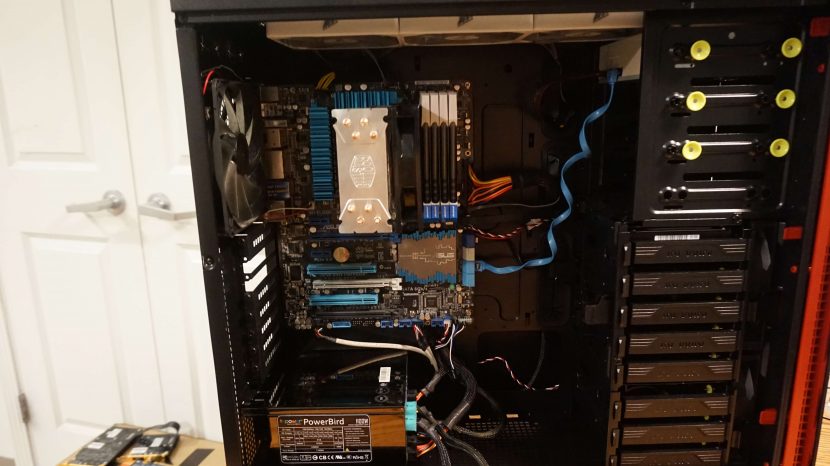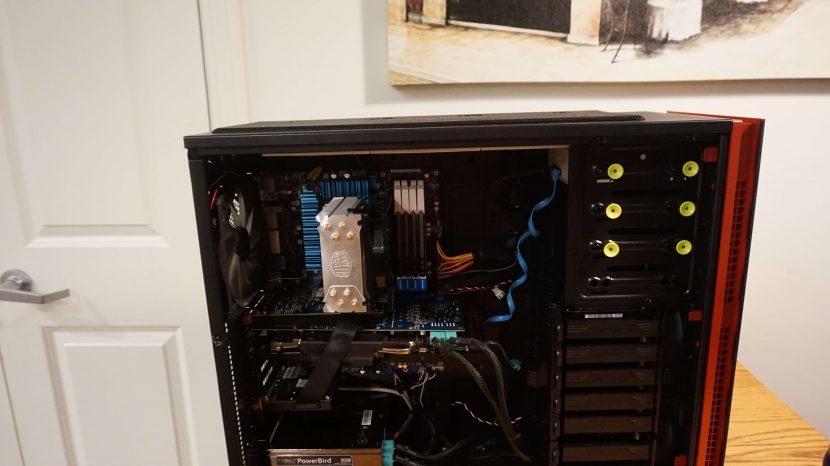 As you see in the top photo that was where I noticed IN WIN installed a red led fan would not work for this build.
Since you see how the build looks with the side off. Let me show you with the side panel on and lit up.
Final Thoughts!
The IN WIN 707 case is just plain great for the price. For around 118 dollars and some odd cents on Amazon, that is definitely a wallet friendly case if you are on a budget.  It has all the options any builder could want in one package for a low price. You can run many different fans to keep your system cool. You also get the option of using the big dog graphic cards that won't normally fit in mini cases. Don't get me wrong, most cases are being built with the GPUs in mind. IN WIN thought of this and what we needed in a cheap case that is also built well. I mean I could be picky and complain about the gray header wires from the case but I overlooked that this time since the window is so dark on this case when it is on. You can't really tell they are there. I would recommend IN WIN cases to anyone. They have you covered from low budget friendly cases to high dime cases that are made to shine. My wife is very happy with this case and I think you will be too.
Disclaimer: IN WIN sent me their 707 Mid Tower case give an honest review of. All opinions are mine and mine alone.
Hi everyone I'm James Braga. I was born in Oregon and moved to New Hampshire a few years back. I love most things that have to do with video games and electronics, It doesn't matter if it for a car or a house, if it has electricity in it i will love it . I'm also in school for Information Systems Technology.