Most of the organizations use Outlook and Gmail email clients, but no one knows which is better. Some of them go with Outlook as a better email client, and some of them opt for Gmail. Through this guide, you get to know "Is Outlook better than Gmail or not?".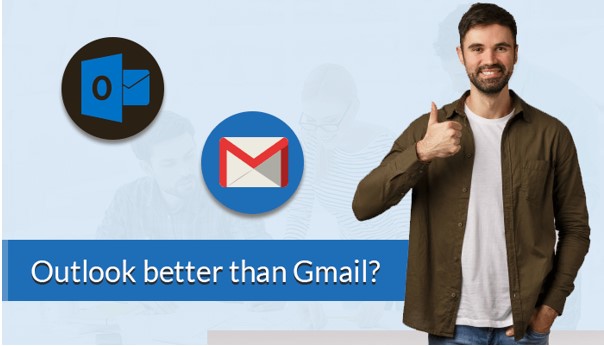 When we talk about email service, always we think about Gmail and Outlook. As these are the top-most email clients, users mostly used them for sending and receiving emails. But the most important thing is that which is better among Outlook and Gmail. To clear this issue, we are going to explain all their features and services so that one can easily understand their work. Now, start comparing them based on their features.
Why Outlook is better than Gmail when comparing their features?
●    Organizing Emails
Outlook organizes emails in a very simple manner. All the incoming emails classify into two categories as 'Focused' and 'Other'.
If the incoming email is marked as important by Microsoft monitoring rules then it moves into the 'Focused Folder' otherwise, it moves into 'Other folder'. But it is not possible in Gmail as it allows you to customize the tabs for organizing emails.
There are two tabs in Gmail, first is 'Primary' and the other is the 'Social' tab. The primary tab used to store urgent or non-urgent emails based on priorities. Whereas the Social tab is used to connect your account with social media sites such as Twitter, Facebook, Instagram, Quora, etc.
●    Attachment Sizes
When we talk about saving large attachments, Outlook offers a default limit of 20 MB for storing attachments. Whereas Gmail offers a limit of 25 MB for attaching and sending files. Therefore, in this feature, Gmail offers a better size limit than Outlook.
●    Security & Privacy
Many spams occurred day by day that will create fake emails. On comparing Gmail and Outlook based on privacy, there are more spam occurs in Gmail than Outlook. Microsoft Outlook handles spam messages better than Gmail.
●    Productivity and Collaboration
To collaborate with someone, we use to communicate through email services. Gmail and Outlook are one of them from which you can easily communicate. Gmail provides many online applications based on the cloud such as Google Slides, Google Docs, Google Sheets, and more. A Gmail user not facing any problem when using these cloud-based applications. Every Outlook user easily accesses PowerPoint Online, Word Online, and Excel Online. When we compare both of them, Outlook beats Gmail on offering productivity and collaboration.
●    Storage
When we talk about storage, Outlook has more storage capacity than Gmail. For storing emails, Outlook is better than Gmail as it offers 15 GB email storage and cloud storage. Also, it has a storage capacity of 5 GB for files in OneDrive cloud.
●    Video Conferencing
Gmail and Outlook provide great Video conferencing services. Mostly Microsoft users contacting through Skype with their email clients and connecting them through its user-friendly GUI.
Gmail users easily make Hangout Video conference. The ability to add membres up to 25 or 50 members for Gmail business users. Outlook users also have access to Skype where they can easily make video conferences with up to 250 members. Outlook and Gmail easily create a conferencing video request through email. All the members just hit on the link.
●    Security
Some differences are there between Outlook and Gmail's security. Two-step authentication and AI spam filters provided by both of them. Both are having a 'verified' sender option that will allow only a trusted person to contact you.
Google now performs experiments with machine learning algorithms to decrease the phishing attack amounts that its users getting. Now, an email must be marked with a color-coded alert system. If a message appears to be malicious, it will be marked as red otherwise emails with lesser risks will be marked with yellow.
As with any security issues, people are the greatest threat to a company, and there should also be common sense and good training practices.
●    Email Forwarding
You can easily set up mail forwarding in Gmail and Outlook. This feature will allow you to automatically send emails from an account to another. If you already have a Gmail account and you want to move all emails in your new Outlook account then you have to only set up an email forwarding feature. So, just set up this feature in your previous Gmail account to send all emails to your new Outlook account.
If you want to cancel your old email address, then allowing an auto-reply to your old email address, informing senders of your new email address, and setting a date will be smarter criteria. Now, all your contacts have a new email address and no changes cannot discard it.
●    Desktop Experience
Outlook has one of the best desktop experience with Windows 10. It works faster than other email clients on the desktop. You can easily link your Outlook emails with the whole Microsoft suite. When you are connecting with Skype contacts through emails, modifying Word files, shifting emails to OneDrive, etc, you can perform them in a single window. but Gmail does'not offer such desktop experience.
●    Calendar Feature
A Calendar is the most essential feature in an email service. Outlook calendar has the simplest interface and easy to access with its desktop client. Choosing an automatic schedule, you can easily set up meetings directly. Gmail also has a calendar feature but you cannot access it easily just like Outlook. Also, Gmail not allow you to advanced the scheduling option as Outlook allows.
Outlook comes with a very useful signature feature that allows you to use vibrant models with watermarks and visual impressions. Usually creating a skilled Gmail signature involves an external program such as "Wisestamp" or "Hubspot." Gmail has avoided all of those simple features to push straight to an advanced level.
●    Design & Structure
An email window design has the feature to write emails. Gmail's text editor appears a little unprofessional as it jumps on the screen from nowhere, which can be annoying. Even, in a full-screen mode, it only occupies three-quarters of the display. This system would take more time if you had to type several emails. On the other hand, Outlook.com has a powerful rich text editor that can be accessed from a side panel that works best for writing emails.
●    Contact Management
Gmail contacts are trickier to open, edit, and delete. In Settings, you can directly access them from the gearbox.
Whereas Outlook has a "Contacts" icon which always opens in a new window. You can perform any operation like deleting contacts, importing phone numbers, adding business cards and more.
●    Account Space
Although free Gmail accounts are limited to 15 GB, adding new Google accounts will increase the space three to four times. Also, thanks to the OneDrive service and Outlook account comes with 1 TB space.
●    Microsoft Office Support
Microsoft Office documents can easily be edited by both Outlook and Gmail. But the main thing is that Outlook.com offers to open a file in a Word doc in Skydrive. You can make changes by downloading the word file. Then re-upload that file to the cloud and also, resend it via Outlook in native format.
●    Reading Mails Messages
Outlook offers a great feature of bringing the best tool for viewing email messages without any distraction. If someone wants to use this feature, then make a right-click on the particular email address and then opt the Immersive Reader option. But Gmail does not offer this kind of option.
All are the significant features of Outlook, and Gmail as explained above. After knowing all the features, you will get the answer to the query "Is outlook better than Gmail". It declares that Outlook is better than Gmail. If you are a Gmail user and want to move into Outlook, then you can quickly perform this action. Just use the Gmail
Email Backup Tool to take a backup of all your Gmail data and then transfer them to Outlook without any data loss. This software operates very fastly, and no requirement of technical knowledge is needed.
It can be difficult to select the correct free Email service. You need something that is user-friendly, reliable and gives you all the features that you need on the top. Between Gmail and Outlook, everything depends on you that what you would like to use and what you need for communication. Choose the right one based on storage capacity. So, choose the right one based on the features that provide all the things you need.
Final Verdict!!
We have mentioned here all the important features of Gmail and Outlook in detail so that one can easily choose the perfect email client as per need. At last, a direct utility to download Gmail backup and to transfer emails from it to Outlook has been mentioned for a Gmail user. I hope, this guide will help you in finding out the solution for the query "Is Outlook better than Gmail" and offers you to choose the right platform for communicating.
I am interested in all things technology, especially automation, robotics and tech that helps change how society will live in the future.