With so many people recording or streaming nowadays. Not everybody can afford or has the space for a traditional green screen to hide their background. Well, XSplit has thought about that and has come out with new software called XSplit VCam. The software removes the background from your camera and is able to add a photo or just blur it out but I'll get more into that in a minute. I was lucky enough to be able to test this software out for you. XSplit is best known for their streaming and game caster software. So to see new software from them makes me a little excited. The best part is you can use Vcam along with their other two softwares or with other 3rd party streaming software. Before we get into all off this let talk about installing and setting up the XSplit VCam software.
Installation of XSplit VCam
Installing the XSplit VCam software is easy that most people should be able to do it. First, you go to the XSplit company website. Once there you pick the software you want to install. In this case, we are installing the XSplit VCam. So on the homepage you will find them at the top the list of software you will want to click on the VCam label. I will post a picture with a red arrow so you can see where to click. I will also link the picture so you can click it to go straight to the VCam page.

On this page you will see on the right-hand side you can purchase the license or download the software. I suggest grabbing the license since right now it is on sale for $25 bucks for a lifetime license. Under the orange box is where you will click to download the software.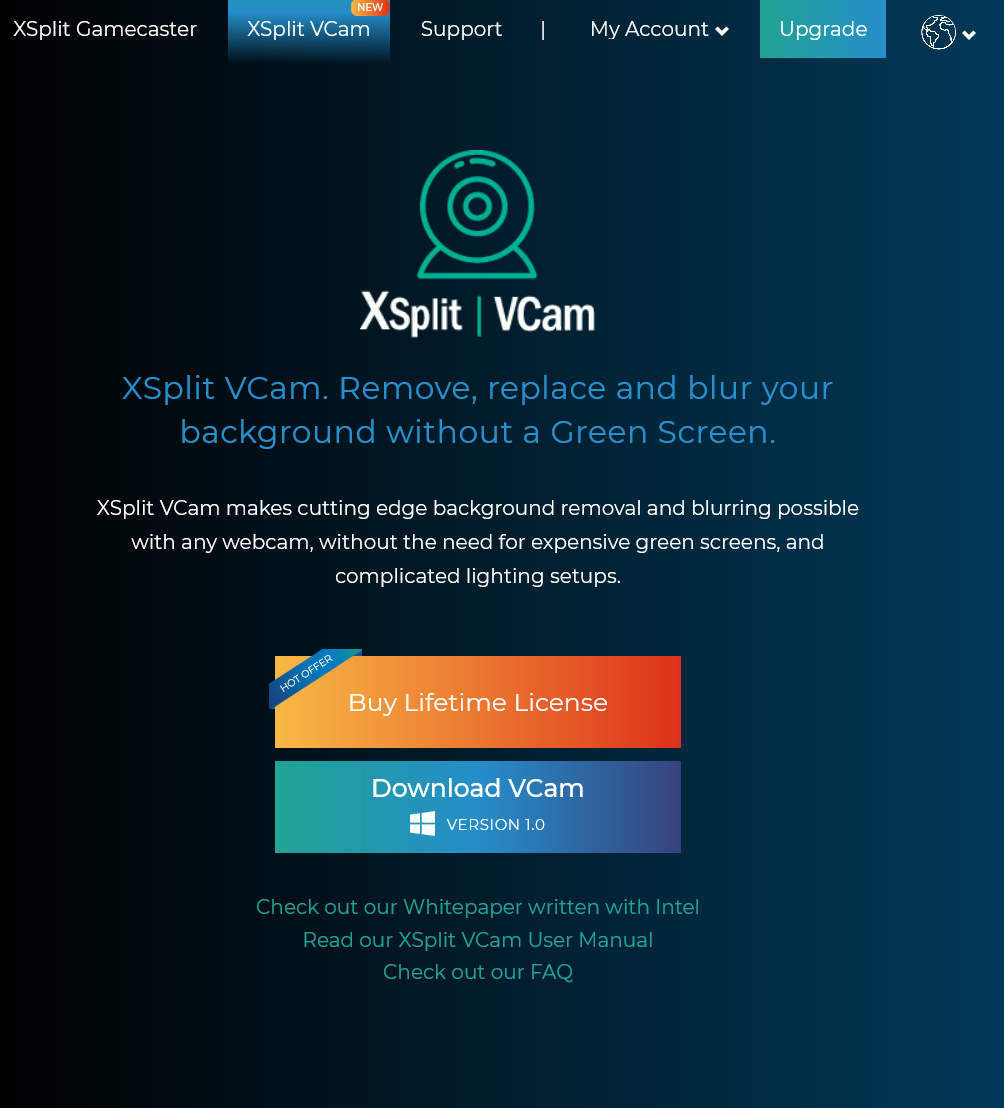 Once you click download you will have the option to save file or run file. Me personally I just click run and save a step. A box will pop up once you click run and it finishes downloading a file. You will want to click allow the app to make changes to your device.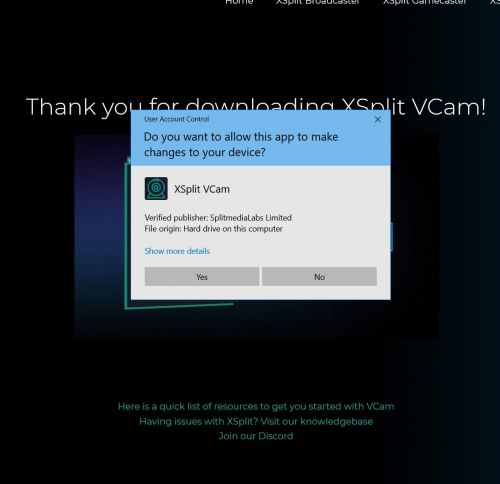 After clicking yes allow, another box will pop up. This is your installer box. On this box, you will want to click next. This is where you will click install then find file install location. Once installed it will ask you to click finish. This will bring you to the next step and that is logging into your software. When you go to log in you have several options I use my XSplit account. You can use Facebook, Twitch, Steam, Discord, Mixer, Google, or Twitter.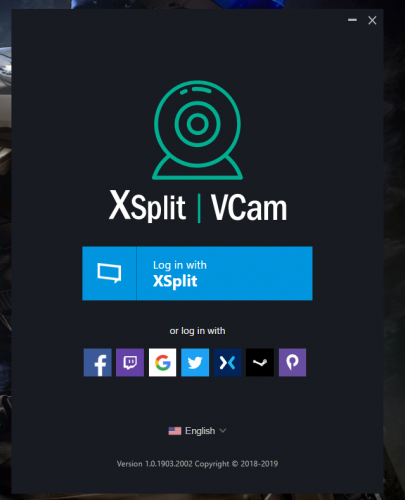 From here you are going to want to click calibrate the software. This is a two-step process. The first step is the system calibrate. This will run by itself. The second step is the camera calibrate you will need to find your device in the device list and then click continue. This is where you will upload a 15-second video of you moving around in front of the camera. I do suggest having lighting on you. It will help calibrate the AI software better to detect you. This how you install the software.
Watch My Full XSplit VCam Software Install and Walkthrough
Using the XSplit VCam Software
Now that you have seen how to install the XSplit VCam software, let's talk about using the software. Like I stated before you can use the software with any other XSplit software or 3rd party like Streamlab OBS. Let's first talk about the VCam software and settings in the VCam software. Once you start the software you will have a few settings on the software to walk through and adjust. First, you can click in the upper left corner of the box it gives you the options to check for updates or quick start guide. This also gives you the chance to recalibrate your camera.
The next settings are camera choice or background. You can choose which camera to use if you have more then one connected. I used my Logitech C922x Webcam. You can also choose to use the normal background or add your own background. This also gives you the chance to remove the background completely.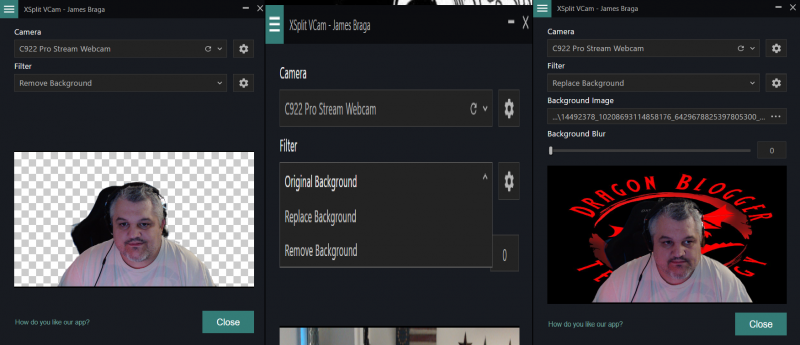 Let me show you a few photos with the background replaced, one blurred, and one with no background at. The first one will be a normal background.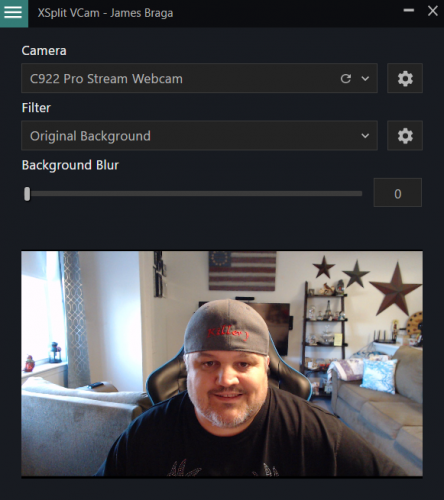 The next photo is with it replaces with my logo for Dragonblogger.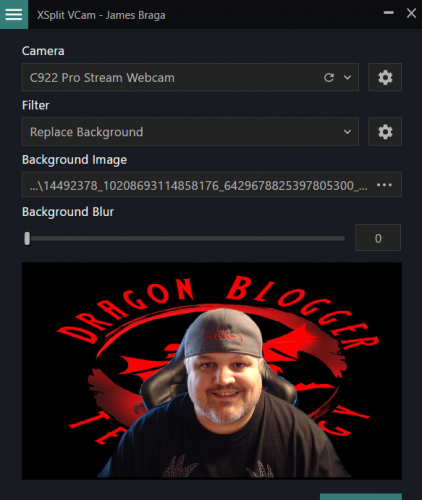 Now, these photos are with the logo blurred.
These next photos are with the background completely removed.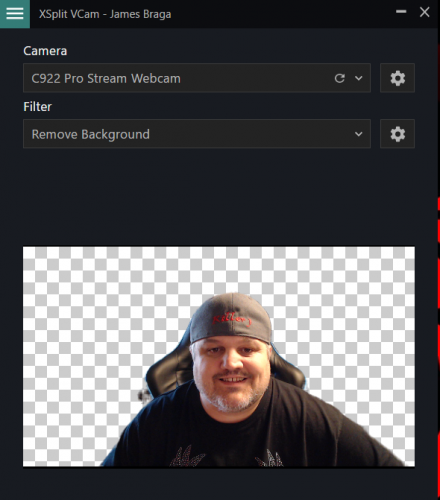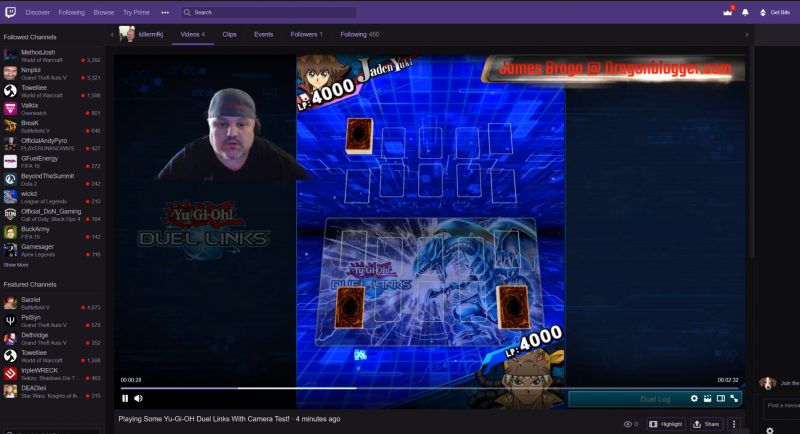 As you can see the photo show a checkerboard pattern. This means when streaming you will see nothing but whatever screen your recording. This leaves just you on the screen with whatever game you streaming.
Next, to these two options, you can see little sprockets. This opens the settings for camera and background. In the camera settings, you can adjust brightness, contrast, white balance and sharpness. This will also be where you can adjust zoom, focus, tilt, and pan. On the background settings, you will be able to adjust hardware acceleration, quality control, and remove the chair. You can choose between CPU or GPU acceleration. Quality control you can choose automatic or pick your own.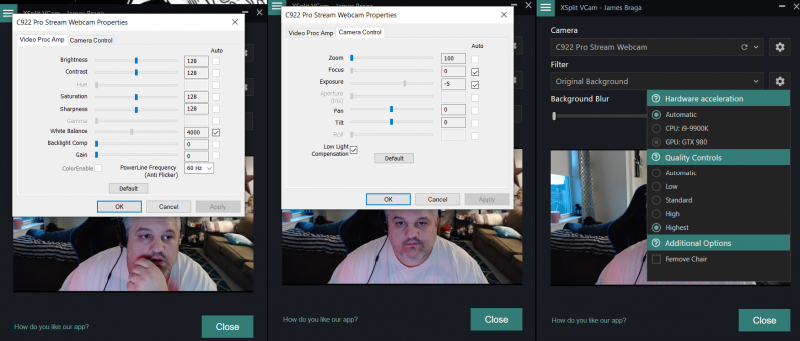 As you can see you have a nice amount of settings to adjust and go through. This gives you many options.
XSplit VCam Compatibility
XSplit VCam software is compatible with many apps. You have many options for streaming or just video chatting. Take streaming for instance. You can use their own XSplit broadcaster software. If that doesn't fancy you. You always could use Streamlab OBS, OBS Studio, Twitch, Discord, and many others. For video chatting, you have just as many options to use.  On their website, they list a few including Skype, Discord, Wechat and Google Hangouts just to name a few. With all these options there is something for everyone. I suggest testing a few and seeing which one works best for you.
Check Out My Full Test of XSplit VCam And Gameplay Video Here
Final Thoughts on XSplit VCam
When all said and done XSplit made very good software that almost anyone could use. The XSplit VCam user interface is definitely user-friendly. With it being compatible with the majority of software that is out there. I'm sure there are more than I have listed or even thought or heard of. The software will cost you $49.95. I think it's well worth having and using especially if you don't have the space for a traditional green screen set up. They are working on improving the software daily. I am fully impressed with XSplit VCam software and plan on using it as much as possible to stream and record videos and gameplay with. I have checked their customer service out online and love they have people on live chat that are fast and always willing to help you with any issue with any of their software. I would suggest the XSplit VCam software to anyone.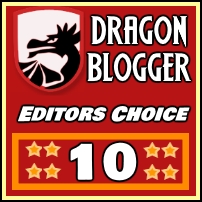 [P_REVIEW post_id=1083870 visual='full']
Hi everyone I'm James Braga. I was born in Oregon and moved to New Hampshire a few years back. I love most things that have to do with video games and electronics, It doesn't matter if it for a car or a house, if it has electricity in it i will love it . I'm also in school for Information Systems Technology.