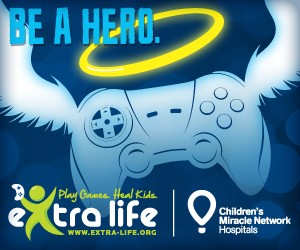 This Saturday, November 2nd marks the 5th annual Extra Life 25 Hour Video Game Marathon. The event happens every year in order to help raise money for Children's Miracle Network hospitals all across the world. Extra Life started as a way to honor Victoria Enmon which her battle with acute lymphoblastic leukemia helped inspire the Sarcastic Gamer Community to try to raise money due to Victoria being a gamer herself and help her out by receiving some video games to play in the hospital.
Unfortunately Victoria lost her battle in January of 2008. The Sarcastic Gamer Community decided that to honor her memory they would create an event called "Extra Life" as a way for gamers all across the world to help raise money for kids like Victoria who are in hospitals today.
Being a gamer myself this really inspired me to want to use the time that I play video games as a way to help others out. So I have created a Team Dragon Blogger and have pledged Saturday to having my own 8 hour video game marathon on Xbox 360 hoping to raise money for Children's Miracle Network. If you would like to donate to Team Dragon Blogger (all proceeds go to Children's Miracle Networks around the world) you can go to this link here or if you would like to join my team and help us here at Dragon Blogger raise some money you can do so my heading over to this link to our team page and register. Registration is completely free however if you want to you can be a platinum member for $15 and be eligible to win prizes just by participating.
I've been writing and covering many forms of entertainment such as comedy shows, and arcade bars as well as reviewing video games and more for the past decade. I love to write and I am blessed to be able to have the opportunities that I have had in the entertainment and technology fields.