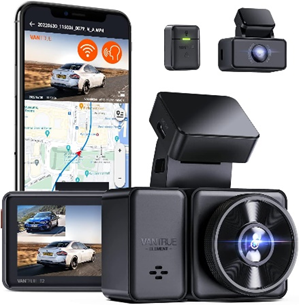 Looking for a high-quality car camera to get evidence in case an accident or theft occurs?
Roads are dangerous, car accidents can happen at any time, and as you know, legal problems can end up being costs even when you know you're not at fault. Car crash lawsuits can end up being expensive if you don't have a camera that shows evidence that you're not at fault, so you could lose thousands of dollars if you don't use a car camera. They are easy to install and allow you to obtain clear evidence that will be useful not only in car accidents but also in robberies or assaults. This is the best evidence to avoid legal problems.
Something important to keep in mind is that not all car cameras work the same, you can find dozens available at a very affordable price, which can be tempting (even some cheap cameras claim to record in 4K), but is it worth spending 50 dollars on a camera that will help you avoid losses of thousands of dollars? In my opinion, no, of course not. Investing in a good car camera is important so that you can get high-quality recordings not only during the day but also at night, ensuring that your car is monitored 24 hours a day.
The Vantrue E2 car camera is what you need if you are looking to get recordings of the best quality. It features 2 cameras (front and rear), which increases the viewing range of the cameras, preventing fraudulent claims that can cost you thousands of dollars. Below, discover the most interesting features of this product.
Features of the Vantrue E2 Dash Cam
Forget about fraudulent claims, the Vantrue E2 camera ensures you can get recordings in the best quality, meaning you'll get crisp recordings in case an accident happens. A front and rear camera are included offering 2.5K (2592*1944P) image quality. Another feature of the Vantrue E2 dash cam is that it has a 160° viewing range, which is much wider compared to other dash cams. The best thing about this dash cam is that it works with an SD card of up to 512GB, so you won't have to worry about mandatory cloud services that can end up being expensive and uncomfortable to use. Don't worry if you find yourself sleeping, the Vantrue E2 car camera is designed with storage-saving modes so you can record 24 hours a day, ensuring your car is monitored even when you're sleeping. Do you usually drive at night? That's no problem for this car camera, night vision mode 2.0 ensures clear images in low-light conditions. This camera has Wifi 5Ghz, which means that you will be able to transfer the recordings to your cell phone incredibly fast and without annoying interruptions. To further ensure the safety of your car, the Vantrue E2 dash cam is equipped with GPS.
You can buy this item here on Amazon