We are influencers and brand affiliates.  This post contains affiliate links, most which go to Amazon and are Geo-Affiliate links to nearest Amazon store.
Texas Chainsaw 3D is the newest film in this slasher series.  It was directed by John Luessenhop and written by Debra Sullivan and Adam Marcus; Marcus wrote the ninth film in the Friday the 13th series.  The 3D release will be the seventh in the series and, as the title suggest, presented in 3D only.  However, it is not just a remake of the original 1974 movie, like the one Jessica Biel starred in.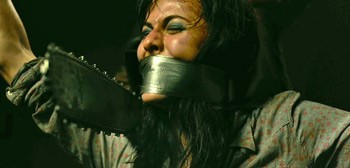 Texas Chainsaw 3D will pick up where the 1974 original film ended.  The residents of Newt, Texas want to forget about the horror that occurred in their town so they burn down the Sawyer family farmhouse.  Instead, this is punishment for the family helping Jeb Sawyer, aka Leatherface, with who knows how many murders.  The entire family is presumed dead in the fire.  Of course, Leatherface survives but is not heard from nor seen again so it makes sense that the citizens of Newt believe even the serial killer is deceased.
The only survivor is the infant Heather, who has been place in an adoptive home with a new family.  Heather is ignorant of her past until a lawyer informs her, twenty years later, that she has an inheritance from a long lost grandmother she never knew existed.  She and her friends decide to take a road trip to pick up said inheritance, with plans to travel through Texas for fun.  When Heather discovers she now owns a lavish Victorian mansion in the middle of nowhere, she is thrilled (although how the house can be there after it was burned I'm not sure).  Unfortunately, for them, the inheritance includes the not dead Leatherface, Heather's crazy cousin, who is still in the cellars waiting for new victims to torture and kill.
Interestingly, there are some actors in this rendition who appeared in the original Texas Chainsaw Massacre.  Marilyn Burns, who played the sole survivor Sally Hardesty, is Verna Carson this time around.  John Dugan is reprising his role as Grandpa, which he also played in the 1974 film.  One small change when it comes to original actors is Bill Moseley as Drayton Sawyer.  Drayton was originally played by Jim Siedow in both the original and in the sequel, but unfortunately died in 2003.  The rest of the cast includes Alexandra Daddario (It's Always Sunny in Philadelphia) as Heather Miller, Tania Raymonds as Heather's best friend Nikki (Alex Rousseau from Lost), singer Trey Songz as Heather's boyfriend Ryan and Ryan's friend Kenny played by Keram Malicki-Sanchez.  Shaun Sipos, who is no stranger to horror movies, is Darryl a hitchhiker the kids pick up.  He knows more than he tells them, boy that sounds familiar.  Dan Yeager takes over the role of Leatherface while Gunnar Hansen (who was the original Leatherface) will have a cameo appearance.
While the movie will have a similar feel to the others of the same name, it is not a remake in the strictest sense.  For those who lover horror; and especially Leatherface with his chainsaw; check  out Texas Chainsaw 3D on January 4.  Just be ready for in-your-face murder and screams.
We are influencers and brand affiliates.  This post contains affiliate links, most which go to Amazon and are Geo-Affiliate links to nearest Amazon store.
I have been a gamer for over 20 years. My preference is RPG, fighter, action, adventure, defense, and strategy although I will play just about anything. I also prefer console to PC gaming. Depending on what interests me, I watch TV and movies. Some things every week or when its new and others as they catch my fancy. Here I prefer dramas, fantasy, sci-fi, and action. I also am an avid reader and writer.