We are influencers and brand affiliates.  This post contains affiliate links, most which go to Amazon and are Geo-Affiliate links to nearest Amazon store.
Just imagine tomorrow is your exam and you are using Facebook. Your mother says, 'Close it now!'. And you say, 'Mom, just a little more.' Your brain says 'Prepare for the exam' or 'One more game of Candy Crush', says the heart. During this tussle between the mind and the heart, the time set for completing a job is consumed and this is what distractions from gaming and social media do, eat your time, attention span and focus.

Someone said it right, 'Old habits die hard'. Time wasting habits die harder.

Fear not, there is an online solution for your online-time wasting habits.
The solution I chose to write about (out of many options) is divided into 2 parts, one for each browser, LeechBlock for Mozilla Firefox and StayFocusd for Google Chrome.



LeechBlock for Mozilla

If you think you're not strong enough to prevent yourself from wasting time online and if you specifically use Mozilla Firefox, then LeechBlock is the extension that might come in handy for you.
Alternatively, LeechBlock can be used for blocking ads and pop-ups which disturb you when you're browsing. Otherwise, it's mainly meant for blocking certain websites for yourself or by parents to prevent their child from visiting such a website that they think might contain malicious content.
An advantage of LeechBlock is that you can set a time period for a website i.e. you don't have to keep on activating and deactivating a website again and again. This time can be set to specific hours a day or even days in a week during which the website is to remain open or blocked. This might include certain time, some moments in time, or a combination of both.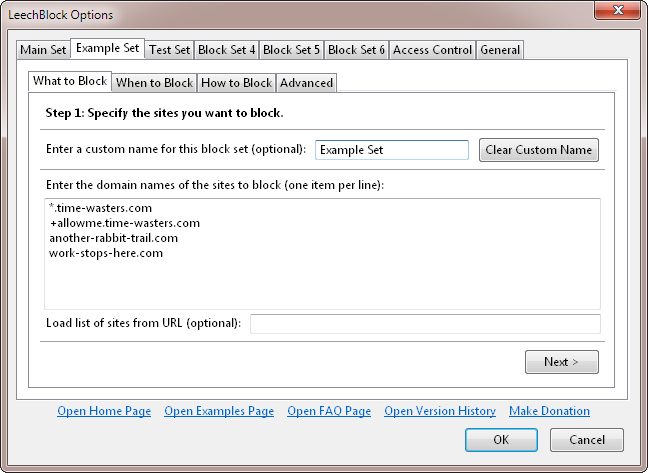 Principally it has been designed and developed for 'Wandering Mouse Cursors', which is the reason that it allows you to set passwords for accessing sites, which is quite helpful in some cases and sometimes a tiny obstacle if you get tempted enough to open what you have blocked.

Activation Method

The set of URLs that need blocking can be blocked through the following method.
Click on Tools—>Tools—>LeechBlock—>Options.
The Options will then come up, where websites that need to be blocked are entered.



StayFocusd for Google Chrome
StayFocusd does the same thing as LeechBlock, but it's available only for the Google Chrome Browser. It can be downloaded from the Chrome Store. StayFocusd sets timers on the sites you know are addictive, then blocks them when time's up.
Rather than set individual time limits for each site, StayFocusd asks for a total amount of time you want to let yourself spend on all your non-productive sites. Once you do this ever-hard task you can not change the settings until the time specified for the specific website is over.
There's also a similar setting-changing questionnaire as in LeechBlock with the name, Require Challenge. This challenge presents a question which on answering allows you to the change the settings, assuring the fact that it's the same user who deployed the settings in the first place.
There's also the nuclear option in the Settings tab, which on activating will block sites for the number of hours you indicate, irrespective of your Active Days or Active Hours. Once you do this you cannot undo this one (even not with the Require Challenge).

Activation Method

Once you have installed StayFocusd, follow the tasks below to activate.
Click on Chrome Toolbar—>Click on the StayFocusd icon—>Click on the active days to specify the number of days you want StayFocusd to monitor you(ticked boxes shows the number you have assigned)—>Open Active Hours tab, which will help you to adjust the number of times of the day when you want restricted access to those websites.
You can add websites to your blocked section and include those which are related to your work in the allowed section.
What do you do to try and keep yourself focused, are you the type that has to employ tricks and deterrents to get you to stop getting distracted?
We are influencers and brand affiliates.  This post contains affiliate links, most which go to Amazon and are Geo-Affiliate links to nearest Amazon store.
Hi, i am a teenage boy with a hell lot of interest in gaming and writing geeky stuff. I would appreciate the fact that you guys read and sometimes comment on my articles. I would appreciate and welcome positive and negative feedback.