Recently for Father's Day my wife got me the Lenovo Chromebook C330 as a present from the family as she knew I needed a smaller and more portable laptop for when we have our Dungeons and Dragons sessions as well as something I can use in the front room at 4am when I get woken up by the pup and am bored.  My gaming laptop from MSI is fantastic but at 17″ it isn't super portable for around the house tasks and takes up a lot of space on our D&D gaming table.  So for this purpose a small and light Chromebook we thought would be perfect.
As I have only had the Chromebook for about 2 weeks now, this is a review in progress rather than a full review.  I can tell you what I like about the Lenovo C330 Chromebook so far, some limitations with Chromebooks in general and where I see this being a huge value to readers wondering if they need a Chromebook or a full Windows laptop for various day to day tasks.
First let's look at the specs.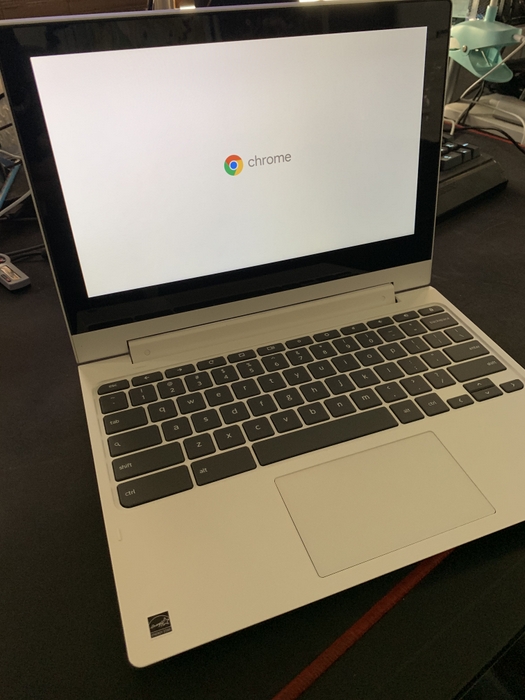 Screen Size 11.6 inches
Screen Resolution 1366 x 768 pixels
Max Screen Resolution 1366 x 768 pixels
Processor 2.1 GHz MediaTek_MT8127
RAM 4 GB LPDDR3
Memory Speed 1600 MHz
Hard Drive 64 GB Flash Memory Solid State
Graphics Coprocessor PowerVR SGX543
Chipset Brand Intel
Card Description Integrated
Wireless Type 802.11a, 802.11b, 802.11g
Number of USB 3.0 Ports 1
You also get 100GB of extra cloud storage for free when using the Chromebook and the fact that this model has 4GB RAM and 64GB storage instead of 2GB RAM and 16GB storage like so many other Chromebooks are a huge bonus.  This Chromebook feels zippy compared to other models I had used in 2016 and 2017 and is just much faster.  It charges fast with the USB Type-C cable which all tablets and thin books should use in my opinion.  It is time for MicroUSB to die and be replaced by USB Type-C.
The Chromebook from Lenovo also is able to take an SD Card and has a single USB 3.0 port which mostly gets taken up by a mouse so it could have used a 2nd USB port in my opinion but a small USB hub solves that problem real quick.
Chromebook is Your Cloud Life
The key things about a Chromebook to get used to when moving from a Windows Operating System is that you have to get used to being in the cloud and most of your documents and anything you do being in the cloud.  Even if you install and use files locally on your Chromebook if you use Google Docs, Sheets, and Slides you are going to end up using cloud based apps either way.  Almost every program you need is either a browser extension for Chrome or an Android App APK install as most Android apps will install in the Chromebook but there are some limitations to this I will talk about later.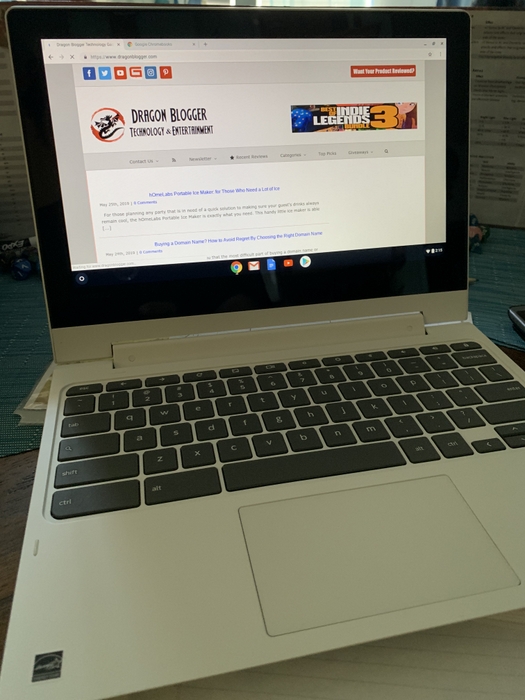 A Chromebook is a glorified Chrome Browser based laptop that allows you to do anything online that you need, if you spend most of your time taking notes, documents, browsing the web, checking email, reading articles then the Chromebook is perfect.  I can see how it is a students dream to have an incredibly versatile laptop for college that costs less than $240 and also with this particular model it folds down to become a tablet (though very thick with keyboard tucked under it).
The touch screen on this Chromebook is very responsive and works very well, you can navigate the entire OS including tabs, menu bar and more without issues.  Double tap, hold and release acts like a right mouse click…etc.  Everything you need is at your fingertips.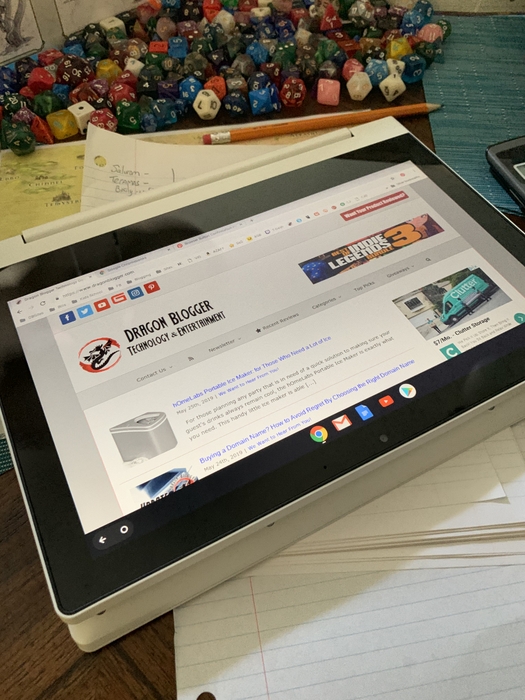 You can also fold the Lenovo C330 so it can stand nearly vertically and become a standing display as well which adds another area of usefulness as the display rotates based on the position you have the Chromebook in.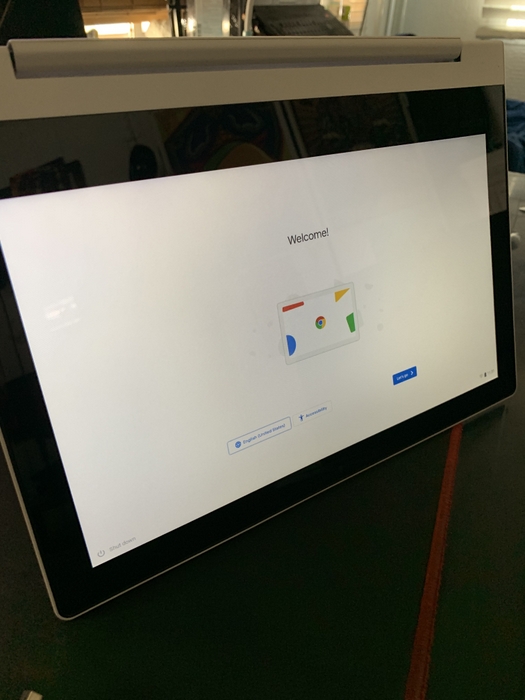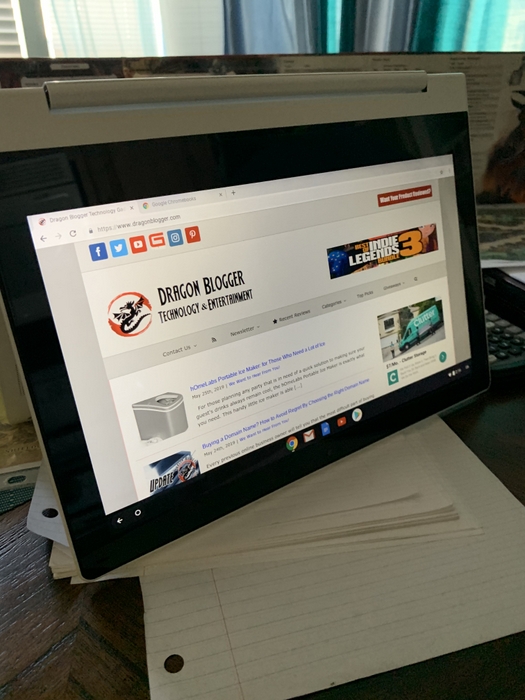 The stand position is particularly awesome if you say have it in the kitchen and are reading some recipes and you don't want the keyboard extended and taking up counter space.  Because it uses the keyboard behind it as an A frame to hold it in perfect standing mode it feels and is more stable than with those flimsy foldable tablet stands.
The Lenovo C330 only weighs 6.4 pounds and has among the most powerful processors you can find on Chromebooks, honestly for the price this Chromebook outperformed Acer, ASUS and Samsung Chromebooks I have tested previously.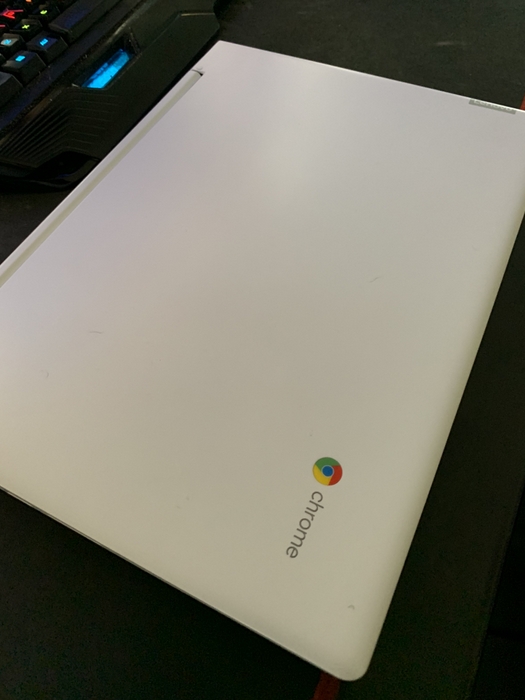 The battery life is very near 11 hours and it charges so fast with the USB Type C cable that you get a ton of battery life out of it.  Even more you can get days of extra power with a Flepow Power bank which allowed me to use it continuously for about 4 days without having to charge it with about 8 hours a day usage.
Installing Android Apps on Chromebook
So, the Chromebook has full access to the Google Play store and I installed quite a number of apps and games already.  So far the biggest limitation is that apps can't scale to make use of the Chromebooks screen size and they are stuck with little phone sized screens that super-impose on your screen.  No way to really blow them up and take up the screen real estate here which was a bit  of a bummer.  The second is that I found that Google Cloud itself even with Synchronization or Cloud Backup wasn't keeping my files current often enough. If you leave Docs or Sheets open on your Chromebook and forget to close them, it doesn't sync seem to backup from your Windows PC drive to the Google Cloud and even when files were updated or I thought they were, the Chromebook wouldn't show me newest version.  Probably a caching issue I need to figure out perhaps.
Second, working with images on a Chromebook even with extensions is just ugly, and because some really good Android photo editing apps can't take advantage of full screen size you are stuck editing photo's in a tiny version of a mobile app, or you are stuck with Browser extensions that require you to sync to your Google Cloud and then edit and manipulate the images online.  It is all just so much more mundane and tedious than using say Paint.NET on Windows to edit photos in a jiffy.
The touch screen is also excellent, but I found the touchpad to have poor responsiveness, sluggish and overall I had to use a small mouse in the USB port because I didn't like using the touchpad on the Lenovo C330.  The screen again has incredibly precise and responsive touch, but the pad is lacking.
What I Use The Lenovo C330 Chromebook For
So far I have used it for various D&D related apps and articles, full access to DNDBeyond website, with access to my 20+ Google Sheets custom created generators for DND 5e.  Though I will say with 10+ tabs open and all of them in Google sheets it can take a while to open up the Sheets and refresh the screens.  I also don't like the preview mode for Sheets where I then have to click Open with Sheets, I need to figure out how to disable that preview mode and just open up all sheet files in Google Sheets without that stupid preview mode.   THe other thing I use it for is to monitor my Twitch while my son streams on the PSVR, I am usually on the table next to him using the Chromebook side by side monitoring the stream and helping him moderate the chat.
Overall the Lenovo C330 was one of the best Father's day presents I have ever received and I am making really good use of it, even with a full Windows Gaming laptop in the house and an Amazon Kindle Fire HDX tablet.
What Do You Want Me To Test?
So this is where you can chime in as readers, what do you want me to test on my Chromebook?  Any Extensions, Android Apps, Games, or have any questions in general you need me to research and figure out?  Ask away and I will try to find out for you and update the article.
[P_REVIEW post_id=1085903 visual='full']