We are influencers and brand affiliates.  This post contains affiliate links, most which go to Amazon and are Geo-Affiliate links to nearest Amazon store.
Those of us who have gone through a startup either small or big, whether it be a blog or a shop or bakery even, they've all gone through one of the toughest decision even before proceeding with the plan. It is, how the logo of the said blog or shop or company should look like. To some, it may not be a big issue, but to many, the logo is one of the most crucial detail to their startup as this is what will be on the forefront of the website or shop or application.
What should it look like, what colors should it have, what kind of image will be appropriate, is the text too long, is this logo representing the type of shop/application/web I own. There's a lot more that goes into designing a logo. At this moment, you seek the help of a logo designer to create the perfect logo to represent your company. But working with a logo designer also comes with a few cons like communication gap, your portrayal of the logo idea, the fees and time and more.
What is Logojoy:
This is where Logojoy.com comes to the rescue! To save you from all the trouble of going through a million questions, with the help of artificial intelligence and advanced learning algorithms, Logojoy provides you some of the best-customized logos you maybe couldn't even think about.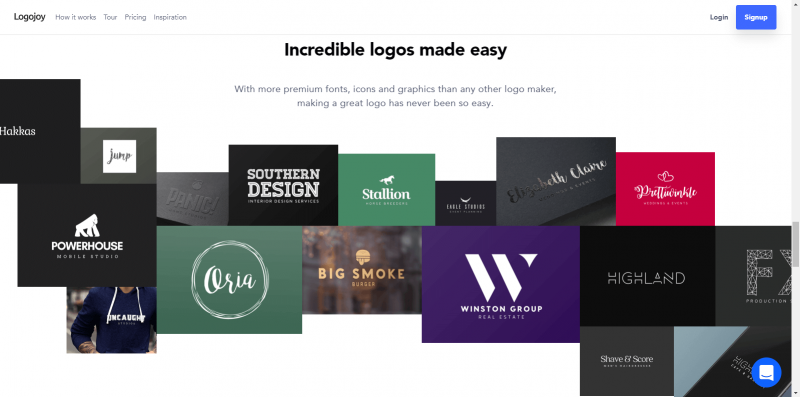 Logojoy is a web-based custom logo creation tool which takes a few inputs from you to get a grasp on what you're looking forward to, input some magical sauces into the mix and voila! Comes out a few samples of the logo from the selection of 475 premium fonts, 550K+ premium symbols and 5.5k color presets. And the best thing about these samples are, well yea, they're samples, so you can edit the details as you see fit to bring the creation to its perfection.
The idea came from none other than some "award-winning designers who believe that technology can empower anyone to be a designer". And after using Logojoy to create some samples, I never knew there was an artist in me too! Haha!
How easy is Logojoy: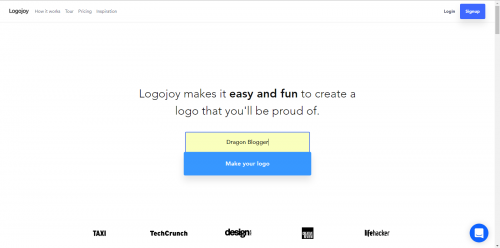 Working with Logojoy is very easy. The very first step is to input your company name which you'll see right onto the front page of the website. And click on Make your logo.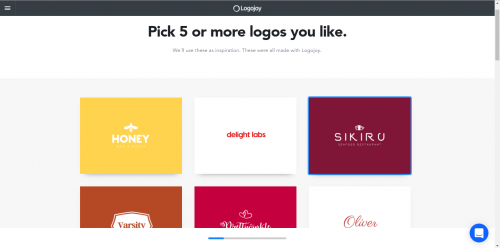 After that, Logojoy will ask you to select 5 or more logos from the provided few to get an idea of what you want your logo to look like or what design seems interesting to you.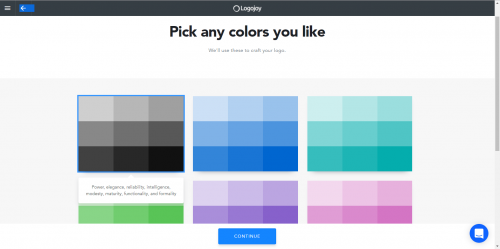 Once you're done with that, you will be asked to select a color template. Each color template has a description to itself, as some colors do better with a specific task/company etc.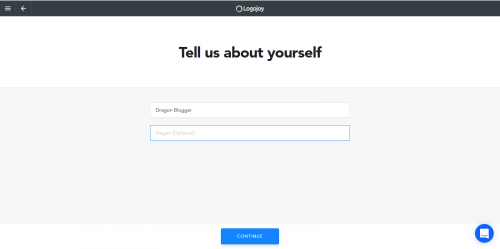 In the next step, you'll be asked to write down a slogan if you have any that goes along with the work you do or want to do.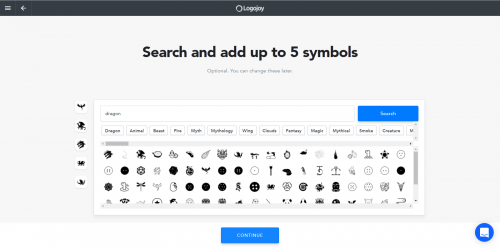 And finally, before you can see some samples, you're asked to select up to 5 symbols that has something to do with your company. I'll be using dragons as a symbol for our website.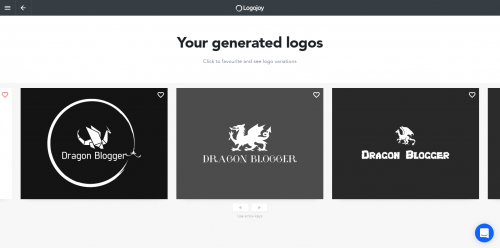 And once you're done with that, you'll be provided a few samples generated with the help of your input, AI and learning algorithm used on the website.
Logojoy Preview
Now select the logo that got your most interest and you'll be provided a few previews of the logo in real world scenario.
At this stage, I can say the logos already look pretty good to me, but there's still more you can do with the logo. But if you don't want any more edits and think the sample came out almost perfect, then you can go ahead and buy yourself the logo for only $65! For $65, you're getting the full copyright ownership of the logo, along with everything a designer will provide you with the logo in different sizes, transparent PNG, lifetime phone support etc. And all this, instantly! No waiting for the designer to pick up the phone or assemble all the data and send it to you; just instant Data. And the best thing, you can use the editor again to make changes and re-download the logo!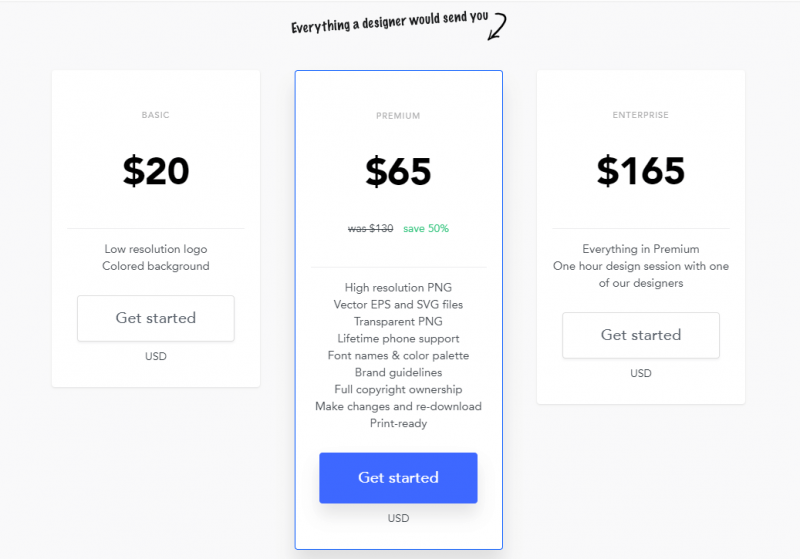 Logojoy Editor:
So, if you've decided to give the sample logo a little bit of personal touch, then let's go ahead and check out what the editor has to offer.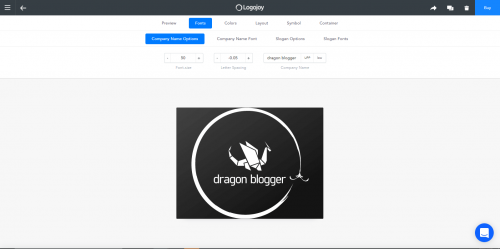 So, the very first and most important thing that you can edit is the font. And you can edit both the fonts of logo and slogan with respect to their size, the gap between the characters and whether the slogan goes above or below the company name. And if you don't like the font used by the generator, you can change the font completely in the "Company Name Font" tab.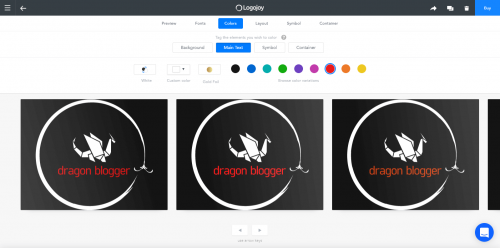 Next up, we have the colors. From here, you can change the color of everything. That includes Background, Main Text, Symbol, and Container.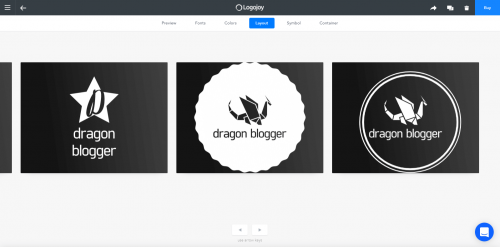 Next up is the layout. In case you feel like the layout is still missing on something then you can still change the layout from the layout tab.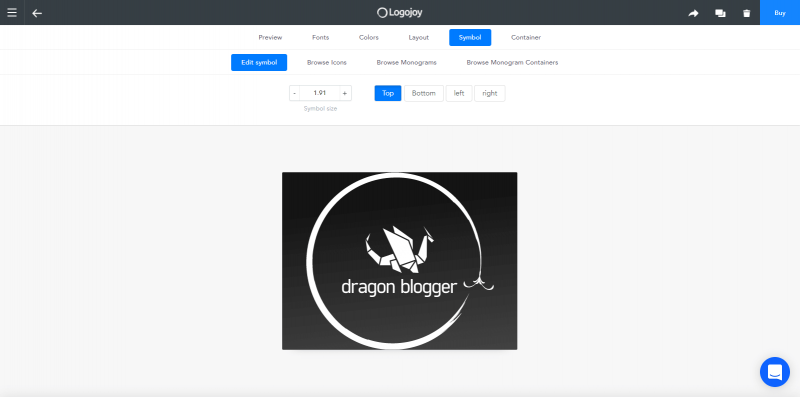 From the symbol tab, you can edit the symbol used in your logo. That includes the position of the symbol, the size of the symbol and the symbol/monogram itself.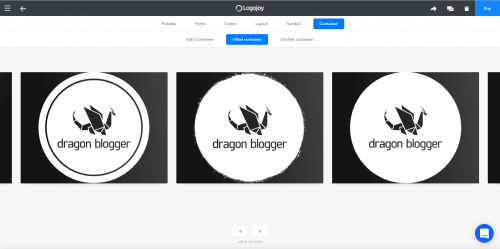 And last but not least, you can edit the container with respect to its size and/or the container itself.
So, there you have it, with Logojoy, you've created a perfect logo for your company within a few minutes without the hassle of going through hiring a logo designer with various rates and working hours.
Logojoy Inspiration Section:
And one of the best thing about Logojoy is that it has an "Inspiration" section. And you guessed right, this section includes a plethora of logo examples from various occupations and habits, like Animals & Pets, Arts, Blogs, Games & Entertainment etc. After having a look at this section of the Logojoy, I'm pretty sure you'll have a general idea of what kind of a logo relates to your company and where to start.
So, If you're one of those guys who is stuck with a million questions about what your company's logo should look like, definitely give Logojoy a try.
We are influencers and brand affiliates.  This post contains affiliate links, most which go to Amazon and are Geo-Affiliate links to nearest Amazon store.
Hi, I'm Ahmed Kazim and I've been a gaming freak since like 7-8. I'm also a geek-o-nerd who keeps looking around for latest development in hardware/tech/gadget industries so expect some quick news from me. I'm also interested in anime (Japanese animation) and can't stand a day without music and gaming.