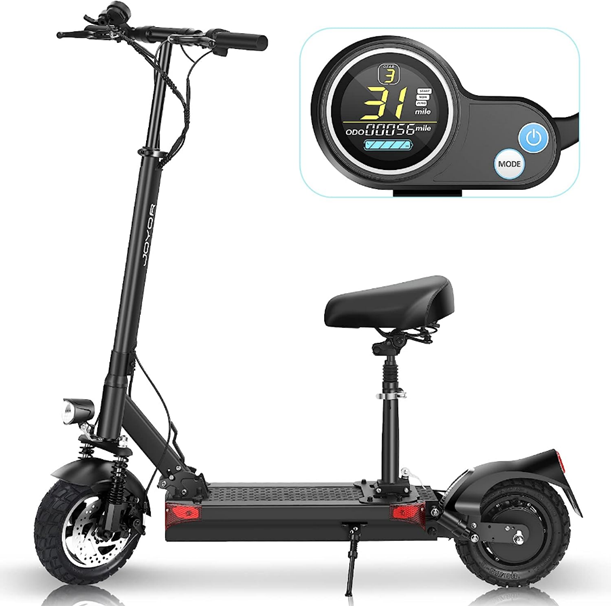 Do you need a high-performance electric scooter to travel the streets of your city?
If you are one of those who usually use a car to go to work at the university you will surely know that it is not always the fastest option, especially if there is intense traffic, so, surely that ends up being annoying. But even if you want to use the car to have fun in your city it ends up being a problem, so what if instead of polluting the environment use an electric vehicle? An electric bike, an electric scooter, or an electric car are great alternatives, but without a doubt, a high-speed electric scooter sounds like a great idea.
The electric scooters work just like an electric scooter, but with the difference that they include brakes and a brushless motor that allows you to move everywhere without fatiguing your body, so you can drive long distances thanks to the rechargeable battery. Keep in mind that not all electric scooters have the same performance, electric scooters have limitations such as maximum speed, autonomy, and quality, so it is better to invest in a good product if you want to drive in a fun and safe way.
The JOYOR Y7-S electric scooter for adults is one of the best you can get, it offers great performance, so you can travel long distances. It also has tires designed to cover all types of terrain, which is ideal for rough roads or dirt roads. Below, discover the most interesting features of this product.
Features of the JOYOR Y7-S Electric Scooter for adults
Powerful 500W brushless motor
The main feature of the JOYOR Y7-S electric scooter is that it has a 500W brushless motor, which offers a great performance so you can travel long distances. The brushless motor allows you to reach a top speed of up to 31mph (49km/h), which is ideal if you want to move fast through the streets of your city. Forget about the intense traffic, with this electric scooter you can reach any place without any setbacks. Top speed can be reached quickly, which is often a problem on cheap electric scooters. Keep in mind that the actual top speed may be affected by user weight or terrain conditions, but you'll definitely reach 31mph most of the time.
You probably think that an electric scooter has a limited range, and you might be right, but the JOYOR Y7-S is equipped with a high-performance rechargeable battery, which means that on a single charge, you can travel up to 56 miles, which is amazing when you consider that this scooter can reach a top speed of 31mph. You will be able to see the actual speed and distance traveled from the LED display, You'll also see a power bar showing the remaining battery. The JOYOR Y7-S also has long-range headlights so you can drive safely at night.
The JOYOR Y7-S is designed to offer the best comfort to its users. The wide tires allow the electric scooter to travel all types of terrain without any limitations, so you can use them on rough terrain or on roads with inclinations up to 30°. You can also use them during light rain thanks to the fact that this scooter has IP54 waterproofing, which makes it resistant to water splashing. You can also get this scooter with a seat, which is ideal if you don't want to stand all the time. The tires cushion bumps well, so you can drive comfortably. High-quality brakes ensure fast and safe braking.
You can buy this item here on Amazon