You see them popping up everywhere, they are Mini TV boxes and the Minix Neo Z64W is one of the newest on the market.   What makes the Minix Neo Z64 different is that you can order the Z64W and have a full Windows Mini TV box complete with Bing and give yourself the full Windows Media PC TV experience, or you can get the Neo Z64A and get the Android 4.4 Mini TV Box giving yourself the Google TV Experience.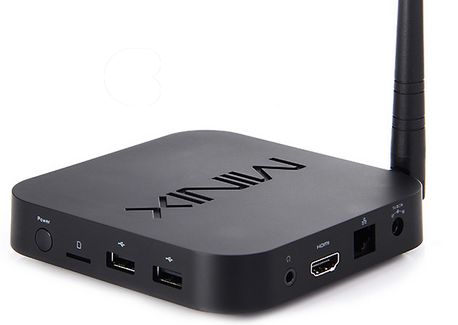 Both the N64A and N64W models support handling Full 1080p HD media content in real time, which means you can live stream 1080P without worries.  As mentioned the NEO Z64W comes pre-installed with Windows 8.1 with Bing, offering an array of upgrades and features not available on previous Windows OS versions this also includes much faster multi-tasking and application switching.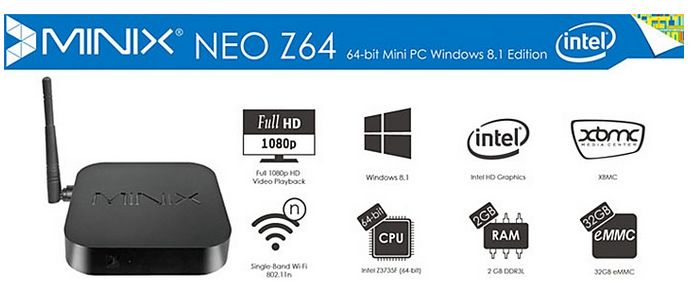 The Neo Z64W also comes with 2GB DDR3L RAM and 32GB eMMC ROM "embedded Multi-Media Controller" memory, this includes a built-in power management system and flash memory controller. The brains of the Neo Z64 is the Intel Z3735F 64-BIT processor which clocks at 1.83ghz and has Intel HD Graphics.    The Neo Z64W also comes with XBMC(KODI) pre-installed which is a media player that allows users to play and view most videos, music, such as podcasts from the Internet, and all common digital media files from local and network storage media.  The Z64A comes with XBMC MINIX Edition, with full hardware decoding support.
You also get 1.4 HDMI port, 2 USB ports, 1 MicroSD Card slot, 1 RJ-45 for 10/100 Ethernet, Wireless N and Bluetooth 4.0 support.
Here is a look at the Minix Neo Z64W Bios Settings in a video, and there are many other videos on the Geek Buying website.
If you are in the market for a Windows Mini TV or Android TV then the Minix Neo Z64W or Z64A should be more than enough to meet your needs.  The price is $174.90 which is a great deal for the power you are getting in this box.