We are influencers and brand affiliates.  This post contains affiliate links, most which go to Amazon and are Geo-Affiliate links to nearest Amazon store.
Computer viruses are rapidly changing and evolving as next-generation malware pieces are produced. Over the last couple years, we have seen an increase in malware volume and sophistication. Hackers are devising new types of malware mechanisms that most common PC users see as single executable records that execute a predefined content conduct. In such situations, malware infections can remain undetected for a long time or until it is too late.
Removing malware manually on your own might result in meddling in sensitive data on your computer. It can prove disastrous to remove adware for someone who is not experienced with technology not to mention it can be a tedious task that consumes a lot of time and effort. Thankfully, security programs for identifying and removing malware are also becoming sophisticated. Malwarefox takes care of malware for you.
What is Malwarefox?
Malwarefox is a lightweight yet powerful all-purpose Anti-Malware program. Malwarefox offers a free two weeks trial period. After the free trial period, you will have to purchase the premium version which cost $25-$30 dollars.
Installing Malwarefox is pretty simple and straightforward.  It is a lightweight Anti-Malware that will not take up a much of your hard drive. All you have to do is download the software from the official website, wait for the download to finish and double-click on it to run the executable file. Keep on clicking "next" until you Malwarefox is all set on your computer and ready to go. The program installer is only 5.18MB so even with a slow internet connection you can easily download the program in a few minutes.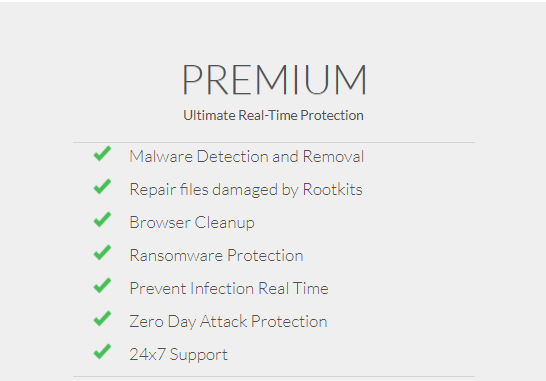 Features of Malwarefox
For an Anti-Malware, the most important feature is its protection against malware. The ransomware removal tool comes with several features that not only detect threats but actively remove and protect your computer from all kinds of known and unknown malware.
What Can Malwarefox do?
Scan, detect and remove malware
Offers Real-Time Protection against malicious programs (premium)
Ransomware protection (premium)
Zero Day Attack Protection
Detect and remove malware
When you set up Malwarefox it is generally recommended that you perform a full scan to ensure you are not infected with any kind of malware. On the homepage, you will find the option to scan your system for malware. The scanning process is simple and requires you to press the scan button and wait for the scan to finish. If something suspicious is detected you can choose what action to take against the malware. Malwarefox usually suggests recommended action by default.
Malicious programs include ransomware, spyware, pop-up ads, identity thieves, Trojans and unwanted applications. Malwarefox also gives you the option to scan separate files or external drivers if you don't want to make a full scan.
Real-Time Protection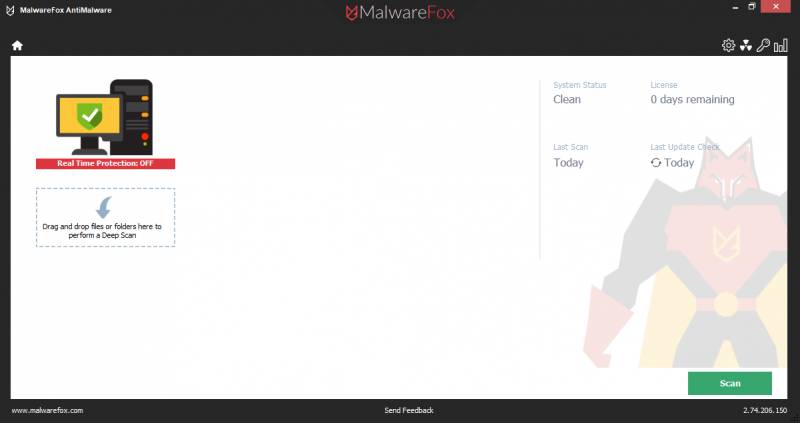 Real-time protection feature enables your Anti-Malware program to detect malware before it can get on your computer. To achieve this you will need to filter data in real-time before storing it on your computer. Malwarefox real-time protection feature detects and blocks, deletes or quarantines any file that is harmful to your computer depending on how dangerous it is. The Anti-Malware program also comes with Pandora Cloud-Sandbox Technology which ensures double protection from Zero-Day Malware and Ransomware. With the real-time feature, all the executable files are checked with the Pandora Cloud and if any file is flagged it is immediately blocked from executing.
Ransomware Protection
Ransomware virus requires special treatment. If your computer gets infected with adware, it is possible to wait for a full scan in order to to be able to detect and remove the adware. That is however not the case with ransomware. Once your computer gets infected with this virus you may lose all your files. That is why you cannot allow this virus access to your computer. Thankfully, Malwarefox can take care of that for you.
Manual Smart Scan
The scan feature has a scheduling option that enables you to avoid manual scans. The mode, known as "smart scan," allows you to finish scanning in not more than 5 minutes and removes all threats. Malwarefox lets you create a restore point before cleaning your computer. That way if all your system files get corrupted you can easily restore them using the restore point.
Malwarefox Adware removal tool
If you keep seeing ads popping out of nowhere on your computer that is an adware infecting your machine and it should be removed immediately. Malwarefox detects adware hidden away and performs a deep cleaning of your browser, removes annoying ads, unwanted toolbar, and search. By detecting and removing hogging adware infection Malwarefox restores the lost power and full performance of your computer.
User Interface
Malwarefox user interface is so simple to navigate that you don't need to get used to it. It is quite easy to go through the whole software program right after installing it on your computer. On the homepage, you can access the scanning button on the bottom right and on the upper right there is the settings button, the quarantine programs, the license key and the overall report. Everything is organized in a black medium window and if any threats are detected the window color changes to a red color to alarm you of the threat.
If you don't want to scan the whole computer you can use the box on the left part of your screen on the Malwarefox software to scan separate files or specific file locations. It is worth mentioning that a full computer scan doesn't take more than ten minutes depending with your files and computer.
Zero Day Attack Protection
It may not be possible to protect your computer from unknown and undetected threats. However, Malwarefox enables you to actively analyze the behavior of files that are suspicious and blocks them instantly.
Conclusion
Overall, Malwarefox is not only an application that is safe but one that you can trust to protect your computer against ransomware, hijackers and other dangers of the internet. The real-time protection feature combined with behavioral analysis makes Malwarefox one of the most effective, affordable Anti-Malware programs that you can find on the market. The user interface is beautiful and easy to use and the scan times are first. Both the free version and the premium version are bound to offer you a pleasant and safe experience.
We are influencers and brand affiliates.  This post contains affiliate links, most which go to Amazon and are Geo-Affiliate links to nearest Amazon store.
I am interested in all things technology, especially automation, robotics and tech that helps change how society will live in the future.