Imagine a situation where you are getting ready to make an important files for your company. A day earlier, you worked all night to make sure you have your presentation materials and all the documents ready. The next morning, you turned on your computer only to find out that you could not gain access to your machine either due to crashed operating system or data loss. From time to time, we all faced this inevitable situation. The question is, where do you get the help when you need it the most?
With plethora of software data recovery solutions available online, finding the right software is like searching for a needle in a haystack. If you have ever faced a problem such as data loss, crashed operating system, virus attacks, damaging of hard drive, or any such data recovery issue and you need a quick way to solve the problem, one of the best and trusted software solution out there is, MiniTool Power Data Recovery Free. The company behind this data recovery software is MiniTool. They have great track record and have been in business for more than10 years.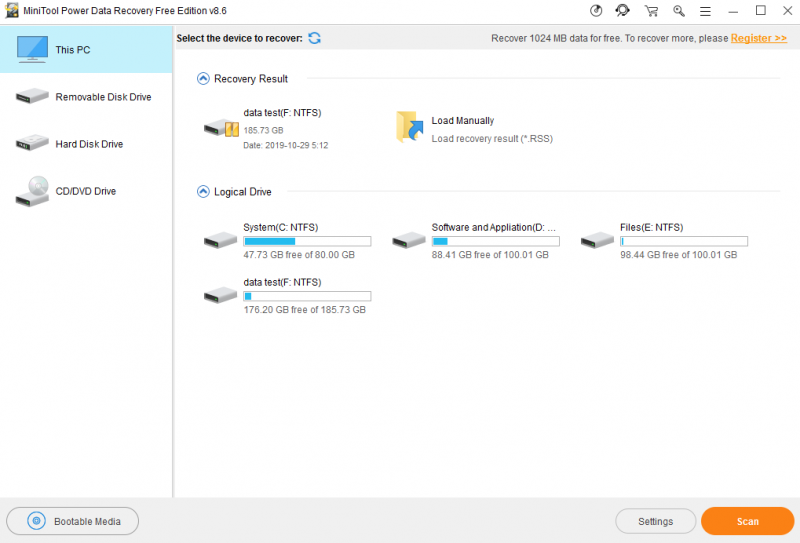 MiniTool power data recovey free is the best data recovery software, which can quickly provide solutions to such data recovery problems. There are three different editions available of this MiniTool power data recovery, which are:
1. MiniTool Power Data Recovery Free version- This version can recover up to 1GB of data from any disk drive. The features this free version Supports PC, Laptop, hard drives, Digital devices, Recover hidden data.
2. MiniTool Power Data Recovery Personal Standard- The next version is the personal version of this power data recovery software. With this version, you can recover up to an unlimited amount of data from any disk storages. This version is a single license type software which means it can be installed on one device only. It covers all the features of the free version plus it offers free lifetime technical support also. You can buy the pro version at $69 it also provides you a free trial.
3. MiniTool Power Data Recovery Personal Ultimate- This version is also a single license for 3 PC and offers all the features of Personal standard is also supports Bootable media emergency feature. You can buy it for $99 after using the free trial that the company offers.
Features of MiniTool Power Data Recovery Free Version-
Let us have a thorough look at the features offered by the free version of the MiniTool power data recovery.
Accidentally Deleted Files- If you have accidentally deleted some critical files Which you need them now, in that case. This MiniTool power data recovery can help you for recovering the deleted files.
Formatted Recovery- If you want to recover data from a formatted disk drive, then you can recover files with the help of MiniTool power data recovery. It's called that the records do not go anywhere after formatting or deleting; it's just the data does not show up.
Recycle Bin Empty data recovery- Sometimes we clear the recycle bin without even checking that what's in it and after clearing recycle bin we regret deleting those files. But if you have this MiniTool power data recovery software installed on your device, then you can quickly recover those deleted files within no time.
Lost Partition Recovery- If you have missed any partition that was previously installed, on your device then even you can recover those files from that lost partition with the help of this software installed on your device.
Hard Drive damage- This is the most faced problem, which is the hard drive gets damaged, and all your data gets lost. Sometimes the complete operating system files are deleted, for recovering those files even the OS files this software can help you.
Virus Attack Recovery- In some cases, when your device, is attacked by a virus, some of the files from your pc gets corrupted or deleted. In that case, this MiniTool power data recovery can quickly help you in recovering those files.
OS Crash Recovery- You can even recover files from any crashed Operating System. With the help of this software, you would be easily able to start your pc and recover your data.
RAW Partition Recovery- If any of your hard drives becomes RAW and all your files are deleted, then with the help of this software. You can quickly recover those files.
Steps to recover files with the help of this data recovery software-
Here are the three simple steps with the help of which you can recover your files with this data recovery software.
Select your location- The first step is to select the location from where you want to recover the deleted files.
Scan your the location of you select ed- The next step is to click on the scan option for letting the software scan.
Preview and Save files- After the scanning is complete, you can, you will be displayed the deleted files. That you accidently deleted and you can select the data from them which you want to get Saved.
What's New in Version 8.6?
Added: French, Italian and Korean.
Improved: faster data scanning speed.
Improved: more accurate data recovery result.
Fixed: some minor bugs.
I am interested in all things technology, especially automation, robotics and tech that helps change how society will live in the future.