Looking for cheap mobile virtual reality glasses?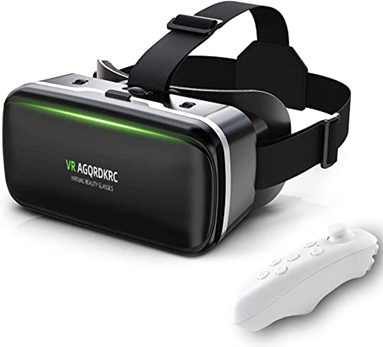 The Misisi is an amazing virtual reality glasses available at a low price. These virtual reality glasses are perfect for use on mobile devices. These virtual reality glasses are compatible with most mobile phones (iOS and Android). These glasses have a new 3D technology that allows you to view the images in high quality (HD). They are compatible with games. These glasses are a perfect gift for your friends, children, parents, or anyone who loves technology. Virtual reality glasses are comfortable and easy to place. If you are looking for virtual reality glasses for mobiles then these glasses are ideal for you. Misisi virtual reality glasses are available at an incredibly low price.
Feature of Misisi Virtual Reality Glasses
These virtual reality glasses for mobile devices are an incredible option to consider. These glasses are able to offer a high image resolution compared to most virtual reality glasses for mobiles. They have a new 3D update. The glasses are adjustable which allows you to visualize the image in a better way. They are perfect for watching movies and getting a more comfortable experience. It includes a control so you can adjust the glasses without having to remove them. These glasses are compatible with most Android and IOS devices. Among the supported devices are iPhone (X, 8, 7, 6) Samsung Galaxy s8, s7, j3, Samsung Edge, Samsung Note 5, 7, 8, 9, and most S series (up to s9). Among the most surprising features of these virtual reality glasses are their high-quality lenses, they can offer a sharp image. The lenses of the Misisi virtual reality glasses offer a transmittance of 94% of the light which allows for offering an HD image. They also have an anti-fatigue function that prevents the eyes from getting tired faster due to fatigue (Even so, the manufacturer recommends a break after wearing the virtual reality glasses for an hour). Be assured that you are buying high-quality virtual reality glasses. Misisi offers a 365-day guarantee, this company cares about its customers and you will get an answer to their questions in less than 24 hours. Some recommendations for use: remove the case from your cell phone before placing it on the virtual reality glasses, increase the brightness of the screen of your cell phone and cancel the automatic adjustment of the brightness. These virtual reality glasses are perfect for technology lovers.
Summary
If you are looking for cheap virtual reality glasses compatible with mobile devices, then Misisi is what you need. These amazing glasses allow you to play and watch movies using your cell phone. They offer great image quality and include a controller to better adjust the glasses. They are available at a low price.
You can buy this item here: Amazon.com: VR Headsets Virtual Reality VR 3D Glasses,2K Anti-Blue Lenses, Adjustable Pupil & Object Distance – Compatible with iOS and Android (VR Glasses+Controller) : Cell Phones & Accessories