We are influencers and brand affiliates.  This post contains affiliate links, most which go to Amazon and are Geo-Affiliate links to nearest Amazon store.
There are situations in which we want to sync important files, carry out simple tasks such as sending SMS from desktop client or backup/restore contacts in our computer. Windows phone 7 and iOS has advantage over Android with its own Zune and iTunes desktop clients. There are several third-party desktop management tools available for Android which includes AirDroid and Droid Explorer with their own set of features. Having said these names, there is one more app named Moborobo which includes an extensive set of management tasks which offer a number of tools to organize your stuff easily with its neat and intuitive user interface. It is simply all in one and one of the most compressive management tools I have seen.
 Before you proceed, download and install the following
Once you are all set to start the show, fire up Moborobo from your Android smartphone and desktop. Click on enable inside the app on your Android smartphone. When you do start the desktop client you will now have the following screen on your desktop.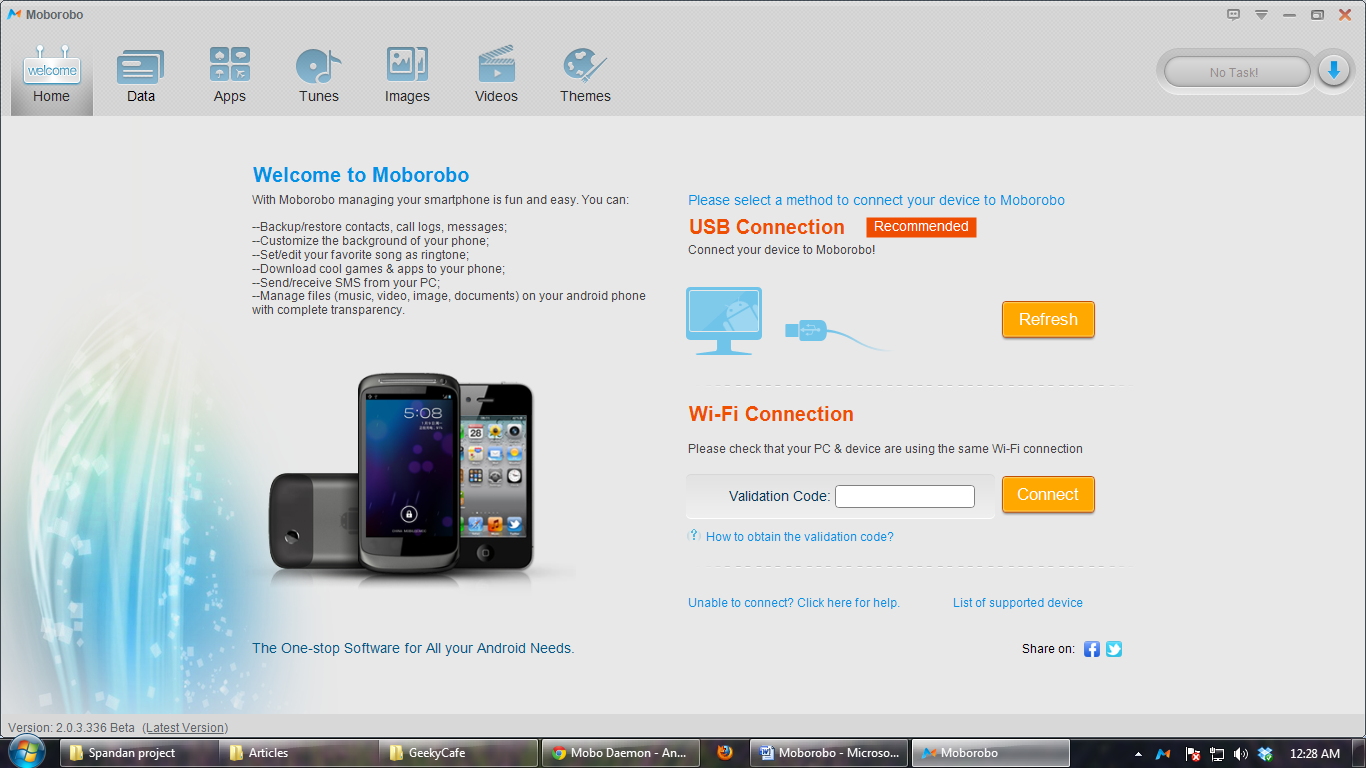 There are two ways users can connect their Android smartphones with computer. They can either connect it via USB or make use of an available Wi-Fi connection. When you enable it on your Android smartphone to connect via WiFi, you will be provided a unique verification code. Enter that unique verification code in the desktop client and you are good to go ahead.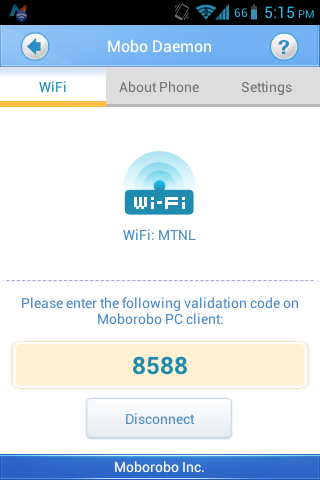 If you are trying to connect it through USB cable then its desktop client will automatically detect the new connection and will try to install specific drivers. Just to remind you, you will be required to enable debugging mode.
Moborobo interface
I would really like to mention some of the sweet tasks Moborobo carries out so easily with its application interface. In the application main home screen on the desktop client you get a comprehensive set of detailed information which also includes how much space is available on the SD card inside your phone.
It also provides details about the number of contacts present, number of messages and count of all images and media files. One can easily perform backup or restore right from the main screen for all of these file types.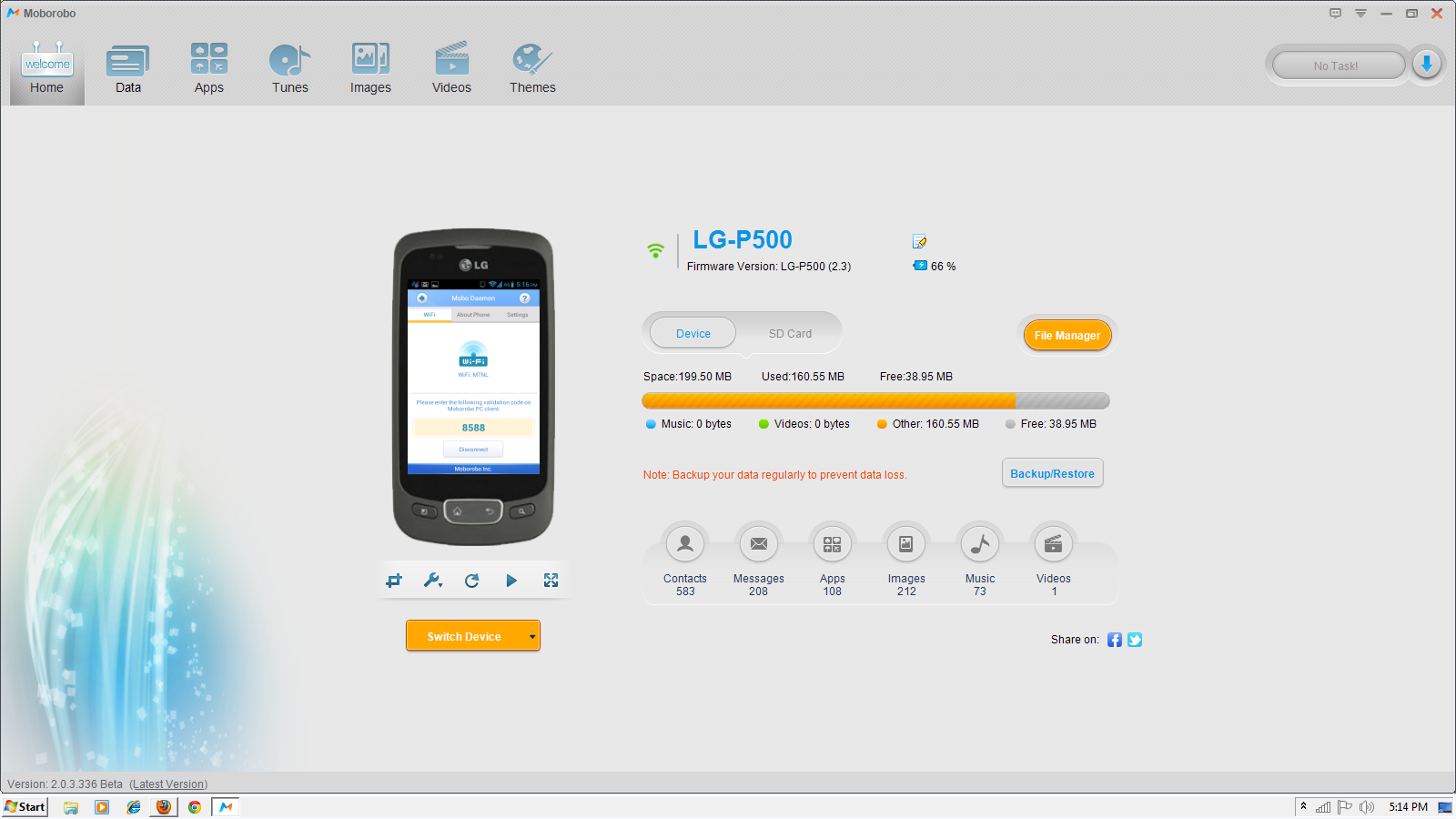 The Data tab beside the home panel includes Contacts Manager, Message Manager and Calls Manager.
Contacts Manager allows you to add, delete, import, backup or restore your contacts.
Message Manager offers you to send and receive messages right from desktop which is very convenient.
Lastly, Calls Manager shows a complete list of your incoming and outgoing call history.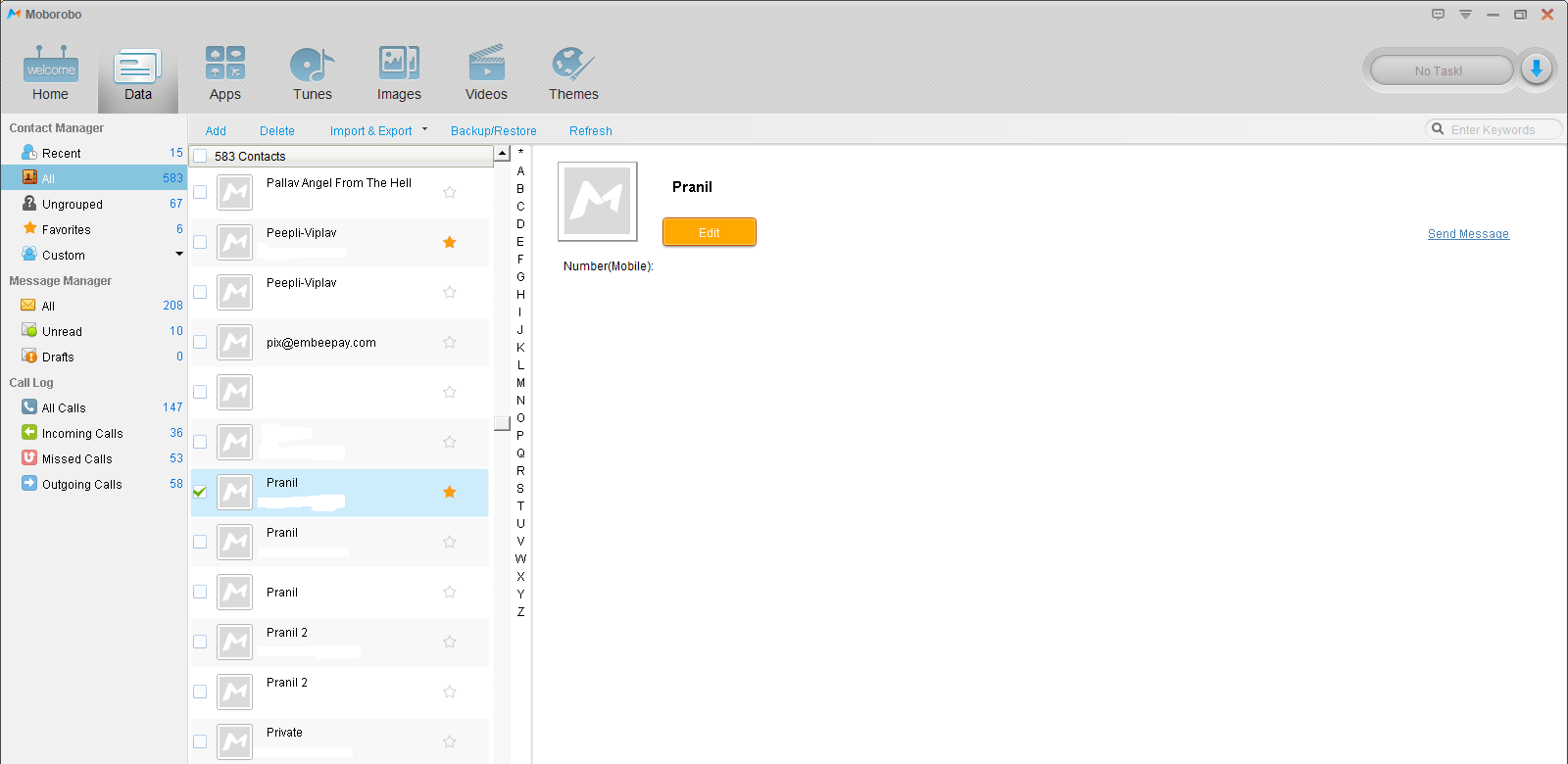 In addition to the above features, Moborobo also allows you to quickly update, install or uninstall applications on your mobile device from your desktop. You can observe closely in the screenshot below that the sidebar of the desktop client helps you to quickly navigate everything from local apps to web resources. All of your Google Play store applications are listed in the web resources whereas apps which are installed on your device can be found under the local tab.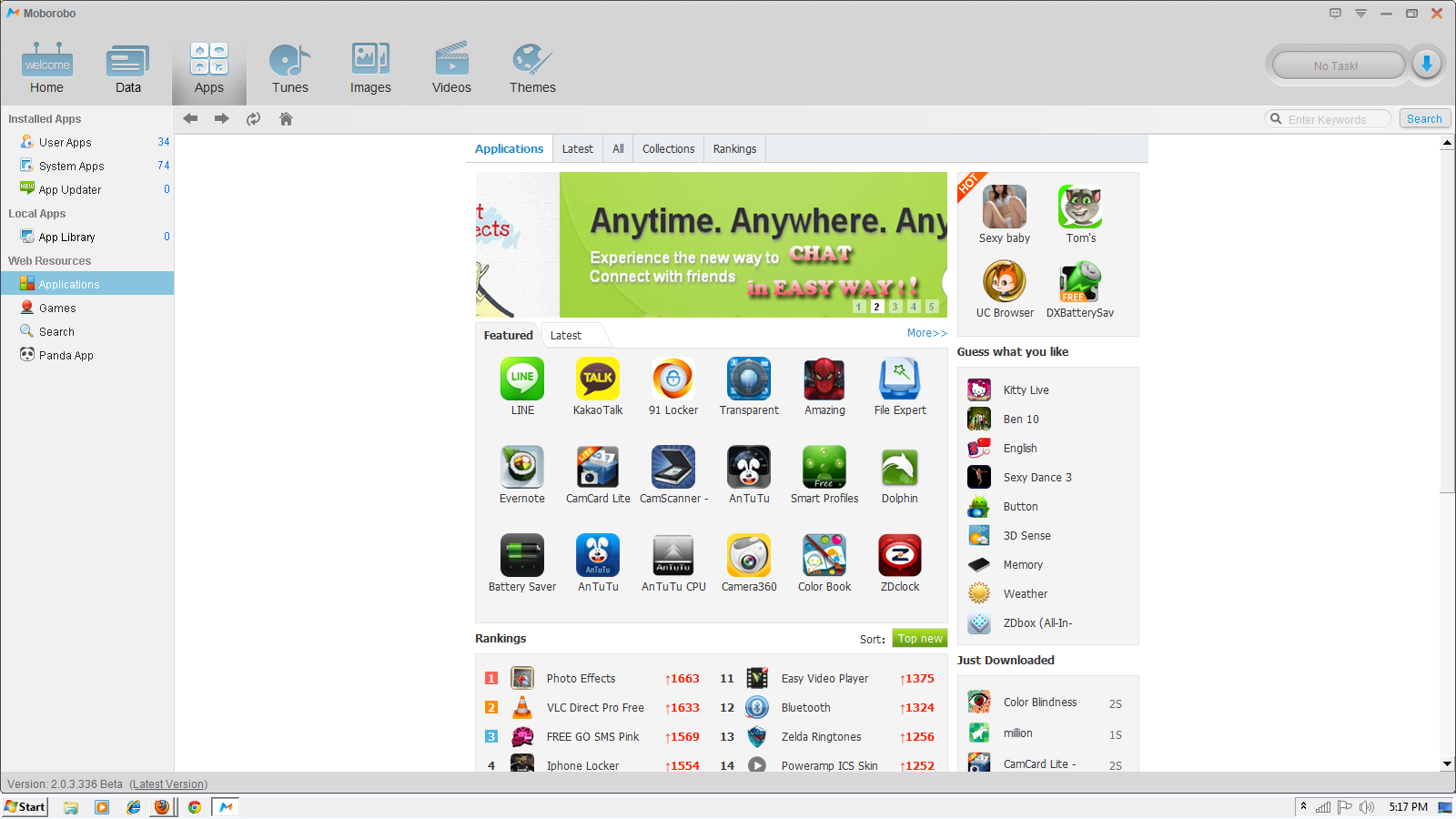 All your SD card songs are listed under the Tunes section. Music Resources will keep you updated about latest Ringtones while the Images tab beside Tunes is stocked with all your captured images and wallpapers. Once again, wallpaper center will offer you variety of wallpapers fetched from Moborobo's own server. All of your videos from SD card would be available under Videos tab whereas Themes tab will allow you to change the look and feel of Moborobo launcher which is an exclusive product from Moborobo Team.
Conclusion
As discussed earlier, Moborobo is definitely one of the best all in one management tools I have seen for Android devices and it also can handle iPhones as well. A number of features like sending SMS from the desktop are very useful for Android users. One of the only issues I had during my testing was that the desktop client crashed a number of times during my tests and it does lag a bit on lower powered computers but we shall see improvements in near future. At the end, I had a pleasant experience with reviewing the Moborobo Smartphone Management Tool and would recommend trying it if you own an Android device.
Update 10/22/2012
Recently, a new version of the Android PC manager, Moborobo 2.0.7, was released for Android Users! These new updates will bring ringtone and wallpaper downloads, as well as an online video service to Android users. Most of all, these contents are free to our users.
By teaming up with PandaApp.com and MMOSite.com, Moborobo Inc. has further expanded its Android resource market with even more download services. Now, Moborobo Inc. has created a comprehensive Android resource market covering nearly all aspects of Android usage, including apps, games, ringtones, wallpaper, videos, and themes, giving Android users greater choices in their daily digital life. Moborobo also gives users a fully functional media/file management feature, to help users select, apply, or delete their ringtones/wallpapers after they are downloaded from Moborobo Android resource market.
In combination with this comprehensive Android resource market and media/file management feature, Moborobo integrates a complete contact backup/restore system, as well as application controls that include installation, removal, and updates. Moborobo includes a complete data management package that provides access to calls, messages, and call logs, but also the ability to send messages from within the software itself and live streaming and screenshot capture for Android devices. Completing Moborobo's already-impressive arsenal is its ability to integrate and handle iOS devices, and even transfer contacts from an iOS device to Android. All these features bring a new concept of "The All-in-One Smartphone Management Tool" for both Android and iOS users.
We are influencers and brand affiliates.  This post contains affiliate links, most which go to Amazon and are Geo-Affiliate links to nearest Amazon store.
A young and passionate blogger who loves writing about Android and Geeky Stuff.