We are influencers and brand affiliates.  This post contains affiliate links, most which go to Amazon and are Geo-Affiliate links to nearest Amazon store.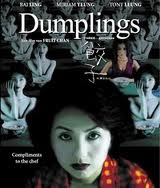 Dumplings (Gaau ji) (2004) is an Asian horror written by Pik Wah Li, and directed by Fruit Chan. The film stars Ling Bai (The Crow, Lost TV Show), Pauline Lau, Tony Leung Ka Fai (The Lover, The Drummer), Meme Tan (Soul Raiders, Isabella), and Miriam Yeung Chin Wah, in a film about a woman who would do absolutely anything to retain her youth.
A foreword —Fruit Chan's film, Dumplings (2004), details sensitive subject matter that may border on your being able to hold on to your digestive reflexes, or more, your psychological well-being. This film was one part of a trilogy of short films (each of the stories averaged 34 minutes of runtime) by directors Fruit Chan (Dumplings), Chan-wook Park (Cut), and Takashi Miikke (Box) from the Asian horror titled Three… Extremes. I decided to leave out much of the gory and intimate details in this full-version of the Dumplings film.
It would seem that I happen upon some of the most disturbing films, completely unintentionally. This one, however, crosses one of the most extremely macabre and dark topics—cannibalism.  What does cannibalism have to do with youth and beauty?  There are a few Asian horror filmmakers whom are not afraid to cross into the bizarre to bring to the forefront: controversial topics that casually rational beings may find difficult to watch, even if given valid premise for a film being made.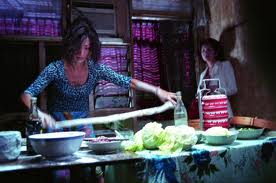 Mrs. Lee (Chin Wah), a former actress and wife of a very wealthy and successful business man, feel that she is beginning to look old–which may have something to do with her husband acquiring a much younger mistress—Masseur (Lau) to accompany him on his business trips. She heard of a woman who holds the secret to eternal youth. Eagerly, Mrs. Lee searches for her. Aunt Mei (Bai) was not always a chef. She was a doctor in Hong Kong, and facilitated the premature departure life—an abortion doctor. It was herein, in her practice as an abortion doctor in China, she found the secret to eternal youth. Aunt Mei is a 64-year-old woman, with the body and skin of a 30 year-old woman. With Aunt Mei serving as living proof that her secret to the fountain of youth works, Mrs. Lee is eager to employ Aunt Mei's delicatessen services.
The dumplings are filled with veggies, herbs, and at first, an unfamiliar mystery meat that Aunt Mei takes extreme caution in obtaining on her trips to Hong Kong. She carefully and meticulously prepares these dumplings for Mrs. Lee, who sits outside the kitchen, phoning her husband being lovingly attended to by his "personal masseur." Eventually, Aunt Mei returns, with a steaming basket filled with her prized dumplings, which cost a small fortune. The film takes every effort to ensure you experience Mrs. Lee's dining experience. From watching as Mei places the steaming dumplings in front of Lee, as she takes one of the dumplings, repulsively aware of its contents, and still, takes a huge bite—gagging and chewing, enduring the sound of crunching, and eventually swallowing.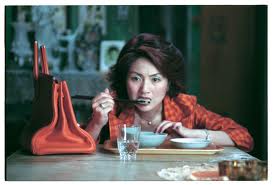 One meal of these "rejuvenation dumplings" will not be enough to give Mrs. Lee the youthful result she so desires. She will have to consume several of these meals to begin to see the youthful effects. All the while her husband, Mr. Lee (Ka Fai) has dutifully impregnated his "personal masseur" and Mrs. Lee finds out. Due to her new "craving" and her much desired, impeccable results, encourages her husband's mistress to instead, let her have the child. Where is Aunt Mei after all this? Well, she has moved along…taking her rejuvenating dumpling recipe with her.
You may begin to ask yourself; what is so special about these dumplings, and do they work? In addition, you may be questioning the source of the dumplings' secret ingredient. Which, by now from watching the film, you may have already guessed. Chan does not hold back on what is actually the main ingredient in the dumplings, however, but graciously, exposes you to its harsh reality—affording you the psychological tension deserving of the film's intent. The film is set to jolt your emotions, because it is an utterly disturbing film—it will make you extremely uncomfortable at times—and may even churn your stomach.
You may think twice before deciding to order any type of dumpling being offered anywhere, as a menu item.
Dumplings (2004) rating [xrr rating = 4/5]

Dumplings (2004) is rated MA for "Mature Audiences" only.
Image credit: IMDb
We are influencers and brand affiliates.  This post contains affiliate links, most which go to Amazon and are Geo-Affiliate links to nearest Amazon store.
When AIDY isn't writing poetry, she likes to write film reviews. If she is curious about something she seen or heard, she'd maybe write about that, too.