I have always been a huge Jack Black fan so you know on opening weekend I took the kids to see Kung Fu Panda 2 so they could see how the story continues with Po and the Furious Five on their quest to stop Lord Shen from taking over China.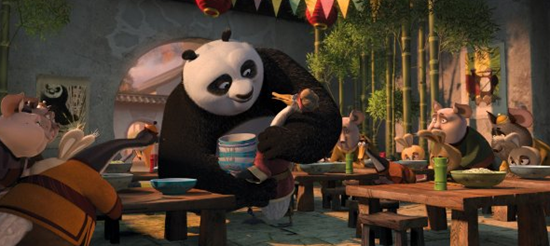 The film follows a few story plotlines that involve Po learning who his real family is and where he came from.  This plot is intermingled with the main villain played by Lord Shen who is intent on taking over China after being expelled from the kingdom year's earlier by his parents.  Lord Chen is an albino peacock (voiced by Gary Oldman) who gives a great performance making you not only feel the conniving hatred of the bird but his deep insecurity behind it all.
In Kung Fu Panda 2 the Furious Five get more screen time here and particularly Tigress (voiced by Angelina Jolie) and Po interact more as you both learn more about the history of Po's family and what happened to them.  The film diminished the screen time of Master Shifu voiced by Dustin Hoffman but the scenes shared by Shi-Fu and Po are great and this is especially true during the speech about inner peace early on the film.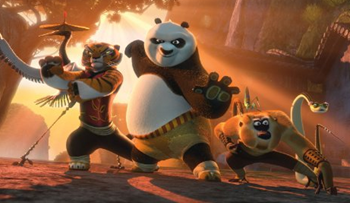 Overall Kung Fu Panda 2 had a much faster pace than the original and was more focused on action and combat, the stylized Kung Fu battles were amazing to watch and you can see with an almost deliberate adept clumsiness how Po integrates his fighting style with the rest of the curious five as they use each other's bodies in their attacks and call out attack moves to each other during battles.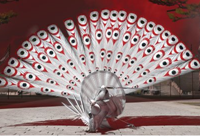 Lord Shen meanwhile has developed weaponry that will end Kung-Fu and it is up to Po and the furious five to stop him.  Jack Black literally takes the film here and he was meant to play Po the Panda like Johnny Depp was meant to play Jack Sparrow the are the characters and their personality works so perfectly with them.  The thing that makes Po so enjoyable is his pure love and wonder at everything he faces, he loves his friends and has no clue why his enemies are enemies.  His expressions, behaviors and interactions with every character including when he tries to break out Master Croc (voiced by Jean-Claude Van Damm)  and Master Ox (voiced by Dennis Haysbert) from prison he has so much respect for the fellow Kung Fu legends that he just can't accept they are unwilling to continue the fight.
Overall I loved Kung Fu Panda 2 just as much as the original though in a crowded theater with kids of all ages, there were some little ones crying at some of the more intense battle scenes.  There is a genocide hinted theme toward Lord Shen's quest to destroy all Panda's and this may frighten or scare younger children.  My 4 year old was unaffected and loved the movie, but some children may find this uncomfortable.  Also the recurring theme of the movie is really about finding inner peace and letting go of past mistakes, grudges and events which young children really would have a hard time relating too being the fact they haven't lived long enough to have a past full of regrets and grudges.
[xrr label="Kung Fu Panda 2 is rated " rating=4.5/5]
Watch the trailer now if you haven't seen it yet:
[youtube width="550″ height="343″]http://www.youtube.com/watch?v=YdaMGcOyfjM[/youtube]
Image Credit:  IMDB