We are influencers and brand affiliates.  This post contains affiliate links, most which go to Amazon and are Geo-Affiliate links to nearest Amazon store.
This is a review of the Mpow AquaPro Portable Waterproof Bluetooth Speaker.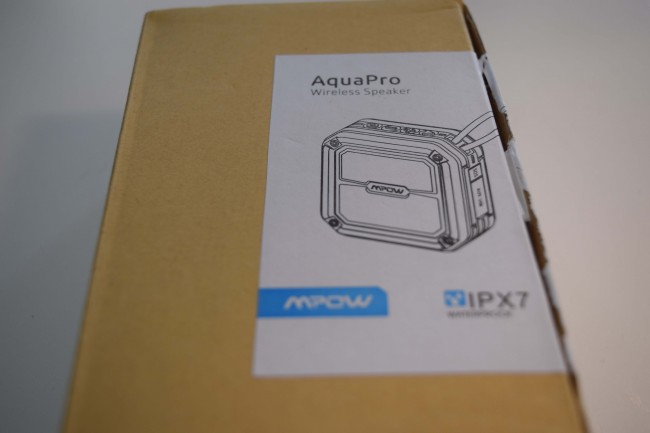 This is a mid-ranged outdoor speaker that costs $30 and is fully waterproof, making it best suited for use in the shower, or outdoors.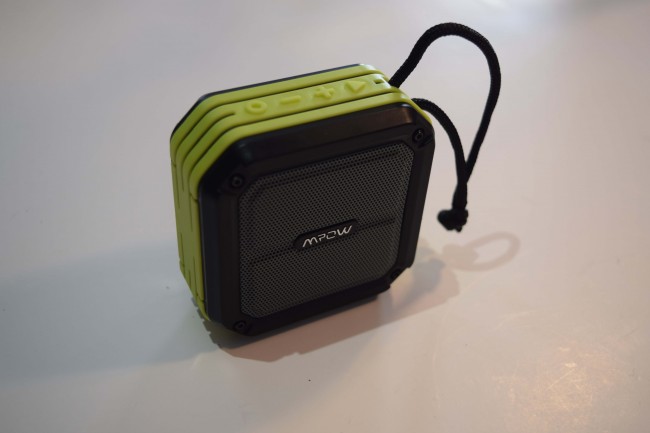 The speaker is quite small and will fit in your palm. It seems to be well designed and I found it to be solid and very durable, which is good because this is meant to be used outdoors.  This speaker is good for many activities such as hiking, camping, biking, or many other outdoor activities.  Also, the speaker has a looped strap which can be used to hang it up.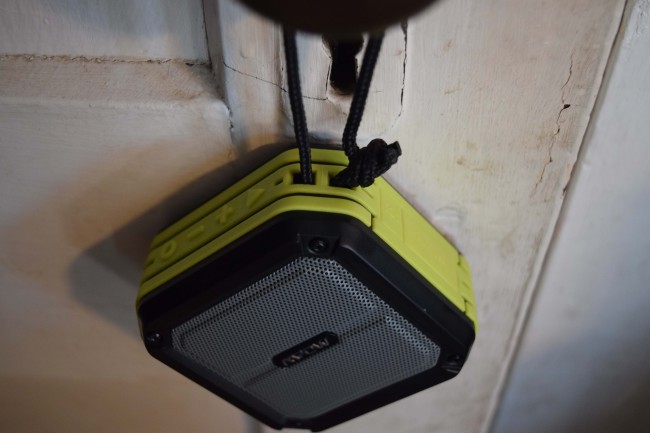 You will have some control of your music without having to touch your phone. On it, there is a pause/play/skip button, a volume up and volume down button, and also a power button.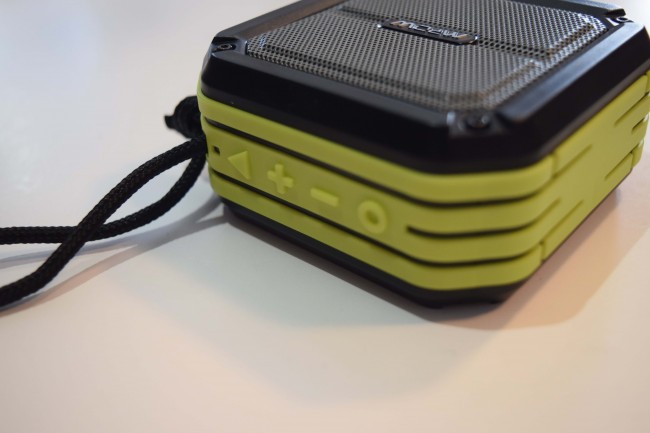 The sound quality on this speaker is decent.  The 3 watt driver doesn't produce anything spectacular, but is sufficient for its price.  The sound is quite clear considering it is playing through bluetooth, and there is also a standard auxiliary port which will offer wired, and even better sound quality.  But, using a wire will negate the speaker's waterproof ability.  The bass is good on this speaker and is satisfactory for a speaker of this size and price.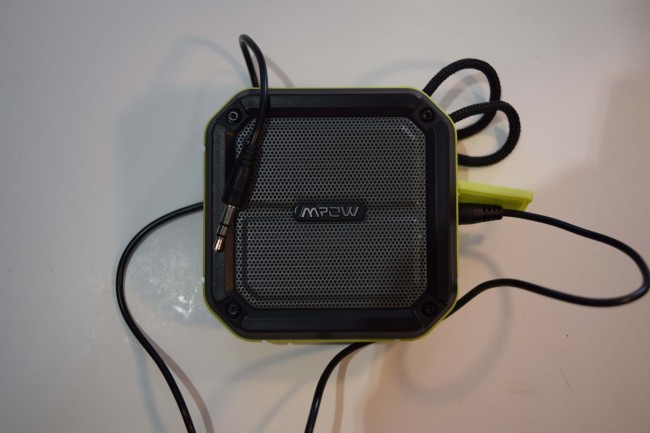 I'm guessing that the waterproof feature is part of the reason that the audio quality is decreased, because of how sealed up everything is. Unfortunately, and probably the biggest downside with this speaker is that the max sound volume is not as loud as a speaker this size should be.
The waterproofing on this has been very reliable for me so far.  I have used it in the shower with no problems.  The only thing you will notice is that with the sound of the water in the shower, you may have trouble hearing the treble (this is the case with any shower speaker).  Mpow gives this speaker an IPX7 waterproof rating which means it will work up to three feet underwater.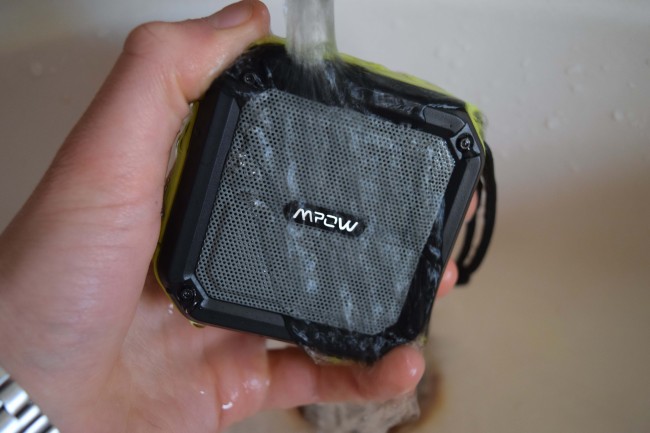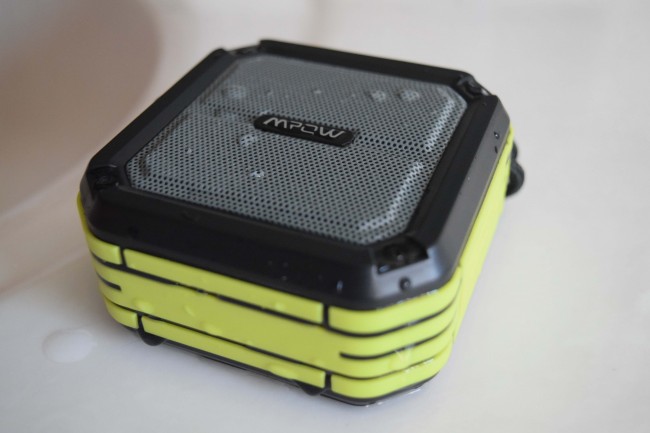 Battery life is very good on the AquaPro and you will not need to charge very often.  This is ideal for the speaker's intended uses.
An interesting feature that I have never seen on a speaker is the SOS button.  When clicked, the speaker will play a very loud alarm sound meant to alert others in the case of an emergency.  I'm guessing they added this because this is meant to be used for possibly outdoor activities, like I mentioned earlier.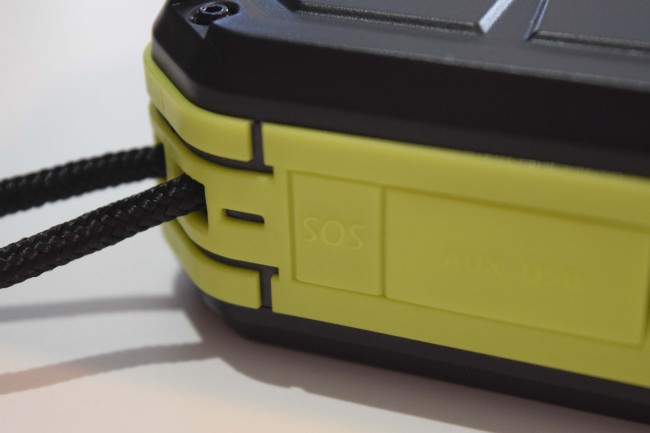 Overall, this is an interesting speaker.  You will have to sacrifice a bit of sound quality and mainly max volume because the speaker is fully waterproof , but this makes it useful in many different situations.  Also, you will get the SOS button which could turn out to be useful.
Disclaimer:  Mpow sent me the AquaPro so that I could do a thorough and accurate review.  All opinions are 100% mine and mine alone.
We are influencers and brand affiliates.  This post contains affiliate links, most which go to Amazon and are Geo-Affiliate links to nearest Amazon store.
I love to create video productions, writing, and technology. Product reviewing is a perfect culmination of all three of these. I also enjoy flying, crashing, fixing, and spending money on FPV quadcopters (a less scary way of saying drones).