We are influencers and brand affiliates.  This post contains affiliate links, most which go to Amazon and are Geo-Affiliate links to nearest Amazon store.
Have you ever visited a website that requires you to register, either to pay or for free, to access its content? That's an excellent example of a membership website where only registered members can fully access whatever it offers exclusively on individual site pages or the site itself. 
Membership websites are designed to provide specific content with their active members and protect copyright materials that only privilege members can access. These sites enable both paying and free members (though there are restrictions with free accounts) to access contents in the pages assigned with specific levels.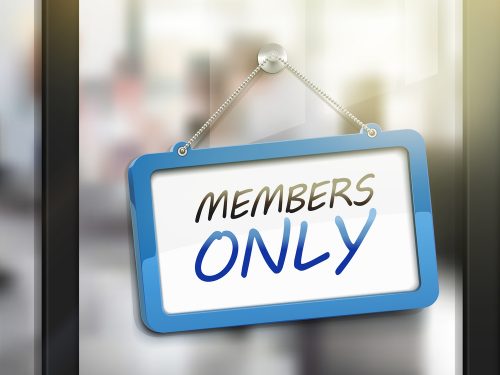 What Is A Membership Website?
A membership website is a straightforward approach that enables members to access exclusive content by logging into their login page. People can only access secured materials once they log in and become an active member. Some sites offer both paid and free membership, but there are levels of restrictions on contents that can be accessed later on. 
Most course creators place digital programs on membership sites to ensure security, protect content, and track course performance or productivity while interacting with their students. Teachable and Podia, for example, both course platforms are great membership sites you can check if you plan to launch a digital course. Not all platforms are the same; it's vital to learn what you should check to ensure that you'll be keeping your content on a reliable channel for complete security, exclusivity, and convenience. 
Essential Aspects Of A Membership Website
If you're a newcomer to membership websites, there are crucial factors that affect a launch's success. You'll need to be mindful of the right and required aspects to help you launch, grow, or manage the business. There are specific checklists to ensure the company is growing and that ideas are not going down the drain. 
After planning, analyzing, and plugging your course, jot down all the details from what you should include—tutorials, content, price, types of membership level, and all. Next, you need to put the ideas into action. 
You need to figure out your next move, and to be specific, what you 'really' need to check on a platform? How do you build a membership site that provides an outstanding experience for members who won't regret joining or purchasing your program? You want to deliver value. 
Here's a complete list of the features that will help you succeed. 
A Well-Designed Welcome, Login, And Content Page
To help you improve client loyalty and satisfaction, you need to provide an outstanding yet user-friendly interface that gives pleasure to product interactions. A happy and satisfied customer will most likely stay and recommend you to others. 
Multiple Membership Access
Finding a membership site that enables you to create multiple membership access based on their budget and needs can improve your standing. Keep in mind that not all members can afford to pay premium access but are willing to start with a basic package. With multiple options, you can offer your services to various segments suitable to their current situation. 
Providing valuable content to a broader audience helps your business and brand grow while nurturing all membership levels. 
Ease of Use
You don't want to waste your time and invest with a platform that is complicated to navigate. If you feel frustrated working on it, what more will your members think? Check for a platform that offers total control, convenience, and seamless navigation from day one. A forum that's intuitive means you won't have to second-guess and think of how you'll use it. 
User-friendly dashboard

Direct content hosting

No restricting constraints
Timely-Released Notifications
One of the best ways to nurture and grow your members is to let them know how you appreciate them. Timely-released notifications or emails provide continuous engagements and help build loyal clients while strengthening your relationship with every member. 
Discounts, Free Trials, And Coupons
Any valuable content you offer for free in exchange for signing into your newsletter or email list is a step toward gaining someone's trust. When you provide a discount, coupons, and freebies, people will more likely get to know you and trust you. Most membership sites offer free trials to build their credibility and gain a potential client's interest and trust. 
A membership site that enables you to create discounts or offers can help you gain more members in the long run, which later can turn into sales.
Integration Compatibility
Integrations to other software you are using with a membership platform enable you to simplify most tasks, increase conversion rate, and provide an outstanding user experience. With integrations, you can easily track and segment lists based on purchases, actions, and behaviors from members like links they have clicked on.
Mobile Responsive
Most people access websites with their mobile phones, and it's vital to create a membership site that is mobile-friendly and very responsive to grow more traffic into the website and increase your conversion rate. Websites that are not mobile-friendly get negative feedback from users and can significantly affect your business. 
Affiliate Marketing
Consider creating an affiliate program to improve your marketing strategy and reach more people by allowing others to market your program or service in exchange for a commission for every membership they deal with.
SSL Certificates on Custom Domains
The custom domain enables you to create a unique address that identifies your website. It leverages brand awareness and helps members to find your website easily. SSL certificate is also a vital aspect that increases site security and protects contents and data access.
Multiple Payment Options
Check for membership sites that offer direct payment from multiple options, including Stripe, Paypal, etc. That way, costs won't need to be held by any third-party processor or get delayed. Direct payment options increase credibility. 
Analytics And Management
Ensure you have access to your customer or client relationship files to help you track essential growth metrics like new members, growth rate, cancellations, lifetime member access, profits, and generating traffic. 
Conclusion
These factors are vital to every membership site, but you must be conscious of your business's needs and financial status. Most platforms offer features that meet your current budget; if you can't get all of them, you can start with a starter package and grow with the business until you can afford an upgrade.
We are influencers and brand affiliates.  This post contains affiliate links, most which go to Amazon and are Geo-Affiliate links to nearest Amazon store.
I am interested in all things technology, especially automation, robotics and tech that helps change how society will live in the future.