We are influencers and brand affiliates.  This post contains affiliate links, most which go to Amazon and are Geo-Affiliate links to nearest Amazon store.
With Black Friday and Christmas right around the corner, you may know someone that is looking for a new sound bar. Well, our friends over at LuguLake sent me their T180-BT  soundbar that won't kill your wallet. This sound bar is 39 inches long. This sound bar is fully Bluetooth capable as well and the T180-BT has 4 speakers which include two 1-inch tweeters and two  3-inch full range drivers.  It also comes with a subwoofer output port if you want to add a subwoofer later on. First, let check out the device itself.

Ah, Yes, plain simple packaging! I know that not what you wanted to see. Let me show you the real thing and not just some box.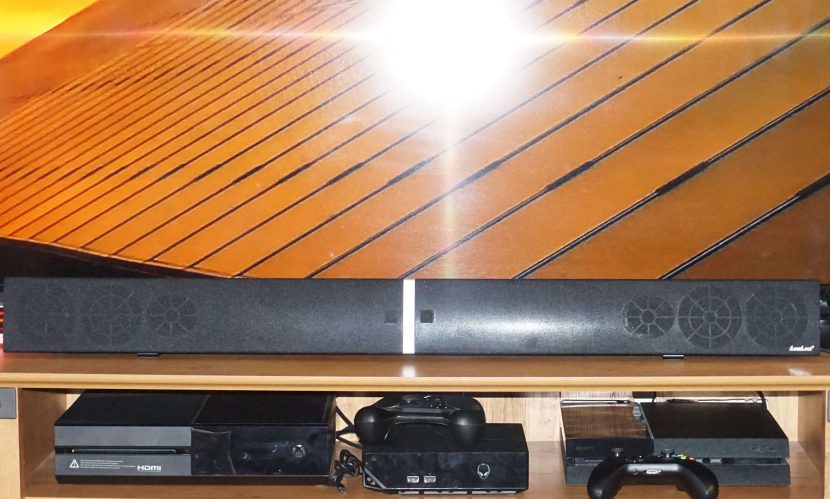 From the photo, you can see that the Soundbar is black with a gray stripe in the middle. The stripe houses the buttons. You can also see the speaker grill covers show the speaker holes. Because I'm not one to let you down I took the speaker grills off so you can see them up close.
As you can see each side has two speakers and a port. The screen cover can come off with a little prying.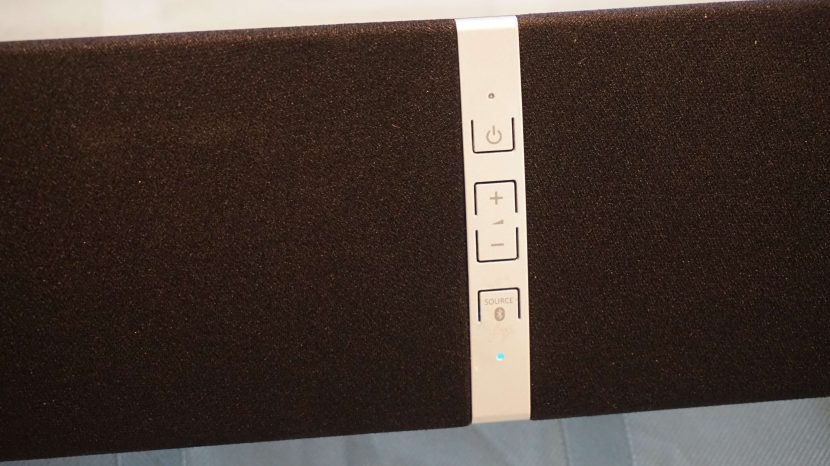 You can clearly see the power button, volume up and down. You also have the source/Bluetooth button on the front. You have some of the same buttons on the remote.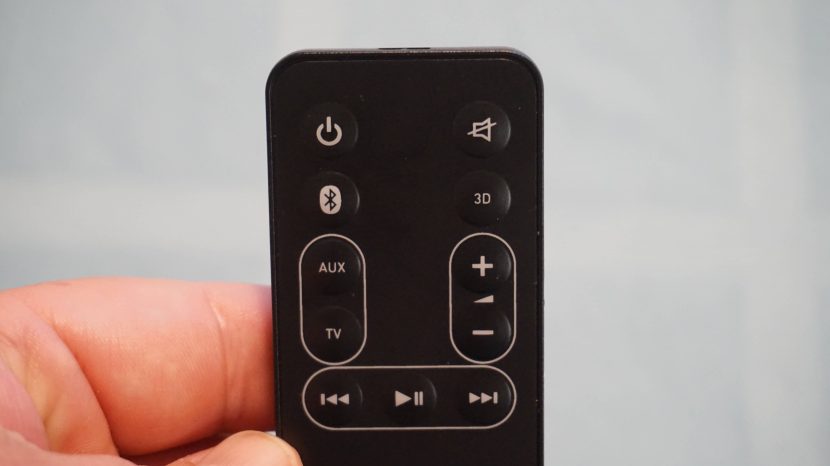 They give you a few extras that are not on the soundbar itself. Like 3D sound and mute. You also have play/pause and forward and rewind on the remote.
Check Out My Unboxing Here!
The Bluetooth is easy to connect and use. All you do is turn the power on and press the Bluetooth button twice on the T-180 Soundbar,  then turn on your device like phone or iPod.  Press pair and it will connect. You have about 9m of distance before you will lose connection.
You Can Watch My Bluetooth Pairing Here!
The LuguLake Soundbar is 40 watts total power that is 20 watts per side. They claim it's rated at RMS. When using the sound bar it sounds decent but is missing some of that room-filling bass that you would expect for a theater soundbar. I guess that why they give you that optional subwoofer output port. Speaking of ports let me show you the back panel.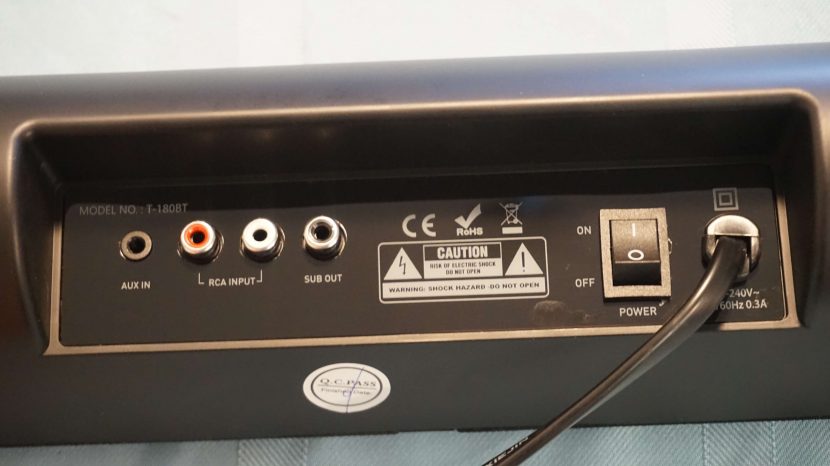 Here you can clearly see the sub out and the other ports. You have RCA in and Aux In. So not only do you have Bluetooth you can connect it to your TV through RCA. I would have loved to see an optical port but It has you covered with RCA'S. You also have a master power button back here. The package comes with the cords needed for this comes with 3.5mm female jack to dual RCA plug. It also comes with a 4 foot 3.5mm jack to 3.5mm jack.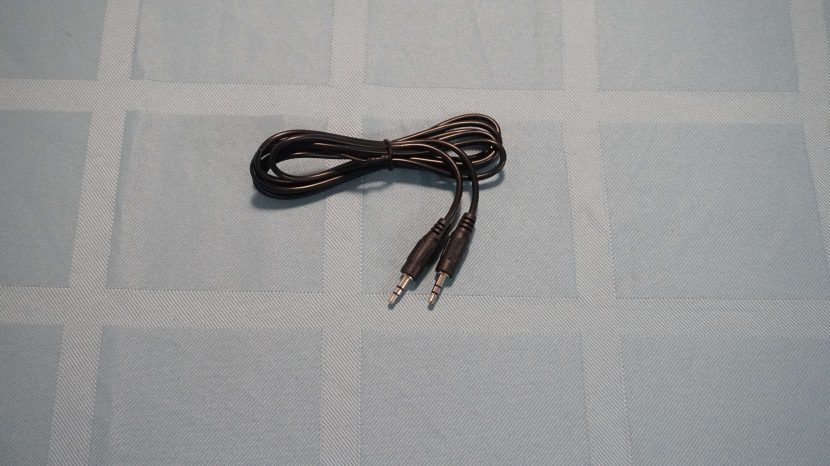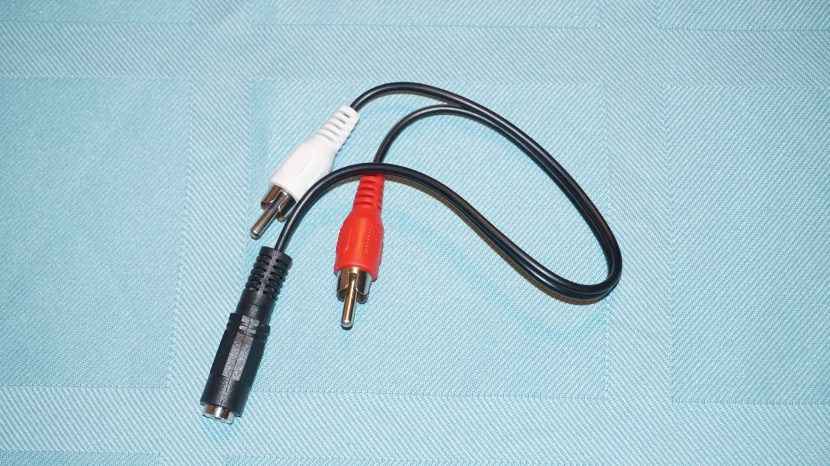 They also throw in some screws and plugs. So you can insert them into sheet rock without the soundbar falling off the wall when mounted to your wall.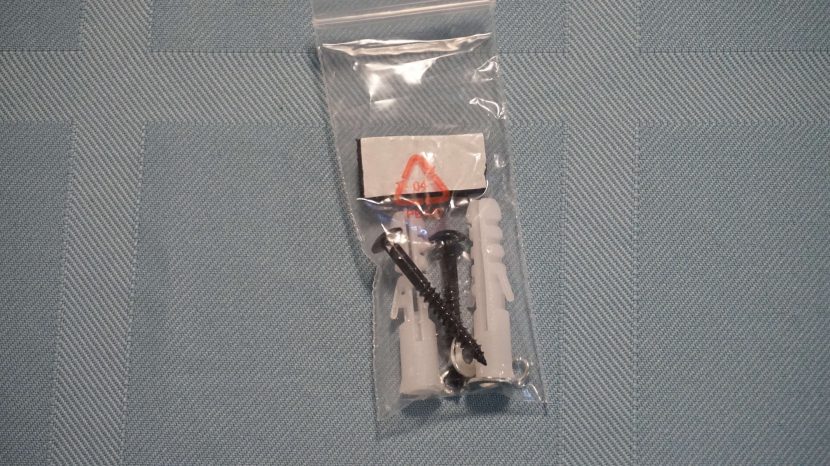 Final Thoughts!
LuguLake has you covered this Christmas for sure. I think the soundbar is on par for under $70 dollars right now on Amazon. The soundbar sounds decent, especially when listening to movies. When listening to music I think you may need that subwoofer. I like how the T180 bar looks and sound for what it is. This would definitely make a nice gift for the holidays for that kid wanting a little more sound on their bedroom TV or that husband or wife that would like a little more sound then the TV puts out. The best part is you can connect any Bluetooth device and listen to your favorite tunes. It gives you just enough bass with crystal clear treble for most music and with the 3d sound you get that great effect like you in the movie.  As a final thought, most audio devices have optical audio out, like the PlayStation 4 and it would have been a nice touch to add optical audio input for the T180.
Disclaimer: LuguLake sent me their T180-BT Bluetooth soundbar so I could do a showcase and share thoughts on the product. All opinions are 100% mine and mine alone. For more information visit http://bit.ly/dbdisclose
We are influencers and brand affiliates.  This post contains affiliate links, most which go to Amazon and are Geo-Affiliate links to nearest Amazon store.
Hi everyone I'm James Braga. I was born in Oregon and moved to New Hampshire a few years back. I love most things that have to do with video games and electronics, It doesn't matter if it for a car or a house, if it has electricity in it i will love it . I'm also in school for Information Systems Technology.