We are influencers and brand affiliates.  This post contains affiliate links, most which go to Amazon and are Geo-Affiliate links to nearest Amazon store.
For those of you who may have multiple devices in your house all streaming at the same time whether it is three people gaming and streaming to YouTube with another person watching Netflix or simply you are running a house party and having all your gaming friends over and playing MMO's or FPS games online together like Titanfall, CS:Go or Overwatch you will want the best wifi router for home that can handle the bandwidth without causing latency or delays to your devices.
The Netgear Nighthawk X10 AD7200 is the ultimate gaming router and is also known by model R9000 it has a 1.7GHz Quad Core Processor and MU-MIMO Quad-Stream support.  This thing is incredibly fast at Wireless AC connections and the Wi-Fi signal can easily fill a medium sized house without the need for a repeater.  It does support Wireless AD as well but I have no Wireless 802.11ad devices at this time to test that bandwidth which is 4600+1733+800 Mbps wireless speed but very short range (point of sight in same room for real speed signals).  Hopefully I will get a device that supports Wireless 802.11ad soon but for now I will to have to base the reviews on Wireless N and Wireless AC.
The Netgear Nighhawk X10 R9000 sports the following specs:
WIFI SPEED

7.2 Gbps

TECHNOLOGY

802.11ac + 802.11ad

NUMBER OF PORTS

Seven (7) 10/100/1000 Mbps Gigabit Ethernet ports
Two (2) USB 3.0 ports

PROCESSOR SPEEDS

1.7GHz Quad Core

NUMBER OF DEVICES

20+ Devices

KEY FEATURES

Plex Media Server

Amazon Drive Cloud Backup

High-Performace Active Antennas
 On the back of the box they show off the major features of the Nighthawk X10 which include the high speed bandwidth to support VR and 4K streaming, the powerful antenna, and one of my favorite features which is the Plex Media Server built into the router, more on that later.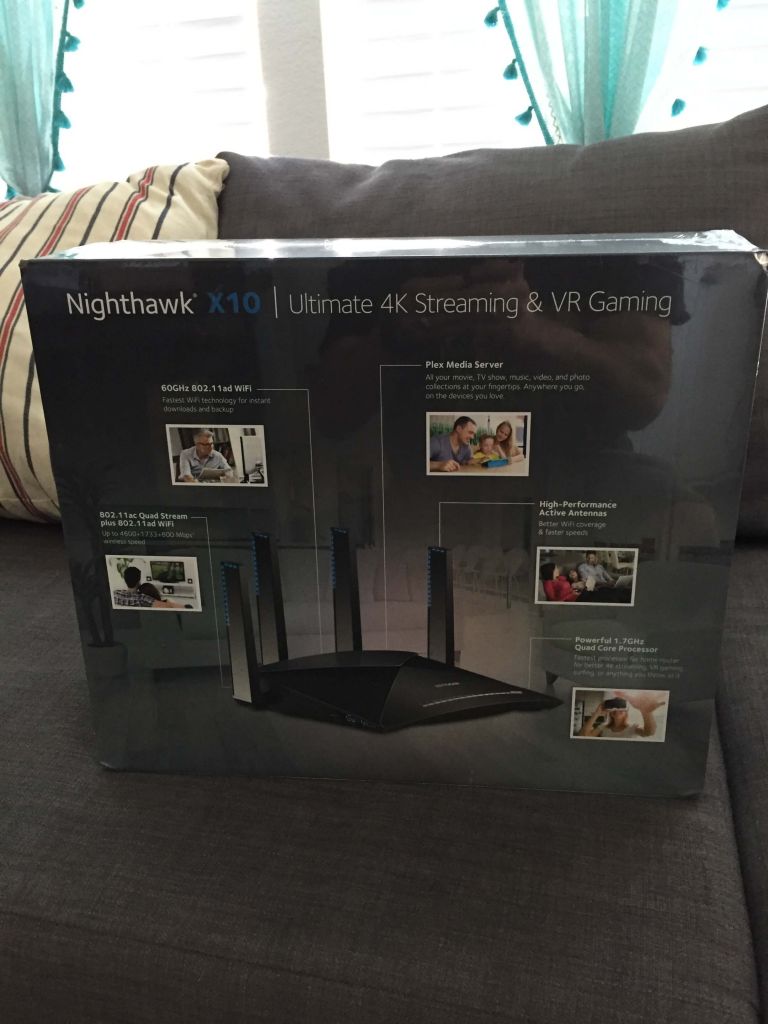 Unboxing the Netgear Nighthawk X10 AD7200 Router
Now what you should know about the Netgear Nighthawk X10 is that it has the same UI as all the other Netgear model routers, so if you are familiar with the UI with it's primary BASIC and ADVANCED tabs you will be at home here.  There are just a few extra menu options and features in some of the tabs, but mostly it is the same.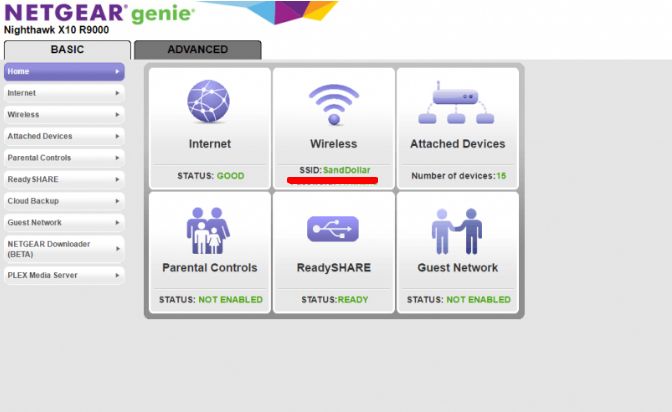 You can easily see attached devices and which band they are connected to as well as the IP address that device is currently assigned.  This router is designed for 20+ devices to all be using the network at the same time without any latency or interference and I have a lot of devices and come very close to 20.  You can see in the above pic I had 15 devices active on the network at the time of this review.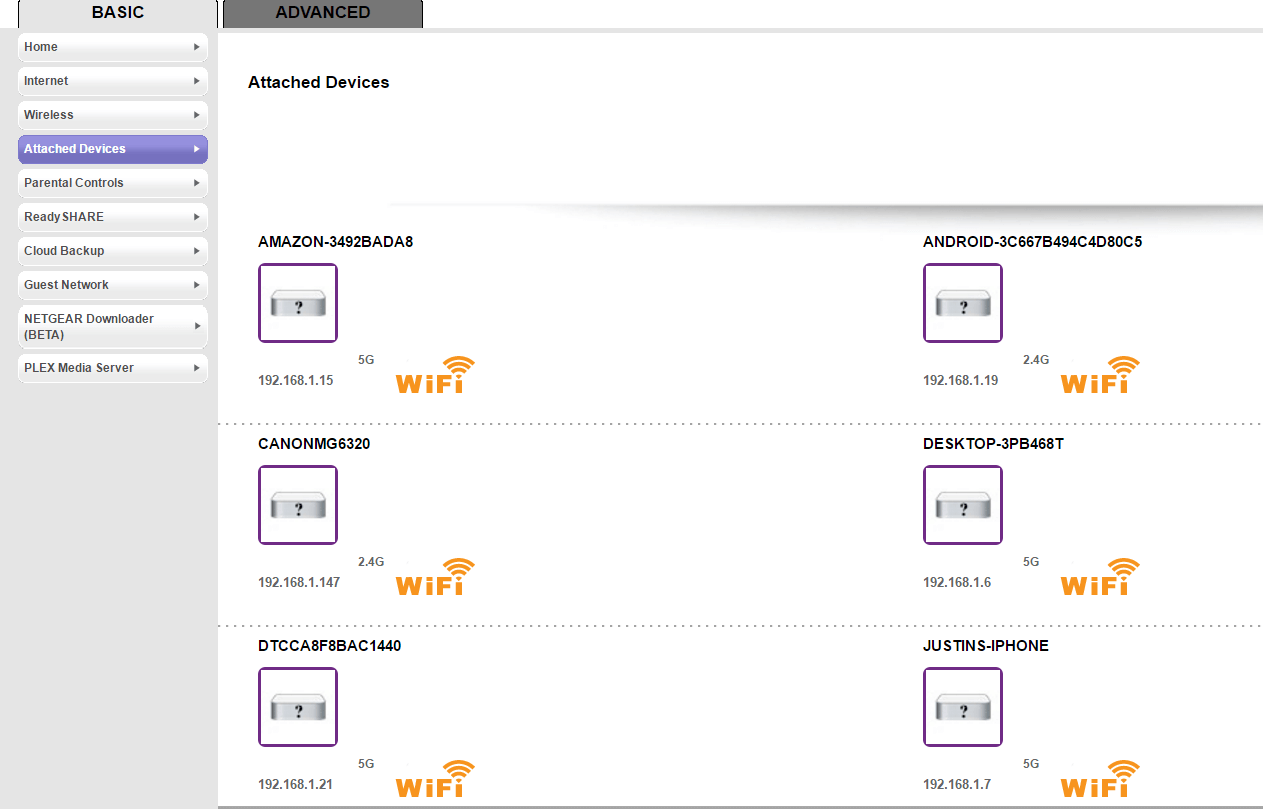 If you attach a USB Hard Drive you can also leverage the Cloud Backup feature of the Netgear Nighthawk X10 which allows you to backup your entire storage device to the Amazon cloud to save the data in case of a drive failure, it does this automatically and saves you from having to consume the resources on your PC.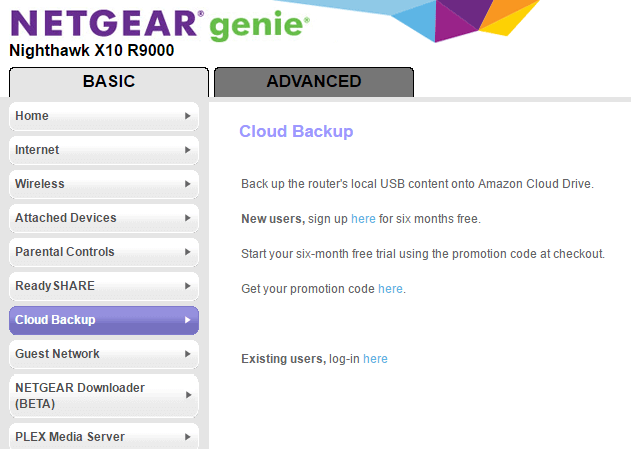 I like that most of the newer routers including this R9000 router by netgear let you setup a guest network, this is a separate Wi-Fi network that you can lock down for just guests so don't have to giveaway your WPA-2 password for your home network.  I wish you could configure the guest network to use different DNS servers than the primary networks, but that is wishful thinking and you can use parental controls to filter your content and DNS appropriately if you need to setup parental controls.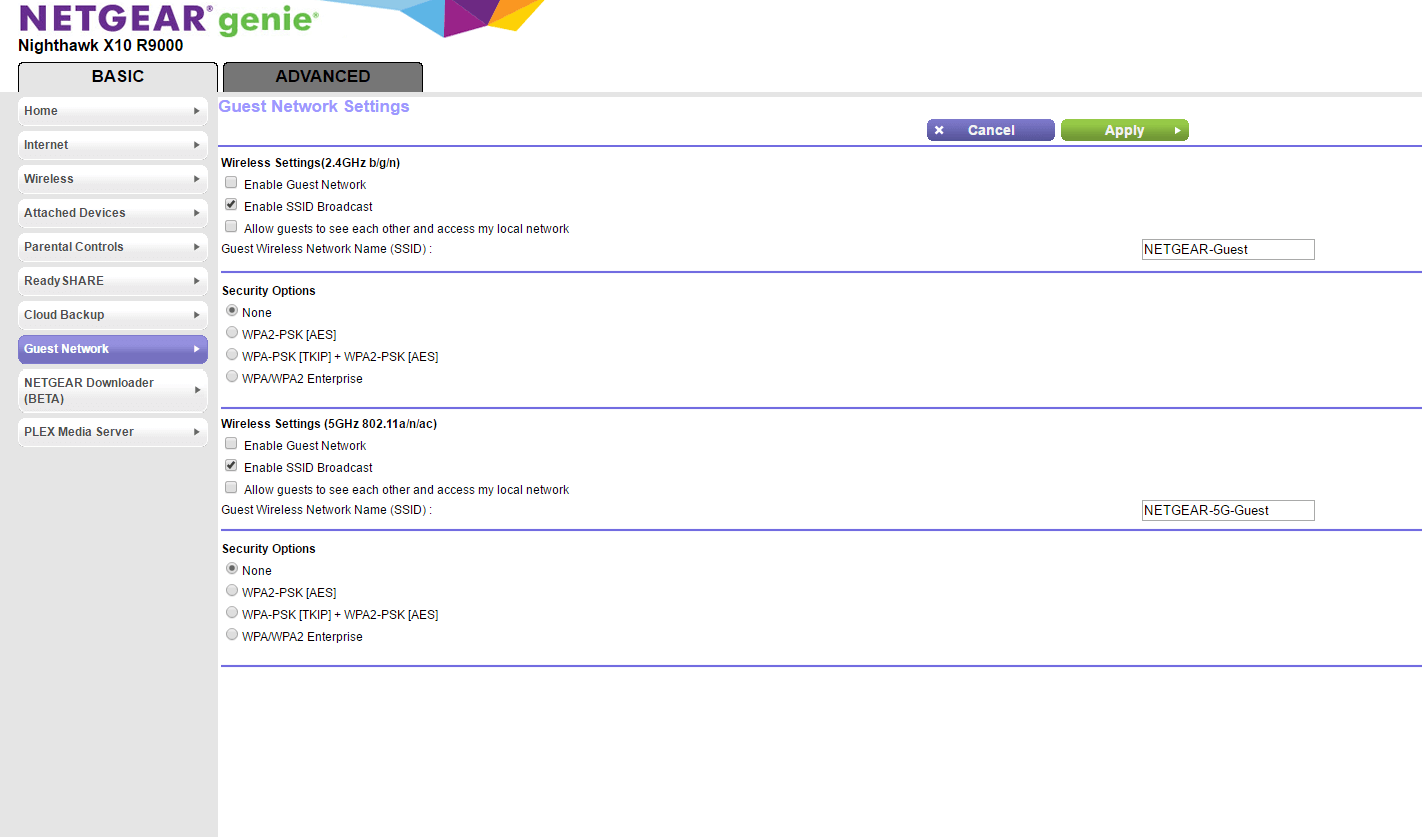 For me I am a big user of Plex for hosting my home media files.  I had over 200+ DVD's and Blu-Rays combined when I moved to California in 2015 and I had no room to store all that media, so I burned all that media to MP4 files and hosted all my home library with Plex.   Now I was previously hosting my entire media library from my Razer Blade 2014 Plex application and this wasn't convenient, as it took up memory and I had stuttering issues, had to leave my laptop on to use it…etc.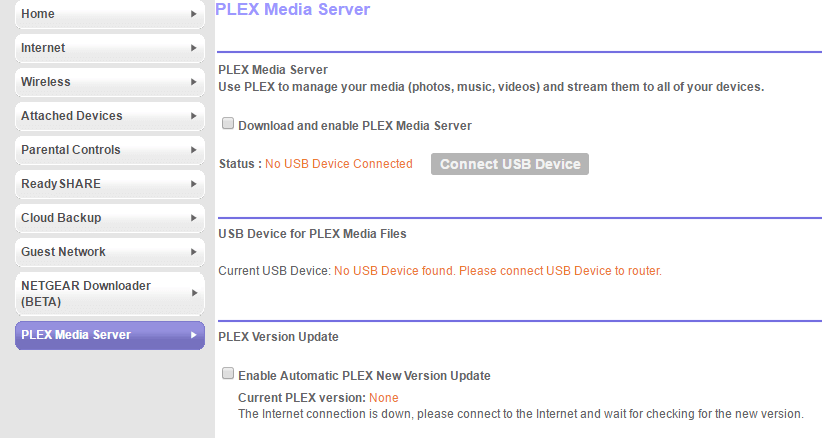 With the Netgear Nighthawk R9000 router you get Plex Media Server built into the router, all you have to do is set it up with your Plex account and put all your media on the USB drive attached to the router.  Plex will scan and use all media in the attached storage for the Netgear Nighthawk X10.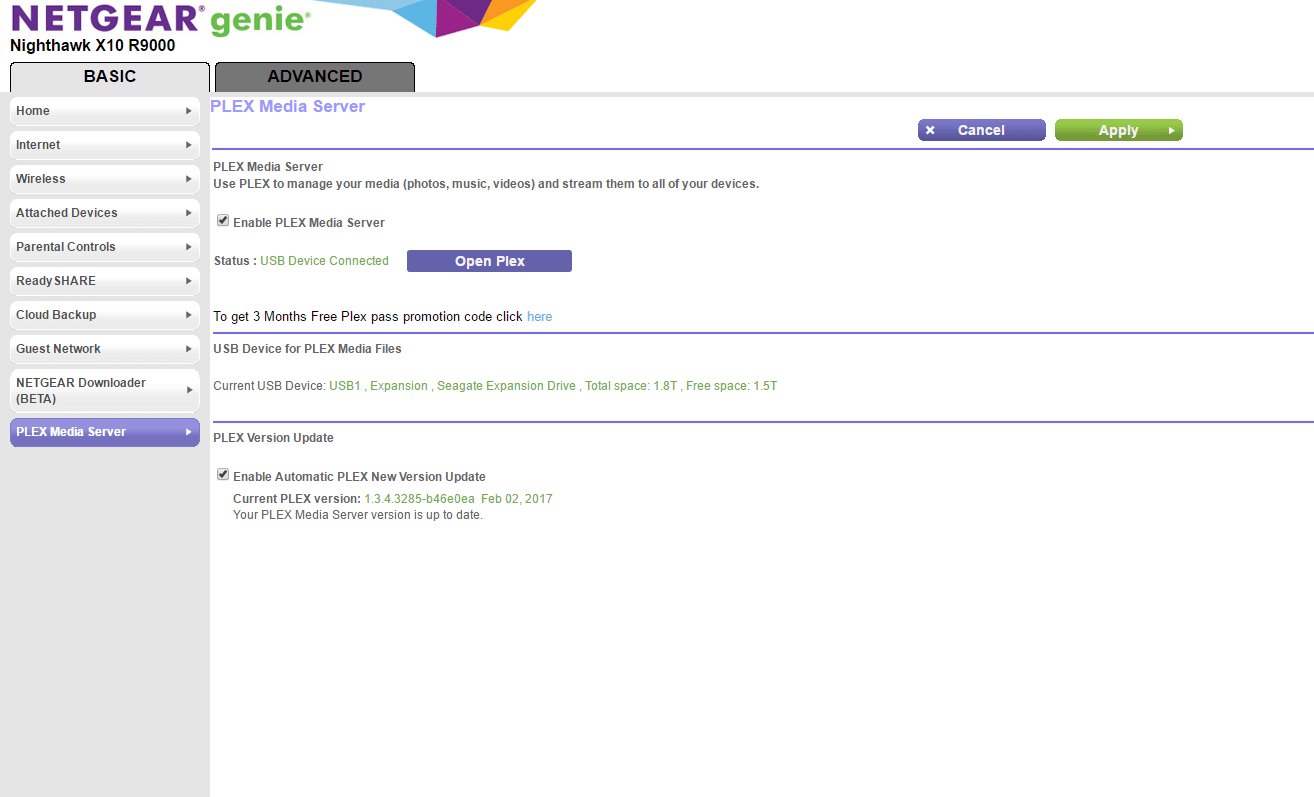 Now with Plex I stream all my content to my Amazon Fire Stick, PlayStation 4 and other PC's and tablets in the house, it allows me to basically buy cheap DVD's and Blu-Rays and rip and convert the media and access it from anywhere.  Playing content from the Plex Media server on the Netgear Nighthawk X10 is so much more stable than from my PC and it never stutters, or has issues.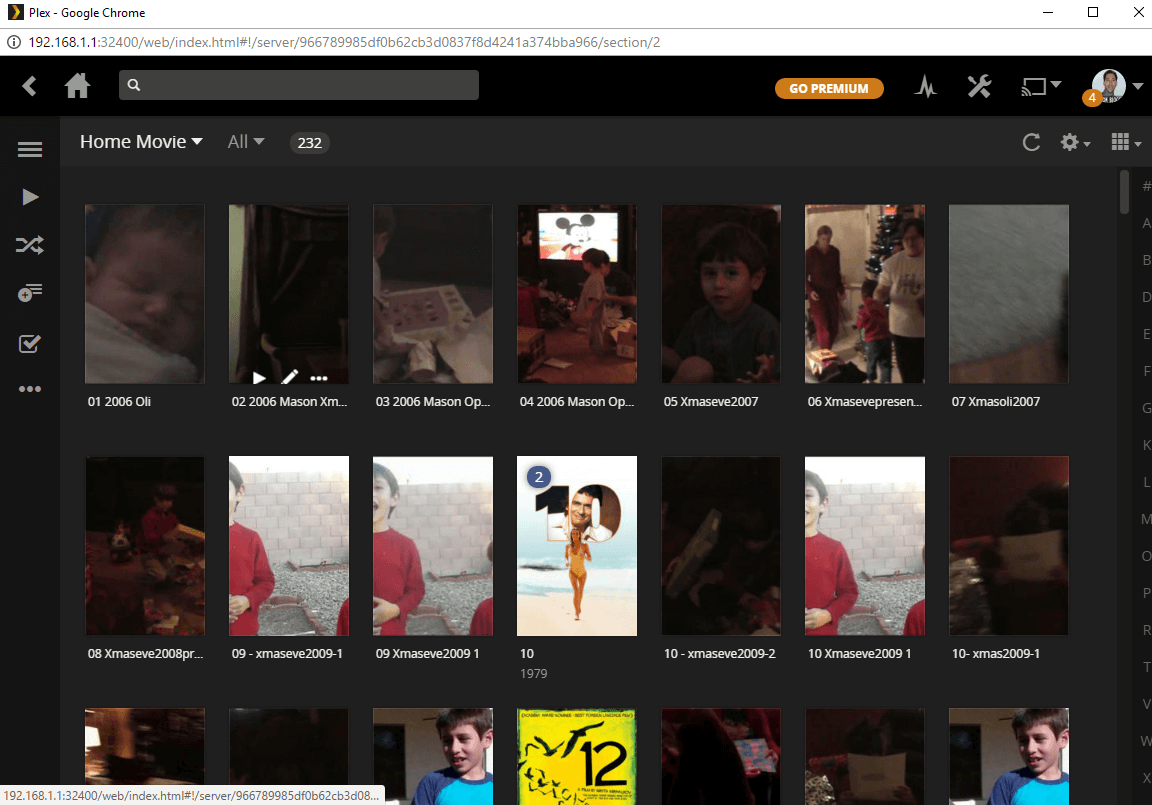 All in all, I could go over every feature, tab and speed test, but I can tell you that this router is very expensive and only caters to those who truly have a need for multiple high speed streaming devices.  If you are Twitch streaming from 3-4 devices in the house, watching 4K movies and more then this router may suit you.  It is overkill for casual internet surfers and I really see this router being for people who have to work with vast media files online or are streaming high bitrate content online.
Here is the video review of the Netgear Nighthawk X10 Router showcasing the GUI interfaces as well.
As I close out this review I want to tell you that I had the Netgear Nighthawk X6 previous to the X10 and I had intermittent issues with the 2.4ghz band dropping and requiring my router to be rebooted.  The Netgear Nighthawk X10 has never needed a reset in over 40 days of using it, it simply works and is solid and stable.  I have devices in both bands and the Netgear Nighthawk X10 has shown to be far more reliable and stable than the Netgear Nighthawk X6 in every way.
There is only 1 odd issue that I have with the game Elite: Dangerous and the Netgear Nighthawk X10 and that is when I have my son and I in a wing and playing with each other side by side there is network drops happening on my son's side that the game company believes is a defect at the laptop network level or the router itself.  I haven't been able to isolate it but I wasn't playing Elite: Dangerous on the Netgear Nighthawk X6 so I can't confirm if it happened on the previous router.  Because this happens with no other games at all I am pretty sure it is related to a network issue on his Acer Aspire V15 Nitro, but I can't resolve it and have no way to prove it isn't the router having confusion with the UPnP not working correctly, UPnP is supposed to be like automatic port forwarding where it detects your laptop ports for inbound traffic.  I have disabled UPnP and setup static port forwards and the issue still persists which further makes me think it isn't the Netgear Nighthawk X10 but I am just letting you know this is the only issue I encountered at all using this router. This router also supports OpenVPN for your VPN needs as well. You also get a 10Gbps SPF+ Ethernet port with this router if you want to have the fastest network transfer speeds as well.
Now I was clearly able to show that just my Internet was faster with the X10 vs the X6 in the Wireless 802.11ac range and I did this by doing speed tests from my Razer Blade 2014 on the Netgear Nighhawk X6 router first as you can see in the screenshots below.


Then I switched over to my Netgear Nighthawk X10 Router and performed the same 2 speed tests again, and I was able to get a dramatically faster throughput from my Wireless network.  Note I have the Cox 300Mpbs tier service for download speeds, the upload speed is only rated at 30Mbps.  



I again repeat the test that night with Ookla speed test again adn confirmed the blazing fast speeds.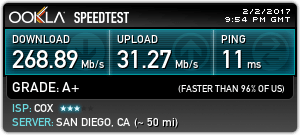 For some reason though performance copying to the USB 3 Hybrid SSD drive I have attached to the Nighhawk X10 was a bit slower than expected but still not terrible, I never saw it go above 50MB/s but remember that is MB/s not Mb/s so it is much faster than the Internet DL speeds.  Remember this is transferring over Wi-Fi to the USB3 attached storage drive, it isn't Ethernet or direct USB 3 connection, hence the Wi-Fi can't match USB 3 transfer speeds and is more around USB 2 transfer speeds.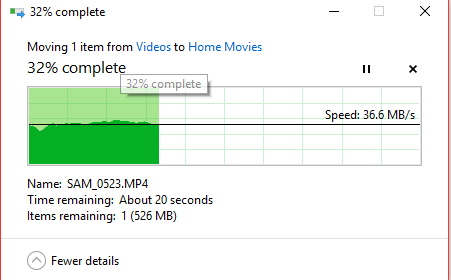 The Netgear Nighhawk X10 is just one of several Netgear routers that also supports Amazon Alexa now and has a skill to let you manage some features of the router from Alexa, learn more.  Note, I had this router since late December and I have used it as my only and primary router for over 3 months prior to writing this review to make sure the review is as accurate as possible when I report on the stability and capabilities of the router.
Disclaimer:  I am a Netgear ambassador and Netgear did provide me with this router to do a full and thorough review.  All opinions are 100% mine and mine alone.
We are influencers and brand affiliates.  This post contains affiliate links, most which go to Amazon and are Geo-Affiliate links to nearest Amazon store.
I have been obsessed with computers, tech, gadgets and games since the early 1980's having grown up on the Commodore 64 and Amiga computers.
By day I work in the IT Security Industry and have been in IT for over 20 years. On my spare time I am a Vlogger, Blogger, Streamer, Gadget Reviewer, affiliate marketer, influencer and entertainer. I am also an avid movie fan, TV Show fan, Anime fan, video game fan and fan of trying anything and everything new.