We are influencers and brand affiliates.  This post contains affiliate links, most which go to Amazon and are Geo-Affiliate links to nearest Amazon store.
With so many new routers coming out on the market it can be hard to find the proper one for you. Well, our friends over at Netgear sent one of their newer routers to test and review. This is the Nighthawk X4S AC2600 (Model 7800). The is a step up  from the model my fellow reviewer reviewed a while back for us. (Check out his review here! ) The Nighthawk X4S has a lot of features that we have come to expect from a company like Netgear. We will get more into those features in a few. First, let's talk about what comes in the package. You get the router itself and 4 antennas, and an instruction manual. You also get a few other papers and a quick start guide. There is also the power cord and a short yellow ethernet cord. I will post a few photos of these now for you.
In the first photo, you will see the package of the X4 and the X4S.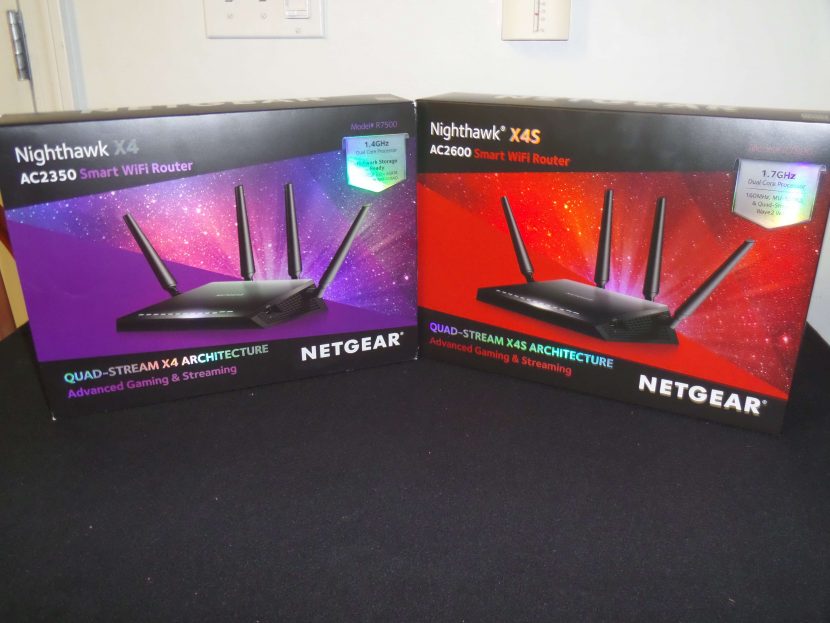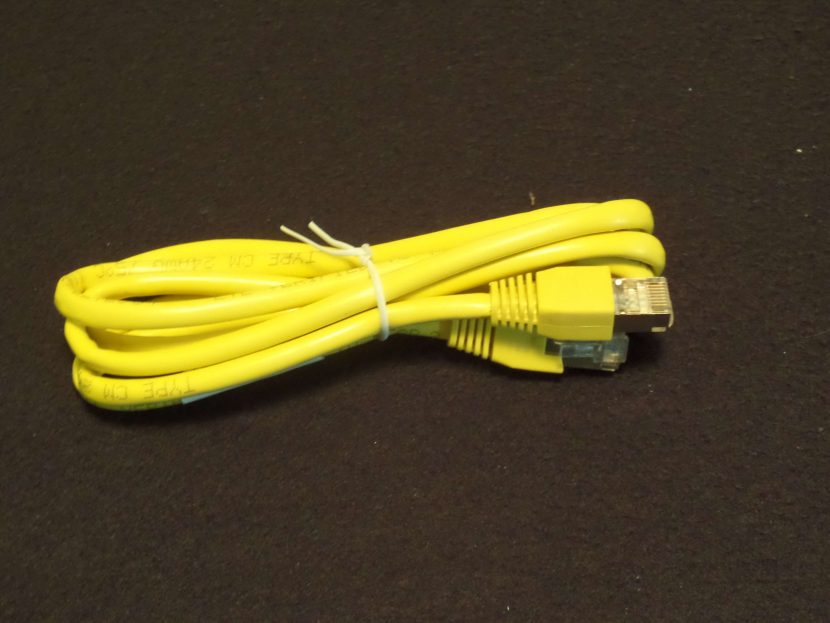 As you can see in the last photo the yellow ethernet cord is very short. In most applications, it will work just fine but for me, but I made my own.
Check Out My Full NETGEAR Nighthawk X4S Unboxing Here!
Setting up the router is very simple. The antennas are labeled 1 2 and 3. So are the positions you connect them to. You just follow the order and the antennas are connected. Let me show you what that looks like.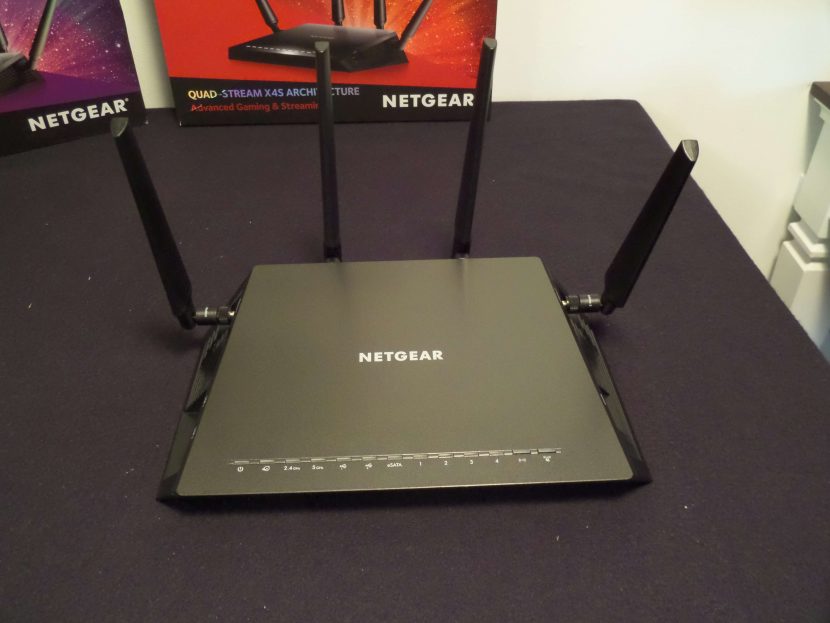 In the last photo, you can see all 4 antennas connected to the device. You can also see how the labels are very well marked on each piece. From here you connect the little yellow ethernet cord to your cable modem and this device. Once that is done you can then connect your computer to the Nighthawk router or log in through the router IP to set it up. They give you a great rundown with photos of how to do this in the quick start guide.
I used the wifi login. You to can do this just enter www.routerlogin.net. Then enter the password and user login info that come with the device. Most company's use Admin  for username and password or password123 and the password and username. Once in the settings, I do highly recommend changing your username and password. Once that done you can go through many other settings including making a separate log in password and username for  guests. This is a great option if you won't want them having your main password. You can always change passwords again if you ever need.
There are other settings you can adjust like (QoS)  Quality of service.  This mean you can set up a certain programs/protocols or IP or computers in your house to get the best service possible when other computers are online. You can also use their Netgear Genie app. This will pop up in the initial installation process. You can get more of a run down of how to install and use the Netgear Genie app in the video below.
Check out my software install and walkthrough Here!
Now with the video above you got a more in-depth walkthrough on how to change passwords. This also gave you a glimpse of the media section. In short, you can connect your media server or a USB device and watch movies through this. I have the app on my phone and it allows you  to watch a movie or listen to music through your router. You have an option of using two USB flash drive on this router.
The range of  this device is amazing simply put. I live in a large apartment building and I can walk all the way through my floor and pick up my signal. I was able to watch a movie all the way in the elevator. Now I was able to but barely get a signal 2 floors below me. This was blocked by the thick walls. I was however, able to pick up a signal outside my building if I was below my window. So if you're looking for a router to fix an issue with getting a signal this should help solve that issue for you.
If you're using the device to transfer files remember it will only transfer as fast as your Internet can handle. So if your internet is slow your transfer will be semi-slow also. I know my speeds are around 35Mbps download and 5Mbps upload. What this will help with is multiple devices using the same router and will help with game lag or drop rate. The have what they call MU-MIMMO WIFI meaning data sent to multiple devices at the same rate with no interference. The MU-MIMMO will also help with multiple videos streaming all the way up to 4k video.
Specs from Their website!
WiFi Performance
AC2600 Mbps (800 + 1733)†
WiFi Band
Simultaneous Dual Band WiFi – Tx/Rx 4×4 (2.4GHz)+ 4×4 (5GHz)
Beamforming
Beamforming+—Smart, signal-focusing technology boosts the speed, reliability, and range of your WiFi connections
Number of Ethernet Ports
Five (5) 10/100/1000 (1 WAN and 4 LAN) Gigabit Ethernet ports
Key Features
AC2600 (800 Mbps @2.4GHz—256 QAM support +1733 Mbps @5GHz 11ac)†
Simultaneous Dual Band WiFi – Tx/Rx 4×4 (2.4GHz)+ 4×4 (5GHz)
4×4 11ac 80MHz + 2×2-160/80+80MHz*
Multi-User MIMO (MU-MIMO) support for simultaneous streaming*
Powerful dual-core 1.7GHz processor
Four (4) high-performance external antennas
Memory: 128 MB flash and 512 MB RAM
IPv6 support (Internet Protocol Version 6)
Quad-Stream & 160MHz for faster speeds
Dynamic QoS intelligently prioritizes video streaming & gaming
Beamforming+ for more reliable connections
ReadySHARE® USB to share your USB hard drive & printer
ReadySHARE® Vault—PC software for automatic backup to USB hard drive connected to the router
Enhanced Parental Controls to manage web filtering & accessibility by profiles or devices
On/Off LED light switch
ReadyCLOUD® USB Access allows you to enjoy personal and secure cloud access to USB storage anytime, anywhere
Using Kwilt, view and share all your photos from social media and now from your Nighthawk Router attached USB storage
Now with OpenVPN Connect app on iOS and Android, securely access your home network from your mobile device.
Manage home network and provide guest access remotely using NETGEAR genie®
Security
Customized free URL to set up personal FTP server
VPN support—secure remote access
Guest network access—separate & secure
WiFi Protected Access® (WPA/WPA2—PSK)
Double firewall protection (SPI and NAT)
Denial-of-service (DoS) attack prevention
Processor
Powerful dual-core 1.7GHz processor
Memory
128 MB flash and 512 MB RAM
Physical Specifications
Dimensions: 285 x 185 x 50 mm (11.22 x 7.26 x 1.97 in)
Weight: 840 g (1.85 lb)
Final Thoughts!
When all said and done the Netgear Nighthawk X4S router blew past my expectations and exceeds the performance of previous equipment I have used from Netgear. The price is comparable to other devices in its range. The design is great and looks futuristic. With the many features and option's it has you can not go wrong with purchasing the Nighthawk X4S from Netgear. It helps with WI-FI drop issues I had throughout my house. Anyone should be able to go into the settings and adjust them without much knowledge. I do however suggest you read up on some of them before you use them. You also get the best of media server play and data transfer. We have had no issue since installing with watching multiple movies on several devices. This was even when I was uploading YouTube videos. I highly recommend the Nighthawk X4S router (model 7800). The Netgear genie app is another great addition. The one downside is that for such a great device you must hand over $239.99 but definitely money well spent!
Disclaimer:Netgear   provided me with the Nighthawk X4S Router so I could do a showcase and share thoughts on the product.  All opinions are 100% mine and mine alone.  For more information visit http://bit.ly/dbdisclose
We are influencers and brand affiliates.  This post contains affiliate links, most which go to Amazon and are Geo-Affiliate links to nearest Amazon store.
Hi everyone I'm James Braga. I was born in Oregon and moved to New Hampshire a few years back. I love most things that have to do with video games and electronics, It doesn't matter if it for a car or a house, if it has electricity in it i will love it . I'm also in school for Information Systems Technology.