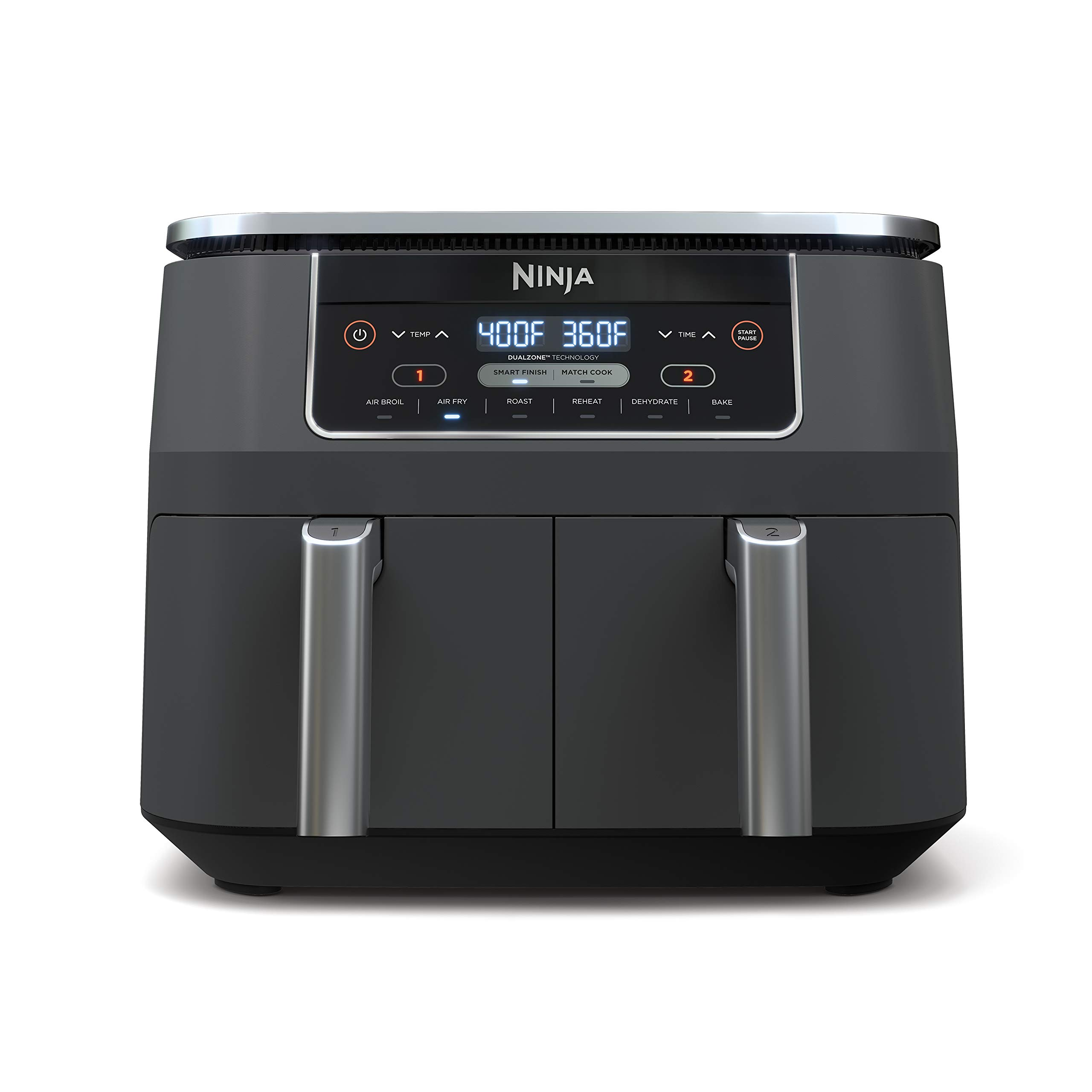 You know how we love to dine out and enjoy our meals with friends and family. But sometimes it's just not convenient or cost-effective to do so. You can always make your favorite recipes at home, but can you produce the same quality that you're used to?
If you spend all this time and money on making your home-cooked food taste as good as restaurant food, but then take it too far by putting unhealthy oils in your cooking oil, then get frustrated when your food begins to melt from the heat outside of the oven; then what you need is a better Air fryer than your current one like Ninja DZ401 to make sure everything goes as planned and help keep your family healthy through eating delicious foods.
The Ninja DZ401 Foodi 10 Quart 6-in-1 DualZone XL 2-Basket Air Fryer is one of the most popular air fryers you can find in the market today. And It has quite some unique features that make it stand out from other models.
Dual-Zone Technology: This air fryer has two separate chambers that allow you to cook different foods at the same time. You can use one side for fries and burgers, while the other side can be used for fish and chicken. The dual-zone technology allows you to cook two different batches of food at once, which makes it ideal for large families or couples who love to cook together.
Dual Baskets: The Ninja DZ401 Foodi 10 Quart 6-in-1 DualZone XL 2-Baskets Air Fryer comes with two baskets – one has a 7.5″ x 5.75″ cooking surface and the other has an 11″ x 10″ size perfect for making large batches of food when you need more space. You can also use both baskets at the same time if you want to grill or bake multiple items at once. The basket design maximizes heat circulation inside the unit so that your food cooks evenly on all sides while retaining moisture during cooking so it doesn't dry out or burn easily.
The two baskets are perfect for making your waffles, pancakes, crepes, French toast, and more. You can even make your favorite dessert recipes including cheesecake, brownies, etc.
Digital Timer: The digital timer is a bonus since it allows you to set up specific cooking times for each batch of food separately. You can even set off a timer before you start cooking so that you don't forget about it when it is time to serve dinner.
The timer also allows users to choose from preprogrammed cooking options such as Bake, Broil, Roast, and Steam (and more).
Removable plates for easy cleaning: The Ninja DZ401 Foodi 10 Quart 6-in-1 DualZone XL 2-Basket Air Fryer comes with four removable plates — two cookie sheets and two muffin pans — so you'll never have to worry about scrubbing them clean again thanks to their nonstick surface. These pieces are dishwasher safe for easy cleanup after each use. Also, the internal basket of this air fryer has a stainless steel lining that keeps your food from sticking, making it simple to clean when needed.
6-in-1 versatility: The Ninja DZ401 Foodi 10 Quart 6-in-1 DualZone XL 2-Basket Air Fryer is ideal for making a variety of foods, and it can be used to cook frozen foods, too. This model can heat up to 380°F, but it's also equipped with four cooking modes — bake, broil, roast, and grill. The air fryer can be used as a traditional oven or an air fryer by simply removing the basket and lid.
Compact design: The Ninja DZ401 is also compact and lightweight, which makes it easy to store and transport anywhere you need it. You won't have any trouble fitting the Ninja DZ401 into your kitchen drawer or pantry!
Low-fat Food: The Ninja DZ401 Foodi has two modes of operation: convection and traditional. In traditional mode, the unit circulates warm air around food while it cooks, which results in crisper, more evenly browned foods. In convection mode, the unit uses hot air to cook food at high speed without stirring it up much at all — which means less oil absorption and faster cooking times.
Swift Cooking: The Ninja DZ401 Foodi 10 Quart 6-in-1 DualZone XL 2-Basket Air Fryer cooks faster, more evenly, and at a higher temperature (two 6lb of chickens at 30°) than conventional fryers. It's also more energy-efficient because it uses less oil and electricity, saving you time and money.
With a deep fryer, you need to manually adjust the heat to get the right temperature. This can be tricky when you're cooking multiple dishes at once, but with the Ninja DZ401 Foodi 10 Quart 6-in-1 DualZone XL 2-Basket Air Fryer, it's as easy as 1-2-3! Just choose your desired cooking mode, set your timer, and let the air fryer do the rest.
Smart IQ Boost: The Ninja DZ401 Foodi 10 Quart 6-in-1 DualZone XL 2- Baskets Air Fryer is the perfect solution for home cooks like you who like to create delicious, healthy, and nutritious meals. Ninja DZ401 comes with a Smart 1Q boost, which gives you the option to cook two different foods at once. This means that you can cook two different meals in one batch, or cook two different dishes that are both quick and easy. The Smart 1Q will automatically help you adjust the cooking time depending on the type of food being cooked, so you can be sure that everything is done perfectly.
All Family Size: The Ninja DZ401 Foodi 10 Quart 6-in-1 DualZone XL 2-Basket Air Fryer is the perfect choice for your home. It features a large capacity at 10 qt. with 2 baskets, allowing you to make enough food for a crowd.
The large capacity of this unit allows you to cook a meal for the entire family and still have enough food left over to freeze or refrigerate. The Smart IQ Technology automatically adjusts the temperature and time to ensure that everything is cooked evenly every time.
While there is no one stand-out model on the market, having an Air Fryer that works well with several different cooking options can save a lot of money and make you more health-conscious than eating in a restaurant. And one of the few cost-saving features of Ninja DZ401 Foodi 10 Quart 6-in-1 DualZone XL 2-Basket Air Fryer that will work for anyone is the ability to cook frozen items as well as meals and snacks at a go.
You can visit the Amazon page for further details, discounts and FAQs on product.
I have been obsessed with computers, tech, gadgets and games since the early 1980's having grown up on the Commodore 64 and Amiga computers.
By day I work in the IT Security Industry and have been in IT for over 20 years. On my spare time I am a Vlogger, Blogger, Streamer, Gadget Reviewer, affiliate marketer, influencer and entertainer. I am also an avid movie fan, TV Show fan, Anime fan, video game fan and fan of trying anything and everything new.