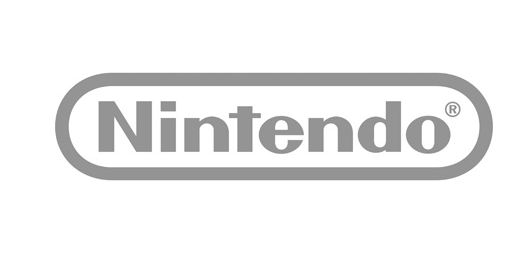 Nintendo is releasing the Nintendo Entertainment System: NES Classic Edition, launching in stores on Nov. 11 which is a mini version of the original NES system with 30 included games plus it supports HDMI and includes an HDMI cable.
"We wanted to give fans of all ages the opportunity to revisit Nintendo's original system and rediscover why they fell in love with Nintendo in the first place," said Nintendo of America President and COO Reggie Fils-Aime. "The Nintendo Entertainment System: NES Classic Edition is ideal for anyone who remembers playing the NES, or who wants to pass on those nostalgic memories to the next generation of gamers."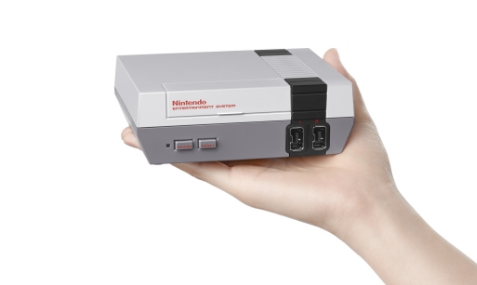 The Nintendo Entertainment System: NES Classic Edition comes packaged with an HDMI cable, an AC adapter and one NES Classic Controller, which is patterned after the iconic design of the original NES controller.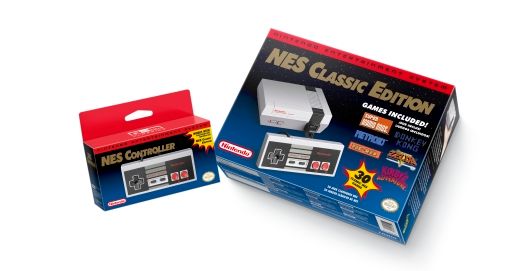 The included game list for the Nintendo Entertainment System: NES Classic Edition is below:
Balloon Fight™
BUBBLE BOBBLE
Castlevania™
Castlevania II: Simon's Quest™
Donkey Kong™
Donkey Kong Jr. ™
DOUBLE DRAGON II: THE REVENGE
Dr. Mario™
Excitebike™
FINAL FANTASY®
Galaga™
GHOSTS'N GOBLINS®
GRADIUS™
Ice Climber™
Kid Icarus™
Kirby's Adventure™
Mario Bros. ™
MEGA MAN® 2
Metroid™
NINJA GAIDEN
PAC-MAN™
Punch-Out!! ™ Featuring Mr. Dream
StarTropics™
SUPER C™
Super Mario Bros.™
Super Mario Bros. ™ 2
Super Mario Bros. ™ 3
TECMO BOWL
The Legend of Zelda™
Zelda II: The Adventure of Link™
You can even enjoy playing several of these games with two players by attaching a second NES Classic Controller, which will be sold separately at a suggested retail price of $9.99. A Classic Controller or Classic Controller Pro can also be used (each sold separately).  Also with the update of the system  each game has multiple suspend points, so you can start where you left off at a later time, no passwords needed.  So you don't have to worry about having to start those levels over if you want to take a break.
Who else is interested in owning a blast from the past?  Get your video game capture cards ready you are going to want something like this to start your retro streaming to the world!
About Nintendo:
The worldwide pioneer in the creation of interactive entertainment, Nintendo Co., Ltd., of Kyoto, Japan, manufactures and markets hardware and software for its Wii U™ and Wii™ home consoles, and Nintendo 3DS™ and Nintendo DS™ families of portable systems. Since 1983, when it launched the Nintendo Entertainment System™, Nintendo has sold more than 4.4 billion video games and more than 693 million hardware units globally, including the current-generation Wii U, Nintendo 3DS and Nintendo 3DS XL, as well as the Game Boy™, Game Boy Advance, Nintendo DS, Nintendo DSi™ and Nintendo DSi XL™, Super NES™, Nintendo 64™, Nintendo GameCube™ and Wii systems. It has also created industry icons that have become well-known, household names such as Mario™, Donkey Kong™, Metroid™, Zelda™ and Pokémon™. A wholly owned subsidiary, Nintendo of America Inc., based in Redmond, Wash., serves as headquarters for Nintendo's operations in the Western Hemisphere. For more information about Nintendo, please visit the company's website at http://www.nintendo.com.